The Loop
Heavy rain turns Merion into Mudville
ARDMORE, Pa. -- Welcome to Mudville.
Another deluge struck an already mushy Merion GC Monday afternoon, causing a suspension of practice round play at 3:01 p.m. EDT at the 113th U.S. Open.
More than five inches of rain have soaked Merion's venerable East Course since Friday, and the forecast is not favorable for the next few days, which could impede preparation for the 156-player field. Especially disadvantaged are those players who had not made early scouting trips before this week.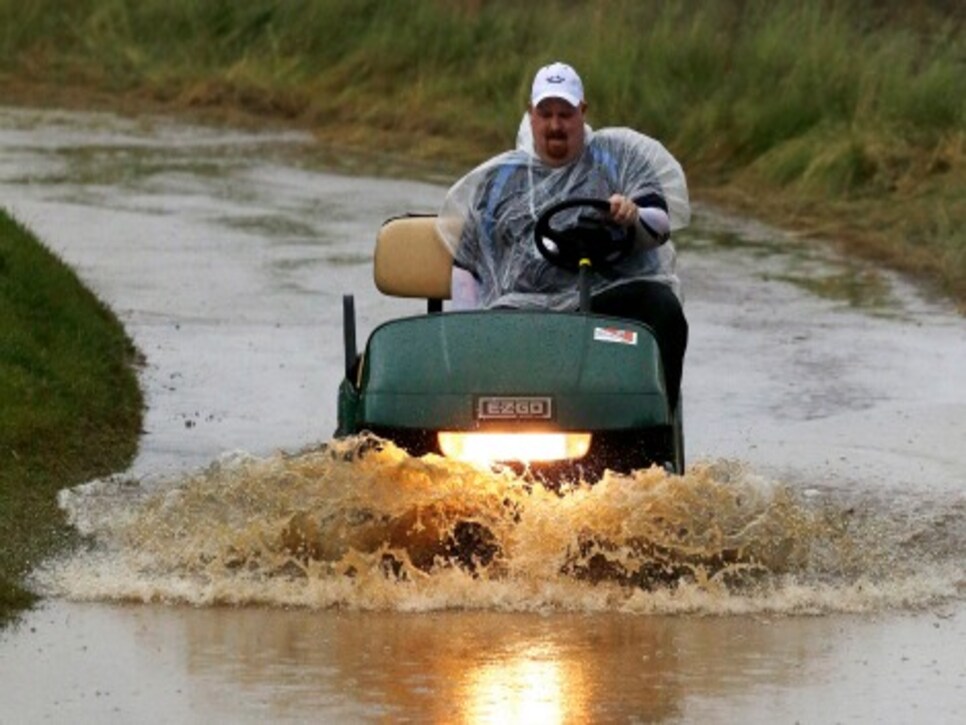 "I'm lucky I came up about three weeks ago and played a couple of rounds, so I have seen the course a fair bit," said Masters champion Adam Scott. "I've got a fairly good understanding (of the course)."
But the rain might mitigate the need for local knowledge, Scott added. "With it being soft it becomes a little more simple than what it was. The ball is just going to stop where it lands. So if you're accurate, you'll be fine."
More than 100 volunteers have been working with the club's grounds crew trying to keep up with the heavy precipitation. Assistant course superintendent Patrick Joy was preparing to attend another meeting at 3 p.m. to discuss the maintenance strategy for the next few days.
"It's pretty disappointing," Joy said. "Our hope right now, really, is to get this in good enough shape for the weekend."
USGA executive director Mike Davis was to issue a briefing on golf course conditions at 5 p.m. EDT.
"You're not going to see a firm U.S. Open this year, I'm sorry," said two-time Open winner Ernie Els. "I don't care if they get helicopters flying over the fairways, it's not going to dry up."
__Update:  __In his press conference Monday afternoon, Mike Davis downplayed the need to use alternate holes from the West Course because of saturation to holes on the East, saying it was highly unlikely. If there were any concessions to the weather, the USGA would consider hole locations on the highest part of greens. As usual, the USGA will not allow players to lift, clean and place regardless of the conditions.