News
Hearing-impaired golfer Kaylin Yost, a Monday qualifier, opens with a 67 in first career LPGA start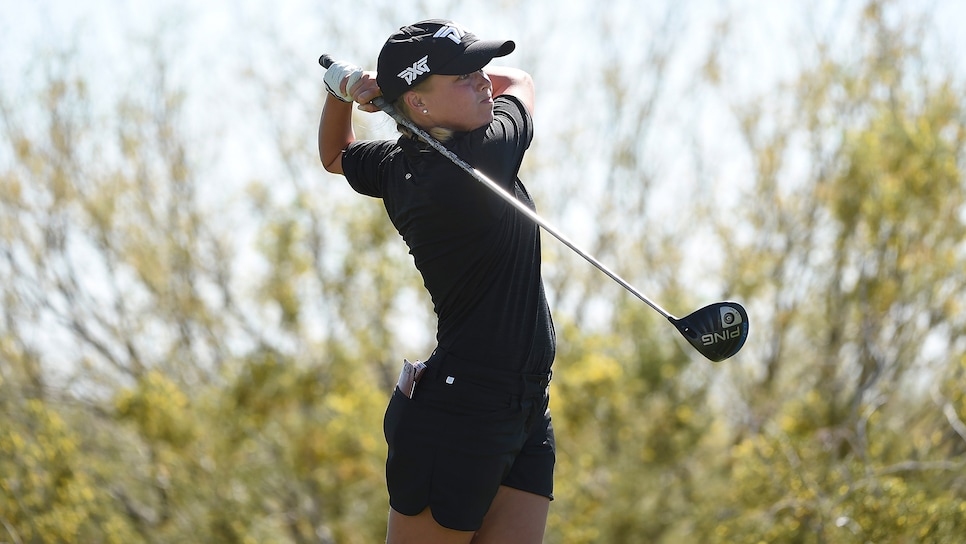 Where do you begin to tell the story of Kaylin Yost? A Monday qualifier making her first career LPGA start, the 24-year-old from Pembroke Pines, Fla., shot an opening-round 67 at the Bank of Hope Founders Cup, putting her three strokes off the lead shared by a fivesome of players, including Ariya Jutanugarn and Stacy Lewis.
Making her play all the more remarkable is that Yost is almost entirely deaf, her parents discovering when she was 2 that she suffered from 90 percent hearing loss.
Yost's hearing impairment wasn't the first bit of adversity she had overcome. At birth, Yost was born with two dislocated hips. Doctors initially told Yost's parents her daughter wouldn't be able to walk, and Kaylin spent the first 16 months in a full-body cast.
Defying the odds after two hip operations, Yost learned to walk, and eventually started playing golf, following the lead of her older brother Alex. She eventually earned a college scholarship to Campbell, where she won four individual titles and was a two-time Big South Conference player of the year.
Upon graduation in 2014, York turned pro, playing the Symetra Tour for a year and a half. Earning just $1,551 in 11 starts, she quit the sport for six month, taking a job with a a private jet company, before catching the golf bug again.
On Monday, Yost shot 66 to earn her spot in the field at Wildfire Golf Club. She took full advantage of the opportunity, making five of her six birdies on the back nine.
"Today's round was excellent she really had a good, complete round with the putter working well," said Brandon Bradford, Yost's boyfriend/caddie. "I think she has a sub-65 in her once she settles down. The course is laid out well for low scores."
Bradford said Yost's approach has been to play this tournament like it's just another round of golf. The tactic obviously worked well for the first round.
"Game plan?" Yost said when asked about the next few days. "I think just taking one shot at the time. Staying in the moment. I don't want to get too ahead of myself. Today does put me in a good position to get into the weekend."
As Yost prepares for her second round on the LPGA, she has another big event in her near future. She will represent the United States in the Deaf Olympics in Turkey this July. This is the first year golf is included in the games.