The Loop
Head-to-head match play against mosquitoes and ticks
Last month, at the men's member-guest, Michael U. showed me a gadget he had attached to his bag: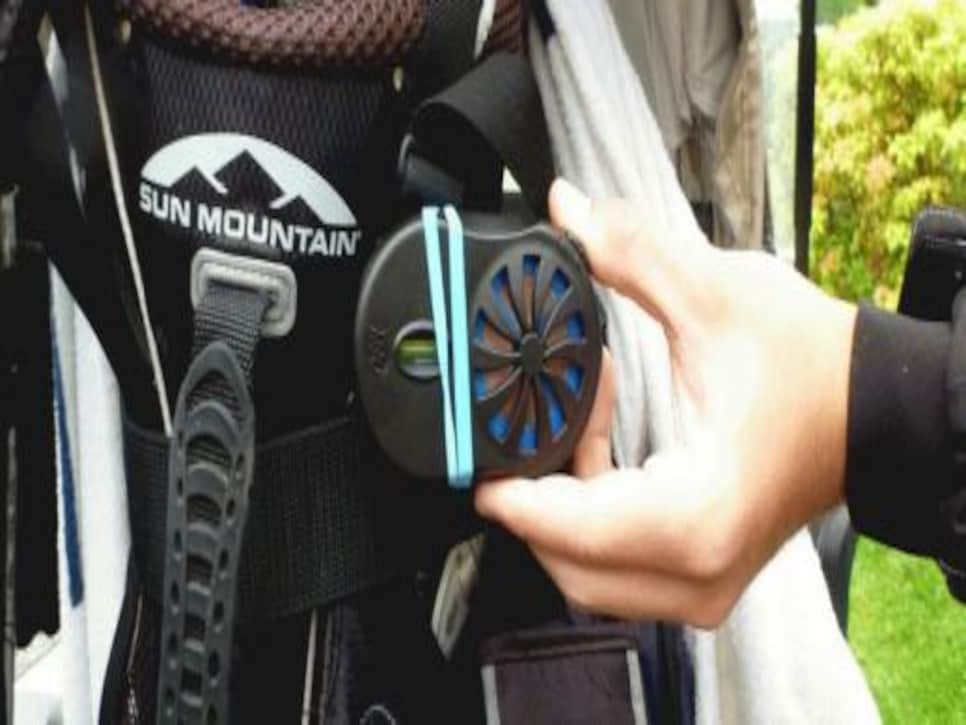 He told me that it contained a battery-powered fan, which enveloped him and his golf cart with a cloud of mosquito repellent. I was extremely interested, because I don't like being bitten by mosquitoes, and I've been trying extra hard to protect myself against ticks, ever since coming down with Lyme disease for the fifth or sixth time, back in June. The device is called a Clip-On. The manufacturer -- Off! -- sent me some to try, along with a couple of other goodies.
I had high hopes for the Clip-On, but it's actually not well-suited to golf. "If you move," the instructions say, "allow a few minutes for the unit to rebuild its personal protection." Any golfer who isn't moving more often than every few minutes shouldn't be playing golf. I attached one to the back of my hat, thinking it might keep bugs from circling my head, even while I was walking, but the fan, at that range, was annoyingly loud. And that's probably just as well, because, according to some virtually invisible fine print on an easy-to-miss part of the packaging, you're not supposed to inhale the stuff, a chemical called metofluthrin: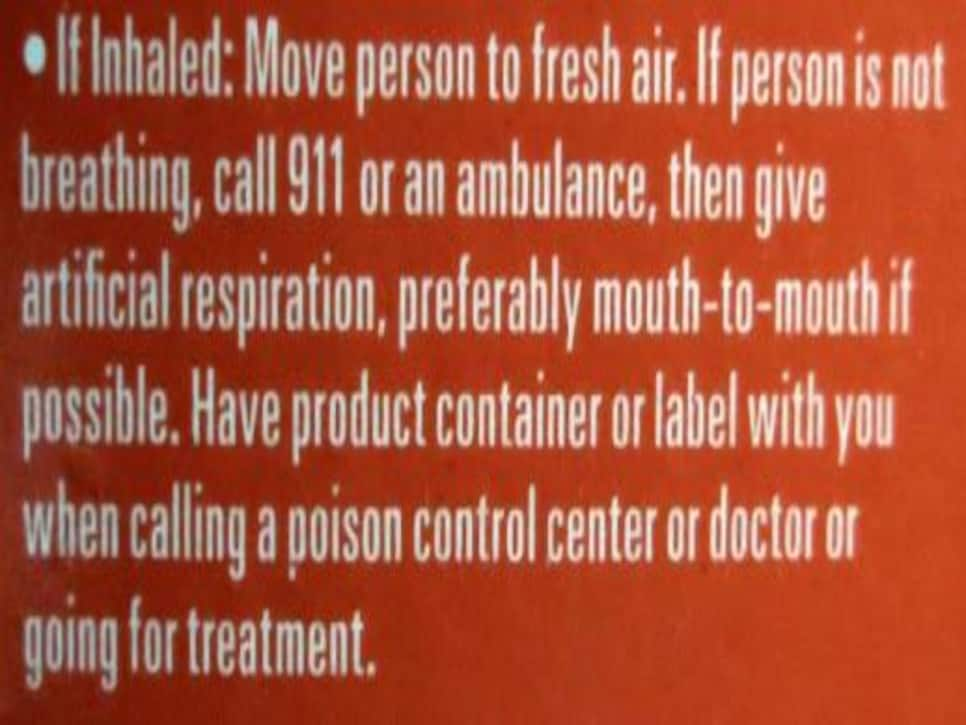 Good luck getting mouth-to-mouth resuscitation from the Sunday Morning Group. And then there's the cost. A single unit, which is supposed to last "up to" twelve hours, sells for ten bucks on Amazon. Each package includes an envelope labeled "refills" -- but it contains just one, and it's really a "fill," not a refill, since it's the only one in the box. Off! does sell actual refills, at roughly $4.25 apiece, but metofluthrin is pricey stuff, since that works out to more than $2,600 an ounce.
I also tried Off! Explore, a miniature aerosol can of insect repellent in a "crush-resistant" aluminum case. The case has a built-in carabiner, which you can attach to your golf bag: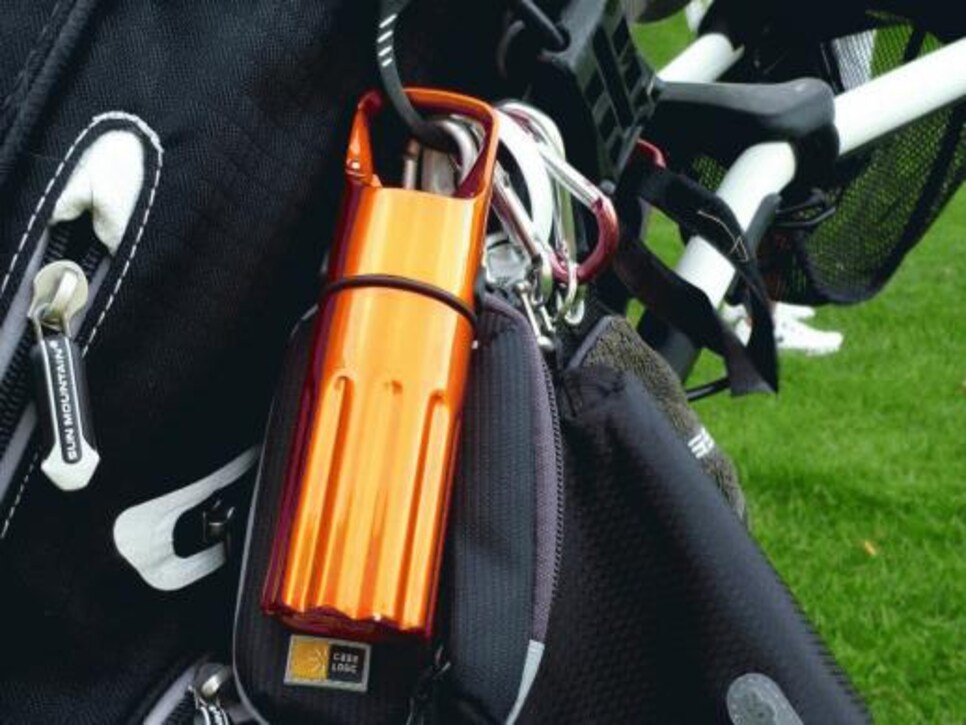 It's very handy. Here's Addison loading up his hat -- and that's Hacker (real name) in the background: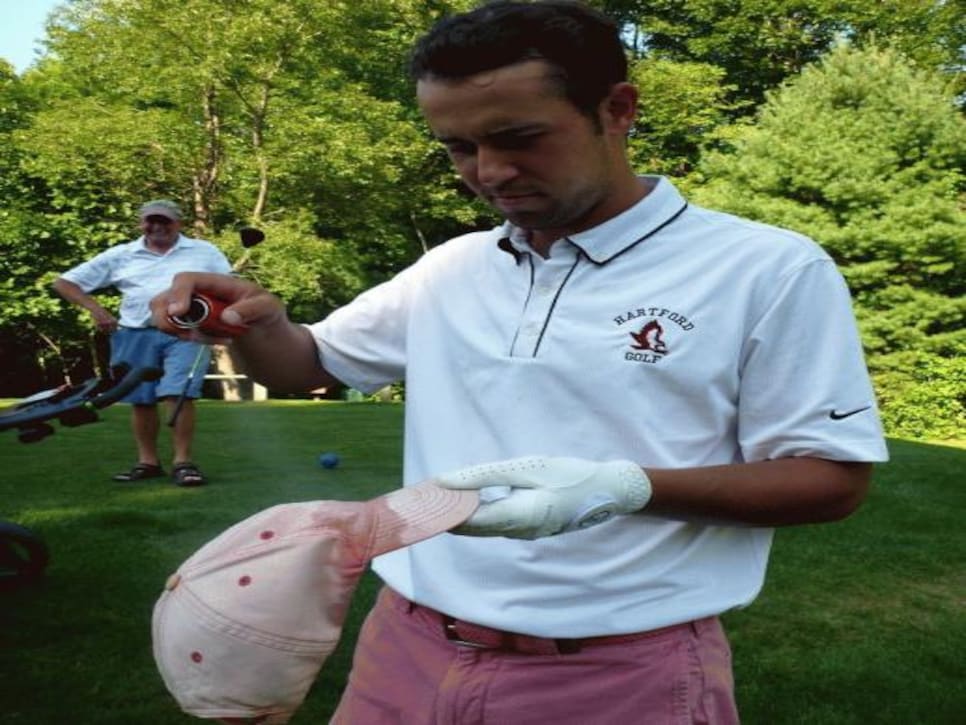 And Explore works great, like all of Off!'s DEET-based insect repellents. But it costs a fortune. A single unit, with case, sells on Amazon for twenty bucks and contains just 1.2 ounces of bug juice. You can buy refills, but they're expensive, too. So I shopped around and invested instead in some DEET-based repellent sold by Coleman. It doesn't have a carabiner, but each can has a locking top, so you can keep it in your golf bag without worrying that it's going to leak. It's stronger than Off!, and Amazon sells six-ounce cans, in two-packs, for just a bit more than a dollar an ounce: