The Loop
He said WHAT? Six ridiculous comments from Donald Trump at the Women's British Open
"The world asked me to be here."
Following Trump's comments on Mexican immigrants, golf has tried to distance itself from the real estate mogul and Republican presidential candidate, most notably seen in the PGA of America moving its Grand Slam of Golf event from Trump's L.A. course.
However, due to the proximity of the tournament with his comments, it was too late for the Women's British Open to find a new venue. Trump even dared the event to be moved.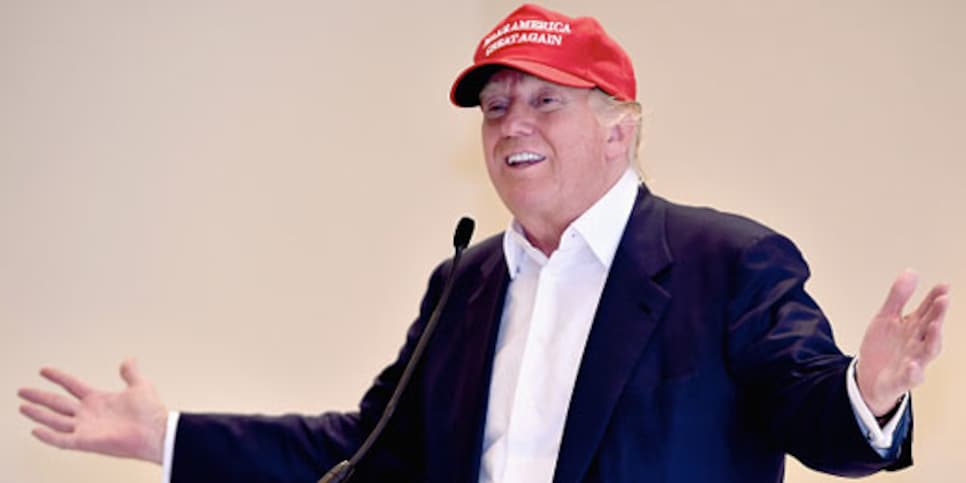 With this in mind, The Donald arrived in Scotland on Thursday for the Women's British Open, held at his Trump Turnberry resort. The highly anticipated appearance did not disappoint. Some of his gems included:
"A poll came out two days ago where I am number one with the Hispanics."
Assuming this "poll" was a sample size of the person Trump sees in the mirror, he's probably right.
"Everybody has asked me to be here. The world has asked me to be here."
Give the man credit. The fact that Donald Trump has accumulated a $2.9 billion fortune -- or $10 billion, if you believe his assertion -- without knowing what the word "ask" means shows that you too can hurdle life's obstacles to achieve your dreams, kids. Assuming you have a dad that can get your out of numerous bankruptcy run-ins, that is.
*"Illegal immigration is a huge subject. I brought it to the fore and everybody is thanking me for it." *
Does Trump not own a TV? Or is there an employee on his staff who edits every media broadcast or snippet before showing it to Trump? Because if it's the latter, that person is earning their paycheck.
This was in response to comments from Lizette Salas, a top-30 world-ranked player from the United States who has Mexican parents, who expressed displeasure at Trump's presence.
OK, I can kind of buy this, yet I'm sure Trump was aware of Salas' remarks. This also pokes a hole in Trump's "I'm a big fan and follower of women's golf" claim.
But instead of putting the issue to bed with, "She has an opinion, and I respect it," Trump's actual retort simply raised Salas' profile.
By the way, this was only a degree away from, "Oh yeah, well, the JERK store called" in terms of lame comebacks.
"That's your problem, not my problem."
A reporter asked about illegal immigrants in the United Kingdom, specifically the Calais crisis. Sounds like Trump has this foreign affairs thing down.
"I expect to be President."
Well, I expect to be greeted into every room with a standing ovation and roses thrown in my direction, but that doesn't mean it's going to happen.