News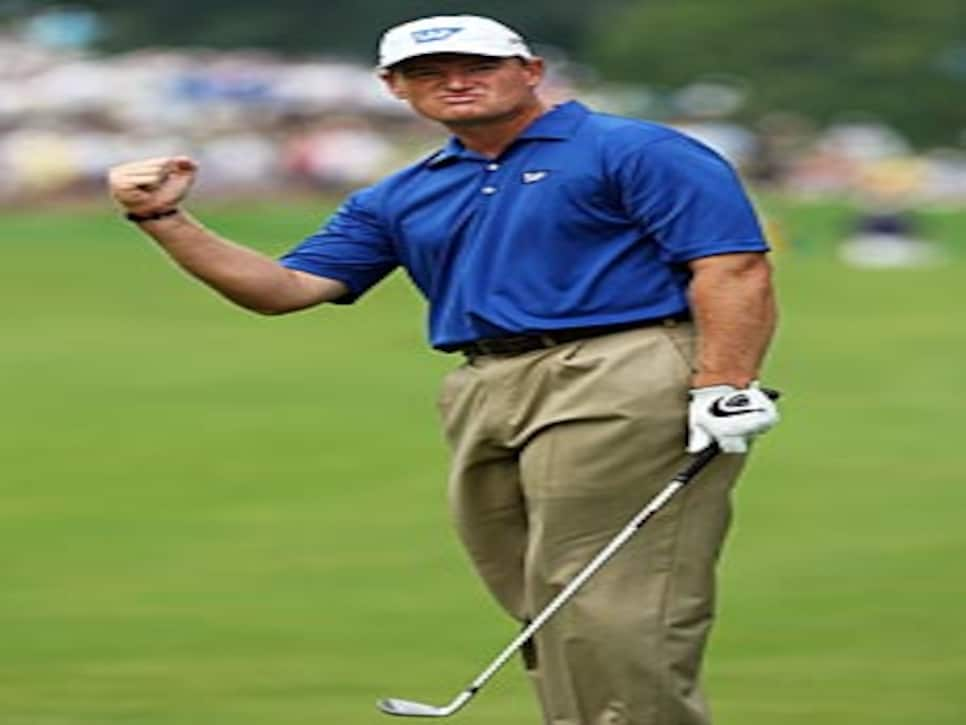 Ernie Els has had plenty to celebrate this week, despite closing his third round with three straight birdies.
CHASKA, Minn. -- Ernie Els approached his manager, Andrew "Chubby" Chandler, in the clubhouse late Saturday afternoon shaking his head, but smiling slightly, like he had a secret.
Or maybe he just figured one out.
The Big Easy had just fallen hard, making bogeys on each of the final three holes during the third round of the 91st PGA Championship. No way Els could be happy, going from one shot in back of the lead to five shots behind, and yet his voice betrayed not a hint of resignation.
Instead, there was recognition. It was recognition of what went wrong and how far he is progressing towards adding to his three major championships -- if not this week then perhaps in the near future while his window of opportunity remains ajar.
"I could feel myself rushing on those last three holes," Els said. "On 16 I could sense it. I just didn't quite finish it off. But it's almost there."
It certainly was. Despite the late hiccup, Els carded a 2-under par 70, and he finds himself tied for sixth at three-under 213 heading into Sunday's final round at Hazeltine National Golf Club. It's the fifth time since 2001 that he has been in the top seven through 54 holes in the season's final major.
"I've been playing good. Felt like I've been playing good all week," said Els, who tied for eight last month at the British Open but missed the cut at the U.S. Open and Masters. "A lot of good things happened. The finish just wasn't great. But I'm not totally out of it. Probably need something like that tomorrow and obviously got to finish it off."
Els, 39, who owns 16 PGA Tour titles but is winless this year, has been struggling with his putting for close to two years. He figured he'd missed about a dozen short or medium-range putts during his first two rounds, but on Saturday he saw the ball going in. He tallied five birdies, including a chip-in from off the front of the green at the 518-yard par-4 12th.
When a short pitch set up a 10-foot birdie at the par-5 15th, Els was six under and one behind Woods and Padraig Harrington. The backslide started when he missed the green at the par-4 16th and then three-putted the 17th. He found a greenside bunker at 18 after driving behind a tree and couldn't save par from 12 feet.
Els slapped disgustedly at a sign Saturday after talking to reporters but appeared otherwise calm. He admits composure might be his biggest hurdle -- after his putting. Despite a 68 on Friday, the big South African was candid about nearly losing control after failing to hole short birdie opportunities to start the round.
"I could have been out of here," he said. "I almost lost my head a couple of times, so it's miraculous that I stayed in the process. I don't care how strong you are in the mind ... some of the putts I keep missing, you could be the Man Upstairs and you would be upset."
Apparently, Els can go Tommy Bolt. No stories of abused putters have emerged, but scoring woes send him into the throes of pique.
"I've always been a good putter throughout my career. The last two years for some reason they haven't been going in. To me that's very frustrating," he explained. "That's why you see me come off the golf course you can barely talk to me. I can barely look at anyone. I just want to break things. That's the way it's been.
"For me, mentally, that's the hardest part to deal with. I'm hitting it as good as anyone out there and not getting my reward. It's mind-boggling that I'm not making anything. It's tough to take. It's the toughest thing to take."
Els won't be satisfied with another top-10 finish in a major -- he has 29, including four in the PGA, but a moral victory wouldn't be the worst thing, either. Just so long as he can point to something to build on.
"If I can just get over that hurdle or step," he said, "then I'm free again."