News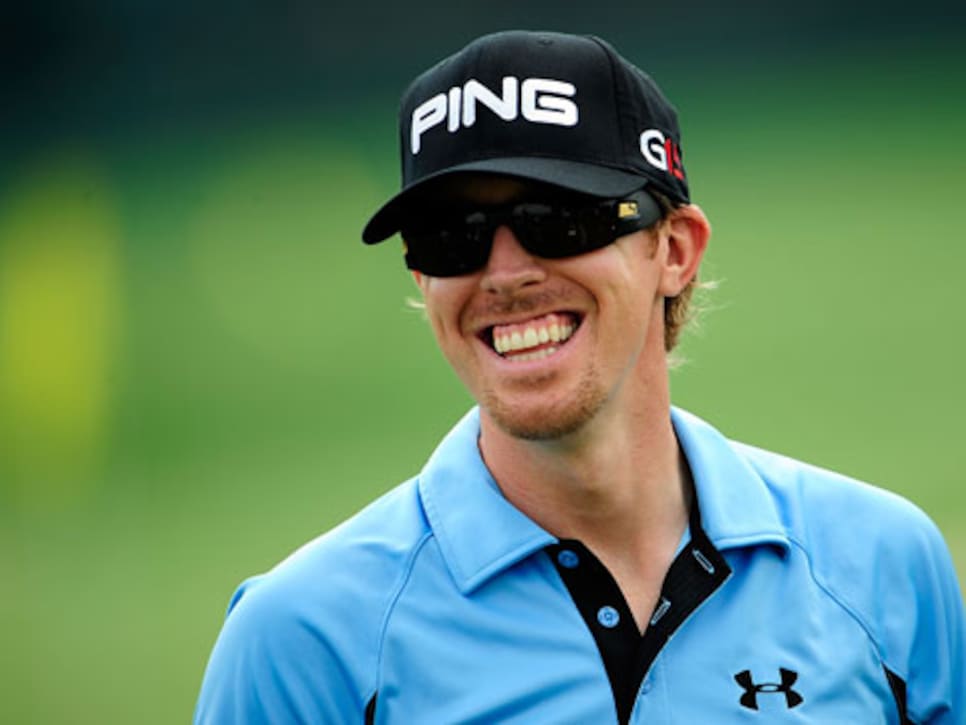 Hunter Mahan has reason to smile: He's a smart bet this week at the PGA Championship.
Let's see, last time I tried this I told you to put your money on either Tiger Woods or Hunter Mahan at the British Open and neither made the cut. But just as Woods bounced back from that debacle, yours truly is not afraid to offer some friendly advice on who to take in the office pool or on who to wager for those who may be spending the week in Vegas.
Here's a little reconnaissance on the current 10 favorites along with their odds to win courtesy of famed U.K. bookmaker Ladbrokes. As with the British Open, take these opinions with several grains of salt -- and the knowledge they might be as worthless as the office pool sheet you're holding. Then again, if you cash in I promise I won't come looking for a cut.
Tiger Woods 2.75/1: A strange year for He Who Is Without Peer (as one of my colleagues refers to him). Five wins might be the most remarkable comeback from major knee surgery any athlete has ever had. But the lack of a major doesn't sit right with him or us. Fortunately for Woods, he's riding a hot streak (back-to-back wins) and seems to have righted a balky putter. He's also won the last two PGAs he has played in and is only one shy of Jack Nicklaus' record five PGA titles. The longest course in major championship history (7,674 yards) also is to his advantage. The only thing lacking are decent odds. Still, a wager on Woods almost guarantees you will have something to root for on Sunday. Woods has played the week before a major only six times in his career and has won twice the following week.
Padraig Harrington 21/1: After the fourth round of the British Open, Harrington spoke about how, despite his poor form, he was only two or three weeks away from having it figured out. Writers rolled their eyes, but Paddy proved the point at the WGC Bridgestone Invitational where he finished T-2, making the defending PGA champ relevant at Hazeltine. Still, a leap to victory seems a lot to ask. Even Harrington said Tuesday, "I would still think it would be through the winter before I start to have it grooved in. So it will be another six months." Talk such as that has us keeping our cash in our pocket this week.
Phil Mickelson 21/1: Given all that Mickelson has going on in his life, it's hard not to root for the guy. But that doesn't mean we're going to throw our money away. His T-2 at the U.S. Open notwithstanding, Lefty has been wildly erratic this season. Like the little girl with the curl, he's either been very good (two wins and the T-2 at Bethpage) or very bad (six of his 13 starts have resulted in finishes of T-42 or worse). Add in a driving accuracy percentage of 50.92 (ranked 197th on tour) and we're guessing it's not going to be good Phil who shows up this week.
Lee Westwood 26/1: Perhaps the best driver of the ball in the game, Westwood's combination of length and accuracy will serve him well on the beefy Hazeltine layout. Recent form (T-3 British, ninth at the WGC Bridgestone) also are in his favor. But his best-ever finish in a PGA is T-16 -- and that was a decade ago. He may better that this time around, but a shaky putter under pressure will keep him out of the winner's circle if he gets close on Sunday.
Hunter Mahan 34/1: Our pick at Turnberry, he was a crushing disappointment by missing the cut in Scotland. No worries. We're back on our man again. First, the 34/1 odds are too good to pass up for a man with four top-six finishes in his last five events. He also ranks fourth on tour in scoring average at 69.48. His play at Bethpage shows he can handle the pressure and besides, we liked Stewart Cink at the U.S. Open and he won the next major. Let's hope that trend holds for the last major of the year.
Retief Goosen 34/1: Statistically, Goosen shouldn't even be in the discussion. He's T-74 in driving distance, 150th in accuracy, 128th in greens in regulation and T-114 in birdie average. But somehow, he's 10th on tour in scoring average thanks to his ability to produce a parade of pars when need be. That kind of play will come in handy at Hazeltine for the two-time U.S. Open champ. Sunday has not been his friend at majors, however. Since winning his second Open at Shinnecock, the South African has averaged 72.53 in final rounds at majors and 74.00 in his four most recent.
Steve Stricker 34/1: If only he had a little more punch with his driver (he averages 285.8 yards, ranked T-115) we'd be all over this guy. Since the 2006 U.S Open Stricker has recorded five top-10s in majors -- a testament to his steady ball-striking and an ability to roll the rock on the greens (ranked T-5 in putting average) as well as anyone. Ranked second on tour in scoring at 69.22, Stricker, who hails from Wisconsin, also will be a fan favorite of the Midwest crowd. A tie for sixth last week says his game is on form, too. Call him a close third on our list, behind Mahan and Woods.
Geoff Ogilvy 41/1: The oddsmakers clearly are going on reputation alone here. Since a T-6 at Houston in April, Ogilvy has one top-10 (a T-10 at Memorial) in four months and he missed the cut at the British and was T-47 at Bethpage. On his side is that he makes lots of birdies (ranked fifth on tour) but they are merely offsetting mistakes rather than helping him gain ground. Not likely to crack the top 25, let alone win.
Jim Furyk 41/1: Like Stricker, might lack the punch to make off with the Wanamaker Trophy as he only averages 277.8 yards off the tee. Still, don't be surprised to see Furyk at least within an arms-length of the lead come Sunday. He's finished no worse than T-36 in the last seven majors (including two top-10s) despite being over par in the final round each time. If he can put it together on Sunday, he could surprise.
__Sergio Garcia 41/1:__The Spaniard seems to slowly be getting his act together, with only one round above 72 in nearly two months. A decade after the scissors-kick shot at Medinah, Garcia still lacks a major but the PGA seems to suit him -- a T-2 last year and a T-3 in 2006. He's long enough to compete (299.9-yard driving distance average) but his putter remains woefully deficient (ranked T-139 on tour). Still, if he can avoid the big mistake it could make for an interesting finish.