News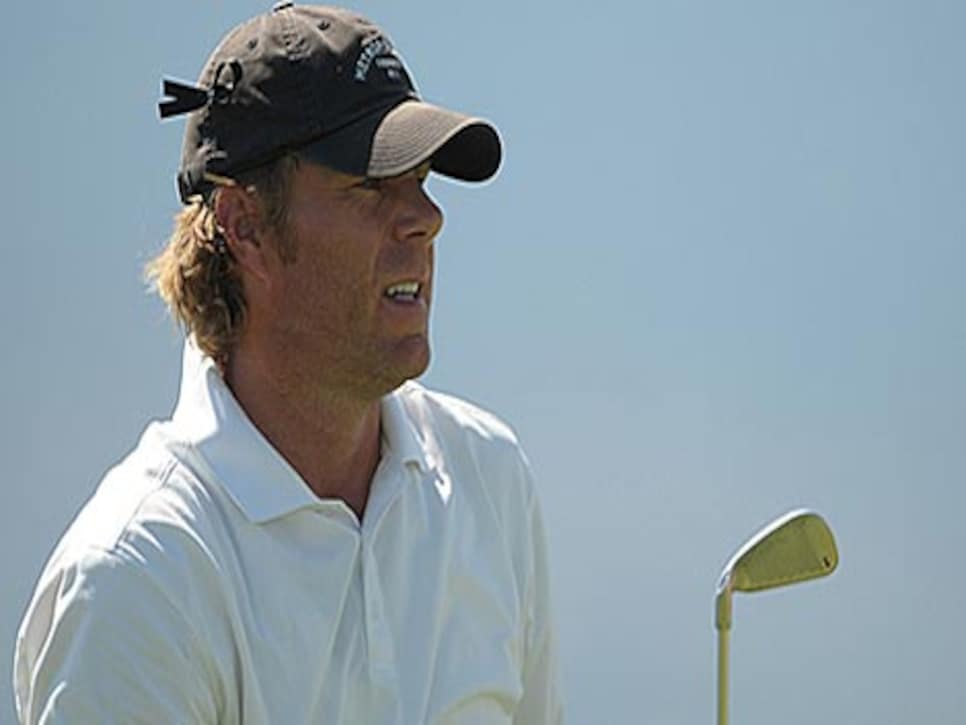 Club pro Keith Dicciani held his own in the first round with an even-par 72.
CHASKA, Mn. -- Professional golf writer that I am, I knew of D.J. Trahan before I noticed he was leading the 91st PGA Championship. Here's what I knew: He'd won something somewhere sometime and he's a Clemson football fan. Otherwise, I didn't know him from the milkman. But it was early in the tournament, here's a guy who teed off first (at 7:15 a.m), he was two-under for nine holes, and Tiger hadn't started yet. So I'd hang with the vaguely familiar D.J. Trahan.
A couple hours later, he was toast. Not burnt toast, but close enough that he was backing off shots, missing four-footers, his caddie was shouting at the three or four people in the gallery, "Stand, please," and his body language grumbled, "I got up at 4 in the morning for this?" When I looked him up in the record books later, I learned he was 28 years old, he'd won twice on tour, he'd made over $3 million the last year-and-a-half. And I thought, "Yep, I'd get up at 3:45 in the morning for that." My lack of sympathy for the poor boy's suffering was immeasurable.
Besides, there was a better story in Trahan's threesome, the tall and lanky Keith Dicciani, 37-years old, so far beyond vaguely familiar as to be severely obscure. He's an assistant club pro from the Metropololis Country Club in White Plains, N.Y. He's in the tournament because it's run by the Professional Golfers Association of America, not the PGA Tour. This is the real PGA, the guys from the pro shop who rent you carts, sell you x-outs, and fix that slice for you. The top 20 finishers in the PGA Professional National Championship qualify to walk the same earth as Tiger for a moment or two -- and Dicciani tied for eighth this summer.
He jumped into my consciousness at the 11th hole, a 600-yard killer this day, when he ran in a 50-foot pitch shot from just off the front edge for a birdie four -- though, truth to tell, the moment mattered mostly in contrast to the astonishing scene taking place a hundred yards away. There was polite applause for Dicciani's fine shot from the five or six people who saw it. But the other scene, with nothing happening except for a man walking, was unforgettable. Thousands of people moved in the same direction at the same time at the same pace -- the image was of rivers of people, rivers flowing one both sides of the 12th fairway.
The man walking inside the rivers was Tiger.
Tiger's world, we're all just living in it.
Tiger was three-under par, gliding, chatting with Padraig Harrington as they walked toward another dance with immortality. Seventeen major championships among the two. This was Keith Dicciani's first appearance in any major. He didn't touch a golf club until the summer before he turned 16 when, one day, for no particular reason other than teenage restlessness, he asked his father, Rich, a Philadelphia insurance broker, if he could hit some balls with him at Whitemarsh Country Club. Tiger was, what, 4-years old knocking in putts on national television? First time out with his dad, Keith Dicciani shot 162.
"Counted 'em all," the father said. By summer's end, he was in the 70s. "And I didn't have anything to do with it," Rich Dicciani said. "Keith was out there 12 hours a day -- and had natural talent."
At Hazeltine's 15th, another interstate highway of a hole, this one playing 651 yards, Dicciani reached the front edge with a driver and long-iron second. He ran a chip shot to four feet for another birdie that caused me to do my usual bizarre golf mathematics. In those two holes covering 1,251 yards, Dicciani needed only eight shots, which is an average of 156 yards a shot. At that rate, on Hazeltine's 7,705 yards, a man would shoot a cool-running 49.
So Trahan finished with an even-par 72 and pronounced himself pleased, which must have surprised anyone who saw him working from the rough on the back nine and finishing with a weak-chip bogey at the 18th. He was less than pleased, for instance, with a reporter who said, "I caught up with you at the 10th, so I missed your birdies on the front -- where'd you make 'e m?"
"How'd you make 'em?" I said.
"Made a putt at 1, made a putt at 9."
"OK. What'd you hit in there?"
"Wedge, 9-iron," he may have said, though by then I mostly had quit listening, except when he wouldn't tell a radio reporter how his beloved Climpsons might do this year. "I'm not going to answer that question," he said, pleasantly enough, even smiling at his unspoken suggestion that the beloveds hadn't always lived up to his expectations.
Anyway, by then I had moved on to Keith Dicciani's mother, Sharon, who after hugging and kissing her son, said, yes, she had walked the entire distance beginning at 7:15 and found the day "just amazing." And, yes, she'd be back for another walk tomorrow when her boy will start the day five shots behind the leader, Tida Woods's boy, Tiger.