News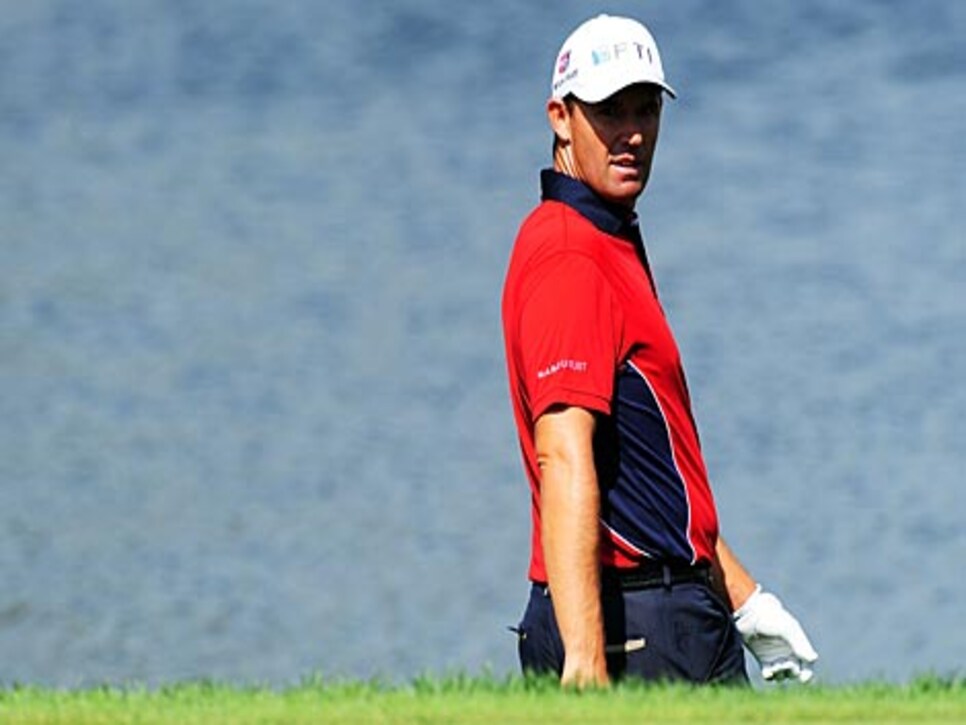 Harrington lost two balls in the water on the eighth hole Sunday.
CHASKA, Minn. -- The flagstick near the pond was up front and only five paces from the eighth green's right edge. A diabolical placement when the wind's blowing, it's satanic when the wind suddenly goes soft. "A three-quarter, knock-down 6-iron," was the shot, Padraig Harrington said, 167 yards on this day, "and then the wind died, and I tried to hit it easy." Great players can do those mid-swing manipulations. But not always, as Harrington went on to say. "I messed up."
The shot died to the right, sinking beneath the still waters of what may forevermore be Harrington's Pond. Then things got worse. From the drop area, not daring to fly at the flagstick again, he jerked a wedge left and over the green into some deep stuff. And from there it really got bad. Harrington's pitch shot came out high and hard. "Instead of just thinking about getting it up-and-down," he said, "I was thinking about what I was doing. And I did the classic amateur stuff. Lifted my head." The shot came out high and hard, bladed almost, on its way into the pond, another toy for the fishes.
Three times a major champion, defending the PGA title at Hazeltine National, Harrington had stepped to the eighth tee a shot behind Tiger and tied with Y.E. Yang. What a great day this promised to be, a clash of titans, Woods against Harrington, perhaps the first of many such dances -- when, suddenly, poor Paddy was dead. A limp pitch from the pond's edge, two putts, and the number on his card came to be an abominable snowman. As to when he last made an eight on a par-3, Harrington would say he couldn't remember. Perhaps when he was 6 years old? "Not even then," he said brightly.
Three hours after the watery disaster, Harrington came up the long hill to the 18th green, a climb he might have allowed himself to imagine being done to a hero's reception. Champions have their private imaginings or they would never once climb a hill to victory, let alone think of doing it again. But Harrington's day had long been done and many a man might have come despondent into view of tens of thousands of fans at the 18th green. Not Padraig Harrington, who made the climb smiling, lifting his cap once, and again, lifting it a third time in answer to the kind applause washing over him.
From behind him, 500 yards away, at the 17th green, something had happened, for it was behind him, with Tiger and Yang, that the drama of the day continued. Harrington looked at the leader board and saw Yang one shot up on Woods. Then he finished his week's work, a six-over 78 on this day that left him in a tie for 10th place -- beaten by eight shots.
And that's the way it was this year. Once upon a time, we knew the glories of the Tiger Slam. So now we will suffer the Who Cares Slam. We wanted Kenny Perry in Augusta, Phil Mickelson or David Duval at Bethpage, Tom Watson at Turnberry. Instead, and do understand, these are all fine men and good players but, come on, do the names Cabrera, Glover, and Cink ring with intimations of immortality? And here we were ready for Tiger to be Tiger again, or for Paddy to step on Tiger's throat. And we get Y.E. Yang, or, to put it another way, Whyeee, Yang?
But it was Woods who wobbled, not the South Korean at age 37 in the Sunday heat of a major for the first time. On 14 such Sundays, Woods had averaged 69.5 shots a round to his playing partners' 73.14. On those Sundays, Woods had been outscored only twice -- and he beat both those men in playoffs. This time, Yang was five shots better than Woods. This Sunday, he was the better player. And what that means for Woods, who is to know? Was it a sign that Tiger might now be less than the game's absolute monarch? That he no longer strikes fear into every commoner's heart? Or, to quote Harrington, "Maybe it will cause Tiger to step up to another level."
Harrington praised Yang as a good player who is great "when he's on his form," as he was this week. For 30 minutes, too, the Irishman repeated the dreadful details of his debacle at the eighth hole. "Obviously, I'm disappointed," he said. "Just five more yards and the first shot is on the green. Then, when I tried to play safe with the drop, hitting to the left, I was punished for that as well." He even smiled here. "But these things happen."
Here, someone asked about an eerily similar meltdown just last week when he twice hit shots into the pond by the 16th green at Firestone Country Club, handing that tournament to Woods. "You folks do ask some questions, don't you?" he said. "As I said, these things happen. But I'm not going to mull over them."
The best players dig through their train wrecks and find jewels. It is a means of insanity prevention. The snowman didn't cost him the tournament, Harrington said. No, no, dropping two onto the trout and walleye wasn't the cause of his defeat. He had many, many chances after that, he said, to get to five- or six-under par, which he had thought would be good enough to win. He just didn't make those putts. "So I'm happy to see that Y.E. has won with eight," he said.
A curious way of thought, certainly, because, let's say he had made par at the eighth and also made all those putts later. That would have brought him home at, oh, 12-under par with Woods and Yang far, far behind. Oh, well. Harrington's such a class act that I'm buying in to anything he wants to say, especially this, "I was comfortable out there all day, and I know the putts will drop again as they dropped last year, and then I will win again."