News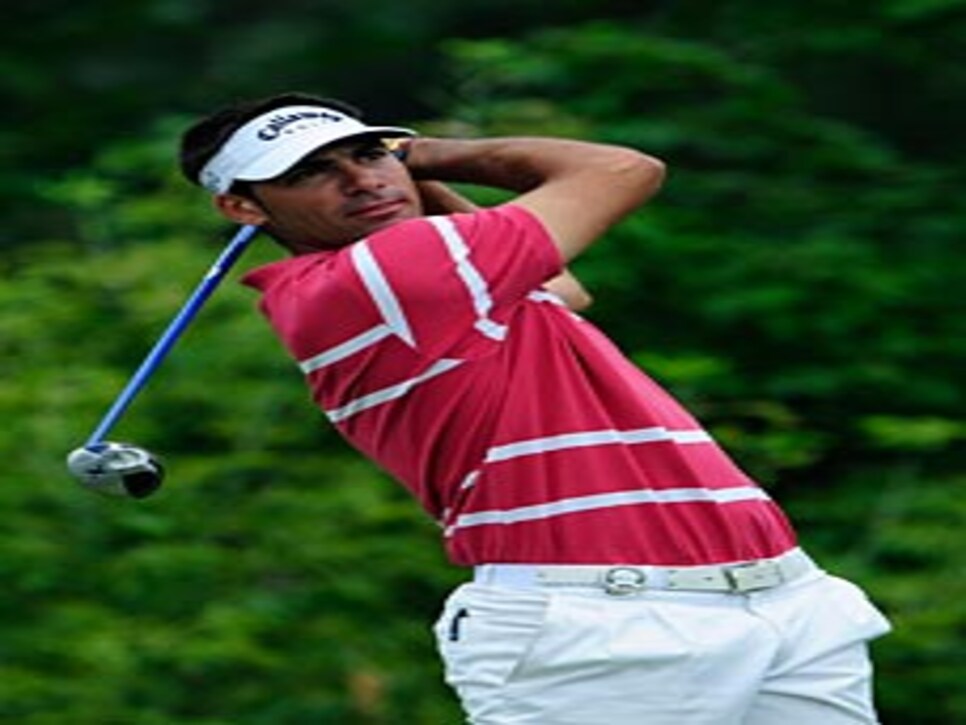 Alvaro Quiros has turned heads at Hazeltine this week with his incredible length off the tee.
CHASKA, Minn. -- Alvaro Quiros is impossibly good looking. We can't hate him for that; it's a good-genes thing. The Spaniard is a millionaire on his way to more. We can't hate him for that; he's earned the cash. He hits rockets that cross oceans at such velocity as to suck the water from under ships. We can't hate him for that, either, because he's put the tall, lean, strong, athletic package together in a brilliant way. All of this and he's 26 years old. That, we could hate him for, except that even geezers admire a guy who says, "Americans love the action, the spectacular, and I think it is a little bit of myself, the action," the words delivered with an incandescent smile.
You need be no golf illiterate to be unfamiliar with the world's 39th-ranked player, especially if that ranking is earned primarily with European Tour work. Quiros has won there once in each of the past three seasons. His playing partner Saturday, the American John Rollins, didn't know much more than this about Quiros: "He told me I was likely to see the ball in lies that I didn't know existed." Which is to say Quiros always hits it a long way but only sometimes knows its destination. Not that he's bothered by that. "It's nice to be important," he said, by which he meant in his second-language way that it's nice to be noticed, "even if it's only for length."
For most of us, Quiros became a name only Thursday when he rolled a second shot onto the 11th green, a 600-yard par-5 uphill into the wind, the ball rolling up as Tiger studied his putting line. The great one looked back down the fairway to see whodunit. "Tiger told me he wanted me to tell him how I did it," Quiros said. How he did it was hit a driver off the tee, then a driver off the fairway for the first time in his career. That, lads, is an 8.5 degree driver off the fairway. Five dollars if you can get it airborne.
My new favorite Spanish action figure -- get well, Seve -- is six shots behind Tiger going into Sunday's final round of the PGA Championship. Could win. Stranger things have happened. Right this minute, PGA panjandrums, poohbahs and other fingers-crossed muckety-mucks are contemplating the etching of "Y.E. Yang" on the same Wanamaker Trophy decorated with names such as Hagen and Hogan, Sarazen and Nicklaus. To Alvaro Quiros' credit, he has no illusions. "I am a long way from Tiger," he said.
How far, I have no idea. But I hope he closes the distance, and soon. He is the happily-strutting-on-stage antidote to every earnest American plodding toward another million-dollar year. Look, when the crowd talks so you can hear it -- "Geezdidjasethat?Ohmigawdyowzer!" -- you know something's happening, and that's practically a direct quote from the folks behind the 11th tee Saturday when Quiros put a freakin' lash on a tee shot that came to earth much, much later. Such is the Quiros penchant for drama -- he's a James Bond fan -- that he was disappointed when his second to the 600-yard par-5 bounced back from a berm instead of forward. Here's what he said at that moment, as heard from outside the ropes 50 yards away, his head turned up to the gray sky, "Aaarrgggh!" Or thereabouts.
The disappointment was also evidence of important self-knowledge. Through the first two rounds at Hazeltine National Golf Club, he putted and chipped so poorly that he thought it necessary to reach the par-5s in two to make birdies. Sure enough, a mediocre chip at the 11th onto a crowned green left him a 10-footer that he missed. And when his tee shot on the long 12th wandered into the right rough, Quiros spoke to his driver. Walking to his ball, he raised the clubhead to his lips. As to whether the conversation included a reprimand and a kiss of forgiveness for the driver's transgression, again came that Quiros smile. "Nothing was working," he said.
After rounds of 69 and 76, he was even par for the tournament through 13 holes Saturday when he came to the 313-yard 14th. His 3-wood tee shot, high and moving right, caused him a moment's concern. "Aaargh," he said, or thereabouts, twisting his shoulders left, as if only body english could save the poor thing. "No room to miss on the right," the dramatist said, though in fact the missile landed in the middle of the green and set up a two-putt birdie.
There's a distinctive sound produced by the Quiros driver on contact with a golf ball. It was heard on the 15th tee. It's a bell sound, a sudden bell sound, as if a hammer has been brought against a fine silver bell with serious speed. At the sound, grown men whimper in envy and small animals burrow deeper. Barely had the sound's reverberations ended before Quiros' tee shot on the 642-yard 15th came to rest in a fairway bunker -- the bunker from which Padraig Harrington did his miracle on Friday, reaching the green from 315 yards. Quiros, deeper in the bunker than Harrington had been, first thought to lay up with an iron, only to switch to a 5-wood and then hit it thin off the bunker lip. The choice may have had more to do with drama than with good course management, but it was, to extend the Spaniard's thought, the kind of action relished by any golf fan, American, Spaniard, or Martian.
With another two-putt par there, the day had become frustrating. Quiros had missed six putts inside 10 feet until, at the 16th, he made a 15-footer for birdie. There he stood on the green, arms raised high in victory, arms three times raised high for the cheering multitudes, with Lake Hazeltine shimmering behind him, smiling for all America to see. "At last, yes," he said. "And celebration, yes," followed immediately by a birdie on a 5-footer at the par-3 17th.
His second 69 left him tied for eighth, which is nice but not a contender's place, not when the leader is the best player on the planet by a measure of miles, particularly when he goes into the Sunday of a major with the lead. In those circumstances, he is 14-for-14. Whatever happens Sunday, we'll see more of Quiros, for while he thinks of the European Tour as his home, there's not a player in the world who fails to understand that America offers all the fame and wealth a man could want.
Quiros says he won't do the PGA Tour qualifying school, "but if I qualify through the majors or the world rankings," he will be here full-time. As to what he must do to succeed here, he figures he has the length but not the short game to deal with the Tour's fast greens. He said he must master a second wedge. His 58-degree job is OK. He said, "I need the 60."
Good news there. Only two degrees of separation between Alvaro Quiros and America.
Dave Kindred writes regularly for Golf Digest and golfdigest.com.