News
Dispatches from Hazeltine
Editor's Note: Greg Bisconti, an assistant professional at St. Andrew's Golf Club in Hastings-on-Hudson, N.Y., is playing in his third PGA Championship this week thanks to his tie for 13th finish in the 2009 PGA Professional National Championship. He will be sharing his thoughts on his experience each day with GolfDigest.com. After making the cut in his first PGA with a 72 on Friday, Bisconti struggled to a 78 in the third round, and is nine-over par for the week.
Well, I think I may have experienced an inevitable letdown after Friday. I was so focused the first two days, and so excited about making the cut, that I think I may have used up all my energy. And needless to say, that's not a good thing on a golf course like this, where you have to be so perfect.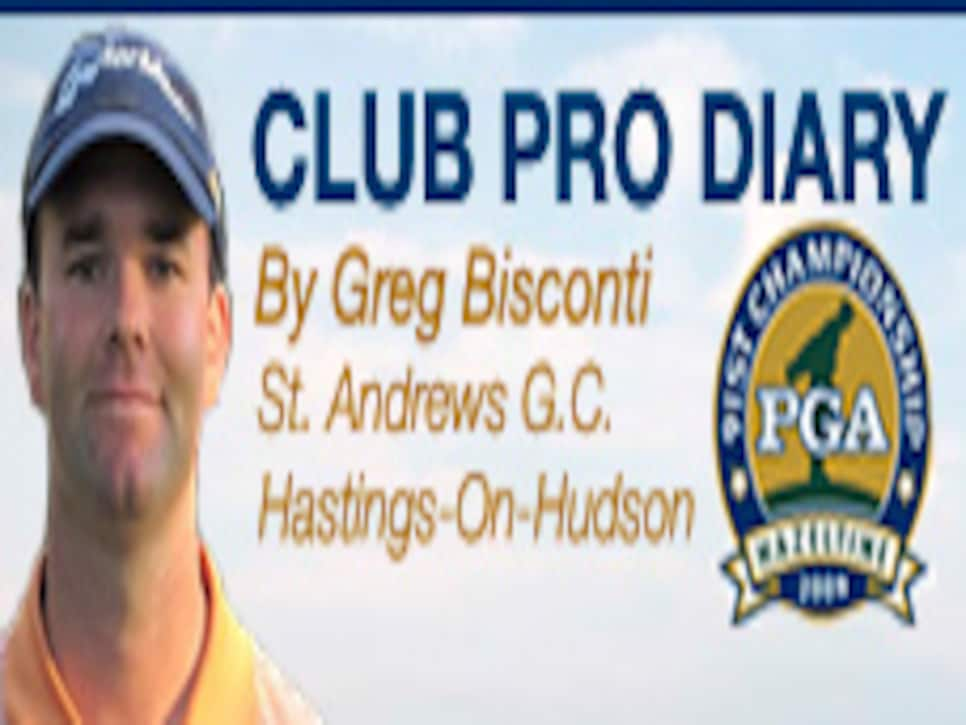 But that's all just an excuse.
It wasn't even that I was nervous. I just made a couple of mistakes. But here, if you even miss just a couple of greens, you start worrying about shooting 85.
The best part of the day may have been my pairing with Camilo Villegas, if not for me, then at least for my daughter, Emily. I enjoyed playing with him -- he was very gracious and complimentary, and a few times that I made a decent putt, he was sure to give me a fist bump.
But for Emily, it was more than that. I told Camilo after the round that Emily had first fallen in love with him when I played the PGA at Southern Hills, and he was nice enough to pose for a picture with her and give her a glove that he signed. Now that she has it, Emily says she feels like she's technically holding his hand. If anything, that's the kind of stuff that really matters about this week.
Not only that, I feel like a day like today only provides greater perspective on how well I played yesterday. To shoot even par on a tough day, with the cut on the line, that's really something I relish.
As for now, I just want to sit back, watch the PGA, and maybe have a few beers. As you can imagine, the last 24 hours have been kind of a whirlwind. Not that I'm complaining.