News
Dispatches from Hazeltine
Editor's Note: Greg Bisconti, an assistant professional at St. Andrew's Golf Club in Hastings-on-Hudson, N.Y., is playing in his third PGA Championship this week thanks to his tie for 13th finish in the 2009 PGA Professional National Championship. He will be sharing his thoughts on his experience each day with GolfDigest.com. After a second-round 72, Bisconti made the cut for the first time in the PGA at three-over par.
CHASKA, Minn. -- I'd love to tell you I've been celebrating all day after making the cut, but to be honest, it hasn't really registered yet.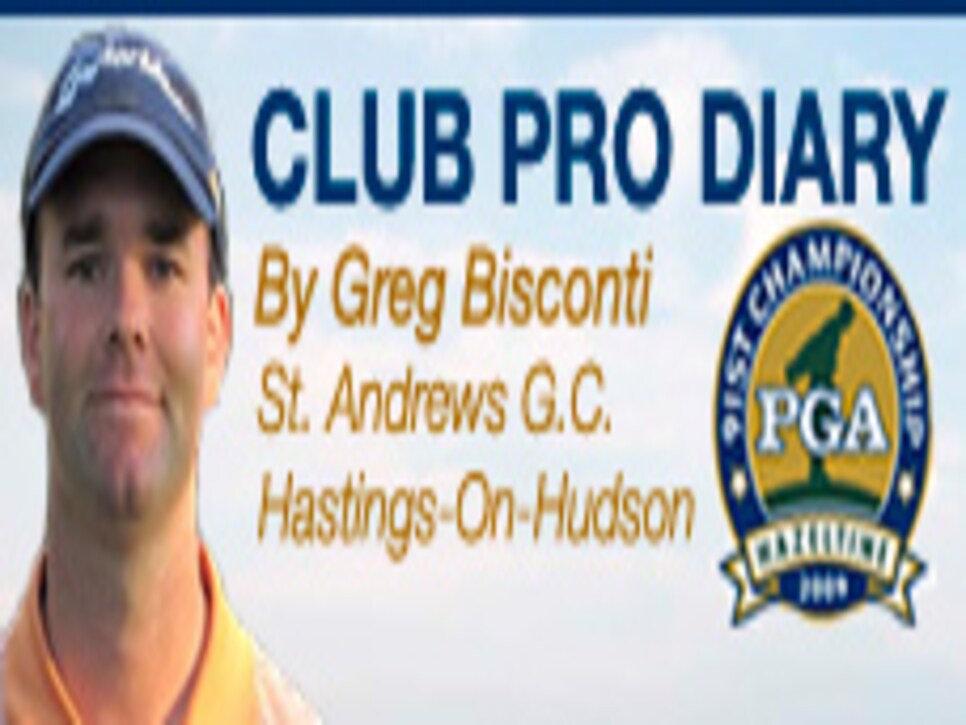 Part of that has to do with the fact that I wasn't sure I was going to make it until the scores were all in. And part of it has to do with the fact that I've had to scramble to change my travel plans now that I'm definitely going to be here a few more days.
It's a good problem to have, I know.
Naturally to shoot 72 on a tough course today meant I played pretty well, but my round this morning seemed pretty uneventful to start. I was just hanging around making pars when finally on nine, I broke through with my first birdie of the week. That was great, but then I added another one on 10. And then yet another one on 11. For the first time all day, the cut was on my radar, and that's what made those last few holes so much fun. I knew they meant something.
It's funny, but even then, I wasn't sure what the number was going to be. At one point on the back nine I ran into somebody who told me that the cut was going to be at two over. So the whole time after that I thought that's what it was going to be. And when I had about 85 feet for birdie on 18, I figured I had to make it. I didn't, of course, but I did lag it close enough to two-putt for par. And as it turned out, that was enough.
From there, the rest of my day was pretty surreal. Naturally I watched a lot of the telecast and kept an eye on the leader board. But most of the time was spent answering texts and e-mails and messages on Facebook from friends and people at the club. A lot of them were reminding me how the very players whose names I had dropped earlier in the week were guys that I had beaten the first two days.
I suppose that's something to feel good about. But most important to me is that I just played well. I knew that when I finished up, and I wasn't going to let my opinion change whether I made the cut or not.