News
Dispatches from Hazeltine
*Editor's Note: Greg Bisconti, an assistant professional at St. Andrew's Golf Club in Hastings-on-Hudson, N.Y., is playing in his third PGA Championship this week thanks to his tie for 13th finish in the 2009 PGA Professional National Championship. He will be sharing his thoughts on his experience each day with GolfDigest.com. In the first round on Thursday, Bisconti shot a three-over 75. *
CHASKA, Minn. -- No, I can't say I'm thrilled with a 75 here, but I can't say I'm devastated, either. Truth is, when I first saw this course earlier this week, I was amazed at how difficult it was. I just knew there coud be some big numbers out there if I was going to be hitting hybrids and woods into a lot of greens.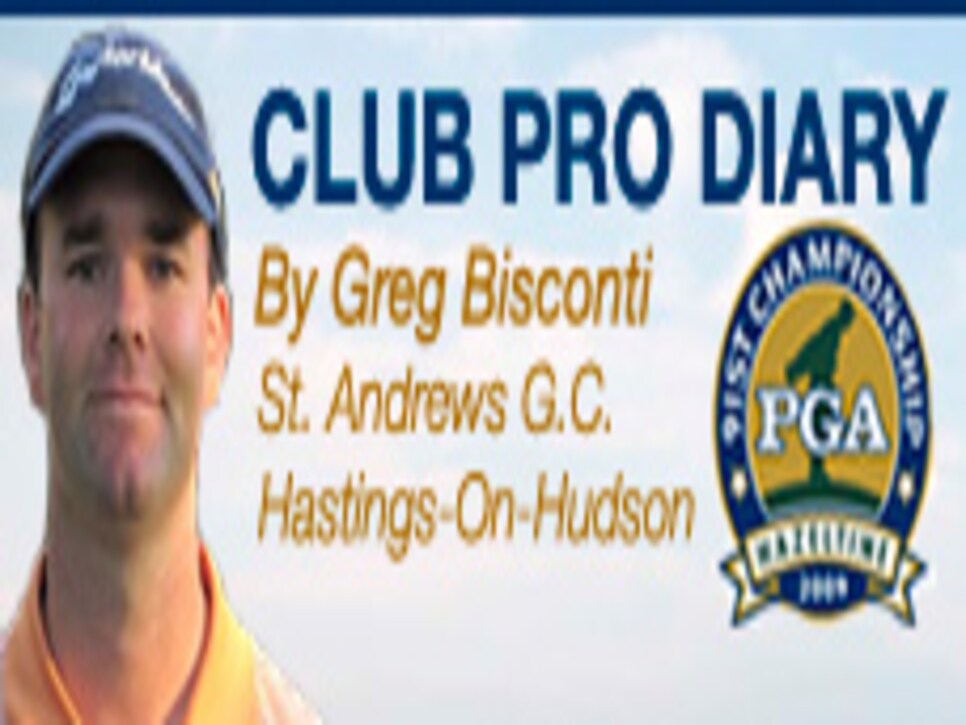 But today I was in a good frame of mind. For one, the golf course had dried out a little so it was actually playing a little shorter. And for another, I actually felt like I had decent control of my nerves. This being my third PGA, I've learned a little bit about the experience. And so for once I stood on the tee thinking about trying to make birdies instead of just hoping not to hit the ball into a concession stand. I guess you could say that's an important difference.
But even then, I didn't play as well as I could have. I made a bogey on my first hole and from there, even when I was putting for birdie, I was never close enough where I really had a chance to make anything.
Still, what really threw me off was when our group got put on the clock late on the front nine. I'm not sure what did it. A rules official started following us after the seventh hole, and then when we made the turn and we cut through the locker room, one of the guys in our group had to go to the bathroom, and that seemed to throw us off even more.
So a lot of the round felt like a scramble from that point on. It felt like cardio golf we were rushing so much. And for a club pro like me who doesn't play a whole lot in this environment, it's tough to keep it all together when you've got other stuff in your head as well.
But that's golf, and now I've got 18 holes tomorrow to try to make up ground to make the cut. I figure I've got to get at least to even par, which means I've got to play well. But I also don't want to lose sight of everything else. I'm here to do my best, but I'm also here to enjoy the experience. I'm not going to let my score get in the way of that.