News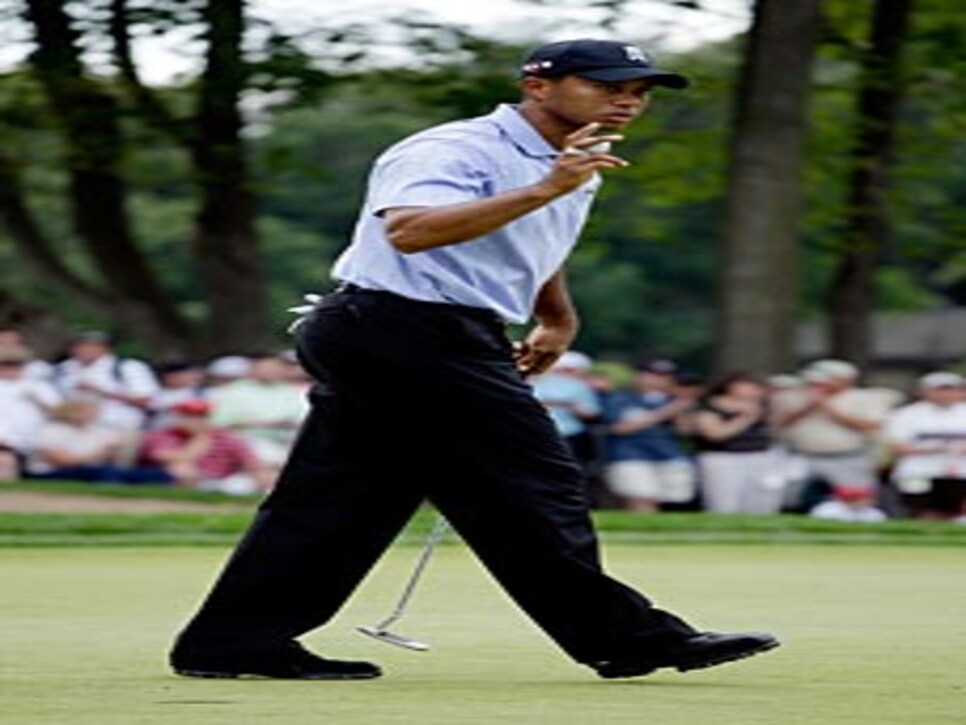 Tiger Woods was one of many players in red numbers in the opening round.
CHASKA, Minn. -- The 15th hole at Hazeltine National runs along the far eastern edge of the course and let's just say it covers a lot of ground. If you stand there on the 15th tee and you squint hard and you look far down the tree-lined fairway, way off in the distance you can just about make out the shape of ... yes, that does appear to be a flagstick.
Hard to say, actually, because at this distance, it's borderline invisible. That's because this hole played at 651 yards Thursday in the PGA Championship. So what is it, a par seven? It's so long that if it plays into the wind, maybe you can get there in, say, four. You could chop it up and make about three nice par threes.
What's becoming clear this week is we've got a course here that was designed by Longfellow, not Robert Trent Jones. The PGA of America has obviously gone to great lengths to challenge the greatest players in golf. They've made Hazeltine the longest course in the 91-year history of the tournament. It measures 7,674 yards long, which makes it the longest course in a PGA Tour stroke play event in 20 years.
In fact, if it was any longer, it would need an intermission.
This week, we're seeing the longest par 3, the longest par 4 and the longest par 5 ever played in a PGA Championship.
It's all part of a trend about setting up golf courses, that the best way to give players problems and to keep them on their heels is to sock it to them with length. Make the courses longer, that's what makes them tougher.
Has anybody noticed that it doesn't work that way? Let's say this all together now.
*Length does not bother these players. They will still shoot low numbers. *
Sergio Garcia opened with a 71 and said he's all for tough courses, but that doesn't mean they earn that distinction solely on the basis of length.
"I think nowadays, there's a lot of ways that you can make a course tougher," he said. "I think that obviously adding length is one of them, but it's probably not the best one."
Garcia said firm greens or small greens are also good methods to make courses more difficult.
And even though the 15th actually played nine yards longer than its normal distance of 642 yards, it was not much of a cause for alarm in Thursday's first round. For instance, look what happened there with one of the premier groups. Padraig Harrington (long hitter) and Tiger Woods (longer hitter) both reached the 15th green in two and Rich Beem (shorter hitter) was only a few yards shy.
Here's what bothers players: narrow fairways, rough and -- most important -- wind. That's pretty much the complete list.
But somebody's not paying attention. The longest U.S. Open in history was last year at Torrey Pines (7,643 yards). Woods won, two under in his middle rounds. Before this week, the longest PGA Championship was three years ago at Medinah (7,561 yards). Woods won at 18 under and 39 others finished under par.
At the British Open, weather completely dictates the difficulty of the layouts. Augusta National has been lengthened significantly in recent years, but that's been just part of the plan to toughen the course, along with the addition of a first cut, more trees and in some instances, narrower fairways. And the greens at the Masters are regarded as the most difficult of the majors because of their speed and slopes.
Woods pointed out that Hazeltine didn't play at its full distance in Thursday's first round. The tees were moved up at some key holes. The 572-yard par-5 seventh was shortened eight yards, the 518-yard 12th played at 501 yards and the 248-yard 13th was 30 yards shorter. Also, the 606-yard 11th was shortened six yards. Woods said they were all good moves.
"On 13, guys would probably be hitting little cut drivers in there," he said. "Yeah, it's a long course from the tips [but] we never play from the tips. It's like Torrey Pines is supposed to be a long golf course, but we never played it all the way back."
Harrington sided with Woods in that a longer course allows different teeing areas, depending on wind or wet weather, which leads to more of a fair setup. And something else.
"Happier players," Harrington said.
"OK, the golf ball goes a long way when it's warm. You wouldn't want to play this golf course in Ireland. At 7,000 yards, it would be a long day out there. We're getting out well over the 300 yards [mark]. So the length isn't an issue as long as the weather is good."
And who knows how long that's going to be true. There's only one thing you can count on here. Whatever distance they play Hazeltine, it's still a long walk.