News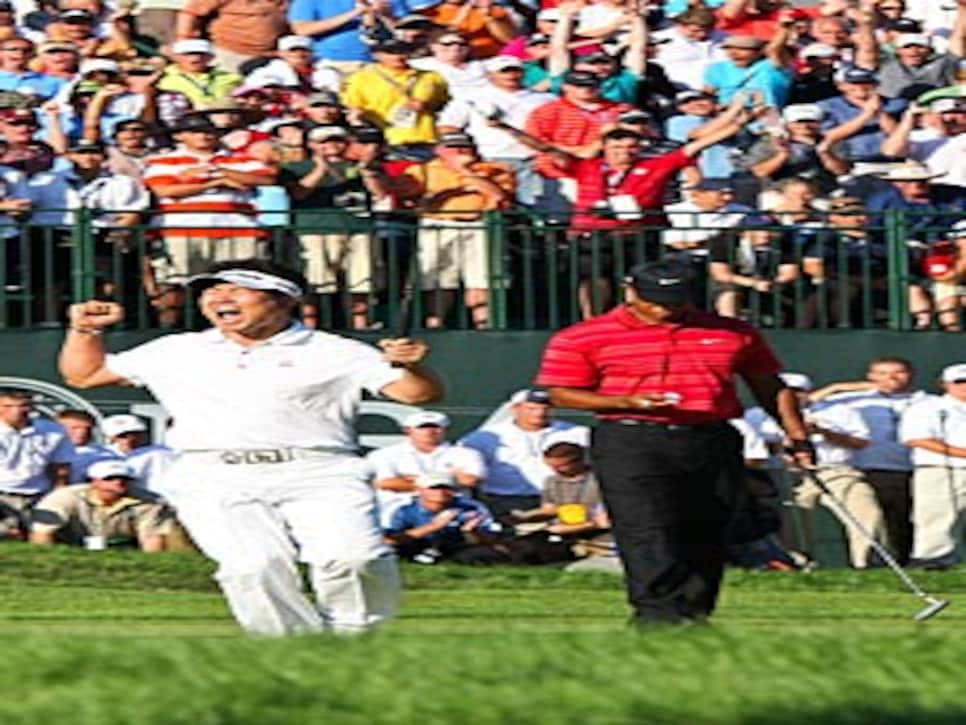 In a surprise twist, it was Y.E. Yang who ended up celebrating on the 18th green, not Tiger Woods.
CHASKA, Minn. -- The last public appearance of Tiger Woods at Hazeltine National Golf Club early Sunday evening was sort of brief. Woods descended quickly down a set of wooden steps, and then followed a short pathway to a waiting golf cart, his spikes making a brisk clicking noise on the pavement. He climbed into the front seat of the cart, parked behind another one that was filled with his uniformed police escort. The sun was disappearing behind a huge, white tent, and now, so was Woods. His agent gave the motion to get rolling. Like now, you know.
Woods removed his cap, wiped his brow with the shoulder of his shirt and sped down a gravel road, making a right turn to find his courtesy car in the player's parking lot.
He didn't say a word, but he didn't really have to. His body language spoke volumes. And let's just say the rigid posture, the tight-lipped expression and the straight-ahead look pretty much screamed out loud.
Tiger was not happy and he wasn't going to spend any more time around this place than he needed to -- which would mean, well, no time at all. Woods was going places, fast. The private jet back to Florida was probably already revving its engines on the runway, waiting for him to jump in, plop down in the leather seat, sit back, close his eyes and spend the next several hours thinking about how he had lost the PGA Championship to Y.E. Yang.
Feel free to turn that thought over yourself. Tiger Woods lost a major to Y.E. Yang.
Of course, this can't happen. Because if it can, if Tiger can lose to Y.E. Yang, then everything you know is wrong. Lake Hazeltine is filled with vinegar, the Mississippi River flows backwards, walleyes have grown legs and hitchhike down Interstate 35W, Vikings fans really do like Packers fans and the sun has now decided to set in the east.
Tiger just lost to Yong-Eun Yang? There has to be a voter error, a hanging chad, a computer glitch, a misprint, a misunderstanding. In the last round of a major, Tiger does not lose to a Yang any more than he would lose to a Yin.
But somehow, that's exactly what happened, and along with it, you almost have to suspend disbelief to be able to wrap your head around the enormity of it.
Woods had never lost a major when owning the lead or sharing it. He was 14-0. Woods is the No. 1 player in the world. Yang was ranked 109th. Woods had won 70 PGA Tour events, Yang had won one. Woods had played in 56 major championships, Yang had played in seven. Woods had won twice in the last two weeks, Yang had won once in the last two years. Woods had won the PGA Championship four times, Yang had never been better than 47th in two PGA Championship appearances.
And Woods did not lose to someone with a flowery pedigree. He did not lose to Padraig Harrington or Ernie Els or Lee Westwood or even somebody like an up-and-coming Rory McIlroy. Woods lost to a 37-year-old semi-unknown from South Korea and now becomes part of an unwanted footnote to history -- Yang is the first Asian-born player to win a major championship.
Woods lost to a player whose caddie knows all of two words in Korean: I'm hungry.
And now, and for the next eight months, there's going to be a pit in Woods' stomach. He has no chance to feel better about what happened Sunday until next April at the Masters, when the next major championship will be played. That's a long time for anyone to wait, but it's probably a lot longer for Woods, because his appetite for winning, and for winning majors, is nothing if it is not prodigious.
He's still stuck on 14, even though 15 sure looked like it was going to happen at Hazeltine on Sunday. Woods thought so, too. He said he played well enough to win the tournament, but didn't putt well enough Sunday to do it.
As he explained how he lost Sunday, Woods spoke in measured terms, but he seemed to be seething inside. Tiger is mad at himself when things don't go his way and on this day, things had never gone so wrong, at least not in a major.
He blamed his putting most of all -- 33 putts in the fourth round, his worst numbers of any round.
"It was a fun battle," Woods said.
He didn't really sound like he meant it. Maybe Woods' heart just wasn't into dissecting his defeat so soon after experiencing it in real time.
"Today was not a good day at all," he said, mentioning his putting again. "So it was just a bad day at the wrong time, and that's the way it goes."
It does go that way sometimes, but the shocking thing is that it's never gone that way for Woods before -- the losing part, certainly not losing a major with a lead to start the last day.
It's possible Yang will have more days like Sunday and add another major to his collection.
If Woods has any more days like Sunday, the pace of his departure as he rides that golf cart to the parking lot is liable to break the sound barrier.