News
Disappointment Almost Everywhere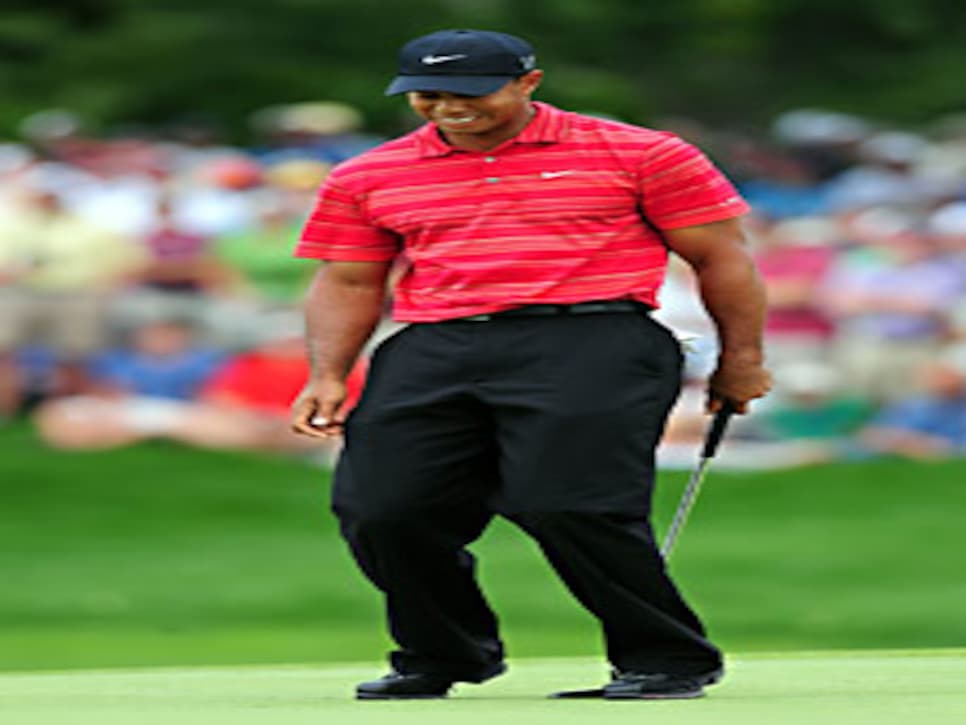 Tiger Woods' stunning loss at Hazeltine capped a year of unlikely major championship winners.
CHASKA, Minn. -- Early Monday, work crews had already begun dismantling the set at Hazeltine National GC, all the tents, grandstands, fences, cables, wiring and everything else that needed to be moved. It's possible Tiger Woods had started demolishing his memories of the PGA Championship long before that.
If Sunday was a day for the history books for Y.E. Yang, the first Asian to win a major championship, it was a day to forget for Woods. He just doesn't get defeated while holding the lead on the last day of a major. Not until Sunday, anyway.
You can be sure that Woods is revisiting some parts of his strategy, and wondering if he had it right.
Woods has consistently voiced his belief in the experience factor. That to win major titles, it's vital to have either won or been in the hunt before. If Lucas Glover didn't chuck that theory out the window with his U.S. Open victory at Bethpage Black, Yang did away with it at the PGA. Woods is accustomed to watching his challengers fold up like a lawn chair in his presence. Yang beat him by nine shots on the weekend.
Woods has a history of cleaning up on the par-5 holes at majors, but he was only six-under in four days at Hazeltine, one-under the last two rounds. When he was asked whether he was being too conservative, Woods said the par 5s were all but unreachable. What he didn't say was that he rarely hit his driver anyway, using three-woods instead.
Woods sometimes seems to psych himself out on the greens. He doesn't like playing on Poa annua greens, and often complains about them. At Hazeltine, he putted as if the greens were getting to him, especially when playing late in the day when the Poa pops up and spike marks take their toll.
Woods pointed out that Jack Nicklaus finished second 19 times in majors. Tiger's up to six now, five of them coming since 2005.
Woods played the par-three holes in three-over. It was the first time since the 1997 PGA that he didn't birdie one of the short holes in a major. It means he wasn't hitting the ball close enough to the pin and was a big reason why he needed 120 putts, T-39 in the field.
Other than the fact Tiger is fallible, here's what else we learned at the PGA Championship:
It's still a hit on television -- The overnight rating for CBS' Sunday telecast was 7.5, up 150 percent from last year's 3.0. It was the highest-rated fourth round for a PGA Championship since Woods' first runner-up finish at a major, the 2002 PGA at Hazeltine.
It was certainly a What-if Year in the majors -- Instead of 48-year-old Kenny Perry winning at the Masters, Phil Mickelson winning at the U.S. Open, Tom Watson winning at the British Open and Woods closing the deal at the PGA Championship, the lineup of winners was Angel Cabrera, Glover, Stewart Cink and Yang. It was as if the wrong player won every time.
Disappointment, your name is Sergio Garcia -- He managed to miss the cut at Hazeltine and thus ended the 2009 majors with one top 10--a T-10 at the U.S. Open. Amazingly, that week at Bethpage is Garcia's only top 10 in 13 PGA Tour events this year. He's 115th on the FedEx Cup points list and is so concerned about his position in the PGA Tour Playoffs that he committed to play the Wyndham Championship, a tournament he has only played once in his career. Garcia is 0-for-42 in majors since he turned pro in 1999. Garcia turns 30 in January, and the burden of not having already won a major must be growing larger every time out.
Phil Mickelson just wasn't into the tournament -- Even an eagle putt on the seventh hole Friday (his 16th) to help him make the cut on the number couldn't spark him on the weekend. But what, if anything, does Mickelson's T-73 mean for whatever's left of Lefty's year? He may have offered something of a clue with his nondescript performance at Hazeltine. "Next at the Barclays, that's pretty much for sure," Mickelson said of his playing schedule. After that, who knows? Mickelson has no idea how many tournaments he'll play the rest of the way. His schedule depends entirely on his wife Amy's cancer treatments. Mickelson has missed the cut at the PGA Championship just once in 17 years, but this might have been a good time to miss it again. Hanging around for a meaningless weekend certainly didn't do him any good.
Quote of the week -- From Mickelson, after his third-round 76, saying some players were coming up with low scores: "I wasn't one of them."
The clubhouse at Hazeltine is the original and looks it -- The inside of the place is dark and gloomy and worn. It looks as if it was the model for the "Addams Family" mansion. But the frumpy clubhouse is going away, soon, to be replaced by a multi-million dollar structure that's part of Hazeltine's prep work to host the 2016 Ryder Cup. All new grass is coming, too. Woods would probably volunteer to drive a plow.