News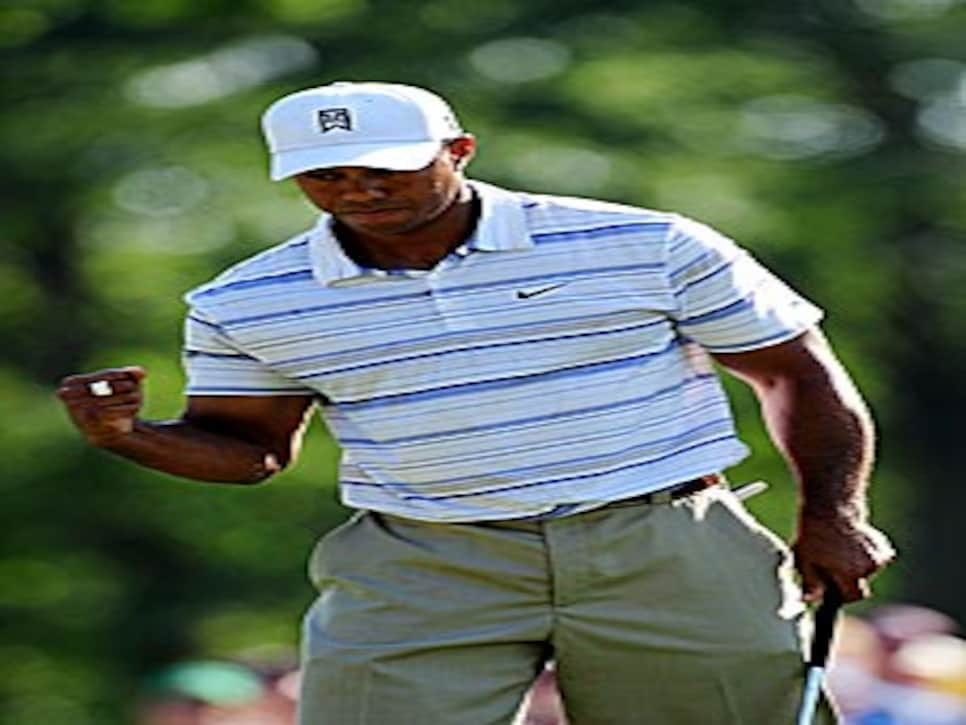 Opponents have gotten used to seeing these types of reactions from Tiger Woods this week at Hazeltine.
CHASKA, Minn. -- Just before his round, Tiger Woods was in a zone. He looked neither left nor right as he made his way toward the putting green that's on a hill, just above the first tee at Hazeltine National. He crossed paths with Camilo Villegas, who had stopped to greet Woods with a handshake.
Woods never looked at Villegas and he never stopped walking. He should have hung a "Do Not Disturb" sign around his neck.
It was not a day for exchanging pleasantries Friday at the PGA Championship, where Woods bogeyed the first hole and the last one and spent the rest of the time trying to put some of the day's hot air between himself and everybody chasing him.
There are a lot of them, most with their own agendas and resumes, so trying to sort out what transpired during a muggy, breezy, sizzling second round is something that takes some time.
"All in all, it was just a very difficult day," Woods said.
Let's examine the evidence.
Playing alongside Woods, Padraig Harrington bogeyed the last hole to close with a 73 and fall four shots behind Woods. But at least he had the shot of the day -- a three-wood out of the bunker from 301 yards out that reached the 15th green. Woods was so impressed he told Harrington he would have paid to see that.
"So I asked him for $50," Harrington said.
That might have been the only smile Woods flashed all day.
Lee Westwood is five shots back and would have been closer if he didn't have to play the par-3 17th, where he made a double bogey. He was probably due for that after he somehow managed to save par at the 16th, where he hit his first shot into the tall grass on the side of the lake and his second shot in the shadow of the grandstand.
Westwood, who lasted until the 72nd hole at Turnberry before hitting the ball into some British Open weeds, hasn't won a major and he's probably due for that, too. Don't count on it this week, though.
As for Vijay Singh, he's won this PGA Championship twice before, so he knows how to close the door. On Friday, the door opened early for Singh, who finished his round of 72 about 45 minutes before Woods even started. Then Singh cleverly got out of the heat, put his feet up and watched himself zoom up the leader board so fast, he left a vapor trail.
He's with Harrington in a five-way tie for second, four shots behind Woods and he'll play alongside Woods in Saturday's third round.
As it turned out, timing was important, and playing in the morning was a good thing. Why? Because Hazeltine hadn't yet turned into a version of the tropics. Also playing early and taking full advantage were Brendan Jones and Lucas Glover, who are also at three under.
Jones, who isn't well known, and Glover, who wasn't well known until he won the U.S. Open two months ago, are in the Singh logjam at three-under 141. The Jones update is short: This is his first stroke-play event on the PGA Tour this year because he's spent most of his time on the Japan Tour.
Ross Fisher is also in the mix. Fisher is best known for being in the lead on the last day at Turnberry, a beeper in his pocket because his wife was expecting to give birth, and then making an 8 on one hole. He probably wished the beeper had gone off so he could have left the course.
Fisher had the day's low score, a 68, the same as Ernie Els, who actually moved into the top 10 somehow. Els is showing signs of life lately, a nice change of pace after he missed the cut at the Masters and the U.S. Open. Els tied for eighth at the Memorial and also tied for eighth at the British Open.
It's probably a reach to include Phil Mickelson in the rundown for the weekend, but at least he made the cut at four-over 148. And that certainly didn't look like it was happening until the scores started rising in the direction of the blimp that circled above the course.
As for Woods, he was disappointed he hit a chip too hard at the 18th that led to his bogey, but other than being hungry, he wasn't all that upset.
Maybe he knows he's 8-0 in majors when he leads after 36 holes. Harrington said that's a record that will fall. Someday.
"Maybe he'll be 60 when it's broken, but it's never going to last forever."
At this point, Harrington's got a lot of company trying to make sure it ends this weekend.