Hazeltine has been closed to all golfers since September 6th. And for a month prior to that, the course's 550 members were hitting off mats when they played the 7,678-yard track. These efforts highlight just a small portion of what it takes to host an event as big as the Ryder Cup. And head superintendent Chris Tritabaugh, 39, has had one primary goal for the past two years: to make Hazeltine ready for the big stage. In his words below, he describes how it finally is.
We always keep our greens pretty firm, but earlier this season they just weren't quite where I wanted them. Knowing we were going to have 200+ rounds almost everyday leading up to September, I pounded a ton of sand into them. Members hated it and they were ready to kill me, but now the greens look great and they're ready for action.
Kerry Haigh and the PGA of America rely on the superintendents at each course to set up their venues. So when Kerry visited Hazeltine for the first time in August 2014, he sat down with me and said, "Alright, here's the deal, it's just you and me. I'll tell you what we're looking for and I have all the faith in the world that you'll deliver it. I'm not going to tell you how to do it. Nobody knows this place better than you and your staff." As a superintendent, we want people to have faith in our ability to do what we do, so having Kerry walk in here and tell me he has faith in me was pretty cool.
Most of my discussions about course setup for the Ryder Cup have been with Kerry, and then he goes on and talks to Davis Love. I rarely chat with Davis directly. Kerry cares about three things: height of rough, hole locations, and green speed. Everything he'd like to achieve is similar to how we already do things, which makes my life easier. The rough will be about three inches high and slightly thicker than normal, and greens will run in the 12-ish range, which is a bit faster.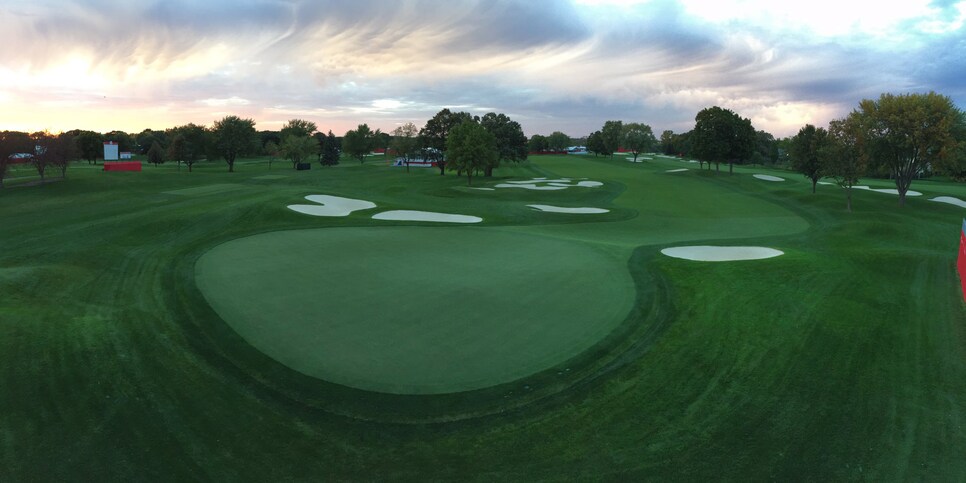 Getting the crowd into it is the single most important thing for the U.S. team, and Davis wants to create this back-nine of Augusta feel where people are making birdies from everywhere. You can achieve that through rough height—if we keep the rough mowed down at three inches, pros will be able to recover from all sorts of places.
We're going to reorder the golf course to really get the crowd amped up. None of the holes at Hazeltine are physically moving, but there will be a swapping of numbers. Holes 1 through 4 and 14 through 18 will make up the front nine, then holes 10 through 13 and 5 through 9 will comprise the back nine. The "new" holes 15 through 17 have a ton of room for spectators, so we'll be able to get people in there and create the cauldron of noise that the Ryder Cup is all about.
In this day in age, a big reason courses are chosen to host a Ryder Cup or a major championship is because they can handle the infrastructure to support a huge event. At Hazeltine, we're going to have 1.3 million square feet of floor space constructed around the course, which is about three times the amount of floor space built at Baltusrol for the PGA Championship. And that floor space will have minimal impact on the golf course.
The last major hosted at Hazeltine was the 2009 PGA Championship. Between then and now, all the greens have been rebuilt and re-grassed with bent grass, making them far more consistent. Also, a ton of trees have been removed to open up the greens to lots of good sunlight, and they now have sand-based roots and strong drainage. At the same time, all the fairways were re-grassed. Since I've been here, we put a system into the bunkers to improve the drainage. If we have a rain event like Oakmont had or Baltusrol had, we'll have very little to no impact on our bunkers or greens.
This is my fourth year as head superintendent at Hazeltine. I spent my first two seasons getting to know the course and I've spent these last two years getting ready for the Ryder Cup. In hindsight, I wish I'd had four full years getting ready for this. I would've spent more time looking at tree removal from the standpoint of what's going to block a potential view for a camera or a village, I would've resodded the edges of all our bunkers, etc. Nobody but us will realize these nuances, but it would've been nice to have had that extra time.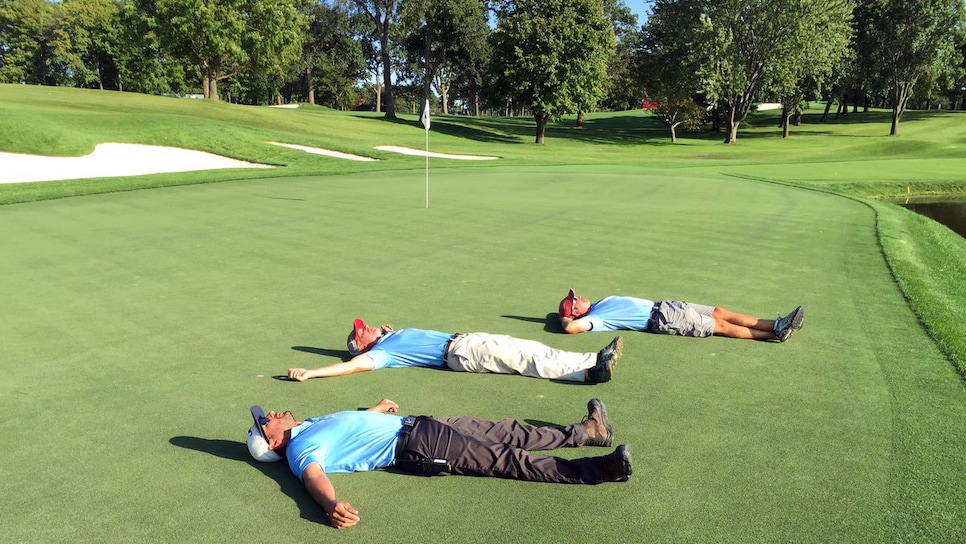 My staff has 40 people, and that includes all full-time staff, part-time staff and full-time seasonal staff. We didn't hire any reinforcements for the Ryder Cup, but come September through the event, we'll have another 100 people volunteering to make sure Hazeltine is in prime condition.
Hazeltine will close three weeks before Ryder Cup. The idea is to take the carts away, to take the foot traffic away, to take the hundreds of pairs of feet off the putting surfaces, and to focus on making it as perfect as possible as we close in on the event.
We've all seen how courses get destroyed after hosting major events. I know there will be a certain amount of damage done to Hazeltine, but I'm trying not to worry about that now. We'll be entering a long off-season after the Ryder Cup, so I'll just go ahead and deal with the aftermath in the spring. Right now, I'm in Ryder Cup mode.
Tritabaugh is a prolific tweeter and will continue bringing you inside the ropes as the Ryder Cup unfolds, follow him at @ct_turf.