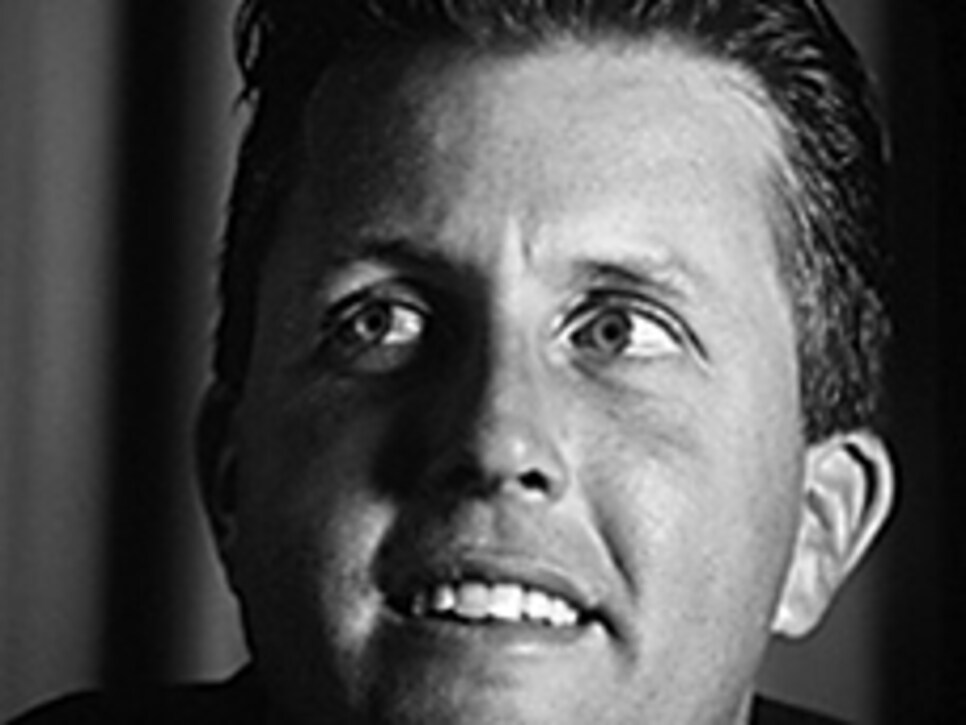 'I certainly don't play golf to live.'
Few defining moments in golf are more vivid than the one pinned on Phil Mickelson, whose heartbreaking loss to Payne Stewart at the 1999 U.S. Open belies a career etched in success (17 PGA Tour victories, almost $14 million in earnings) but who remains haunted by the absence of a major championship. That Mickelson's first child was born 18 hours after his most agonizing defeat is more than just a case of prickly fate. Despite the thorns, his life is still a rose garden.
At age 30, Mickelson reaches his prime on the short list of those capable of challenging Tiger Woods' extraordinary dominance. Blessed with enormous length and perhaps the best short game in golf, Mickelson rebounded from a winless 1999 to win three times in a 3 ½-month stretch.
He also failed for the ninth consecutive season to win a major, a streak few would have thought possible when Mickelson jumped directly from Arizona State to the tour in June 1992. A four-time All-American and winner of the U.S. Amateur and NCAA Championship, Mickelson remains the last amateur to win a PGA Tour event (the 1991 Northern Telecom Open), leading some to believe success comes almost too easily to him.
Mickelson met with Golf Digest Senior Writer John Hawkins in October in Las Vegas to discuss his standing as one of the game's most talented and enigmatic players, his wide variety of off-course interests — and the pursuit of greatness in Woods' immense shadow.
The Mickelson file Born: June 16, 1970, in San Diego
Height, weight: 6-foot-2, 190 pounds
Family: Wife, Amy; Amanda (1)
Turned professional: 1992
PGA Tour victories: 17 1991--Northern Telecom Open
1993--Buick Invitational, The International
1994--Mercedes Championship
1995--Northern Telecom Open
1996--Nortel Open, Phoenix Open, GTE Byron Nelson Classic, NEC World Series of Golf
1997--Bay Hill Invitational, Sprint International
1998--Mercedes Championship, AT&T Pebble Beach
2000--Buick Invitational, BellSouth Cl., MasterCard Colonial, Tour Championship
Other: 1990 U.S. Amateur Championship; 1990 NCAA Championship
National teams and records:
Presidents Cup: 1994--2-1-2; 1996--1-2-1; 1998--0-2-2; 2000--3-2-0. Total--6-7-5.
Ryder Cup: 1995--3-0-0; 1997--1-1-2; 1999--2-2-0. Total--6-3-2.
Walker Cup: 1989--1-1-2; 1991--3-1-0. Total--4-2-2.
Golf Digest: There's a segment on The Golf Channel where you're hitting flop shots over Dave Pelz. He's like 6-foot-5, and he's standing right in front of you. How many of those swings would it take before you hit one thin and ended the man's career?
__Mickelson:__I'm certainly careful when I do that. He was three feet in front of me and he didn't flinch — I was pretty impressed by that. I was watching the replay from a side angle, and the coolest thing about it is that the ball was above his head before it was even halfway there. It's a fun shot.
I really enjoy some of those trick shots. I enjoy creating little shots around the green, because I grew up with a chipping green in my backyard and spent a lot of time there. The great thing about practicing your chipping is that you've got the result right there, not 250 or 300 yards away. You can pick up your ball and do it again real quick.
In Tucson maybe seven or eight years ago, I remember watching you skip a ball off a lake and onto the green. Is that the most amazing shot you've ever hit in competition?
To me, that wasn't an amazing shot. A little risky, maybe, but not amazing — the way it set up, it wasn't very difficult. When I think of amazing shots, I immediately go back to tournaments I've won. The most memorable shot is the eight-foot putt I made to win at Tucson as an amateur (in 1991), just because winning as an amateur is such an oddity. Scott Verplank had won the Western Open six years earlier, but it's been done only twice, and it's very difficult to do. Very unexpected.
When did you know you were capable of playing professional golf?
I knew I wanted to play the tour for a living when I was 9 or 10. I had just won a junior tournament and I was driving home with my dad when I told him I wanted to play golf for a living. And he said, "Well, that's great. I just want you to realize how many people try to play the tour and how few actually make it. So let's make sure we have some other options if that falls through."
My dad provided me with every opportunity. He gave me the opportunity to play and practice at golf courses. I had a job picking up range balls from the age of 8, and I did that through high school, so for about 10 years I worked at a driving range. I got laid off at one club when I was 12, because they had to fire everybody under 16. We joined a smaller club, where I was able to play when I wanted, so my dad gave me every opportunity to succeed while informing me of the likelihood that it may not work.
You've won four times this year and made almost $4.5 million, yet an incredible percentage of the attention is devoted to Tiger. What do you have to do next year to change that?
I don't have a problem with that, and I don't think that it necessarily needs to be changed. I think Tiger's last two years have come at a great time for everybody, because the PGA Tour is negotiating for a new television contract. He's made the ratings skyrocket so much that golf is now ahead of baseball and basketball, which will allow the tour to justify increased purses, and we'll all benefit from that. Tiger isn't getting a direct cut of that. He still has to go out and play.
There was a situation on a teleconference the other day where you declined to comment on his dominance. I'm wondering if you've seen other people fawn all over him, then have trouble competing against him.
I certainly enjoy and look forward to playing against him head to head, because he seems to create shots at very opportune times, which forces me to perform at that same level or higher. I really enjoyed the fact that Tiger made a run at me at Torrey Pines (in the Buick Invitational) and ultimately caught me. I cherish that victory even more, because I was able to come back with three or four birdies coming in.
You, Colin Montgomerie and David Duval are widely considered the best players not to win a major championship. Being that we're in Las Vegas at the moment, whom should I go down and put my money on to leave that list first?
I know who I'd bet on, but that's just me.
Yeah ... I know who I'd bet on, but that's not for me to say.
Does it become more difficult to win a major as time goes on?
I think I've gotten closer and closer each year since I've been out on tour. I don't think it's becoming more difficult. I really don't. I feel like it's just a matter of time as opposed to "Will it happen?"
Which major do you see yourself as having the best chance of winning?
Without question, the Masters is my best opportunity to win a major. I feel very comfortable on the golf course, and I've had a number of good finishes there, but I haven't ever put four rounds together or walked away saying, "You know, I really played well." It seems like when I strike the ball well there, my short game is never where I want it. And when my short game is OK, I'm not hitting it well. I haven't been able to put the two together, and you definitely need both.
Because of the openness, my length and the ability to chip around the greens, that's my best opportunity. The U.S. Open usually takes away that opportunity — it's kind of ironic that the one time they made chipping an integral part of the tournament (at Pinehurst), I almost won.
Do you count winning the U.S. Amateur as a major?
I don't. At the amateur level it's a big deal, but since you obviously can't play in it as a professional. I don't see how you can count it at this level.
How terrible a void would it be to go through life without winning a major?
From a career perspective, it would be disappointing, but as far as feeling unfulfilled, that wouldn't be the case. Far from it. I mean, I get my fulfillment from my relationship with my wife and my relationship with my daughter as well as how I perform on the golf course. Not winning a particular tournament doesn't disturb me at all.
If you could have back one miss ...
I would probably say the putt on 17 (in the final round) of the '99 U.S. Open, because I only lost by one. It was a pretty easy putt, an eight-footer for birdie. I knew I needed to make it, and felt like if I did make it, I would be putting a little pressure on Payne. I knew he would still make his putt, because it was too short and too straight to miss, but I'd be even with him going to 18, and I thought 18 set up really well for me.
Did you pull the putt on 17 a little?
Yeah, I pulled the ones on 16 and 17. All the putts I missed that week, I pulled. I missed a couple of four-footers early in the week that I pulled. I'd been fighting it all week. It's funny how in the clutch, when things really matter, how your tendencies seem to come through the most.
Let's say you and Stewart both hit it close on the 71st hole, you're tied for the lead — and the beeper your caddie was carrying goes off. Your wife Amy has gone into labor. Once and for all, do you leave the U.S. Open with two holes to go?
I haven't thought about this in a year, but if my wife did not beep me, did not tell me, I would have been extremely disappointed in her and really upset that she would have taken the opportunity of a lifetime away from me. I'm not talking about winning the Open. I'm talking about the birth of my child. She knew that.
The tournament is great. The tournament was huge and I would love to have won it, but the birth of my child is a much bigger event to me. Granted, to people who haven't had the chance to play in U.S. Opens or win golf tournaments, the opportunity seems so great.
Will you encourage Amanda to play golf?
I don't know. It's not my decision. If she wants to play, she can play, or she doesn't have to. I originally thought she would be more into dancing, like her mom, then I started thinking (golf) would be a great way to spend four or five hours with her.
You're 30 years old, you've done very well, and now you're a dad. What worries you about this country?
My biggest concerns for my daughter aren't necessarily the government's concerns. I worry most about my daughter getting involved in drugs or something. That's not the government's responsibility — it's my responsibility as a parent to make sure that she has enough information to make intelligent decisions.
I have never in my life tried or even seen a recreational drug, as people call them, because I know what it does physically to your brain and body and how it affects you in both the short-term and long-term. I've made a choice based on the knowledge I've been given not to do them, because I don't want to do that to myself. But other people who choose to try those things, I don't think they've been given the right information to make an intelligent decision.
You've been a staple of the last three American Ryder Cup teams. What's your take on everything that happened at Brookline — the miracle comeback, the ensuing controversy over the celebration on the 17th green and the reaction on both sides, particularly from European Ryder Cup captain Mark James?
I can understand how the European players felt, because I'd been there two times before. I can understand the emotions that came out afterward and how disappointing it must have been for those guys, how hard it must have been to accept losing, especially after taking such a large lead into the final day.
Is there any lingering animosity between the U.S. players and Europeans over what happened at Brookline?
Is that good, or should I say, healthy?
No. I think the event has evolved from its original intent many years ago to promote the game, and to promote goodwill between continents. It seems like it's creating more hostility as each event is played. And I don't think that that's good.
Having viewed photographs and a videotape of Justin Leonard's putt on the 17th, there is no indication any American player or wife stepped in Jose Maria Olazabal's putting line. We're talking about an obvious emotional reaction — were you aware as it happened that it was such a grievous breach of etiquette?
When Justin made the putt, a bunch of guys ran out onto the green. Amy and I hugged each other, then I stayed on the fringe because I did feel a little awkward about guys going onto the green. Nobody went into his line. It took 45 seconds for them to get off the green, which I thought was a non-issue, even though I felt a little uncomfortable about it occurring.
My question is, is running onto the green the same breach of etiquette as pacing 150 yards from your ball to the pin and back, taking seven minutes to hit a shot while your opponent is waiting? Is that a total lack of etiquette, or is that acceptable?
You're obviously referring to Padraig Harrington's deliberations against Mark O'Meara in a match preceding Leonard-Olazabal. Wasn't there an incident involving two European players who stuck around to practice putt for two or three minutes after you'd won a hole — you went to hit your tee shot on the following hole and they still hadn't arrived?
It was said in the European team meetings, whether they'll admit to it or not, that the best way to bother the American players is to slow-play them. Hit an exorbitant number of practice putts, whatever, so we'd have to play at their pace. When Tom Lehman and I played a match against Darren Clarke and Lee Westwood, we had just won the 10th hole, and that's exactly what they did. So I walked up to the next tee and teed off, because I wasn't going to let my rhythm and timing get affected by my opponent.
They didn't like that. They still don't. They're still upset about it.
You have 16 wins in 205 starts over the course of your career. What separates you from so many others who don't win nearly as often?
The only thing I can say is, when I get in contention, I feel very comfortable. Granted, I'm nervous, but it's a nervous type of feeling I really enjoy. For whatever reason, I'm able to see things clearer. I'm able see the line of a putt better. I'm able to see the shot I want to hit before I swing. I need to create that level of vision early in the tournament and for every shot, as opposed to just the back nine of a final day.
We were on the practice range yesterday as you were hitting drivers in excess of 350 yards. With Tiger taking the game to a different level, other players are looking everywhere for a competitive edge. Do we need to rein in the technology?
I have arguments both ways. I can say that personally, the game that I'm playing right now — due to this new golf ball and other technological advances — is a style of play I haven't played before. I've added another wedge to my bag, because it seems like I'm hitting wedges into just about every par 4. My mind-set is to try and shoot nine or 10 under par each round. Certainly five or six years ago, that wasn't the case. I'm not saying that's better or worse, or what should be done or shouldn't be done. I'm just saying the game has evolved into something I've never played before.
Let's skip around here to some other areas of interest to you and to us. Are you still into magic?
When I broke my leg (in a skiing accident) in 1994 I really couldn't do much, so I spent a couple of weeks learning some card tricks. I still know how to do them. I'm not as good as I was a few years ago, because I don't practice, but I can still do a couple of card tricks. I enjoy it. Do you have a deck?
Imagine that. Here we are in Vegas and there's not a deck of cards in the house.
I only know a few tricks. It was a nice distraction while staying home all day.
What's the most money you've ever won or lost in the casino?
That's a little personal.
OK, what's the most you've ever won or lost on the golf course? Word on the street is that you and John Huston took $27,000 off John Daly and Tim Herron during two practice rounds at the 1998 Masters. Is that the biggest day you've ever had on the course?
Without a doubt. The typical game with my friends is between $20 and $200. That's a typical day. Out on tour there are some guys who really like to play. And that was one of those times. That was the first practice round I ever got excited to play.
Do you play golf to live, or live to play golf?
I certainly don't play golf to live. I really enjoy playing golf, particularly the competitiveness of playing the tour. I enjoy the challenge of becoming better. I wouldn't say that I live to play golf, but I do love it.
Does the game change when you begin to play it professionally? Is it hard to go out and really derive the same pleasure out of playing when so much is at stake?
When you do something as a hobby and it becomes your profession, it's easy to look at it as a job, because you rely on it to pay your bills and support your family. I'm lucky in that that isn't often the case with me. If I ever start to feel that way, I take time off.
We're seeing more and more players lifting weights, doing everything they can to get and stay in peak physical shape. Is the fitness thing overrated? A lot of these same guys aren't winning golf tournaments.
Right or wrong, my opinion is that staying in shape isn't going to help you shoot lower scores. It may lengthen your career, and granted, I'm not exactly a fanatic about it. I do spend time in the gym working out, lifting weights, trying to stay somewhat loose and limber and have decent strength. But I don't go to the gym to pump iron, thinking it's going to help me shoot 64 tomorrow. That's not how it works.
If your life depended on somebody making a 15-foot putt and you couldn't pick yourself to hit it, whom would you choose?
Fortunately, that will never happen, so I'm going to refrain from answering that.
Oh, yeah. I would never want my life to depend on somebody other than myself.