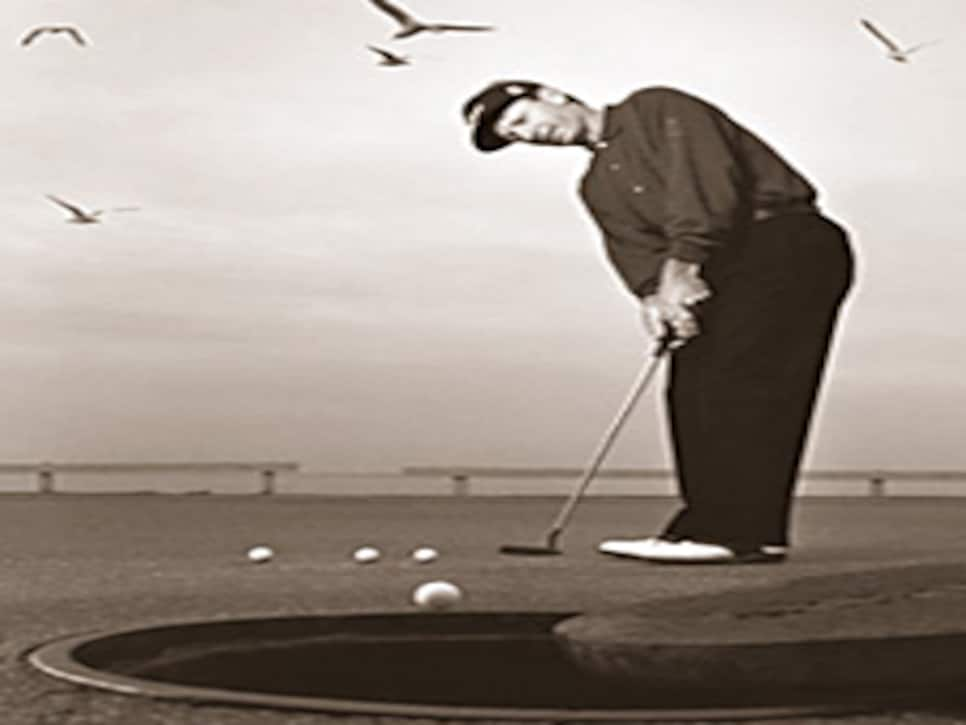 'I just try to hit every putt as if I've just made a million in a row.'
Brad Faxon is the thinking man's tour pro, a 19-year veteran whose candor and insight are delivered without pretense or arrogance, a guy who has seen it all and is willing to talk about it. An eight-time tournament winner, twice a member of the U.S. Ryder Cup team and a two-time representative on the PGA Tour Policy Board, Faxon, 40, is known for owning one of the game's purest putting strokes. And though he admits he isn't the purest ball-striker on tour, his longevity seems to affirm the notion that golf is not a game of perfect.
__A Rhode Islander and self-proclaimed traditionalist, Faxon defies classification as either company man or rebel. In a series of interviews at the start of the 2002 tour season, Faxon tackled an unusually broad range of subjects -- from his first round with Jack Nicklaus to the agony of missing a six-footer that could have clinched the 1995 Ryder Cup, from the problem with today's superstars to what $1 million in earnings really amounts to these days on tour. __
Faxon remarried in 2000, and with his wife, Dory, recently welcomed the arrival of their first daughter, Charlotte. Being the father of four girls doesn't faze Faxon any more than a 50-footer for par or a New England winter. Whether on the balcony of his hotel room in Honolulu or in the basement of his home in Barrington, R.I., it turns out there wasn't a question Faxon couldn't handle.
__Golf Digest: How does a player rank 150th on the PGA Tour in driving distance, 150th in accuracy, and stay out here long enough to make $10 million? __
Brad Faxon: I don't pay much attention to the stats -- if I did, I'd be in big trouble. It also shows you that driving the ball isn't as important if you make up for it somewhere else.
OK, what do you know about putting that the rest of us don't?
I get that question more than any other. I remember sitting with John Cook one time. He says, "Wouldn't it be nice if you could bottle your secret and just sell it? You could retire off that."
It's hard to pick one thing, but when I putt my best, I feel like I don't care if I miss. People don't know what I mean, and it's hard to explain, but I just try to hit every putt as if I've just made a million in a row.
Have you been a good putter since you were a kid?
Rhode Island Country Club, where I grew up, is an old Donald Ross course with real small greens -- I never hit a lot of them, so I relied on my short game.
What's the problem you see most often among the average guy in pro-ams?
I don't claim to know everything about putting, but I do know I can help a guy who's struggling off the practice green more than I can on it. Most people just suffer from doubt. And too much advice. I got the luckiest break of my life in 1985. I missed the last five cuts of the year and finished 124th. If I'd finished 126th, there's no way I could have gone through Q school. I was hitting it so far off line in every direction. I was asking every person in the world to watch my swing. You talk about what happened to a guy like Seve Ballesteros or Ian Baker-Finch? I went through that. There was a period where I couldn't walk past a magazine stand without picking up Golf Digest and finding the newest thing to try out, what teacher I should go see, all that stuff.
True or false: Ball striking is overrated on the PGA Tour.
I would much rather be a great putter than a great ball-striker. You have to make putts. It has ruined a lot of guys' careers, because they thought putting wasn't as important as the rest of the game. Because I'm a good putter, I don't get as much credit for being a good player. The mentality is like, "Oh, you're lucky, you're a good putter." People don't respect you as much if you don't have a swing that looks like Steve Elkington's or a ball flight that looks like Davis Love's.
I will admit that when I don't have it, it can get pretty bad. If I could play from where Tiger drives the ball, I think I'd do pretty well. ... But I don't think that's going to happen.
You're in a three-year term on the Tour Policy Board. What has that been like?
It's an honor, because you're voted in by your peers, but it's a lot of work. There's the imposition on your time, especially when somebody has an issue to complain about.
Is it uncommon for players to approach you on the range with a complaint?
Does it happen? Absolutely. Most of the time a guy comes up while you're practicing and he's just finished. More often than not, it involves his exempt status, an injury thing, a medical thing. And it's never one of the top-10 players. Never. No way. Phil Mickelson never comes up and says, "I really think we'd benefit by moving the tees back."
One of the hot issues is player behavior. What's the tour doing to address it?
Fines have gone up, offenses are going to be penalized sooner and players are going to get hit a lot harder. And they should be.
What kind of conduct do you consider crossing the line? Is what Pat Perez did at Pebble Beach unacceptable?
The way he banged his club certainly crossed the line, and I'm sure when he watched that on tape he realized that didn't look good. Most of the incidents are from inexperienced players, not guys who've been out here a long time. We've got some repeat offenders, but most of the time, it's a first-timer, and he gets whacked enough to know better in the future. Now we've got a zero-tolerance policy -- any complaint from another player or a fan and it's an automatic fine.
Will the players be identified publicly?
We've always had a policy of not publicizing fines regarding pace of play or conduct unbecoming. I raised the issue at the last board meeting -- if you want to stop or curb those things, you should make it public knowledge. Tim Finchem's comment to me was, "Look, we don't want it in the newspaper every time somebody says a bad word or smashes a pineapple. We don't want to be like the NBA or NFL." I agree with that to a point, but maybe we should make the third or fourth offense public. Guys would be less likely to do it.
I had an interesting conversation with Tiger. He was talking about how he was the most fined guy on the tour last year. He's upset, because the microphones are always around him. And the fines just went up like 500 percent.
What does an F-bomb cost these days?
Minimum first offense was $500; now it's $2,500 with a rising scale to $5,000 or more. Those are some pretty big numbers, but the opinion of the board is that while the purses have grown so much, the fine structure has been the same for 15 years.
__Take us through your incident with Frank Lickliter this past November [the Franklin Templeton Shootout], when he muttered an obscenity after you walked over as he was taking a drop. __
We were playing in the final round together -- Scott McCarron and me versus John Daly and Frank. Things got tight toward the end of the round. John had played well, but Frank was struggling and hit it in a hazard, and they were trying to move their ball a club-length to get it to the fairway, and they weren't taking the right angle.
When I walked over there, I upset Frank, and he said something. [The obscenity was picked up by a CBS microphone.] Anyway, he wrote me a nice letter afterward, and when I saw him at the board meeting we talked about it. I said, "Frank, I wasn't questioning your integrity when I came over. If I hit a shot into a hazard, I invite my playing partner over to watch me drop, because it protects me. If some fan watching on television calls in and says, 'Hey, he didn't take a correct drop,' I've got my partner there to verify it."
He mistook my intentions, and I understand that. He was apologetic and upset at how he reacted, as was I. Gary McCord made it sound like we were going to start fighting, but it was just the heat of the battle. I've acted like an idiot sometimes.
When have you acted like an idiot on the golf course?
[Laughs.] I was playing in the BellSouth Classic one year and I was slowly losing it -- nothing was going my way. I bogeyed the 12th hole -- missed the green and maybe even made a double -- took my golf bag and just chucked it down the hill. I was so upset. I'm playing with Hubert Green. He comes up to me and says, "I'm proud of you." I said, "You're proud of me?" He says, "Yeah, I didn't think you had it in you. I thought you were too nice. That's a positive."
A few holes later, I missed another putt. I went to mark my ball, picked it up and threw it so hard at Cubby [caddie John Burke] that he just got out of the way. It went right into the crowd and hit somebody. I was so embarrassed -- I felt so stupid I couldn't speak.
I was in third place in the Byron Nelson a couple of years ago with a few holes to go and finished bogey, bogey, double bogey, bogey. I shook hands with Byron and Peggy Nelson and managed to stay polite, but I was slowly melting down. I got up to my room at the Four Seasons -- Cubby was right behind me -- picked up a chair and started pounding it on the bed. Then I threw it -- and I pulled it. It went straight into this giant painting on the wall and smashed the frame into a million pieces. Glass shards were everywhere -- I had to take a sock and pick all the pieces off the bed. So I call the general manager and ask him, "Are you a golfer?" He says, "Well, yes I am." I said, "Well, I was in third place about an hour ago, and now I'm in 20th ... and you're one painting short."
I said, "I'm happy to pay for it." And he said, "No, I totally understand."
That's the last time I ever lost it.
__Fifty-five players earned more than $1 million on the PGA Tour last year. If you make $1 million, how much do you end up taking home? __
You get hit with taxes in each state you play in, so that comes out right away. Expenses are anywhere from $2,000 to $10,000 a week. Call it $6,000 or $7,000. Throw in caddie and airfare, and for the year, you're looking at $300,000 to $400,000. Uncle Sam's taking 40 percent, so at the end of the day you're doing well to take home $200,000. It's not like a team sport, where airfare and meals are taken care of.
All people look at is the one-day payoff on Sunday. I just saw my statement for last year. I won $720,000 for Hawaii, the biggest paycheck of my career, and $63,000 went to the Hawaii State Government. My caddie got $72,000, so before I left Honolulu, I was out $135,000. Not to say $600,000 isn't a lot of money, but that gets taxed at more than 40 percent, plus my state taxes; now I'm down to a little over $300,000. The hotel room's $2,000 for the week. Airfare to Hawaii is $3,000 or $4,000, so please -- I don't want to complain, because the living is phenomenal, but it's amazing how quickly it goes.
__Are $6 million purses good for the tour? Do you worry about people getting too comfortable out here? __
The $6 million purses are unbelievable, especially in this marketplace. There's a lot of pressure to maintain the standard.
The more money we have to play for, the more comfortable guys are. There are guys 30th and 40th on the money list who've never won a tournament that have their own airplane. Is that good? What's the most of your own money you've ever played for?
Tom Watson introduced us to a game at the British Open, almost as a joke, called "thousand-dollar no-bogeys." I don't gamble a lot -- I'm not like Calc [Mark Calcavecchia] or Phil Mickelson, where I've got to play for $1,000 a hole -- but I enjoy a game, enjoy the competition. Four of us got together at the British Open, and if somebody could go the entire 18 holes without making a bogey, the three of us would pay him $1,000 each. At Turnberry in '94, it was a beautiful week, weather-wise. I'm playing a practice round with Corey Pavin, Ben Crenshaw and Davis Love. Ben bogeyed the second hole, Davis the 12th and Corey maybe the 14th. That left me.
It was the most fun I remember having, those last four holes, the three of them rooting against me out loud right to the point of contact. As soon as I hit my tee ball on 18, I offered them a buyout for $975. Nobody took it. I made my par, and they all paid me $1,000. It took a while, but I got a check from every one of them. Somebody's wife wasn't too happy, though.
__You had a share of the 54-hole lead at that '94 British Open [won by Nick Price over Jesper Parnevik]. __
I bogeyed the first hole Sunday and ended up making 15 pars and three bogeys, but I never felt like I choked.
What was your worst experience?
I remember choking in high school, hitting shots I'd never hit. I'm the best in the state, and I'm snap-hooking it against East Providence on the sixth hole against Joe Burkhardt to lose the only half point of my career. That was a choke. I remember the '81 U.S. Open at Merion [as an amateur], I shot 70 in the first round and came back with an 82. I was so out of my comfort zone.
__You've criticized American players who don't try to qualify or play in the British Open. [Faxon called it "a disgrace" when exempt players Jim Gallagher, Scott Hoch and Kenny Perry skipped the Open at Troon in 1997.] What fuels your fire on the subject? __
Growing up in New England, I became a traditionalist. It was my way of learning the game and how it's played, living near the water. Watching British Opens on television, I was fascinated when I saw Jack Nicklaus wearing his argyle sweater in July. That blue argyle sweater -- I thought that was cool.
I get upset with guys who don't go because it's too far or it's too cold or it's not the kind of game they like. I respect guys not having the same opinion as I do, but I think they're really missing out.
How have players reacted to your criticism? Hoch was quoted as saying his opinion of you has changed.
My comments were about Scott Hoch's actions, not about Scott Hoch as a human being. If I learned anything about that incident, though, it's that I've got a lot of opinions, but I don't have to say them all. I don't have any problems with Scott Hoch. I think we get along fine.
Let's go back to Jack -- do you remember the first time you played with him?
Absolutely. The first time I met Jack, which was a big deal to me, was 1981. I was at Furman, and Jackie Jr. was looking at colleges. Furman was recruiting Jackie, and Jack made a visit. Then Jackie introduced me to Jack on the driving range when I qualified for the 1981 U.S. Open at Merion. Very firm handshake. Rough hands, but small hands. He looked me right in the eye and said, "I've heard about you." I was so amazed he knew who I was.
The first time I played with him was at Pebble Beach. Freddie Couples and I were talking about old Shelby Mustangs. Jack had a deal with Lincoln Mercury, and he didn't know what a Shelby was. He didn't like talking about something he didn't know anything about.
How about your first time with Arnold?
I played with him in 1984, my first full year on tour. I'm standing on the first tee at TPC Sawgrass with Peter Jacobsen and Arnold. I've got the honor, and at that time, the starter would announce the player's biography. Arnold's standing there on the tee, he takes a practice swing, and the starter says, "In his first year on the PGA Tour ... " Arnold looks up kind of funny, and everybody cracks up. I hit a very good drive, and Peter hit a good drive. So Arnold gets up there, and the starter says, "In his 30th year on the PGA Tour ..." The crowd went nuts, and Arnie just smoked it down the middle. Literally outdrove us by a foot, but he let us know about it all day.
Two things Arnold said made a lasting impression. One, he told me that was the last tour event he was going to play in. And he told me he never got sick of people yelling at him, calling his name, that he always tried to look people in the eye. I watch the young guys now, and they never look at people. It's unbelievable. A polar opposite.
You've been a member of two Ryder Cup teams, both of which the U.S. lost. Tell us about your experience.
The first time was 1995 at Oak Hill. Lanny Wadkins was the captain, and I played the best round of golf in my life to make that team -- a 63 in the final round of the PGA Championship at Riviera. That made me as proud as anything I've done, golf-wise.
There isn't anything like the Ryder Cup. There's pressure at the major championships, but representing your country with 11 other guys is the greatest thing in the world. I love it. Then I played great at the end of '96 and early '97 and locked up my spot on the '97 team kind of early. That was good, because that summer I began going through my divorce and was real messed up when we got to Spain. As a matter of fact, when I stepped off the plane, Seve came up to me and said, "Where's your wife?"
I guess not. He came up later and apologized, but that's not the way you want to get started. Pretty weird.
And this was after [Colin] Montgomerie's comments had been all over the papers over there. [Montgomerie said of Faxon: "He's going through a divorce. Mentally, I don't think he'll be with it."]
How offended were you by Montgomerie's comments?
I wasn't offended at all. And people are like, "How can you not be?" Because I know Monty. I really like him, and I love his wife -- she's a doll. He's being asked this stuff, but I don't know what the circumstances are. He was probably caught off-guard. He says, "Faxon can't hit a fairway." Well, I don't hit it as well as he does, and I'd been going through a divorce. Then he said something about Maggert ["No one is going to be intimidated by Jeff Maggert."], and it was clear he was just attacking the U.S. team. I don't know why, but I really don't think he was trying to say bad things about us as much as he was just trying to state the truth.
I got a nice letter from him afterward. And then he apologized to my face.
How long did it take for you to come to terms with the end of your first marriage?
It was a shock. I'm sure anybody who doesn't know it's coming would feel the same way. I had to put golf on the back burner. I went through a divorce as a kid -- my parents got divorced -- so I knew what it was like, and I wanted to make sure our three daughters didn't feel like they were the reason, or that they'd be losing any love from either of us. So golf was not a priority at that point.
I feel like I handled it great. I was a mess for six to eight months, maybe more, but I finally realized this was best for me, that I'd be able to get on with my life, and once I did that, things turned around. My relationship with my kids is better than it was. Life has a funny way of turning things around.
May of 1999. I met her right after I broke my wrist falling off a ladder, which was the Sunday of the Colonial in 1999. Funny how you remember dates according to the tour schedule.
How did you fall off a ladder?
I'd been playing outside with my kids, and that night I noticed three of the outside floodlights were out. I've got this great big ladder and I've used it a million times, but my daughter had been spraying the driveway and it was still wet. The ladder wouldn't catch and it started sliding. I'm backpedaling fast, trying to get off the ladder before it gave out, but once it let go, my leg went through the ladder. It probably looked pretty hilarious, actually, me trying to get off this ladder before it totally gives out. But I met Dory two weeks later, so maybe it wasn't such a bad move.
Did going through your divorce give you perspective on how off-course events can affect your game?
No doubt about it. It's very easy to look at a bad score in the newspaper and say, "Man, he's playing bad." Nobody knows what's going on off the course. There are so many other things in a player's life that people don't think about.
Traveling so much, how hard is it to get quality time with your three daughters from the first marriage?
Basically, in round numbers, if you play 26 tournaments a year, you're home for 26 weeks, and of those 180 days, I'm probably with the kids 150 of those days. And then I see them on days they're not with me. The time I get to spend with them is good time, because I don't have to be anywhere. I get up when they get up, take them to school, pick them up, do homework with them, and Dory's part of that. I hate to think I spend only half the year with my children, but it's a good half.
Back to the Ryder Cup. The six-foot putt you missed on the 18th green at Oak Hill would've halved your match with David Gilford and could have clinched the Ryder Cup for the Americans. I'm sure you've played it over in your head a million times.
Huge putt. I look back now and realize I played pretty well that day. Gilford had a couple of miracle up and downs, made a couple of huge putts. Then I drove it in the fairway on 18, and he was all over the place. I didn't hit a terrible second shot, but it wasn't great, either -- into the front-left bunker. Then I hit an OK bunker shot to about six feet. I knew without looking at the board that it was a very important putt. Everybody was so nervous, nobody could say anything. It was really kind of funny.
Nobody said, "Hey, this putt doesn't move," or, "It's a right-edge putt," or ... Nobody said anything like that. But Davis came up, and he says, "Fax ... " And then he couldn't talk. Gilford made an unbelievable putt for bogey. You're supposed to think your opponent's going to make every putt, but when his third shot missed the green, I'm thinking it was over, no way this guy could get up and down from there. And he did. I knew I had to make my par putt to win the hole to halve the match, and I knew that half-point would have been crucial. The only thing I can say about that putt was, I hit it the way I wanted to. It just didn't break like I thought.
Craig Harmon, the pro at Oak Hill, came up and said, "I wish I could have said something to you, because that putt never breaks left."
Let's change subjects. Tell us the sad tale of the New England club pro who gave you your first lesson.
Dan Keefe was the head pro at Eastward Ho! Country Club [in Chatham, Mass.], one of the coolest courses in the country. My dad was very friendly with Dan Keefe, and so were all the guys he played with. I would caddie for them in the morning and play in the afternoon.
Dan Keefe was a good-looking guy. He played hockey at Brown. Strong guy, always tan, great golf swing. Gave me my first real lesson, and less than a year later, he committed suicide. Hung himself in his pro shop. I played golf with him the day he did it. My dad and I played with him, drove home that evening and that's when he did it. My dad got the phone call in the middle of the night.
Did you have any clue this was coming?
He'd become a lot quieter. Why? I don't know, and I still don't. He went from being a fun guy to being a very serious and quiet guy. Very sullen. It was one of those things where you weren't even surprised, and I was 13. It had a big impact on me. I'll never forget him. Even though he wasn't a tour player, he was a real role model to me.
In last month's interview, Greg Norman told us he has seen a fair number of rules violations over the course of his career. How many might you see in a year?
I don't know if I can qualify the difference between breaking a rule and stretching a rule, but I'd say two or three, ranging from guys who don't know a rule well enough to those who are trying to benefit from a drop. It happens. The most recent incident was with Sergio Garcia last year at the Tour Championship [Garcia was given relief from behind a bush after claiming that a grandstand was in his line]. Now is that a rules violation or is that trying to push the limit?
An official was there, but if a guy knows he could never hit a shot through a tree, and he wants to take a drop anyway, that's bending the rule.
Then again, I wasn't there. Maybe there was a hole [through which Garcia could hit a shot]. Certain times an official will say, "No way," and certain times he'll say, "Go ahead." The burden is on the player, and I guess that's the way it should be. What they could do is change the rule and say, "Hit the shot. If it hits the grandstand, we'll let you do it again."
As much as they hate do-overs in golf?
With all the money on tour now, this has become a teetotalers' tour compared to the old days. Is there room nowadays for a Walter Hagen?
Absolutely. I don't know if this new Walter Hagen would have any longevity, but there's definitely room for him. I look at a guy like Darren Clarke -- he's out there with a cigar, and he's not doing sit-ups. It's a nice thought to be in perfect shape and never have a drink, but if you go out late and have a few drinks, you can still play great the next day.
I look at Payne Stewart, a fun guy on and off the golf course. Payne wasn't afraid to have a good time the night before he played. With the money so big in this era of sport specialization, the young guys have become robotic. I'm not going to get hammered every night, but I can have a glass of wine or two and still play great. In fact, some guys might be better off.
How prevalent is the groupie factor on the PGA Tour?
The most I've ever seen is the gallery following Justin Timberlake at the Bob Hope this year. It's definitely not a big deal. We have good-looking guys that women will follow -- Fred Couples leading the list, or Tiger, who's single. I don't see women waiting at the 18th green for players to finish. It's a nonfactor.
That's not a golf tournament.
What's the most important thing you've learned from your 19 years on tour?
My favorite thing is a lifetime philosophy: It's more important to be decisive than correct. As far as I'm concerned, if you're decisive, you are correct. I guarantee you, I can hit a 6-iron 175 yards, a 5-iron 175 and a 7-iron 175. All I need is to believe in the shot. The closer you get to the hole, the more valuable that philosophy becomes.