Courses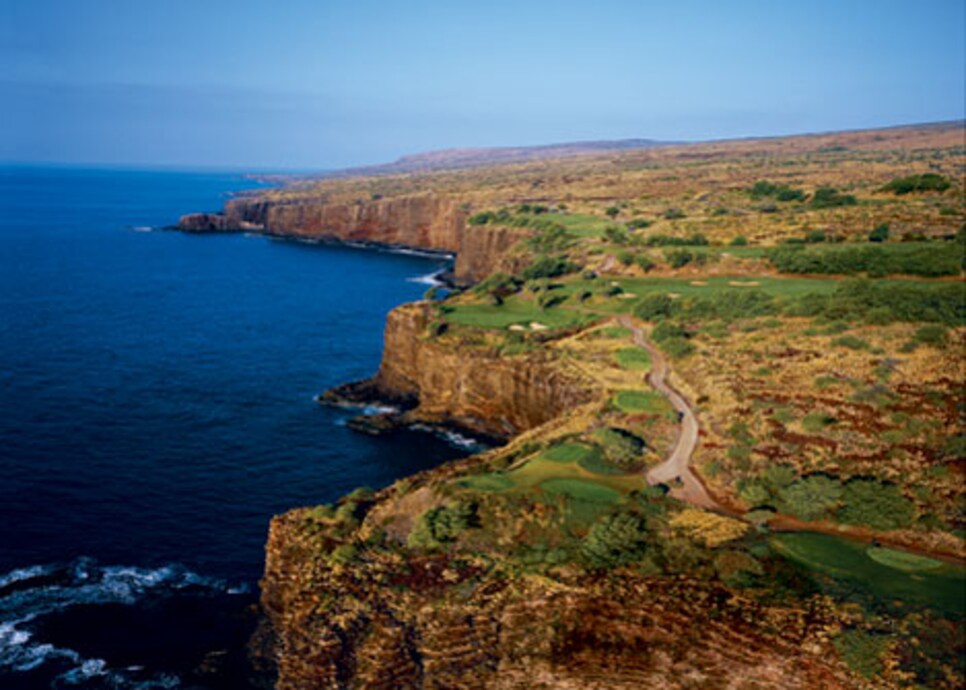 Pick your perspective: The12th at The Challenge at Manele can play anywhere from 65 to 202 yards.
If you keep your head down while playing golf in Hawaii, you're missing the point of playing golf in Hawaii. These islands are gorgeous, with a tropical forest in some northern corner, an arid savanna on every leeward side and a thousand scenic overlooks in between.
The shorelines range from expansive beaches to meandering escarpments, the surf from playful tugs to relentless whitecaps, and it's our good fortune that Hawaiian fairways are never far from the action.
The golf experience feels exponentially greater in this environment. Even the scruffiest nine-holer seems enchanted, and five-star operations earn their mettle not from bunker placement or green speed but from vistas and vantage points.
To play golf in haste on Hawaiian soil would be unforgivable. There's a Pacific panorama to absorb in every direction, unless your view is blocked by a cinder cone, a rock-ribbed mountain range or the infinite incline of an awesome volcano stretching into the clouds.
For golfers, aloha means great views.
Golf on Lanai began as a pineapple-plantation diversion, with just one basic course, Cavendish. In the past decade, the Pineapple Isle has become the Private Isle, and rates at its two resorts seemed gussied up to keep it that way.
Still, The Challenge at Manele (808-565-2222; lanai-resorts.com) is worth $400 and up a night at the Manele Bay Hotel, especially during whale migrations. A Scottsdale landscape deposited atop a Pebble Beach setting 150 feet above the sea, The Challenge will put a serious dent in your digital-camera reserve.
The picture changes in the center of the island, where The Experience at Koele (808-565-4653; lanai-resorts.com) features flower beds and cascading pools, a peek at the ocean and a 17th hole that plunges nearly 250 feet into a jungle gorge.
Of the six major Hawaiian Islands, Molokai has always been the least frequented by tourists, many undoubtedly wary of its history of 19th-century leper colonies.
As a result, Kaluakoi Golf Course (808-552-0255; molokairanch.com)), its only 18-holer, has struggled. One nine even closed for a time. But the full 18 is back in operation, and though some might call it unpolished, hardier types would describe it as pristine. The first, 10th and 11th holes run adjacent to Kepuhi Beach, and the par-3 third overlooks Papohaku Beach, a three-mile crescent that's the longest white-sand beach in the state. From several spots on the back nine, Oahu's Diamond Head can be seen 22 miles away.
Crowds are less common at Kaluakoi than wild turkey, pheasants and herds of deer. This is Hawaii as it should be.
On the Garden Isle, squall lines of showers make the vegetation plush and giddy green. Bougainvillea don't just bloom, they blaze. Hibiscus blossoms get the size of pie pans, and banyan tree trunks can dwarf an automobile.
The showcase course is The Prince at the Princeville Resort (800-826-4400; princeville.com), though it is woefully misnamed. So sensual is its shaping, so voluptuous are its curves, so intriguing are its twists and turns through canyons shrouded by kiawe trees and monkeypods, this course most certainly should be called The Princess.
It rains a lot, but when the skies clear you will enjoy afternoon rainbows, glorious sunsets and, if you obey your body clock, equally spectacular sunrises.
There's very little on the Big Island that doesn't involve lava, from the festering red pools in Volcanoes National Park on the east side to the jagged rubble that cradles every golf course along the west coast.
The game on this island is target golf, particularly on the South Course at the Mauna Lani Resort (808-885-6655; maunalani.com), where you're either on the grass or in the grit—soft, white imported sand if you're lucky, or black, scratch-inducing lava if you're not. The target on the 214-yard seventh is further compressed by raging ocean waves along the left and a rare Hawaiian sand dune along the right. It is a stunning golf hole, as is the 196-yard 15th, which requires you to hit over a caldron of swirling ocean currents.
Such calendar-art holes are all part of Mauna Lani's sizzling black magic.
The state's most idyllic setting could be Maui's "golf coast," the southwestern slope of Mount Haleakala. Sheltered from the elements, this area receives just 10 inches of rain a year, so sunshine is king. Yet palms, plumeria and kiawe trees flourish. The scenery is downright decadent, with the Makena Resort's North Course (808-879-3344; mauiprince.com) climbing the hillside for an exceptional view of the sunken crater of Molokini. On the South Course, some holes embrace ponds that give the illusion of ocean grottoes.
Nearby Wailea Golf Club (808-875-7450; waileagolf.com) is a bit more historic, with its 33-year-old Blue Course a grandpappy among these relative newcomers. On Wailea's Gold Course, holes are crisscrossed by native lava-rock walls, and on the Emerald Course, carefully cultivated tropical vegetation provides the deliberate solitude of a Japanese garden.
With four-fifths of the state's population but less than half of its golf courses, Oahu is home to many stop-and-go rounds. So head north from Honolulu on H-3. The destination, once through a gap in the Pali Cliffs, is the secluded Luana Hills Country Club (808-262-2139; luanahills.com). It is simply a beaut.
Luana's front nine of sideslopes, hollows and eavesdropping palms is a preamble to its glorious back nine, which dips into a tropical canyon after the 10th hole and doesn't re-emerge until after the 18th. Here, holes look cunning but prove charming, crowded only by shadows cast by the jungle canopy. On Hawaii's most hectic island, it is magnificently serene.