U.S. Women's Amateur
After rib removal and ROTC Air Force training, Rachel Heck returns to Women's Amateur with new perspective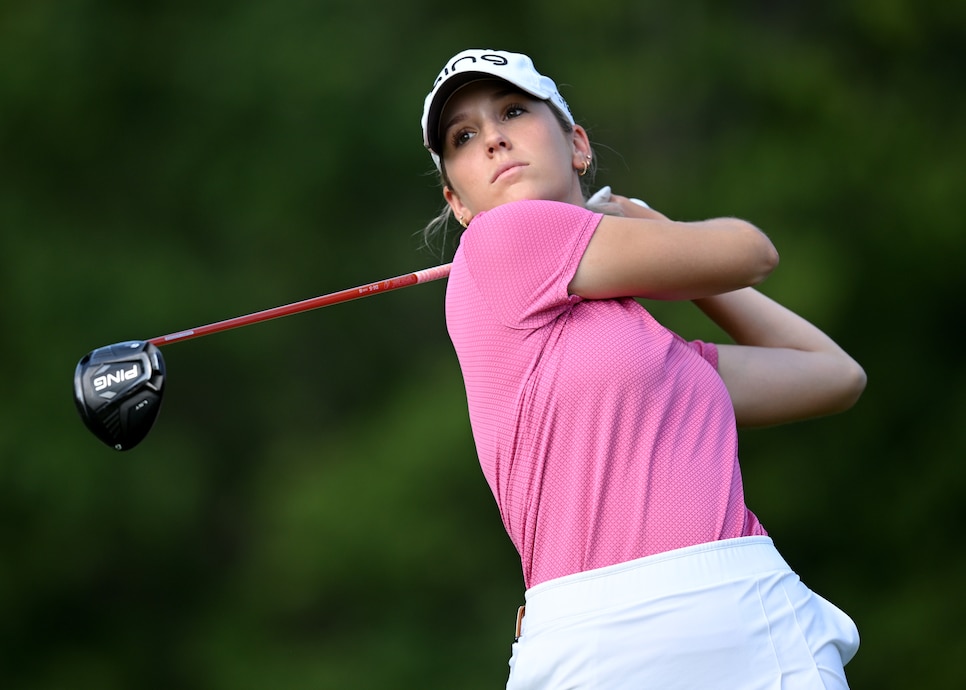 Rachel Heck tees off in the 2022 Augusta National Women's Amateur.
Stuart Franklin
Among the 156-woman field in the 123rd U.S. Women's Amateur that began on Monday at Bel-Air Country in Los Angeles, Rachel Heck is teeing it up in the championship for the eighth time—the most of any player competing.
But this is no average appearance for Heck. This event marks the Stanford star's official return to competitive golf since she underwent surgery in March for thoracic outlet syndrome, where nerves or blood vessels are compressed, causing pain. To relieve the pain, Heck had a rib removed during surgery.
Heck, who opened the Women's Am by shooting even-par 70 in the first of two stroke-play rounds, made her return even more impressive by graduating from Stanford's ROTC field training and securing her Prop and Wings for the Air Force just a week before the first day of the U.S. Women's Amateur. She said the demanding, boot camp-style training program was the toughest physical and mental challenge she's ever faced, but by far the most rewarding.
Over the course of 17 grueling days, Heck and her flight (Delta 13) were tested on physical conditioning, weapons and survival training. They also completed a simulated deployment, and Heck said that she learned how to endure tough conditions, push herself beyond her limits and rely on her teammates during the experience.
In addition to the core values that Heck and her fellow ROTC cadets learned while in field training, Heck also spoke about one skill in particular: thinking under pressure. A large portion of the field training required the participants to make decisions and perform under pressure—which she says is key on the golf course.
"The training we go through is all about how to think clearly under pressure, how to withstand more pressure than you've ever experienced in your life and how to make hard decisions under pressure, and that translates to golf so well," Heck said. "There are so many high-pressure scenarios in golf, and it makes those seem a lot easier now."
Heck, who's ranked 24th in the Women's World Amateur Rankings, arrived home from field training one week before the Women's Am and said she was on the range later that day practicing to make up for the time lost. "I've had to make a lot of sacrifices for golf because of ROTC, but in the grand scheme of things I'm learning invaluable lessons and I'm extremely blessed," Heck said.
Heading into the first round, Heck sounded passionate and ready to get back out on the course again.
"I'm excited to be back out there. It's been a long and difficult year," Heck said. "I've been playing any opportunity that I can, but I've also had to be really patient with my body and my recovery time.
"I'm really proud of myself for everything I accomplished over those 18 days and am really pleased with how the recovery has gone. I just feel really grateful and blessed to be going back out there."