The Loop
Harris English's motto for transitioning to a new equipment company? Go slow
At the start of last year, Rory McIlroy's switch from Titleist to Nike Golf sent shockwaves through the industry as well as the Twitter-sphere. One reason was the sheer enormity of the deal (in the nine figures). The other was the claim that it was a huge risk for the then-World No. 1 to make a wholesale change when at the top of his game.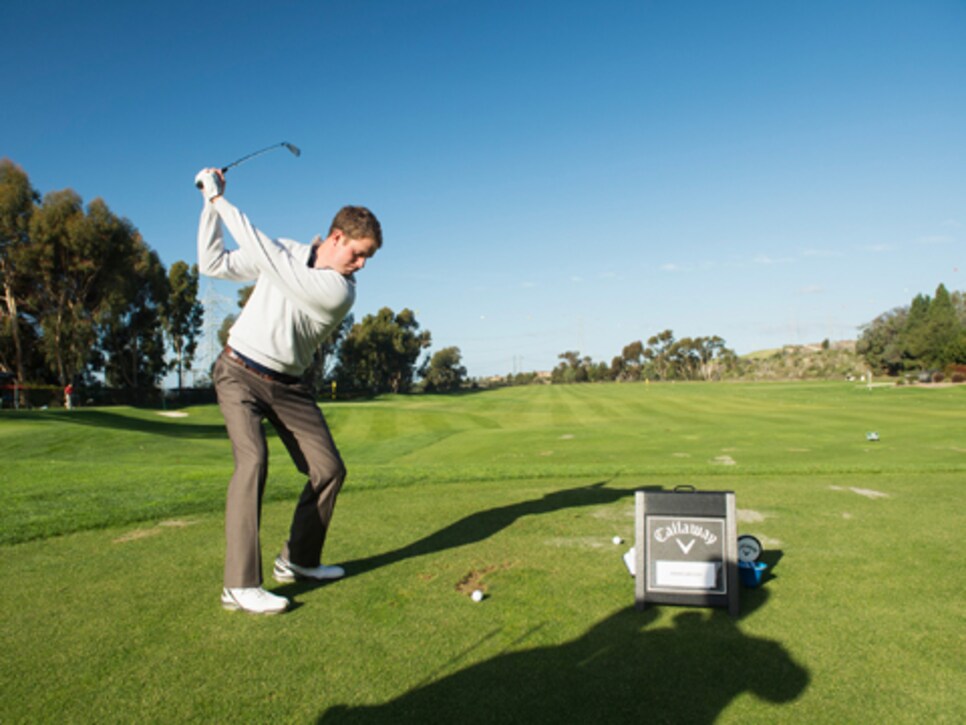 Harris English testing his clubs. Photo: Erik Isakson
McIlroy's results in 2013 hardly allayed concerns, but that didn't stop a slew of players from changing clubs and balls for this year. One is two-time PGA Tour winner Harris English, who left Ping to join Callaway. According to English, it's how one goes about making a change that makes the difference.
"Not really," English replied when asked if McIlroy's struggles through much of 2013 had given him pause. "You have to have some controls. You have to keep some stuff the same. You can't switch everything at one time. That's definitely not what I'm doing. You have to change over time."
For English that process began by speaking with several staff players to get a feel for Callaway equipment and how the company works with players coming over.
"Chris Kirk is a good buddy of mine who switched to Callaway," said English. "I talked to him a lot. I also talked to Phil Mickelson about the new stuff. Players who switch know what it's like going through it."
A large part of which is product testing. Golf World sat in on a recent clubfitting session with English at Callaway's Carlsbad, Calif., test center. The day started with English hitting a mere 10 half-wedge shots before he started pounding drivers with Randy Peterson, Callaway's director of fitting and instruction, and Nick Raffaele, the company's VP, sports marketing, carefully looking on.
"For the driver we started with the specs of his Ping G15 and made tweaks along the way," said Peterson. "We don't want to change too much, too fast."
That's not a worry for English when it comes to drivers, as his preference for testing the big stick is to hit relatively few balls on the range to narrow down the choices and then do extensive on-course testing. One of the primary reasons is that English is not a "numbers" guy, but rather a shot shaper who needs to work the ball both ways off the tee.
"I grew up on south Georgia golf courses," English said. "You know, dogleg left, dogleg right, every hole is a dogleg. I like to get on holes where I'm teeing it up on the right side of the box and hitting a cut off the left bunker, or I have to turn it right to left and hit a high draw out there. It's hard for me to do that on the driving range."
That's not to say testing isn't useful for English, who realizes the importance of someone being able to interpret the data to make sure the club is working efficiently. It's also an opportunity to focus on small details. For example, English asked if the chevron alignment aid, which is on the company's new Big Bertha Alpha but not the X2 Hot Pro, could be added to the latter.
During testing, but particularly with the irons, Raffaele constantly reminded English to "make the swing you make--don't adjust to the club." His point is simple: Tour pros are good enough to adapt to almost anything, but you want to build the clubs to the player's swing, not the other way around.
For English there was an added element to the iron testing--as a Ping staff player he had never played a forged iron before. "It feels so different but so much better," English said of the Callaway RAZR X MB irons he put in play at the Hyundai Tournament of Champions. "It's a lot softer off the face. Sound is so important. I like a more muted sound."
Although English didn't require any work with wedges, having played the company's Mack Daddy 2 late in 2013, designer Roger Cleveland offered some instruction tips, leveling English's shoulders (his right shoulder was lower than his left on bunker shots) to help keep the depth of each strike in the sand equal.
For putters, English prefers mallets (his two wins last year came with Ping's Nome TR and Scottsdale Hohum models) and has no qualms about changing. "Typically, I switch every six months or so," he said. "Confidence is 90 percent of putting. If it looks good to me, that's all that matters." Still, English stuck with the Hohum at Kapalua, where he finished T-11.
Another piece of equipment English won't be changing in the near future is his ball. Subscribing to the theory that too much change at once can get confusing and make the comparison of old clubs versus new more difficult, English continued using the Titleist Pro V1x dot ball, likely switching to Callaway's Speed Regime model later this season.
Although English doesn't own the credentials of McIlroy, he too has had people ask him about switching after such a successful year.
"That's a tough question," English said. "I think getting better equipment in my hands can lead to more wins, and I feel like the guys at Callaway can do that. ... I want to be in the hunt in some majors, and really shoot towards that Ryder Cup team. I played Walker Cup in Scotland, and I loved playing for the United States. I think that's a pretty realistic goal for me, and I'm going to work hard and shoot for it."
A task he takes on both intelligently and incrementally.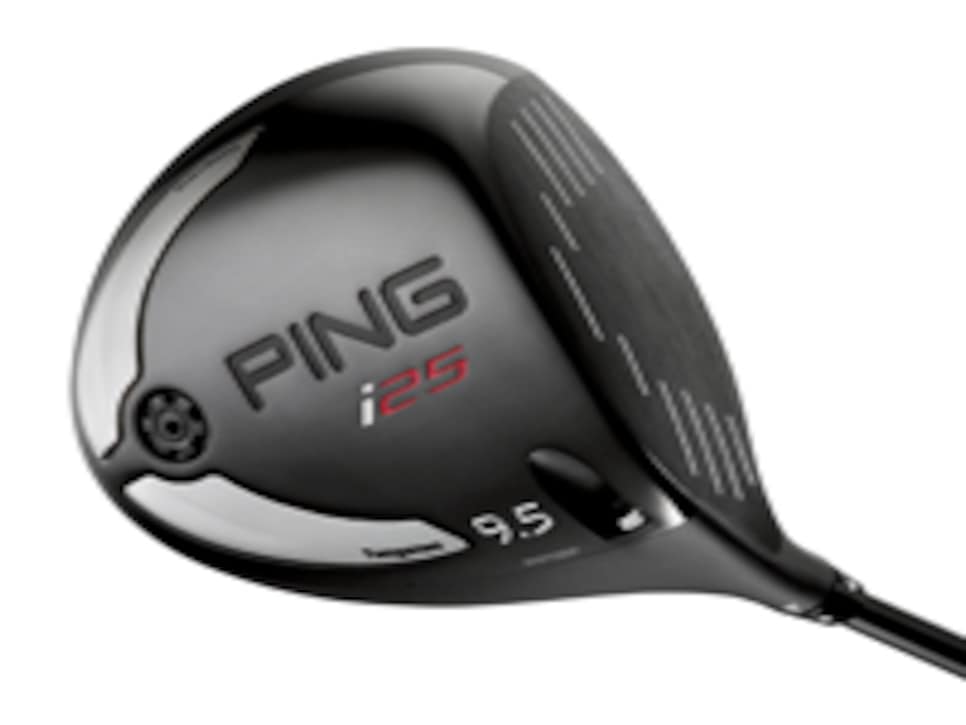 PRICE: $400 (Lofts: 8.5, 9.5, 10.5 degrees, all adjustable)
The titanium head features a pair of tungsten weights on the perimeter of the sole to boost forgiveness. A stripe on the crown assists alignment.
It was a busy offseason for players changing equipment companies. Perhaps the biggest name to make a move was Ernie Els, who left Callaway after six-plus years to sign with Adams Golf. Although Adams has some iconic players on its Champions Tour staff (Tom Watson and Bernhard Langer among them), the signing of Els marks the company's first significant PGA Tour player to use its equipment in more than a decade. Another multiple major winner making a move was Vijay Singh, signing with start-up Hopkins Golf to play its wedges, wear its hat and carry its staff bag. Callaway was also active, adding FedEx Cup champion Henrik Stenson, Harris English, Matteo Manassero and Lydia Ko, among others. TaylorMade was busy as well, inking Trevor Immelman and Scott Langley after having previously signed Carl Pettersson. ... Not everybody was on the move, however. U.S. Open champ Justin Rose re-upped with TaylorMade for five years. ... After cracking the face of the Titleist 910D2 he used for three years, including during his win at the PGA Championship, Jason Dufner had a new driver in play at the Hyundai Tournament of Champions -- Titleist's 913D2. Dufner finished fifth in Hawaii while ranking T-3 in driving accuracy. ... Dustin Johnson changed to TaylorMade's new Tour Preferred MB irons in the offseason and had the clubs in his bag at Kapalua. Johnson finished T-6, ranking T-2 for the week in GIR, hitting 60 of 72 greens. Johnson also used the company's new Tour Preferred X ball.