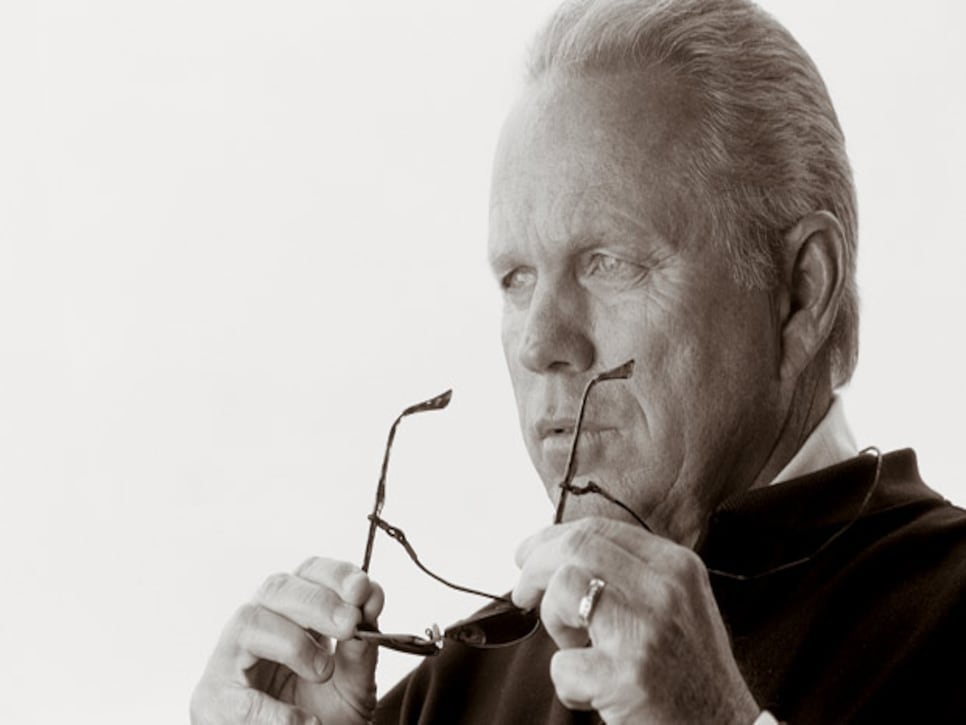 Butch Harmon doesn't sit in his low-slung leather chair so much as melt into it, his body surrendering at once to a rare moment of physical comfort. Harmon is whipped. His head and neck are blotchy with fatigue, his eyes gray and sagging from lack of sleep. His cross-country red-eye flight from the Presidents Cup, where he gave Tiger Woods a last-minute tuneup, landed in Las Vegas at 3:30 a.m. It's now 9:30 a.m., and Harmon is ready to talk.
It's easy to see why Harmon is tired. He has answered all the calls his fame has brought him. He has produced instruction books and videos, opened a chain of golf schools bearing his name and is preparing to design golf courses. He also teaches Darren Clarke and Mark Calcavecchia after having worked with Greg Norman, Davis Love III, Seve Ballesteros and Steve Elkington.
It is a calling for which Claude "Butch" Harmon Jr. is uniquely suited. The eldest son of Claude Harmon (1948 Masters champion, teacher and raconteur), Butch, 57, has spent virtually his entire life in golf. He has gone on all the rides, playing the PGA Tour for a time and teaching everyone from Bruce Willis to King Hassan II, serving at prominent clubs across the country. Butch has what they call "deep roots."
In this interview with Senior Writer Guy Yocom, Harmon reflects on all kinds of topics: backyard barbecues with Ben Hogan, painful memories of Vietnam, racial slurs he hears hurled at Tiger, and what it's like working with the best player in golf one day and a 36-handicapper the next.
Golf Digest: Since the past seven years of your life have involved Tiger Woods, I thought we'd start there.
Butch Harmon: I assumed you'd want to fit Tiger in there somewhere. Shoot.
As the person closest to him, what do you suppose is the hardest thing about being Tiger?
The demands on his time. Tiger Woods is like the Beatles were in the '60s. It's more extreme than it was with Michael Jordan, because Tiger is in a sport where you can approach him. One thing is for sure: There has never been a golfer who has had to put up with what Tiger puts up with. Not even close.
There are times when people have physically tried to grab him -- aggressively. If it were me, I would've just turned around and hit the guy. But Tiger, he just kind of moves away, and the security people make sure the people give him some space.
But the most difficult thing I've endured in the seven years I've been with Tiger Woods is listening to all the racial slurs that people holler at him. It's sickening, and it still happens to this day.
How do you respond? How does Tiger respond?
If it's a practice round and I happen to be walking down the walkway behind Tiger and I hear the guy, I'll have him removed. I've gone to the security people or tournament people and said, "This guy needs to get out of here. This is what he said."
Tiger hears this stuff, but he can't turn and wheel on the guy, because that's what the guy wants. The type of individual who shouts out a racial slur wants the confrontation. Tiger is very good about blocking it out. He'll walk up to the next tee and say, "Did you hear what the guy said back there?" I'll say, "Yeah. Disgusting. Don't even think about it."
Just when we think Tiger has transcended race...
But Tiger really has transcended race. It's obvious that the vast majority of people don't see color when they look at Tiger.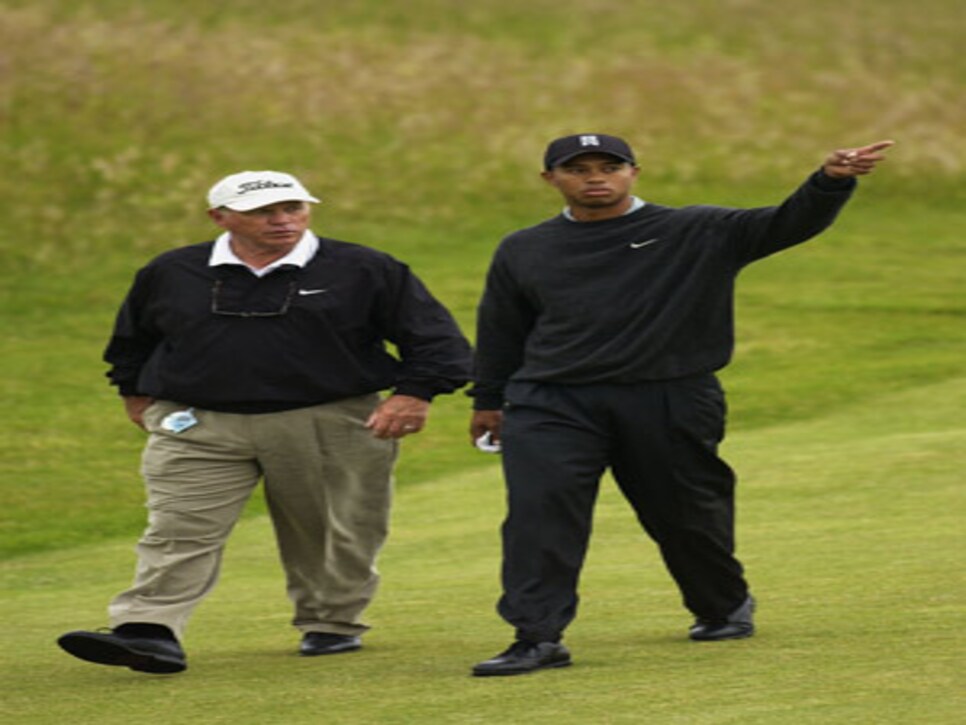 How much of his success in golf do you feel you're responsible for?
I don't know. I feel I've had an influence on Tiger, his golf swing and the way he handles situations. But Tiger was going to be a great champion with or without me. Very often the coach gets too much credit. Tiger would have been an outstanding player whether he'd worked with Jim McLean, John Jacobs, me or several other teachers I really admire. This is a guy who couldn't be held back. I'm very proud to say, however, that all my players have improved on my watch. That's the only way an instructor can judge himself.
Understand, too, that a lot of what I've taught Tiger, especially in the short game, I learned from Greg Norman, Seve Ballesteros, my dad and so many others. I'm just passing stuff along. It isn't like I invented the wheel. On the other hand, all my players have different golf swings. I'm proud of that -- proud I do not teach a system. I've always believed you teach people to play golf instead of teaching golf to people. If you teach golf to people, you teach them one way. I don't go for that. I go by my dad's theory, that everybody is an individual.
Is Tiger a finished product? How much better can he get?
Tiger can improve in all areas of his game. No kidding. And Tiger will improve, simply because he wants to. He led in 11 of the 16 tour statistical areas, and all he could think about toward the end of the year was catching Fred Funk for driving accuracy.
One priority for Tiger -- and I say this only half-jokingly -- is to figure out why he putted so great in the majors this year. And keep doing it, because it's the greatest putting under pressure I've ever seen.
What about the putting games you and Tiger play? Rumor has it you win all the time.
We've played a lot of nine-hole putting matches, putting everything out. If he wins, I insist on going again. If he wins the second nine, he quits on me. I must admit, Tiger usually kills me -- except at the majors. I won at Valhalla. I won at Pebble Beach. I ruled. Frankly, Tiger can't figure it out. He says, "I don't understand how you can beat me; you're not any good."
Tiger has said that his father is his main putting coach. Has there ever been a disagreement between you and Earl about Tiger's golf game?
I like Earl's take on putting. We stress many of the same things -- pace of the putter, pace of the ball, for example. But to answer your question, I've never had a problem with Earl Woods. When I came on as Tiger's coach back in 1993, I said I would do so with two stipulations: No. 1, they would not pay for my services at first, because they didn't have much money. I told them I wouldn't charge Tiger a dime until he turned pro. Then, I said, I'll send you a bill, and it'll be a pretty hefty bill. I did send the bill eventually -- it was pretty hefty -- and they had no problem paying it. The second stipulation was, Earl could not dispute the information I was giving Tiger, even though he had been Tiger's mentor. Two sources fighting each other wasn't going to help anybody. Earl totally turned Tiger over to me, and he's never disputed anything I've said. I admire Earl Woods tremendously for that. It can be hard to let go.
Tiger doesn't have a sport psychologist right now, does he?
I love Jackie Burke's line about sport psychologists: "When I played, we had our own sport psychologist. His name was Jack Daniels, and he was waiting for us in the clubhouse after every round." Jackie doesn't go for sport psychologists.
Is Tiger susceptible to some of the pitfalls of early success? I'm talking about money, injury, and so on.
Money doesn't mean anything to Tiger. He's not motivated by money. Look at how modestly he lives relative to his wealth. He doesn't buy huge houses, lots of cars and other ridiculous things.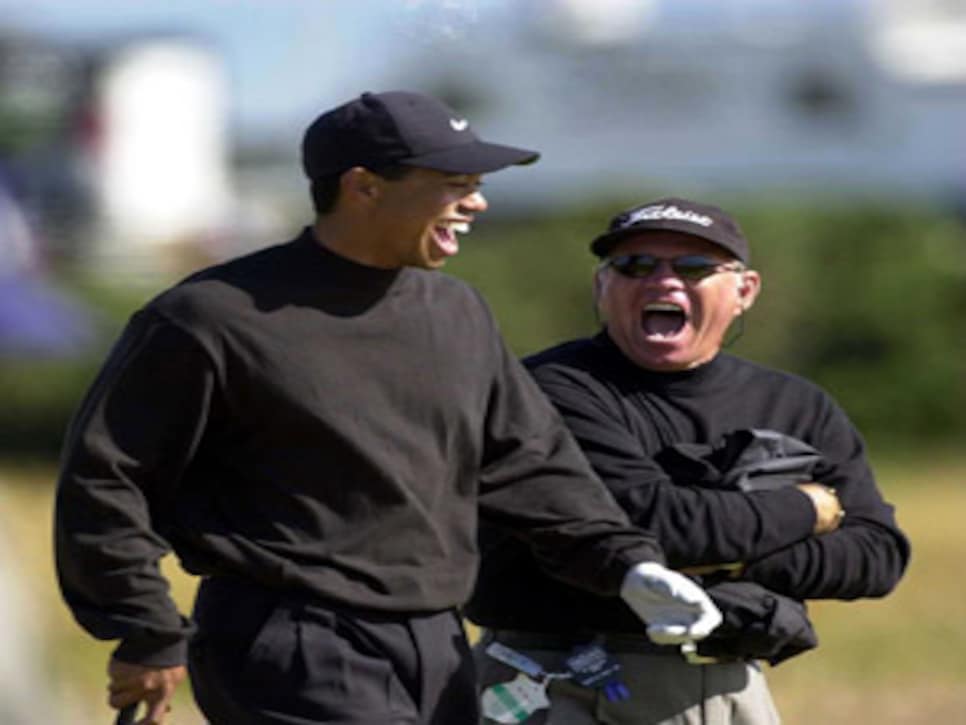 Is Tiger in control of the people around him?
We've all said to Tiger, "You're the boss." I know what my job is, Steve Williams [Tiger's caddie] knows what his job is, Mark Steinberg at IMG [Tiger's agent at International Management Group] knows what his job is. Tiger's the captain of our ship, and what he says, goes.
But like a good president, I assume Tiger consults with his cabinet.
Tiger Woods is a good listener. He filters out what he thinks is B.S. and what he thinks is important. He wants to learn about life, business, golf, everything. He's very curious. Every time I see him, he'll say something like, "Did you see that show on The History Channel last night?" At the Presidents Cup, he was going on about why the leaves change color due to the sugar in the leaves. He's a very inquisitive guy. It's not like he wants to talk about golf all the time.
A few years ago, we conducted a survey of club pros and asked whether they saw flaws in Tiger's swing. The overwhelming percentage answered "Yes." Were they right?
Three years ago, they were right. Tiger had a lot more flaws then than he does now. Today, I'm not so sure. The imperfections are so small.
Here's one for you: More than once, Steve Elkington was voted by our readers as having the best swing on tour. Whose swing is better: Elk's or Tiger's?
Jeff Sluman's. His swing is so simple. He just makes this nice little turn, never gets to parallel, puts the club in the perfect position, just unwinds and hits it.
I love that golf swing; always have.
You never defined the criteria, so it's your fault. OK, Tiger has the soundest swing out there. Elkington's is probably the prettiest.
Here's a tougher one: Who is a better ball-striker, Tiger or Ben Hogan in his prime?
Hogan. Because he had a little better control of trajectory. Tiger has improved that 100 percent but still has a ways to go. The reason Tiger's distance control has gotten so much better is because he brought his ball flight down to control that distance.
Tiger's wedge play was not good relative to other parts of his game. How did he get so much better?
He's learned to make a dead-arm swing, one without a lot of violent motion. We worked on taking his hands out of the shot. Tiger's learned to hit "bow shots," where his left wrist is firm and bowed out through impact. Great players have that bow. My dad used to say about the wrists, "You want Bethlehem Steel in there, not linguini."
We'll get back to Tiger in a minute. You mention your dad often, and it's clear he had a tremendous influence on you. How good a player was he?
A great player. When he led the '48 Masters, the reporters asked Ben Hogan if he was surprised to see Claude Harmon at the top of the leader board. Hogan said "I'm not surprised. He beat me every day at Seminole."
That's where they would practice before the Masters. But he had six kids to support, so he had to have a job.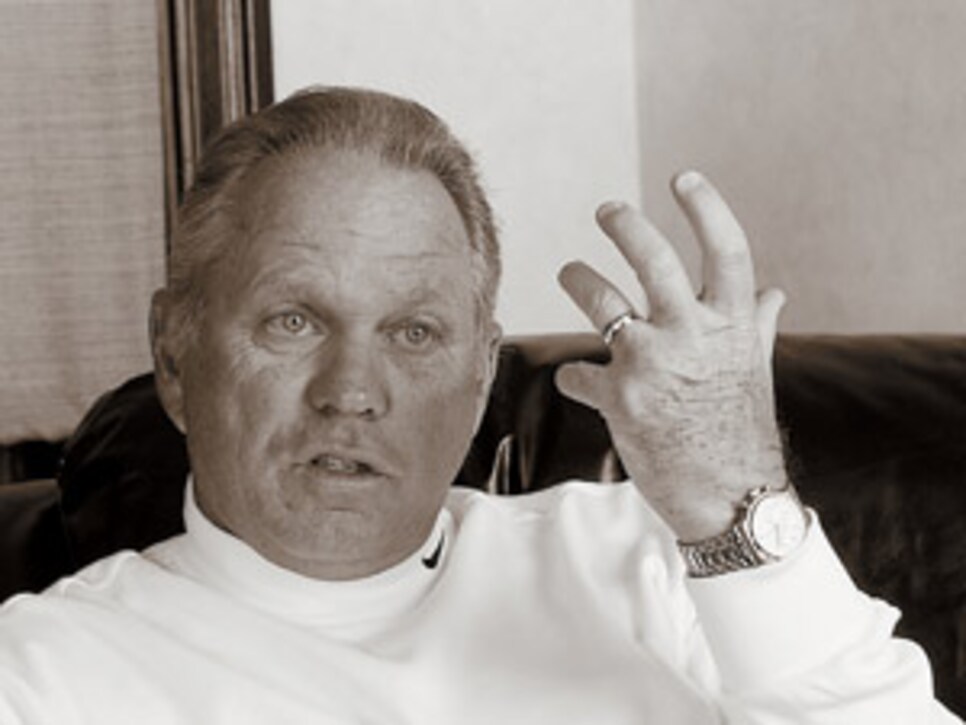 He made the largest part of his reputation as the club professional at Winged Foot. What do you remember about those days?
I learned to play golf caddieing for my dad every summer beginning when I was about 13 years old. I caddied every day and played a lot, too. That's how I really learned how to hit shots. He played golf with Craig Wood and Tommy Armour, all these great players, and I'd see them hit all these great shots. I would run out on the course at night, throw my balls down, and try to see Armour hitting a certain shot. I got to play golf with Armour and Wood. I played golf with Ben Hogan. I had the greatest golf education a teenager could have.
A lot of those players were friends of the family, weren't they?
They were always coming to the house. We were always barbecuing. We were out in the backyard making swings with Ben Hogan every night. "Come on, boys," he'd say, "let me see your swing."
Tell us something Hogan told you about your golf swing.
He never told me anything about my golf swing. He only told me I got too mad. And he was right.
Your fit at the University of Houston is one of the all-time temper tales.
I was at Houston for only about four weeks. Dad had given me the set of clubs he used to finish third in the '59 U.S. Open at Winged Foot. I got angry one day, broke all the heads and threw them in the lake, ran off and joined the Army. When I called Dad to tell him what I'd done, he said, "The least you could have done was join the Navy, so you could go back in the lake and get my clubs." That's the story we've always told, but it really didn't happen like that. It was a set of Wilson Staff clubs. I didn't join the Army until a year later. We Harmons tend to embellish things, because we love a good story.
It has been said that your father was hard on you.
I deserved it. I wasn't an easy kid. I was stubborn, bullheaded, temperamental, opinionated -- like I am right now.
Dad's motivational tools were different from most people's. He would never, ever tell you when you did anything right. He would always beat you down, try to make you angry, so you would do better just to show him. Maybe that was the way his dad treated him, I don't know. It didn't work on me, and that's why I left home when I was 18. His house, his rules, and I just wasn't going to live by them. He respected that, and I was gone.
How's this: One summer in the early '60s, my mom and dad traveled to the British Open. My brothers and I stayed home. I was about 18. Dad owned a Lincoln Continental, which he got through a deal with Ford Motor Company. On the night of the Fourth of July, I was driving home when another car ran a red light. I hit the car broadside and demolished the Lincoln. My parents were in England, so they didn't know anything happened.
So now I started driving my mom's Chevy Impala. Dad phones us from London and says, "Butch, I want you to have one of the other boys come with you to pick us up at the airport. Your mom's bought a lot of stuff, and we need two cars." I said, "Dad, I really can't do that. I had an accident in the Lincoln."
The first thing he said was, "Are you all right?" I said, "I'm fine, Dad." Dad pauses, then asks, "Well, how's the car?" I told him, "Not too good." Then Dad says, "Well, at least you're OK. Just bring your mom's Impala and go to the club and see if you can borrow their station wagon."
"I really can't do that either, Dad."
"I blew the engine in the other car."
So I totaled two cars in a four-day period. I was medalist in the New York State Amateur when that happened, and I couldn't get there to finish the tournament.
But you're known as an intelligent person.
I didn't have the patience for school. I'm the type of guy you could throw in the street and I'd survive. But I had a very short attention span in the classroom. Didn't do well there. One reason I'm not a Class A pro is that I flunked the teaching part of the business-school exam.
Did you join the Army or were you drafted?
I joined. I was crazy. I had played the PGA Tour as an amateur in '63, to see if I could play at all. I had gotten crossways with my dad again and said, "Heck with it, I'm going to go join the Army." As it turned out, the military days were the best of times and the worst of times I've had in my life. They taught me discipline, gave me an indication of how tough I was mentally. The military just takes you and breaks you down, and that was good for me, because I was pretty wild, very self-centered.
Yes. That part was not good. I was in the Army for three years, the first two years in Alaska. I won the Alaska State Amateur, by the way, something Tiger Woods never won. But I spent the last six months in Vietnam. In the infantry.
I was the squad leader on a mortar crew. I saw way too much combat. I really don't like to talk about it. You do things you aren't real proud of. You're not sure who that person you've become really is. It's a part of my life that's really ugly and very painful.
A lot of friends. I don't like talking about it.
It must have been good to get home.
I went to work at Thunderbird in Palm Springs. I was there and at Winged Foot as an assistant pro for a couple of years, then I went to tour school and got my card. I played the tour from 1969 through '71.
Weren't you the first winner of the B.C. Open?
Yeah, but it was an 18-hole satellite event back then [1971]. In fact, it wasn't named the B.C. Open until the next year. It didn't get me into the Masters or anything, but hey, a win's a win. I made the cut in the U.S. Open at Hazeltine in '70, but I was a little below average as a tour player. I made enough money to keep my card, but my temperament kept me from being a good player. I broke a lot of clubs, paid a lot of fines. After three full years, I decided I just wasn't that good. And tour life was a grind, especially with two little kids. So I quit and moved to Morocco.
To this point it seems you've lived three lifetimes already.
I went to work for the King of Morocco. My dad had taught him in 1968. Robert Trent Jones built a 45-hole complex, and I got to run the operation and serve as King Hassan II's personal pro. It worked out pretty well. I was there until 1975. I met a lot of world leaders, dignitaries, heads of state. I made a good living. Very interesting time.
It was just time. I missed the comforts of the U.S. I went to work in Iowa at a club called Crow Valley in the Quad Cities area, where they originally played the Quad Cities Open. I was there for five years, through 1980. That's when I had my midlife crisis.
You've never spoken about that time in any detail.
There was a period, from 1980 to '83, where life was goofy for me. I think I just got out of the realm of reality, kind of got off in my own world and was tired of doing everything I was doing. I was tired of life, I was tired of work, and most of all I was tired of me. I got divorced. I did all the things you shouldn't do. I wasn't a good father, though at the time I thought I was. In fact, my kids suffered like I did when I was young. You try to make up for it later, but I'm not sure you ever make it up.
How did you pull out of it?
During that period where I was doing my best to destroy myself, it was Dave Marr who came to my rescue and gave me a job working in his golf course construction company. David was like my big brother, someone I could talk to. I talked to David anytime I had any decision to make in life. Dave said, "Here, I'm going to get you out here and you're going to work your butt off and you're going to get your head right and you're going to figure out what you want to do and then we'll go from there."
So I worked for a golf course construction company and built golf courses. Drove tractors and bulldozers. I loved it. It gave me a much greater appreciation of what the golf course is than I ever knew.
Back to Tiger. Say your lesson book for tomorrow is full, and Tiger calls you from the East Coast and says, "Butch, I've got a problem. Get on a plane and be here at 10 a.m. tomorrow." What do you do?
Tiger would never put that on me. He understands my responsibilities. I've gone to Dallas on emergency red-eye flights in the past two years to help Tiger, but my schedule allowed it. Tiger was coming off a layoff and wasn't happy with how he was playing, and we knew I wouldn't see him the next week, because he would be in Germany. So I thought it was important that I be there. If we had let that go for two weeks, some of the mistakes would have been more ingrained and it would have been a little tougher to sort out. We've become very good at talking things out over the phone. I'll ask Tiger where the ball is going, what type of spin it has and a few other things, and I know his swing so well we can usually fix him up.
Coaching Tiger, do you find it hard to get enthused about giving a lesson to a 36-handicapper?
Not at all. Teaching is teaching, and teaching's my passion. I teach 30 schools a year and I teach all day long when I'm here in Las Vegas. I love to see people improve. I love to see a guy hit a type of shot he wasn't able to hit when he came to see me. That's the thrill all of us get from teaching. I love seeing a 12-handicapper get down to a 6.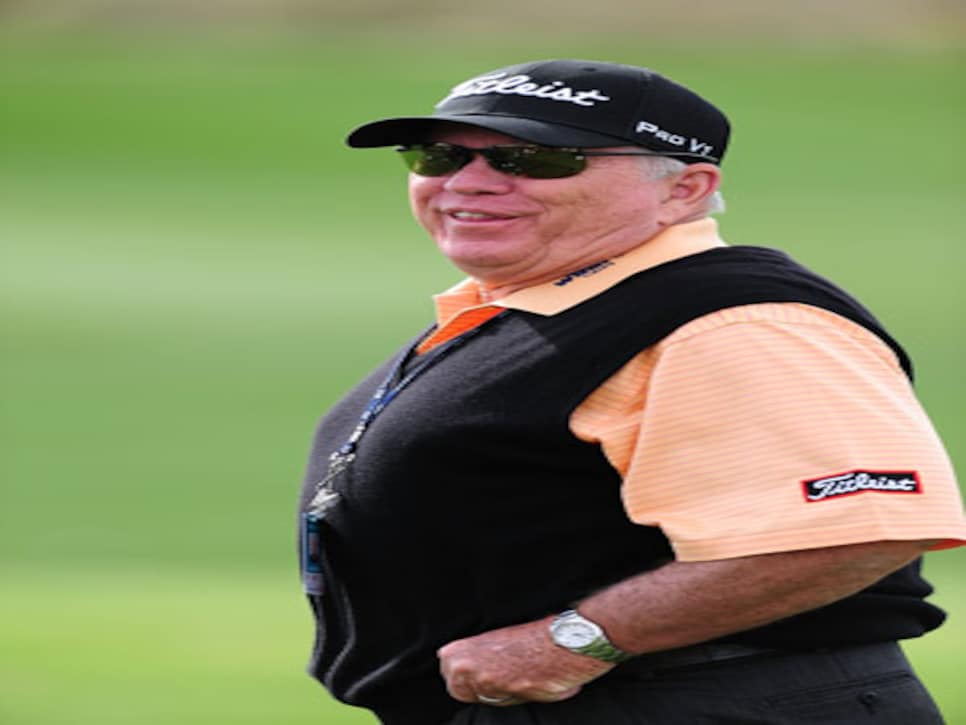 I thank God they haven't made teaching golf illegal, because if they did I'd be robbing 7-Elevens somewhere. I don't know how to do anything else.
Is there such a thing as golfers who are so bad they cannot be helped?
Given time, every teacher will run up against an individual who just isn't coordinated enough to let a swing happen. That isn't a put-down on that person, but it happens. It would be like you saying to me, "I can't believe you can't be a surgeon, because you have such great touch with the putter." Well, it isn't the same. So sure, there have been times when I've failed to help a player.
Do you still charge them?
Absolutely. Just because you go looking for a second opinion doesn't mean the doctor doesn't charge you. Come on.
And what's your rate these days?
Five hundred dollars an hour.
Is that what you charge tour players?
That's between me and the players. But I will say I believe in charging the tour player something. It's important they know they've got your undivided attention, that they know that your time is worth money. As for the arrangement, everybody handles it differently. Tiger pays me a salary, a flat fee, the same amount every year. Darren Clarke pays me a salary. The other players will just pay me as they use me.
Jackie Burke told me around the time I began working with Greg Norman, "Look, your time is money. You don't have to charge everybody the same, and how you arrange it is up to you, but there needs to be a payment structure. It should be a business agreement."
Jackie Burke is a wise man.
You must be at a high point financially. Are you a big spender?
My only vice is watches. I collect them. I'm an Ebel man. I have a contract with them. I have 24 of them, I think. I used to buy myself a new watch every year. Some years I'd spend $23,000 on one, some years I'd spend $1,000. Some people like boats and cars; I've always been a watch person. Although I did buy myself a new car this week [for his 57th birthday], a Mercedes. A rocket ship.
You teach some celebrities, correct?
Kenny G., Will Smith, Joe Pesci, Bruce Willis, Danny Gans...
Only the biggest entertainer in Las Vegas. I get a lot of athletes, too. Roger Clemens, Marcus Allen, George Brett, Jeff Bagwell, Brandi Chastain... I'll tell you, entertainers and athletes are the best people in the world.
What is the teaching industry like on the world-class level?
It's become a pretty competitive industry, to be honest. For teachers, the availability of corporate contracts and endorsements has made it a pretty big business, much different than it was even 10 years ago.
By competition, you mean battling to hook up with a world-class player?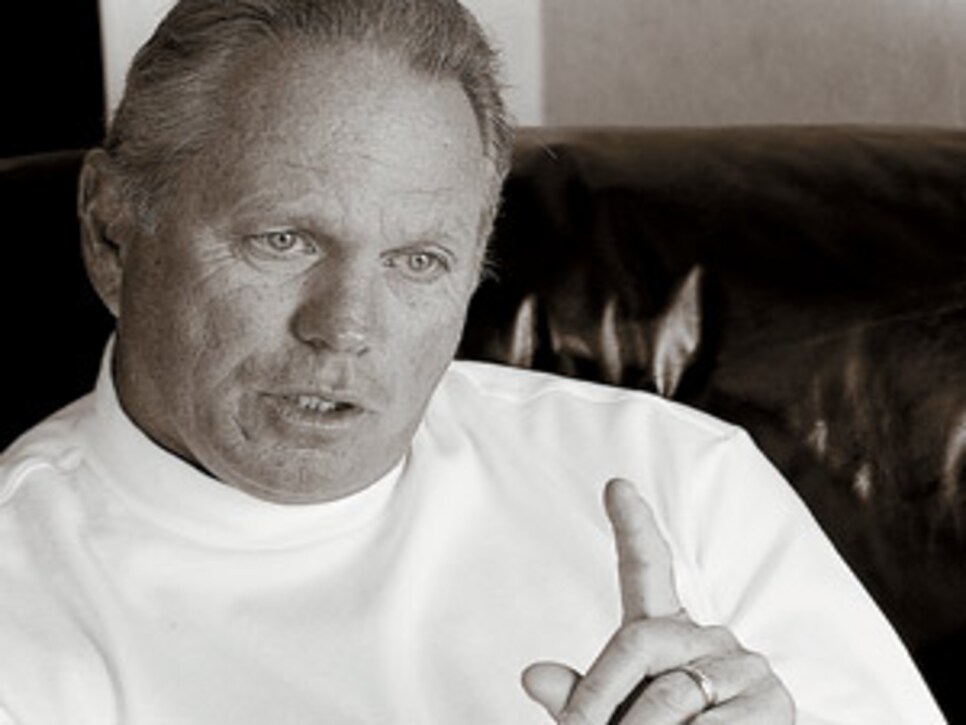 Sure. If you hang around the PGA Tour, you're bound to see people out there trying to make a name for themselves by forming a niche with a player. I've never sought out a player; I've been fortunate enough to work with players who sought me out. The competition you speak of is usually among younger teachers who feel that if they can hook up with a tour player and that player happens to do well, it will do a lot for their careers. I think that dynamic is unfortunate, because I don't think that's how you should look at teaching. Why do you classify a teacher's aggressive business approach as "unfortunate"?
A lot of the trouble among younger teachers stems from sheer ambition. They don't realize they're dealing with a fellow's way of making a living. I mean, before you tell a tour player something about his golf swing, you'd better be darned sure you know what you're talking about. You don't have the luxury of experimenting with ideas like you would on a 24-handicapper back home.
Have other instructors made overtures to Tiger, offers to help him?
Yes. People have approached him and said, "You should try this, you should do this." There was one instance where a well-known instructor approached Tiger, and it wasn't pretty.
I threatened him with bodily harm.
I didn't give him a choice. Like I said, it's a competitive business.
That's surprising, considering the cooperative nature of the teaching community.
Don't get me wrong. Those of us who have been very successful have tremendous respect for each other. I have tremendous respect and admiration for David Leadbetter. John Jacobs, to me, other than my father, would be my mentor. I have tremendous respect for Jim McLean, who is a great instructor. The good ones have a lot of respect for each other. You always should show respect.
Do you view teaching as an art or a science?
It's a science in that you learn through a process of watching thousands of hours of tapes of golf swings, good ones and bad ones, to arrive at a point where you truly understand cause and effect. Knowing how the body reacts when it's in different swing positions is a science, no doubt about it.
The art comes in with the teacher as an individual, his personality, communication skills and his eye. It's the ability to see 20 things at once and pick out the one thing that needs to be fixed immediately, and setting priorities as to how to go about fixing it.
Is there one player you would like to work with, a good player you think you could help a lot?
Yeah, Seve Ballesteros. I worked with him a few years ago and thought we had a good run going. But he has spent the last several years looking for quick fixes. I have great respect for Seve, I think he is a great champion. If I could get him to step back, take five or six months off and put his faith in one person, be it me or someone else, he could win tournaments again. The guy's short game is still phenomenal. As we're talking, he's one of the best putters on the European tour. His creativity is unmatched by anybody other than maybe Tiger Woods. His desire to compete and to win is still there.
You worked with Greg Norman from 1992 to '96. Then you broke up suddenly. What happened?
If you look at Greg's record from '92 to '96, I think he played pretty good. I think he wanted to blame me for the way he played on Sunday at the Masters in '96 [Norman blew a six-stroke lead and lost to Nick Faldo], which I don't think is fair, because he didn't "blame" me for the way he played Thursday, Friday and Saturday.
What happened to him that Sunday?
I think Greg got a little too aggressive at the wrong time. His decision-making process became poor. There was some bad course management. Greg said his swing didn't feel right, and that's understandable; no one knows how an individual's nervous system and mind are working except that person. All great players go through that during the heat of battle.
Do you and Greg get along now?
We get along great. I think he could win majors again, too. He's 45, 46 years old with the body of a 25-year-old. Of course, his nervous system has been through a lot.
Give me a short evaluation of the following players, starting with David Duval.
Great competitor. Pretty one-dimensional in his wedge play.
Good shotmaker, beautiful rhythm, great guy. Not sure he has enough meanness to be a great champion.
If he could only learn to drive the ball straighter, he'd win majors. Tremendous imagination. Tries the flop shot too much. Misses a lot of three- and four-footers because of the length and pace of his stroke.
Has all the tools. Not sure he has the killer instinct to be the No. 1 player in the world -- but he's won two U.S. Opens, so that's just a hunch.
One of the most talented players in the world but can't stay out of his own way mentally. Lets everything on the golf course affect him. He sees everybody in the bleachers, whereas David Duval and Tiger Woods are so focused they don't see anybody.
A workaholic. Probably the worst putter among the best players in the game today, and I say that because he doesn't putt consistently. When Vijay putts well, he usually wins.
At this point in his career, an over-achiever. He'll get better as he gets older. He's done a lot with putting, a fine short game and being in the right place at the right time. Needs to get stronger in his arms, so he can stop laying the club off behind him so much. I think he's working on that.
Best player in women's golf today, maybe one of the best of all time. Excellent technique. No real weaknesses.
I'd love to work with her. If she could learn to drive her golf ball, she could still be a great player. But she's a great talent and a nice lady. My kind of person. She likes to go in the casinos and have fun.
Very unusual golf swing. Great rhythm. Not as strong emotionally as Karrie Webb; we saw that in the Solheim Cup [when Sorenstam was forced to replay a holed chip shot because she played out of turn]. I don't think it would have happened in the Ryder Cup. One of the players would have stepped up and said, "I'm away" or "You're away."
Do you teach women differently?
A woman's body is constructed differently, especially in the hip area. They are a little more loose in the hip area than a man. If you look at most female players, they're on their toes when they hit the ball; both feet are up on the toes. It's an effort to get some speed through the ball. The men have a tighter hip turn than the women do. Also, the average woman's body isn't as strong as a man's. Aside from those two things, I don't think there's any difference.
What's the worst mistake a teacher can make?
Giving his pupils too much information, too many things to think about. One mechanical thought is enough. How many things can you think about in a second and a half? That's how long the swing lasts.
Is there anything new under the sun in instruction?
My dad's greatest line -- "It's what you learn after you think you know it all that is probably the most important thing" -- that's true in life, true in golf. I learn something every time I give a lesson.
How many lessons do you suppose you've given in your lifetime?
Hell, I don't know. Thousands.
Did you ever see anything particularly funny on a practice range?
One day at Winged Foot, back in the '60s, when I was an assistant there, I was standing opposite a guy while giving him a lesson. Suddenly a golf ball hits me right in the ass. I turned around, and the culprit was Chuck Mercein of the Green Bay Packers. Chuck had his back to us, and somehow he'd hit the ball right between his own legs and caught me right on the backside. It was kind of a reverse shank. Maybe the worst shot I've ever seen -- or felt.
You told me a couple of years ago that you were going to go all out with Tiger and your golf schools and everything else for two years, then pack it in. Are you nearing that point?
I'm definitely getting to that point. I've been pushing myself to the limit. I don't know how to say no enough; I try to do too many things. I'm creeping up on 60. I have high blood pressure. My doctors have told me I've got to slow down. I had a melanoma a few years ago, and they had to cut out a huge part of my shoulder. They just found some more in my throat we're a little worried about, but so far, so good. I'm engaged to a wonderful young lady. She has a 5-year-old who will keep me young for many years.
Like the way Lee Trevino started over.
For me, it's nice to have an opportunity again to think of a family, to think of raising another child. To think about all the things I've done and to try to be a better father and a better person.
When we were kids, we were incredibly fortunate to meet men like Lionel and Jay Hebert, Jackie Burke, Dave Marr, Mike Souchak, Armour, Wood, Hogan. The list goes on. My brothers and I listened and observed. I think that's why I like to have my son [Claude III] and my assistants around when good players are here in Las Vegas. They just hang out and they listen.
In a way, you're returning an old favor.
Right. I want them to watch, I want them to see how we do things. One little rule I have: The fellow who is lowest on the totem pole out here has to be with me when I give lessons. That's how he learns. At the end of the day, I'll ask him if there was anything he saw that he didn't understand. And I explain it. It's simple. That's how I learned.
What would your life be like today if it weren't for Tiger?
Obviously I wouldn't have as much money. I wouldn't be as well-known worldwide or as respected in my profession. I think I would still be the same person, though.
Is Tiger appreciative of what you've done for him?
I look at some of the things he's written on the major-championship flags, which are hanging in my studio. One of them reads, "Butch, you have no idea how much you do for me." The nice thing about Tiger Woods is he always says, "Thank you." He says it in tournaments, on Sunday before he goes to the tee. I'll put my arm around him and wish him good luck, and he always says, "Thanks for all your work this week, Butch. I really appreciate it." No other golfer has ever said that to me.
Do you have a question for Butch Harmon that we didn't ask? Send us an e-mail at editor@golfdigest.com and we'll follow up in a future issue.
Family: Father: Claude Harmon won 1948 Masters... Brothers: Craig, Dick, Billy are noted teachers... Sisters: Allyson, Claudia. Children: Michaele, Michael, Claude III.
PGA Tour career: 1969-'71.
Teaching highlights: List of players includes Tiger Woods, Darren Clarke and Mark Calcavecchia... Has worked with Greg Norman, Davis Love III, Seve Ballesteros and Steve Elkington... Voted No. 2 on Golf Digest's list of America's 50 Greatest Teachers in 2000... President of the Butch Harmon School of Golf, Rio Secco Golf Club, Henderson, Nev.