News
Happy to be playing on weekend, 'freed up' Fowler fires 66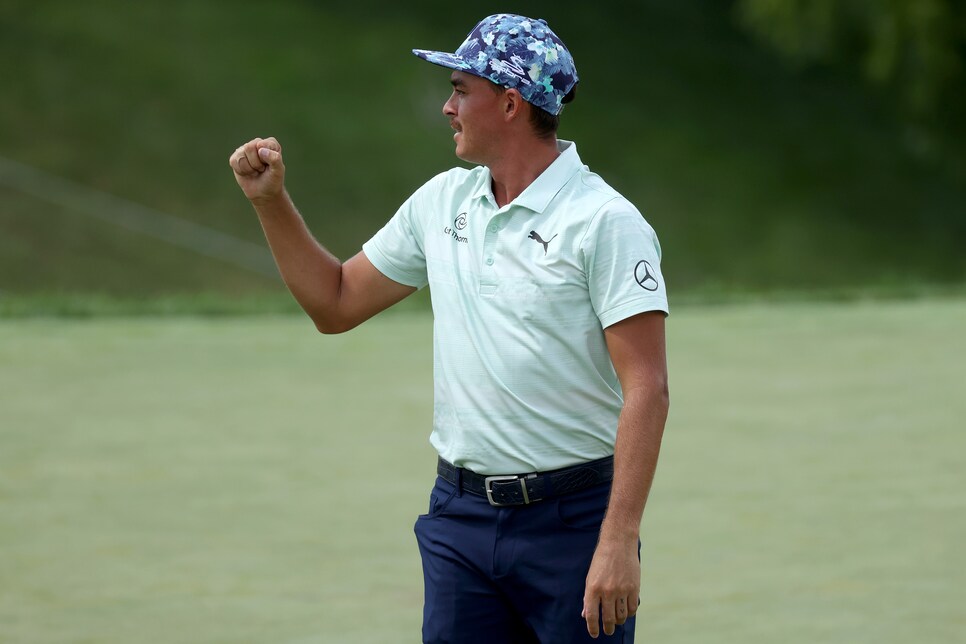 Rickie Fowler does an air fist bump after finishing his third-round 66 on Saturday at the Workday Charity Open.
Gregory Shamus
Rickie Fowler looked sharp in the TaylorMade Driving Relief exhibition in May at Seminole Golf Club in Jupiter, Fla., but hasn't appeared to have a handle on his game since returning to authentic money-for-duffing competition with the PGA Tour's restart.
On Saturday at Muirfield Village Golf Club, Fowler shot a six-under-par 66 amid sunny but breezy conditions and credited the effort, in part, to a sense of relief for making the cut for the second straight week after a few starts in which he was dismissed early.
He talked about feeling "freed up" after making it to the weekend in the Workday Charity Open. Which probably underscores the depths to which he has been struggling these last five weeks. Relief? For making a cut?
"I do feel like I am trending a bit now," Fowler said after shooting his lowest score since the tour restart.
Trending beats treading water, which no one ever wants to do on a Saturday, and Fowler's 66 tied for the second-lowest round of the day with Gary Woodland, Viktor Hovland, Xander Schauffele, Sam Ryder and leader Justin Thomas. Fowler moved into the top-10 at nine-under 207 with a round included five birdies and an eagle at the par-5 seventh hole from 22 feet against one bogey.
With a pair of runner-up finishes in the Memorial Tournament at Muirfield Village, Fowler didn't hesitate to make accommodations to his schedule for the two-week stay in Dublin, Ohio. "Once I saw this come up, I was all for it," he said. "I changed my schedule around a little bit because I was originally going to start out playing four in a row. But being that the success and how much I do like Muirfield, I wanted to be here for two weeks."
And now he appears to be taking advantage of the opportunity.
Last fall, Fowler, 31, left Butch Harmon because the famed swing coach was cutting back on his work and joined forces with John Tillery. His swing changes haven't quite congealed, which undoubtedly has led to some inconsistency and his fall to 31st in the world rankings. Fowler is undaunted, however, and days like Saturday, when winds made Muirfield Village trickier, offer promise.
"It's been a work in progress," he said, "and for me early on there was stuff that was tough because I feel like my sequencing was a bit off, and it was almost some old tendencies I needed to get back from how my lower body used to work better earlier in my career, and so almost like reprogramming. Yeah, we're heading in the right direction, starting to see things pay off, but still got a ways to go."