News
Hank Haney rekindles debate over the legality of Bernhard Langer's putting stroke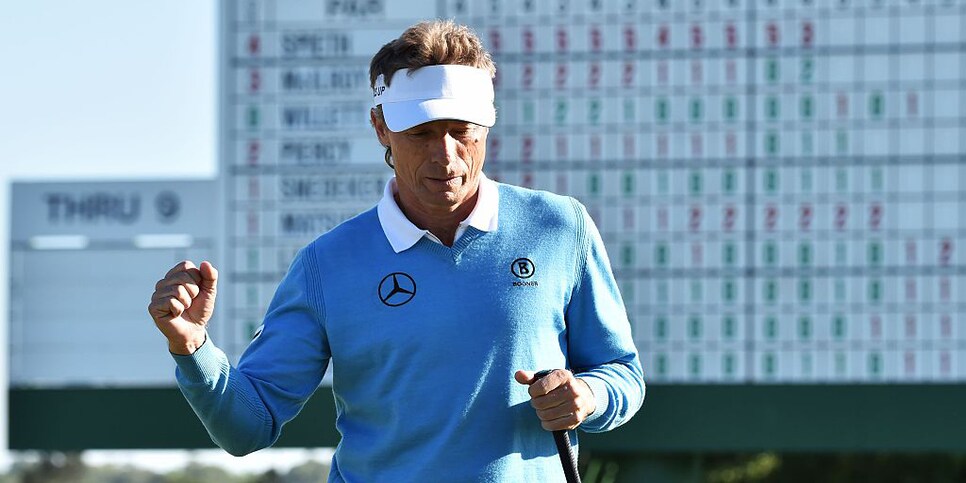 Bernhard Langer's back-to-back major championship wins over the last two weeks moved him past Jack Nicklaus on the list of senior majors with nine. It's a remarkable accomplishment, especially considering Langer shows no signs of slowing down even as he nears his 60th birthday. But apparently, there are still whispers regarding the legality of Langer's putting stroke. And on Wednesday, Hank Haney brought those to everyone's attention with one loud tweet.
The issue for Haney, the former swing coach of Tiger Woods, is Langer's left wrist touching his shirt -- and possibly chest -- as he putts. Under Rule 14-1b, aka the anchoring ban, which went into effect at the beginning of 2016, players are no longer allowed to anchor the putter to any part of the body that prevents the club from swinging freely (leaning the club up against your forearm like Matt Kuchar is still allowed).
This isn't the first time this issue has come up. Last February, Golf World's Tim Rosaforte reported that a few officials and some of Langer's peers were questioning his adjusted putting stroke. Before the ban, Langer had gotten very good at anchoring the putter into his chest. His new stroke looked similar, but he moved his left hand slightly away from his body before putting. Here's how Langer explained it in a text to Rosaforte:
"I am aware of my left arm and hand, and my hand is definitely not touching my body. I anchor when I address and then move my hand away from the chest, till it is not touching anymore."
On Wednesday night, Golf Channel's Brandel Chamblee got into the debate with this tweet:
Enforcing the new rule is all about intent in the absence of incontrovertible video evidence. So if a player accidentally brushes his shirt (in windy conditions this is more apt to happen), there's no penalty. Also, there's some question as to whether the clip Haney posted on Wednesday was actually a practice stroke. If so, a player is allowed to anchor.
Regardless, Haney's tweet -- and the reaction it's gotten, though none yet from the USGA -- showed that more than 15 months after this debate started, it's a topic that's still on the minds of many. And if Langer keeps winning, this won't be the last you'll hear about it.
"Everybody should give him some slack, but the problem is, he's the poster boy for us," Olin Browne told Rosaforte last year. "There's never been any kind of impropriety as it relates to him and his game. Unfortunately, we're in a situation where there's enough gray area in the interpretation that it lacks clarity. The intent thing clouds the picture to me."