Hal Sutton on Phil Mickelson's Ryder Cup broadside: 'He let his whole team down'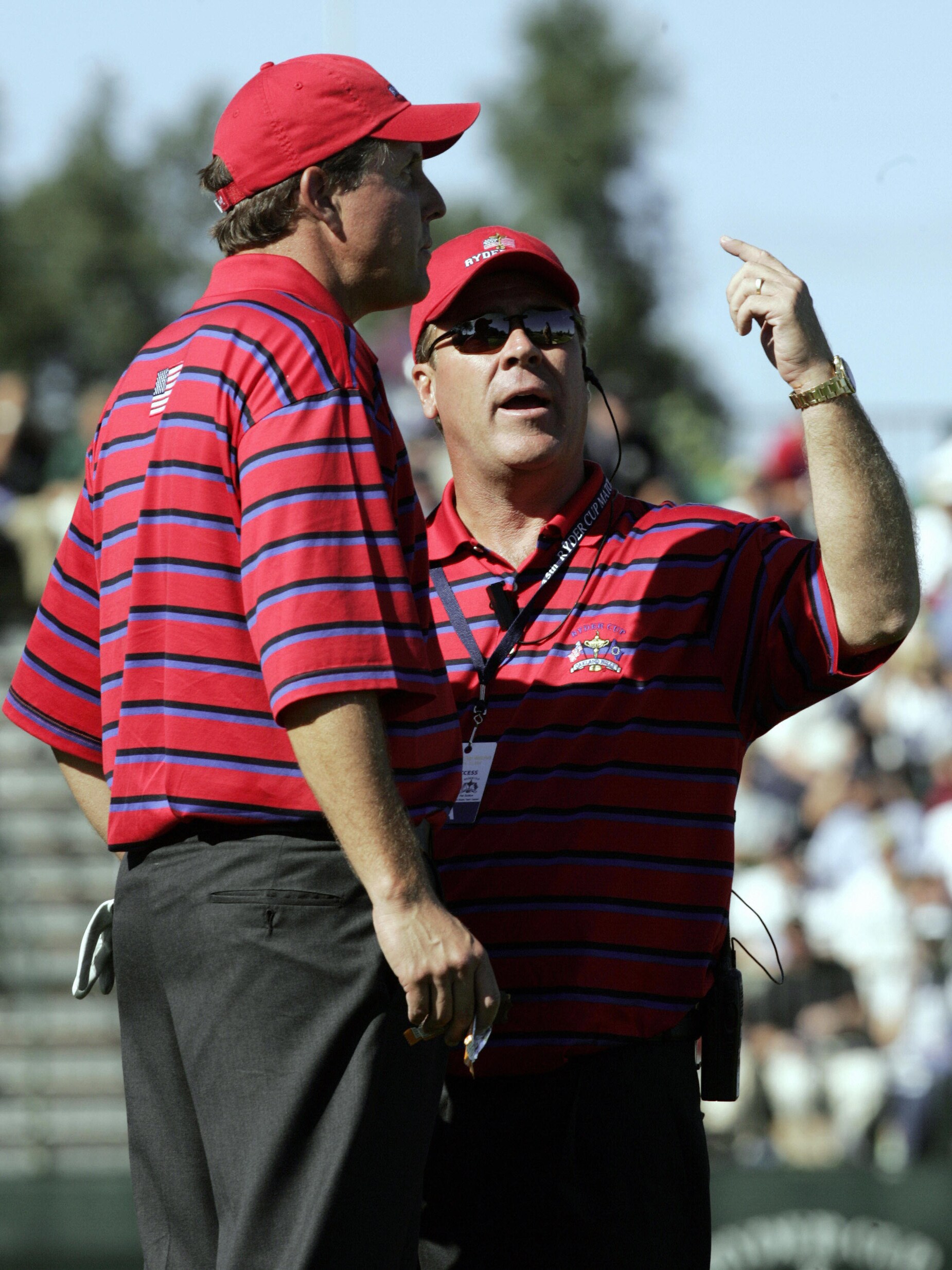 Phil-Mickelson-Hal-Sutton.jpg
BLOOMFIELD TOWNSHIP, UNITED STATES: US Ryder Cup captain Hal Sutton (R) talks to Phil Mickelson (L) on the 10th hole during their Foursome (alternate shot) match 18 September, 2004 at Oakland Hills Country Club in Bloomfield Township, Michigan the site of the 35th Ryder Cup. AFP PHOTO/TIMOTHY A. CLARY (Photo credit should read TIMOTHY A. CLARY/AFP/Getty Images)
CHASKA, Minn. – Stung by the virulent criticism of his captaincy following the largest U.S. loss in Ryder Cup history in 2004, Hal Sutton retreated to his home in Louisiana and wanted nothing more to do with golf.   "I pretty much quit golf after that. I took the blame for everything," Sutton said of his team's nine-point setback at Oakland Hills C.C. outside of Detroit. "Nobody played very good that week. It's tough as a captain when you aren't in there and people don't play well. It's hard to beat anybody. And when you play well, you beat everybody.   "It's a thankless job, being a captain."   And it continues to be thankless, as Sutton discovered Wednesday when he unknowingly joined Tom Watson as road kill under the bus navigated by the passionate American veteran Phil Mickelson. While the outspoken left-hander was much more agitated two years ago at Gleneagles, Scotland, he never mentioned Watson by name as he surreptitiously criticized the captaincy of the eight-time major winner.   But in explaining why captains are so consequential to the outcome of the biennial matches, Mickelson specifically cited Sutton and his 2004 tenure Wednesday morning at Hazeltine National, where the 41st Ryder Cup begins Friday.   "It all starts with the captain. I mean, that's the guy that has to bring together 12 strong individuals and bring out their best and allow them on a platform to play their best," said Mickelson, who has been on just two winning teams since his first Ryder Cup in 1995. "That's the whole foundation of the team. I understand and I hear, 'Well, guys just need to play better or they just need to putt better.' Absolutely you do.
"But you play how you prepare."   After a pause, Mickelson offered an example, and he harkened back 12 years to the 18½-9½ loss to Europe in 2004, when he and Tiger Woods played together in the first two matches and lost both times.   "We were told two days before that we were playing together. And that gave us no time to work together and prepare," he explained. "[Tiger] found out the year before when we played at The Presidents Cup in 2003 that the golf ball I was playing was not going to work for him. He plays a very high-spin ball, and I play a very low-spin ball, and we had to come up in two days with a solution. So I grabbed a couple dozen of his balls, I went off to the side and tried to learn his golf ball. And it forced me to stop my preparation for the tournament, to stop chipping and stop putting and stop sharpening my game and stop learning the golf course in an effort to crash-course and learn a whole different golf ball that we were going to be playing. Had we known a month in advance, we might have been able to make it work. I think we probably would have made it work. But we didn't know until two days prior."   Mickelson added the he "loved how decisive Captain Sutton was." But, he added, "that's an example of starting with the captain, that put us in a position to fail and we failed monumentally, absolutely."   Reached at Minneapolis Golf Club, where he was participating in a PGA of America corporate outing called the "Captains Challenge" with seven other former U.S. captains, Sutton initially declined to comment when informed of Mickelson's observations.   "Nothing surprises me in the world we live in today," Sutton, wearing a blue short-sleeved shirt despite chilly weather, said with hesitation. "I don't think I can win by saying anything. I find it amusing that that's an issue at the 2016 Ryder Cup. I think Phil better get his mind on what he needs to have it on this week instead of on something that happened 10 years ago.   "You all write it the way you see it instead of wanting me to do this," Sutton added. "I mean, my God, somebody's got to be the fall guy. If it needs to be me, I can do that. If he wants to put the blame on me, then let him do it.   "If I still need to shoulder the blame for Phil, I'll do that."
RELATED: Why can't we be friends?   Sutton, who was one of several former captains to visit the U.S. team room on Tuesday night, went on to stipulate that Mickelson omitted a crucial fact in his recollection of his pairing with Woods: Lefty had changed to Callaway equipment just prior to the 2004 matches. "Yeah and then he didn't even call me and tell me he was changing the equipment," Sutton said. "He had [his agent] Steve Loy call me and tell me. And he changed not only equipment, he changed ball, too. So, print that. Print that. Print that. He let his whole team down. So he's talking about Hal Sutton? He let his whole team down."   Curtis Strange, the 2002 U.S. captain, said he thought about putting Woods and Mickelson together at The Belfry, "but Hal was the one who had the guts to do it."   Sutton has no regrets, even though it backfired. Colin Montgomerie and Padraig Harrington defeated the U.S. stars in the opening four-ball match, 2 and 1. In the afternoon, Darren Clarke, this year's European captain, teamed with Lee Westwood to beat Woods and Mickelson in foursomes, 1 up.   "Well, with the passing of Arnold [Palmer on Sunday], you know, Arnold and Jack [Nicklaus] didn't start out to be the best of friends because it was kind of de-throning going on there," Sutton said. "And they ended up being just great friends. And I felt like the world of golf would be better off if Tiger Woods and Phil Mickelson became friends. And I felt like if they played together and had fun and beat somebody, they would end up being friends. They didn't beat anybody. So, you know, it couldn't be their fault, it had to be somebody else's fault. It had to be Hal Sutton's fault. It had to be.   "Do you think I had anything to do with how poorly he played that way?" Sutton asked. "Y'all remember how bad it was. He hit a 3‑wood against the fence on the last hole. A 3‑wood. A 3‑wood. That's the story y'all need to be writing."
You are using an unsupported version of Internet Explorer. Please upgrade to Internet Explorer 11 or use a different web browser.