The Loop
Haggin Oaks: A golf course success story as measured by the foot
A beleaguered game takes its success stories however they come these days, and this one comes with a soccer ball.
In July of 2013, Haggin Oaks, a popular golf facility in Sacramento, Calif., began offering footgolf, a soccer/golf hybrid, though without any expectations or marketing.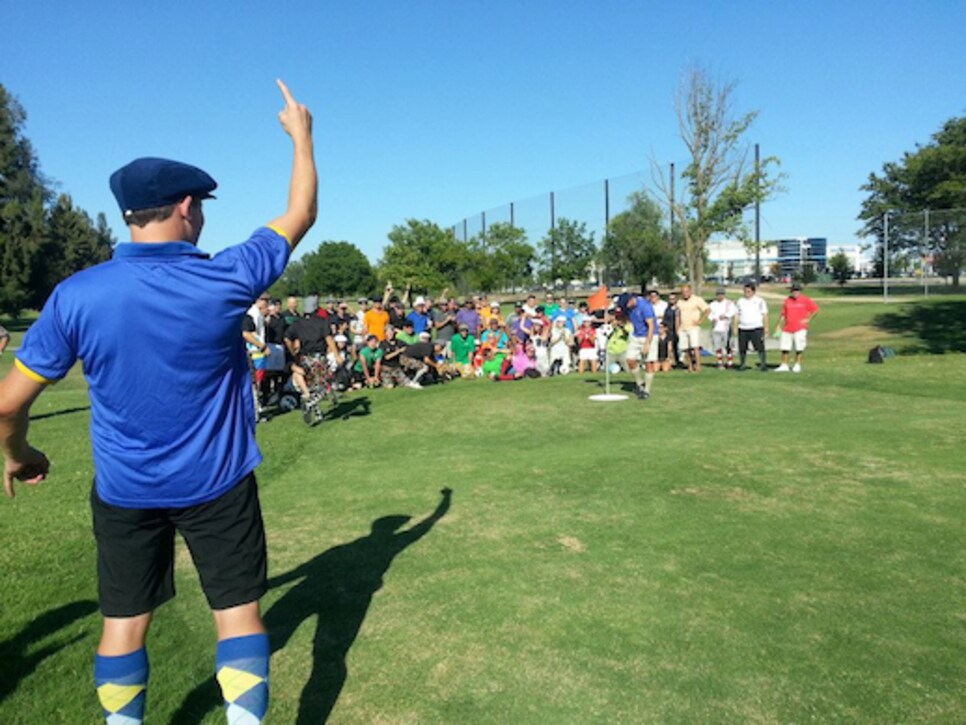 It extended invitations to soccer teams to come out and experience it, and "it took on a life of its own," one of Haggin Oaks' owners, Ken Morton Jr., said. "It was all word of mouth. Sacramento has four television stations and they all came out. The Sacramento Bee did a front-page story on it."
The rounds of footgolf exceeded 13,000 the first year, at the same price as nine holes of golf, Morton said, and the number is steadily, even rapidly growing.
"We've been surprised every step of the way. The reception has been nothing sort of remarkable. We certainly had some of the old guards ticked off that there are soccer players out on their golf course. However, at the end of the day positive reaction has been far greater than any negative reaction. And we have only touched the surface."
Morton said that "we're quite confident we could play 50,000 rounds" given the time to pursue it. It now employs a director of footgolf who is reaching out to soccer clubs in the Sacramento area. "Our junior soccer program in the greater Sacramento region is the largest anywhere in the continental United States," Morton said. "Soccer teams come out [to Haggin Oaks] and use it for practice, and have birthday parties for kids."
Haggin Oaks features two golf courses, one of them the MacKenzie course designed by Alister MacKenzie. The 18-hole footgolf course has been set up on the front nine of the Arcade Creek course and features its own tee boxes and greens that are situated adjacent to the golf course's fairways and greens.
It now hosts several footgolf tournaments, as well as dual-sports tournaments in which contestants play nine holes of footgolf and nine holes of regular golf. Morton said the footgolf tournament fields fill up faster than its regular golf tournaments.
The question, of course, is whether footgolfers can be converted to regular golf. "We're seeing some of that," Morton said. "As we begin to figure this out more, that's our job to make that conversion. But it's not uncommon now to see on the range somebody's golf bag with a soccer ball sitting next to it.
"It is a different sport altogether, but we're trying to encourage as many as we can to play in the dual-sports tournaments. It's been an absolute blast for the one=s who have done it."
Morton is following the example of his father, Ken Morton Sr., a PGA of America professional who has been associated with Haggin Oaks in one form or another since 1958 and is now one of its owners as well as the CEO of Morton Golf.
"Growth of the game initiatives have been at the forefront of everything he's done throughout his career," Morton Jr. said. "We've tried to take that baton."