News
Rocco Mediate Is A 'Perfect Fit' For The Champions Tour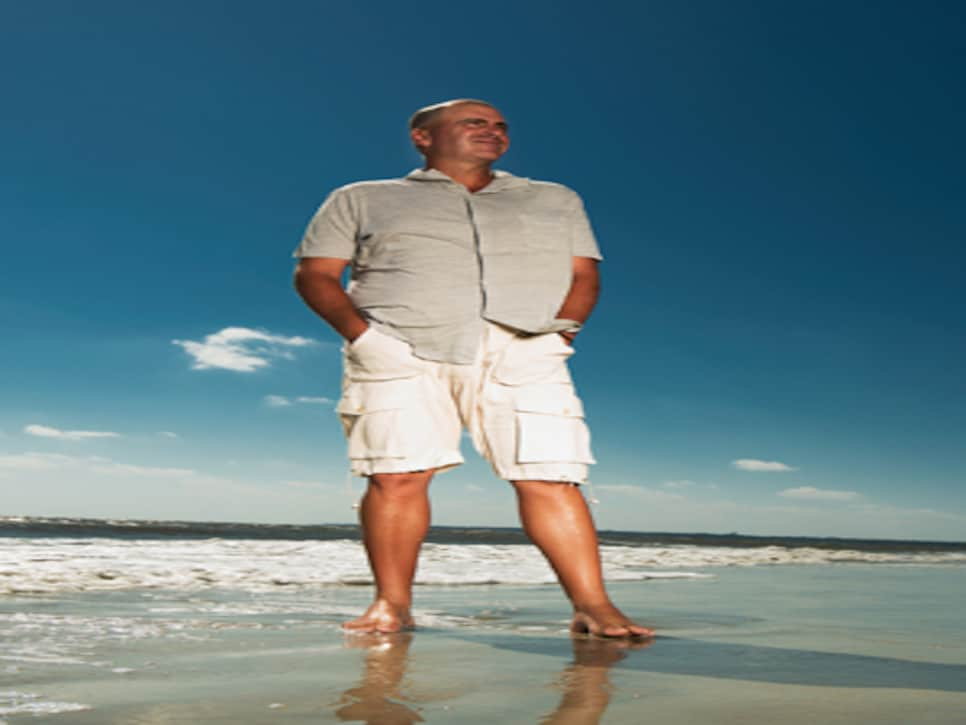 Rocco Mediate warmed up Sunday trying to win his Champions Tour debut the way he always warms up at a tournament, with a Venti ice coffee from Starbucks that included a quad shot of espresso and a splash of light mocha. From an iPhone speaker in his back pocket, his favorite band, Rush, was playing his favorite song ("The Garden") from their new album. "Alex Lifeson is a very dear friend," Mediate said of the band's guitarist and backing vocalist.
On the ninth hole of the second round in the Allianz Championship, a spectator approached Mediate with a copy of his book, (Are you Kidding Me?) wanting an autograph. Mediate was focused on the job at hand. "The guy goes, 'Hey Rock, come on over sign my book,'" Mediate recalled after his two-stroke victory. "I told him, 'Dude I can't do it now.' Then I turned around, looked and said, 'Give me a second to hit a tee shot.' I piped it, signed the book and walked down the fairway."
Some of the way Mediate treats people comes directly from the handbook of his mentor, Arnold Palmer. The rest, as he admits, is from another planet.
"I was kind of a mess today," Mediate said. "But then again I'm a mess all the time."
A lovable mess, exactly what the Champions Tour needs. As Mark Calcavecchia said, "He's the young Fuzzy (Zoeller). That's about the best way to put it."
The old Fuzzy Zoeller, 61, acknowledged the similarities. "He's the perfect fit for the Champions Tour," Zoeller said during his warm-up yesterday. "We need new bodies every year, baby, that's beautiful. That's the great thing about Rocco. People can relate to his golf swing, which you can't say on the PGA Tour."
Mediate won his first tour event 22 years ago, about 50 miles from where he was making his senior debut. He beat two-time U.S. Open champion Curtis Strange in the Doral-Ryder Open, with a playoff birdie that followed earlier birdies on the last two holes of regulation. The son of a Greensburg, Pa., hairdresser, Mediate laughs now about the teased-out Afro he wore and the "golf nut" chain that was a gift from his mother.
Of course, everyone remembers the way he took Tiger Woods 91 holes before succumbing in the epic 2008 U.S. Open. There have also been a slew of injuries, a divorce and now an engagement to Jessica Somers. "He proposed on his 50th birthday [Dec. 17] as he was cutting the cake," she said as Rocco entertained Allianz clients after his victory. "He flipped the switch and proposed. He has the most incredible attitude. He just doesn't let anything get to him. It's for the love of the game."
With no sponsor, Mediate wore a Trump logo on his hat, spent the night at the Mar-A-Lago Club in Palm Beach, and flew on The Donald's helicopter to Naples for this week's ACE Group Classic. He met Trump at the Skills Challenge in 2008, and now he hangs at The Donald's hotels and courses.
"I think this is like Rocky VII," Mediate said. "It's so friggin' cool. I don't know how to explain it."