News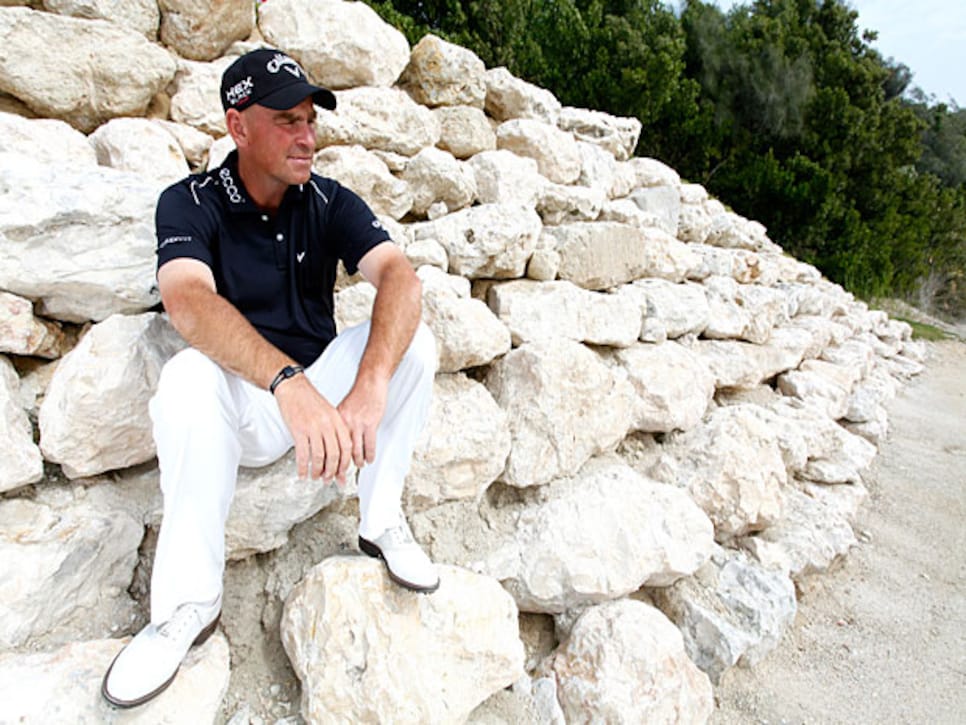 Bring up Thomas Björn's name during a wee stroll along the range at any European Tour event and you typically get widely disparate opinions. Sometimes there is a shrug and a sad shake of the head, along with "should have won it, you know." Others merely smile, or even laugh when the popular and distinctive Dane is mentioned. And for the rest a few knowing nods eloquently convey the respect felt for a man who has contributed so much to his home circuit--on and off the fairways--over the last decade and a half.
To most casual fans, of course, Björn will forever be that guy who took three shots to get out of the bunker on the 70th hole of the 2003 British Open at Royal St. George's. Those with sharper memories may recall that, three days before he would lose the claret jug by a single, agonizing shot, he incurred a two-stroke penalty when he first failed to extricate himself from another bunker, then struck the sand in a brief--and ultimately expensive--fit of temper.
Then there will be the golf nerds who can successfully identify the two-time European Ryder Cup player (and vice-captain) as the highly respected chairman of the European Tour's influential tournament committee. But only those with a finely tuned sense of irony will remember "Mr. Chairman" paying the largest fine (widely rumored to be £10,000) ever handed out by the tour, in 2006 when he savagely and publicly criticized then Ryder Cup skipper Ian Woosnam for the apparently heinous crime of leaving him off the European team.
To the more esoteric-minded, Björn will surely be the glowering and tortured Scandinavian who once walked out of the 2004 European Open citing "demons" in his head. Or the unfortunate soul who led the 2005 European Open at the K Club after 54 holes, before accumulating 17 shots (11-6) on the last two holes en route to a closing 86.
All of which are merely parts of the complicated and endlessly expressive mosaic that is Björn, a man known to European Tour caddies as "Cyclone" (a slow moving depression). But those of a kinder--or at least more thoughtful--disposition will see this Gothenburg resident as one of Europe's premier players from 1996-2006 (only once in that period did he finish outside the top 20 on the European Tour's Order of Merit) and, more recently, as perhaps the most resurgent member of golf's elite. After 3½ years out of the winner's circle--and the top 40 money winners--Björn has won four times in the last 19 months, twice before and twice after his father, Ole, died of cancer last May. From a low-point of 263rd on the World Ranking, he has risen again, to No. 28 after last week's T-25 finish at the Commercialbank Qatar Masters.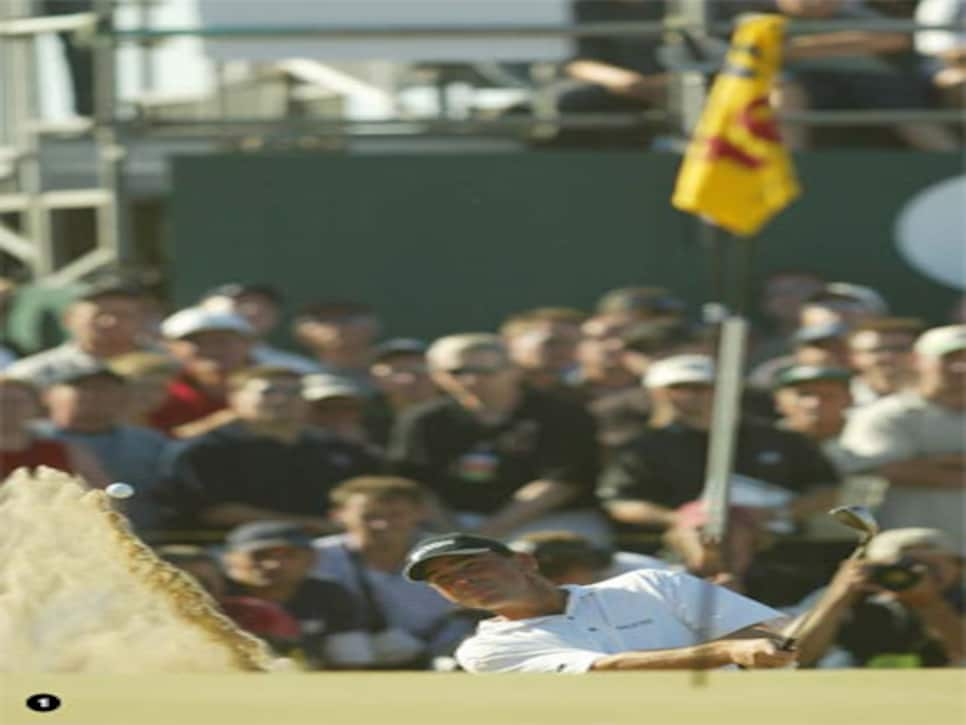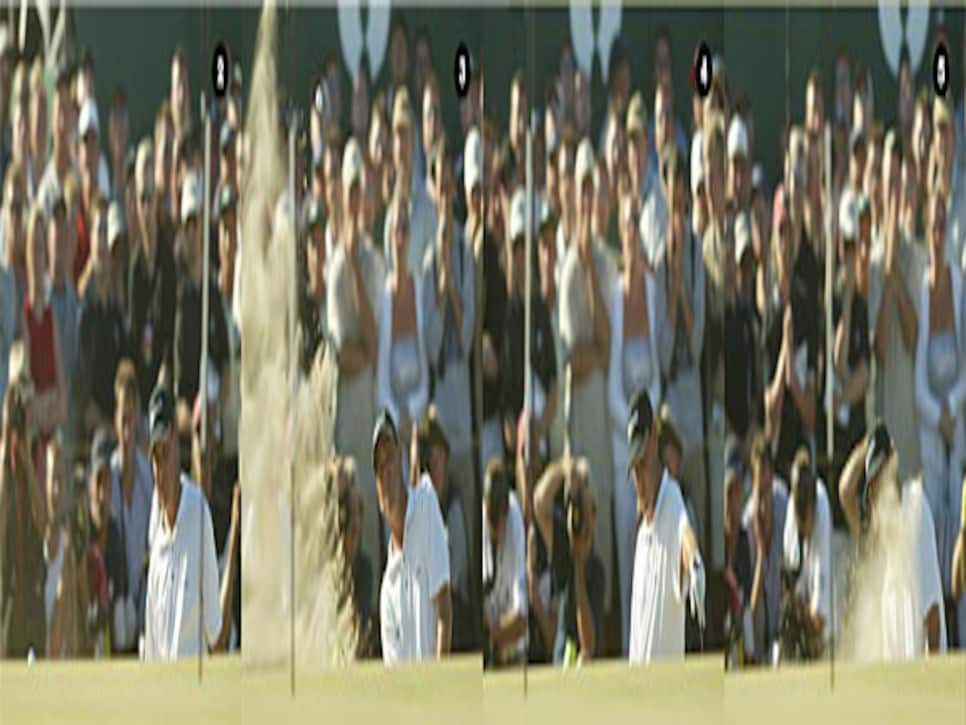 Björn's sandy mess at the 2003 British Open (above) derailed early success that included a part in Europe's 1997 Ryder Cup victory (below).
So there aren't many on any tour quite like this 40-year-old father of three. Certainly, no one in the game glares quite so potently as Björn, whose almost jungle-like eyebrows only add to his thunderous and somewhat intimidating countenance in times of stress.
"I've always had to battle my active mind," he says with a disarming grin that instantly contradicts his public image. "It's too active at times. I am the sort of golfer who has to analyze almost everything. I don't find it easy to relax after a round. There are always things flying around in my head. When I go home, I can sleep 10 hours a night; on tour I sleep for five hours. My head is always spinning. I have thoughts all the time. I go over every round shot-by-shot. I think about what I'm going to do differently the next day. There's a lot going on in my brain."
That was certainly the case from 2007 through 2009, the period during which Björn's slide into seeming oblivion was gaining momentum.
"I definitely fell out of love with the game," he continues. "The traveling became very difficult. My mind was wandering. I was considering doing other things. I would be sitting in cars going to the airport really not wanting to go. It was just a sour feeling. And on tour I had a constant feeling of loneliness. I wasn't myself. The fire in my belly was gone. I lived what felt like a very lonely existence. I didn't really want to do much. I didn't socialize. I was internalizing everything. And every Wednesday I felt like getting the week over with so that I could go home.
"I just didn't have the desire to play," he says. "Plus, if you have been used to playing in major championships and all the best events, when that disappears it is hard to be properly motivated. I found myself at events I was playing in 15 years ago. All of that just made things worse. I wasn't enjoying any of it."
That much was obvious to those who know Björn best. His retreat into dour introspection did not go unnoticed.
"Thomas was on a pretty steady downward path for quite a while," says Ewen Murray, former European Tour player and now Sky television commentator. "In the middle of that period I remember telling him he had to stop thinking so much about how he was doing everything. He won the Challenge Tour in 1995 with record prize money. A year later he won at Loch Lomond. In 1997 he was on the Ryder Cup team. And on he went from there.
"The bad spell, not surprisingly," says Murray, "came after the 2003 Open. He should have won that event, as we all know. Then he started getting into swing theory, rather than focusing on what he is very good at, which is just playing. I told him, 'You will get to 40 and still be searching for the secret to the golf swing--and you'll have wasted the best years of your career.' "
Of that, Björn was well aware. And, eventually, things reached a crisis point. His choices came down to a) giving up the game and finding something else to occupy his over-active mind; or b) re-dedicating himself totally to being the player he once was. It was a simple choice.
"I had to make a decision," he shrugs. "Once I knew that I still wanted to play golf, everything was easier. I wanted some good years at the end of my career. I didn't want it to peter out into nothing. Pernilla [Björn's wife] was somewhat involved, but I had the casting vote. When I travel now, I enjoy it. I've become better at scheduling myself. I'm happier and more relaxed, and that has a lot to do with me playing better.
"Moving back to Gothenburg was also important to us as a family," he adds. "We were happy in England, but there was always something not quite right. As soon as we did move we knew we should have done it sooner. The whole family is more comfortable with friends and family around us. And my wife and I are happier with the kids at school in Sweden. We wanted them to have the same sort of upbringing we had."
Björn's return to prominence has also been helped immeasurably by the influence of coach Pete Cowen, whose associate, Mike Walker, has overseen the work his charge has put in over the past couple of years.
"The biggest thing was not messing with his swing and getting back to working on the same things over a period," says Walker. "What we have done has been very consistent. Thomas can be quite high maintenance, which is why Pete passed him on to me. They just weren't getting enough time together.
"When Thomas is 'on,' the game comes easy to him," says Walker, "but he can be difficult at times. He has a volatile temperament. I know where he is coming from though. I see no reason why he won't press on. You can never say anyone will win three times, but I see no reason why his level of play should regress. He feels like he belongs on tour again."
He always has, of course. No one has ever questioned Björn's commitment to his home circuit, as demonstrated by his long-time committee service. In so many ways, Björn exemplifies all that is good about the tour. As his manager at IMG, Guy Kinnings, says, "He eats and breathes what goes on out there."
Indeed, very quietly, Björn gives selflessly of his time in a wide variety of ways. At the recent Abu Dhabi HSBC Golf Championship pro-am dinner he was assigned the seat next to Tiger Woods in the sure knowledge that the 14-time major champion would hang around longer because he had a good and trusted friend to talk to. And one week earlier in South Africa, it was Björn who volunteered to coach the weekend pro-am contestants through what was expected of them on the course.
"Thomas so obviously cares passionately about the tour," says European Tour executive director George O'Grady. "He is determined. He is feisty. He thinks deeply about the game. He's a unique individual. His contribution has been immense. The European Tour is very lucky to have him."
As for the future, apart from his unfinished business with the British Open (in which he has three top-fours, including last year's emotional fourth-place finish two months after Ole's death), Björn is almost certain to lead Europe into battle with the Americans before the end of this decade.
"Thomas has all the attributes," contends Ken Brown, who played in five Ryder Cups and was a vice-captain in 1999. "That he is a continental will help too. I know the tour officials are aware that there haven't been enough captains from outside the British Isles. So Thomas will be at the front of the line."
Ah yes, the one Thomas Björn we failed to mention at the start: Ryder Cup captain in waiting. But only if he can somehow find the time, of course. He's a busy man you know.