News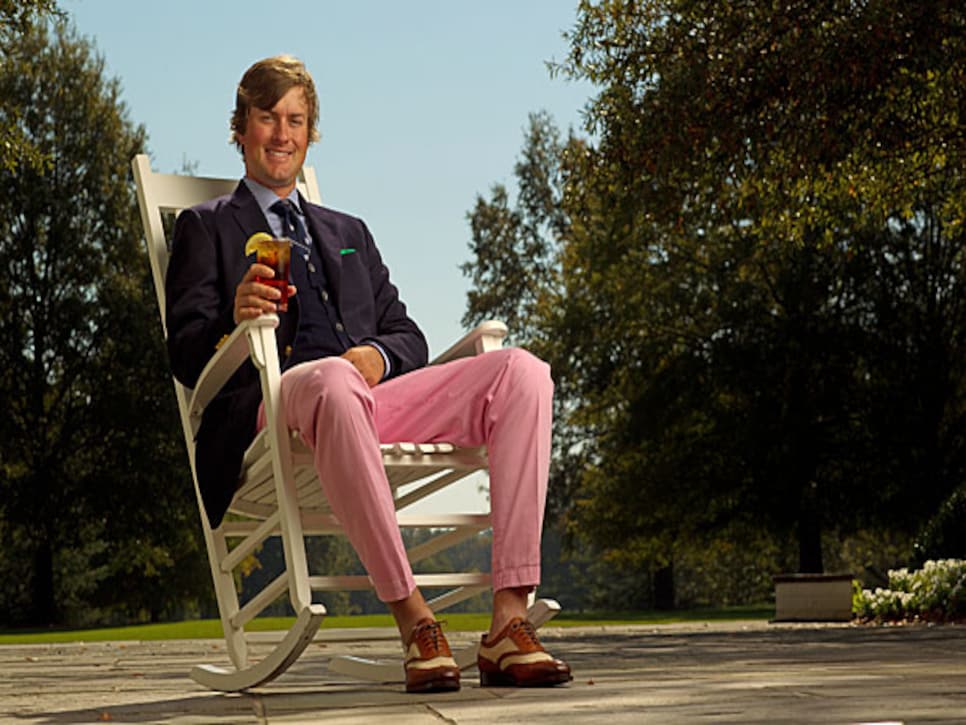 A lowly 229th on the World Ranking in late 2010, Simpson recently was sitting pretty near his North Carolina home after a great 2011.
When the season ended and he boarded a private jet in Orlando, Webb Simpson didn't point to the sky or recite scripture. He cracked open a beer and thought about ordering a pizza. On board were Simpson's wife, Dowd, and their 8-month old son, James. The Simpsons were already talking about ordering their favorite take-out and sitting around the kitchen table back home in Charlotte to celebrate the best year of his career.
You wouldn't know it, but Simpson had just lost the PGA Tour money title and, likely, player-of-the-year honors to Luke Donald, just a month after losing the FedEx Cup to Bill Haas. Some tour pros would have been disappointed about leaving so much cash on the table, but for Simpson, this was a year of exponential improvement and financial gain.
The World Ranking? A year ago Simpson was 229th before he secured his 2011 tour card with a T-4 at the Justin Timberlake Shriners Hospitals For Children Open, the next-to-last event of the 2010 season. Still, at the time, he wasn't eligible for this year's Arnold Palmer Invitational, let alone any of the four majors.
The Presidents Cup? Simpson ranked 45th in points at the end of last year, but by the time the team was named in September, he had climbed to fourth. He will make his Cup debut at Royal Melbourne GC in Australia later this month.
The FedEx Cup? Simpson bowed out after two playoff events in 2010. He almost won it all in 2011, finishing second on the points list to Haas after Jay's kid won the Tour Championship with a miracle up-and-down at East Lake.
The money title? He was 94th in 2010. A year later, at age 26, he finished second to Donald, who made six straight birdies on the back nine in the final round of the regular season to win the tournament and steal the earnings crown.
Still amped after his long day at Disney, Simpson tossed and turned until 2 a.m. and was awake at 5. The first thing he did was check the World Ranking website on his iPhone. He was 10th, an all-time best. Next he checked his Bible and C.S. Lewis apps, while awaiting the first sounds from James' crib.
"Webb has the perfect disposition for golf," says Dowd, who besides being a wife and mother is also an actress. "He can shake off one hole and move on to the next. He can shake off one tournament and move on to the next."
There was plenty to shake off early in the season. A final-hole bogey in the Transitions Championship and a penalty stroke when his ball moved on the green prior to putting at the Zurich Classic of New Orleans cost him victories. Those losses (to Gary Woodland by a stroke and Bubba Watson in a playoff) were crucial in determining the outcome of both the money and POY titles. So was a missed three-footer in a playoff loss to Ben Crane in the McGladrey Classic at Georgia's Sea Island resort.
"We talked just after Disney," says caddie Paul Tesori, "and he said, 'You know what's amazing? Woodland had 23 putts on Sunday, and that's not his best stat. I lost in a playoff to Bubba on a rule that has since been reversed. I got beat by Ben Crane who birdied eight of his last 11 holes. Donald made 10 birdies on his first 15 holes Sunday to win his second stroke-play event [in the U.S.] in nine years. I could look at it as if I should have had six wins, but I don't look at it that way. Those were some tough losses and some pretty weird circumstances surrounded all four of them, but I did my best. I can't control other circumstances.' "
What Simpson did control was the state of his own game. He hired Tesori after the 2010 season when caddie William Kane went into youth ministry, and he signed with Jeff Banaszak of Back 9 Tour Services to engage in a fitness program to get more flexible and functionally stronger. Sitting down with Banaszak last Nov. 30 for his first evaluation, Simpson was asked to list his goals. Webb told him, "Be mentioned among the greatest players in the world and work to attain the No. 1 [spot] on the World Ranking."
Tesori flew to Charlotte before the Sony Open and had to be honest, telling Simpson, "You must have a very good mind because your mechanics are not very good." After working with Vijay Singh and Sean O'Hair, Tesori felt that for Simpson to keep his card for two years was a miracle and that he wasn't a top-50 player, let alone a player with the skill set to be No. 1.
After a slow start on the West Coast, they met after missing the cut at Torrey Pines for a nine-hour session at a course in San Diego. "Webb has a no B.S. policy," said Tesori. "Around 4 p.m. that day he turned around and asked me, 'What do you think I need to do?' '' More than a caddie, Tesori is a former tour player who listened to Singh and Sean Foley when the latter was working with O'Hair. Tesori gave Simpson the "Vijay Foley or the Sean Singh" principles of the swing, and Webb bought in.
Tesori had Simpson take the club back with the face more square to the target, which got him away from taking the club back too far inside. Also, Simpson had a lateral move, or a sway to his swing. They cut that down considerably.
In Simpson's next event, the Waste Management Phoenix Open, he finished T-8. The remainder of the year he won twice, was in the top 10 11 times and finished outside the top 25 only twice. His driving distance improved more than 10 yards, and he went from 121st to eighth in greens in regulation. As a result Simpson led the tour's all-around statistical category.
"I always believed in myself and knew I had it in me to be a great PGA Tour player," Simpson said while poolside at Sea Island. "But it took me awhile to win in college, and I thought it might take me a little while to win out here."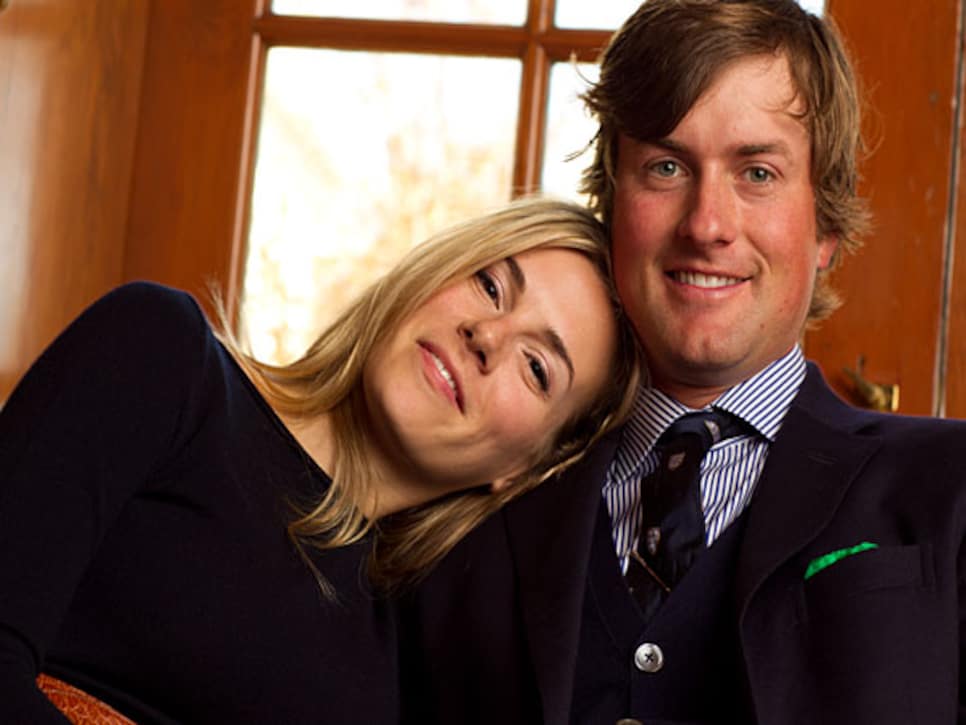 At Wake Forest it took Simpson three years to win, the same amount of time it took on tour. He was recruited by coach Jerry Haas and given an Arnold Palmer Scholarship not because of a flawless swing but because of an intense competitive drive, an innate sense for seeing and pulling off shots and a marvelous short game. "He was blessed with a great set of hands," says Simpson's long-time instructor, Ted Kiegel of Carolina CC in Raleigh.
As a freshman Simpson also had a bad habit of re-gripping in the middle of his backswing, leading to wild misses. Haas shot video one day at practice and showed it to Simpson, who could not believe it. Some of his former teammates, who had better fundamentals, are amazed at the level of success Simpson had this year, even though he was a Walker Cup hero in 2007 (making a 110-footer in a key match at Royal County Down) and the 2008 ACC player of the year.
What nobody could believe was that the kid who made everything as the No. 1-ranked junior golfer went to the belly putter his freshman year at Wake. "His gift was that he could turn 5 into 4 or 4 into 3," says Haas. "As we know, you're judged by what you shoot in this game, and he was very efficient at it."
The efficiency only increased when Simpson pulled a Ping Craz-E off a display rack at CC of North Carolina in Pinehurst as a joke. His father, Sam, a 6-handicap who was there that day, questioned it. "I thought he was just messing around, but he tried it and has been on it ever since," says Sam, who sold his residential real-estate company to Prudential in 2008. "It works for him because he's very handsy, and he keeps those hands still [with the belly putter]."
Raised in Raleigh, N.C., by church-going, golf-loving parents, Simpson broke records at the same high school (Broughton) as Scott Hoch and never missed Bible study. His father is a preppie, just like Webb, and now benefits from the hand-me-downs from Simpson's Polo collection. "I grew up watching Dad with Mom, opening her door," Simpson says. "It was always 'Yes, ma'am,' and 'No, ma'am.'"
Wake alum Buck Wearn remembers a party thrown for the team during Webb's freshman year. Even at that young age, Simpson was developing the charm of a 21st-century southern gentleman. "Webb had those people eating out of the palm of his hand," Wearn said. "The men were already trying to figure out how to hire him, and the women wanted to introduce him to their daughters."
It was actually Sam Simpson who wanted to introduce his son to Dowd after meeting her during a party, and offering her $100 to go on a date with Webb. "If he's as cute as you, I'll go for free," was her response. Little did Sam know that Dowd's best girlfriend had played golf with Webb in Raleigh and had already announced to her, "I met your future husband. He's coming to Wake next year."
They met and fell in love but took a year off during the relationship because both felt -- and she was working at a faith-based company at the time -- that they were putting too much hope in one another and not enough in God. "I had people tell me it was crazy, that I was losing the best thing that ever happened to me," says Dowd. A year passed and on Christmas Eve 2008 Webb called to ask her out.
"I live with him. I'm his wife, and he is definitely not perfect," says Dowd, "but it's hard to walk away from Webb and not see a light in him, see a brightness he brings to a crowd. Ultimately, it's the love of Christ pouring out from him."
Simpson has expressed his spiritual gratitude publicly, causing some discomfort in the secular crowd. The viral criticism is one of the reasons why he backed off ­Twitter, but pointing to the sky after a win, having Titus 3:3-7 stitched to the back of his Titleist hat and giving greenside testimonials is what Webb Simpson stands for. "Why bring God into it?" he asks. "Well, he's in it for me."
When asked to name the highlight of his season, it wasn't the breakthrough win at the Wyndham Championship or his thrilling playoff victory at the Deutsche Bank Championship. It wasn't earning $6.35 million or even making the Presidents Cup team. "The coolest experience that I've gone through this year was the birth of my son," he says. "Off the golf course I've had the greatest year of my life. Getting a full year into marriage now, having a baby in February, being able to raise a child with my wife -- off the course it couldn't have been better."