News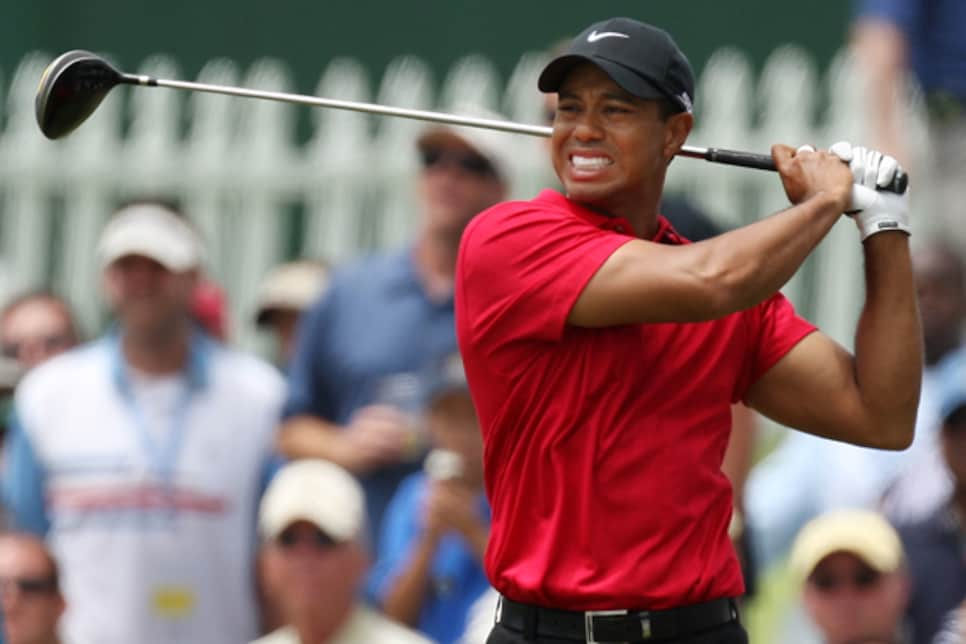 While his rivals haven't yet wrestled the No. 1 ranking away from Woods, his place as the top golfer in the world seems less certain with every wince on the course. (Photo: Getty Images)
We know Tiger Woods is not playing this week, and most likely not the next. In many ways, though, neither fact is all that significant. What matters most is the shape his bad back will be in that first full week in April.
Given where Woods stands in his chase of Jack Nicklaus' record 18 pro majors, this year's Masters could be the most important tournament of Tiger's career, regardless of if he even plays. If he can't go at Augusta National, Woods will then arrive -- presumably -- at the U.S. Open in June at Pinehurst No. 2 a full six years removed from the most recent of his 14 major majors.
In hindsight, that 2008 U.S. Open at Torrey Pines offered a glimpse into the future for Woods. He defeated Rocco Mediate in a playoff on a broken leg, wincing his way to victory.
At 38 and with injuries piling up, it seems as if this year is THE year he has to end his victory drought in the majors if he is going to have any chance of catching Jack. The problem is that trying to figure out where we are right now in the Woods career is the Rubik Cube of golf.
Over the years Woods has made New England Patriots coach Bill Belichick appear forthcoming when it comes to talking about injuries. "Same as I have been saying," Woods agent, Mark Steinberg of Excel Sports, said in an email to Golf World when asked Sunday about Tiger's bad back.
"Nothing has changed," Steinberg said. "[He's] resting and getting treatment and [we] will evaluate when appropriate." The best guess of what "when appropriate" means is sometime Masters week. He will try his best to tee it up.
"For Augusta, it's actually a little too soon to be honest with you," Woods said Monday at a news conference to announce Quicken Loans had replaced AT&T as the title sponsor of Woods' Washington D.C.-area PGA Tour event that benefits the Tiger Woods Foundation.
"That's kind of the frustrating thing about this," Tiger said. "I've had a couple weeks off getting treatment, just working on trying to get ready for Augusta. As of right now, it's still too soon. As I said, it's very frustrating."
That back question ended the news conference. There were going to be no follow-ups. It's a traditional unlike any other.
The year is off to an ominous start for Woods. He withdrew before last week's Arnold Palmer Invitational; was T-80 at Torrey Pines, where he has won eight times; withdrew at the Honda Classic on Sunday after shooting 65 the day before and closed with a 78 at Doral after a 66 on Saturday.
The secondary storyline that's equally interesting regarding Woods' most-recent struggles is that no one is stepping forward to take the No. 1 spot in the World Ranking from him. Adam Scott could have done that with a win at Bay Hill, but he blew an eight-stroke lead after 35 holes, finishing third behind winner Matt Every. A sore shoulder has hampered Justin Rose; Rory McIlory has been inconsistent, as he was at the Honda Classic where he opened with a 63 and closed with a 74, losing to Russell Henley in a playoff. At this stage of Phil Mickelson's career, you never really know where he stands until you get to the first major. Bubba Watson, Dustin Johnson and Jason Dufner are enigmatic bundles of talent. You never know what you will get from them.
Clearly, we are in a period of uncertainty for Woods in which injury, age and a diminished belief system -- both by Tiger and those who once feared him -- have turned expectation from an exclamation point into a question mark.
Perhaps that uncertainty is time to fully appreciate what Woods has accomplished. When Patrick Reed says he is one of the top-five players in the world the statement has a ring of truth because 15 or 20 guys can say that, this era of parity being what it is.
Tiger is still the best in the world by default – no one has been consistently good enough to take it from him – but he is no longer playing like one of the best ever.
Woods thrilled us with two bursts of brilliance, first when he won seven of 11 majors from the 1999 PGA Championship through the 2002 U.S. Open and then when he took six of 14 from the 2005 Masters through the 2008 U.S. Open, his last major.
Since that victory by Tiger over Mediate there have been 22 majors played with 19 different winners. Only Padraig Harrington, McIlroy and Mickelson won twice during that period.
Woods opened the door to No. 1 and no one has walked through to claim it. When someone does, perhaps it won't be one of the usual suspects but rather a fresh face like Jimmy Walker, Chesson Hadley, Reed, Every or Henley.
We don't know when we will see Tiger again. In the meantime, we wait for someone to act like they want to be No. 1. Like Jack, Tiger spoiled us. Winning ain't easy. They just made it look that way. Others remind us through their failures.