News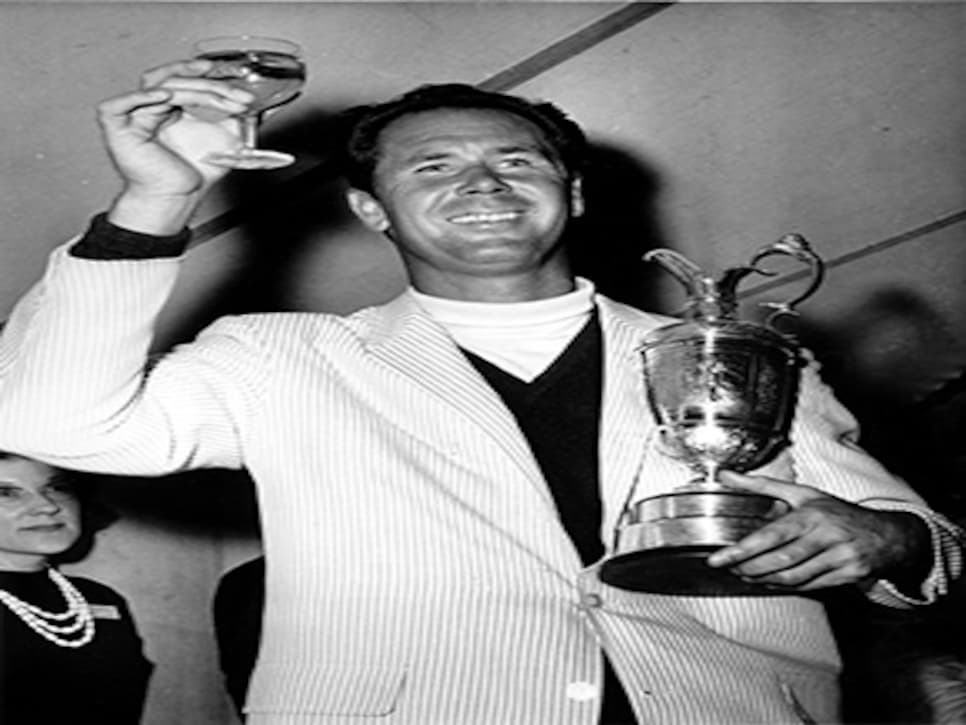 Lema's five-stroke British Open victory in 1964 hinted that "Champagne Tony" was ready to take his career to new heights. (Getty Images)
It's hard to imagine a golfer's life being much better than it was for Tony Lema on July 10, 1964.
Lema's plot wasn't quite Ouimet at Brookline, but it sang: Muny-golf kid from Oakland wins British Open at St. Andrews by five strokes over Jack Nicklaus using both putter (Tommy Armour) and caddie (Tip Anderson) borrowed from Arnold Palmer. A bump-and-run 7-iron approach through the Valley of Sin at the 18th hole, exuberant spectators jostling him even before his ball settled close to the flagstick, capped his magical tour of the ancient land.
Lema, 30, already had a great nickname -- "Champagne Tony" -- and with his impressive victory on the Old Course, he would forever be a part of golf history. The way he solved the riddle of the famous links on his first trip to Great Britain, having gotten a great break by finishing his first round that week before winds reach 60 miles per hour, gave Lema a major championship to go with his appealing style.
He had gotten his nickname two years earlier, after treating the press upon winning the Orange County Open Invitational. The moniker gave Lema an easy identity, a fitting one given his love of late nights (although marriage to Betty Cline in April 1963 had transformed his work ethic), and helped make him a fan favorite all over.
Even in Ashland, Ky., where a boy named Bill Roland was growing up.
"I won a few little junior golf tournaments," Roland says, "and I nicknamed myself 'Root Beer Roland' because I gave away root beer when I won. I just liked Lema's effervescence and smooth swing, his personality, the way he celebrated and what he gave to golf."
Lema's convincing performance at St. Andrews was his ninth victory and figured to be a springboard to more greatness, but the triumph turned out to be the highlight of a life cut tragically short. After three more wins, he and Betty, along with two pilots, died in a charter-plane crash July 24, 1966 in Lansing, Ill., as Lema traveled to play in an outing the day after the PGA Championship at Firestone CC in Akron, Ohio.
There were uncashed tournament prize checks of nearly $20,000 found in Lema's briefcase, among the few items to survive the crash and subsequent fire on the aircraft. For Lema, only 32, who had won two months earlier in Oklahoma City to give himself at least one victory in five straight seasons, there remained a lot of unfinished business.
Just a few hours before the plane carrying Lema went down and exploded on a golf course after its engines sputtered, Roland, then a 19-year-old college student, had followed him during the fourth round at Firestone. It was an unremarkable finish, a 74 en route to a T-34, but the final tee provided a scene that stuck with Roland for decades.
"He smoked that drive," Roland says. "Trust me, he nailed it."
It was what occurred after Lema's drive that lingered most with Roland. A boy in the gallery, watching with another youngster, picked up Lema's gold tee that had flown near him. Lema saw the kids and reached into his pocket and gave them his remaining tees. As Lema walked toward the fairway, Roland remarked, loud enough that Lema heard him, that it had been a nice gesture.
"Hey, they're only kids," Lema responded. "Besides, this is my last hole."
Champagne Tony Lema: Triumph to Tragedy, out earlier this year to coincide with the 50th anniversary of Lema's Open victory.
"I thought he should be remembered," says Roland, who had stayed in touch with Lema's siblings after first writing about the golfer 30 years ago and combed boxes of their collected clippings among his research. Lema wasn't always as bubbly as his nickname connoted -- he had a temper -- and his journey wasn't always as smooth as "the swing you could pour on popcorn," as Jim Murray described.
Peter Alliss wrote that Lema's easy-on-the-eyes action -- admired by, among others, a young Johnny Miller, who envisioned Lema when he wanted to hit a draw -- was an "elegant swing of rare beauty." According to Alliss, "On the course he always seemed tense and nervous, rather like Bobby Jones, but had the same grace under pressure."
Less than a month prior to his death, Lema sat down for a television interview with Howard Cosell, the transcript of which Roland includes in his book. Cosell asked Lema about the pressures of competitive golf. Noting how even greats like Sam Snead and Ben Hogan aren't immune from the cumulative effects, Lema said, "I'm 32 years old now, and I must have nerves of about an 80-year-old. They're shot. They are, yeah."
Lema would have been 80 this year. "I would just like to play good golf, successful golf, as long as I can," he told Cosell. "If I'm remembered, that's fine."
He didn't get a long career but had a good one -- including a great day 50 years ago that made sure he would never be forgotten.