News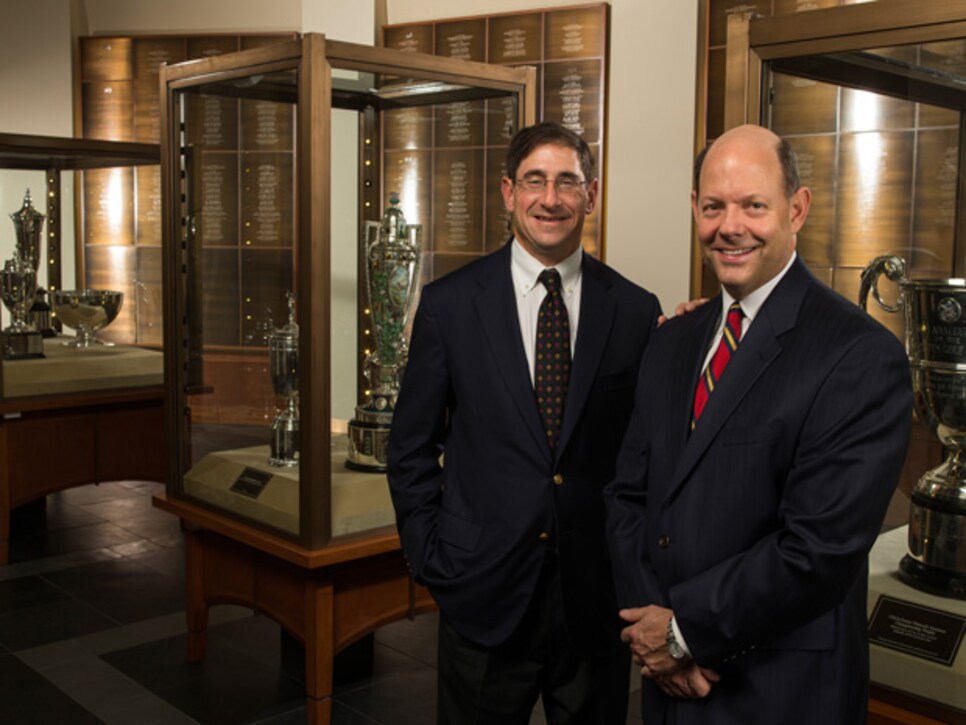 The USGA's headquarters sits elegantly on a bucolic rise in Far Hills, N.J. After passing a series of horse farms, a visitor turns into the property's gently curved, quarter-mile long entrance and is drawn immediately to the pastoral grace of the three-story Georgian colonial mansion that is the 118-year-old association's recently renovated museum, the classically pillared white colonnade and red-brick facade conveying old-world influence and stability.
But to the left of the driveway, attention is quickly jarred away by a disheveled landscape strewn with fallen trees, the remnant of Hurricane Sandy's vicious pass through the 86-acre property last October. The ravaged idyll is not an inappropriate metaphor for the state of the game.
In recent years there is no denying golf in America has been rocked by a powerful storm. A bad economy and a rapidly changing culture in which leisure and recreation are grabbed in ever shortening moments has resulted in an epidemic of course closures and dwindling participation, especially among women, minorities and juniors. As much as at any moment since World War II, the game's viability and future relevance is in doubt.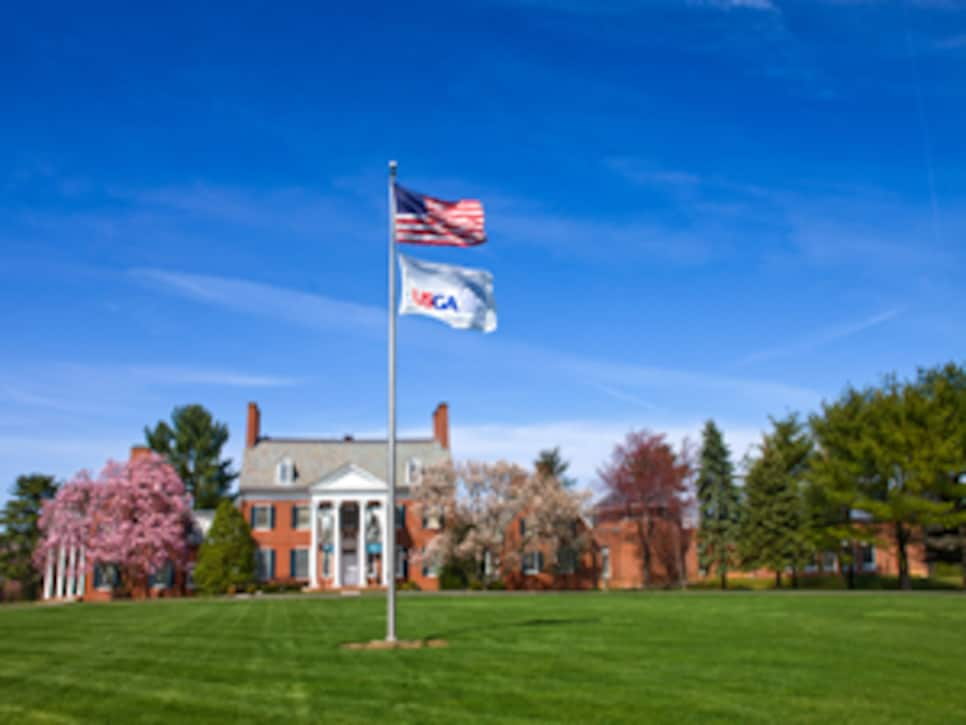 "We've got to wake up in the game of golf," Jack Nicklaus said recently before a gathering in Pinehurst, N.C., "if we want the game of golf to continue."
As the game's alphabet soup of organizations have scrambled to keep up, most adherents of golf's easy stereotypes presumed the fusty USGA -- always considered slow to emerge from its proverbial ivory tower -- would be at least a step behind. There was no expectation that even the most bearish of markets would incite the blue blazers to take the bull by the horns.
Well, led by the career staffer who steer-wrestled Jungle Bird off screen at the 2012 U.S. Open trophy presentation -- newly appointed executive director Mike Davis -- the USGA is undergoing the kind of awakening that comes with fresh leadership and an urgent crisis. By refreshing its vow to "preserve and protect the game," the long caricatured professional staff at Golf House is being implored to believe that, actually, it is ideally suited for precisely this historical moment.
"There is a consensus that the way the game exists today can't sustain itself," says Davis, who succeeded David Fay in 2011. "The questions are huge. 'What is the game going to be like for our kids and grandkids?' There are so many problems to solve, and I look around and wonder, 'If we don't do it, who will?' It has to be us."
Davis' answer amounts to the USGA's Big Move. Rather than govern benignly and often mysteriously, Davis is determined that his regime will be transparent, communicative, responsible and sometimes even bold. The most recent demonstration is the pending ban on anchoring, which even opponents concede was thoughtfully conceived and clearly presented. Other big initiatives to be tackled in the near future include presenting and encouraging practices designed to speed play for recreational players, pushing increased water conservation by urging superintendents to get on board with concepts like "brown is the new green" and curtailing irrigation in areas other than tees, fairways and greens with "maintenance up the middle," and producing a more concise and user-friendly rule book for the recreational player.
The 48-year-old Davis, a former Pennsylvania state junior champion who started at the USGA in 1990 and since 2006 has set up the course at the U.S. Open, doesn't seem daunted by the turbulent times. Although his physiognomy and manner lack a visible edge, just as he suddenly flashed sharp elbows at the Olympic Club, his words can be incisive. "If we don't do what we think is the right thing for fear of a lawsuit, then shame on us," he said when announcing the proposed ban on anchoring. "We shouldn't be in the governance business then."
For Davis, while the issues may be complex, the reason for any decision is simple. "My guide is to just keep doing the right thing for the game," he says. "That's not necessarily synonymous with what might seem to be good for the USGA. I tell our people, let's not be like the federal government, where too many politicians are not willing to do what's right for the country because it might not be good for them. Let's not make expedient short-term decisions. Let's make right ones for the long term."
USGA president Glen Nager, 54, comes from the high-powered Washington D.C. law firm, Jones Day, that recently went before the Supreme Court against Obamacare. A golfer who didn't begin playing regularly until his mid-30s, Nager carries an 8-handicap but has a plus-4 résumé. After growing up in Houston, he headed the Law Review at Stanford Law School. Since serving as a law clerk for Justice Sandra Day O'Connor, he has gone on to argue 13 cases before the Supreme Court. He came to the USGA in 2006 as general counsel and quickly made himself an expert on the rules, scoring a rare 100 on the infamous USGA test on his first try. As the R&A's chief executive, Peter Dawson, says, "Glen is staggeringly bright. He sees his way through issues very quickly."
Nager, then vice president, joined other members of the executive committee in interviewing candidates to succeed Fay. A classic Mr. Inside with a specialty in corporate and managerial organization, he wanted his two years as president to be partnered with a golf-savvy executive director who could be the game's Mr. Outside. "Mike lives and breathes the game and has a selflessness about doing the right thing people quickly sense," says Nager. "That gives him enormous credibility as a leader."
Davis was close to Fay, and though he had an inkling that after 21 years at the helm the 60-year-old cancer survivor was considering stepping down, he says he did not have designs on the top position.
"I loved the job I was doing setting up the Open course," says Davis. "I looked at the way so many people reported to David and thought, 'God, I never want that job.' I knew the only way I could ever do it was if it was restructured. I also had some long-term ideas that I didn't think the USGA was ready for."
But after Fay's sudden retirement, Davis' forward thinking -- a mixture of purist, populist and ecologist, especially on the subject of water use, which he calls "a game changer" -- met the moment. His conditions for accepting the job -- being able to continue to set up the U.S. Open and being allowed to delegate more duties to the executive staff -- were also welcomed.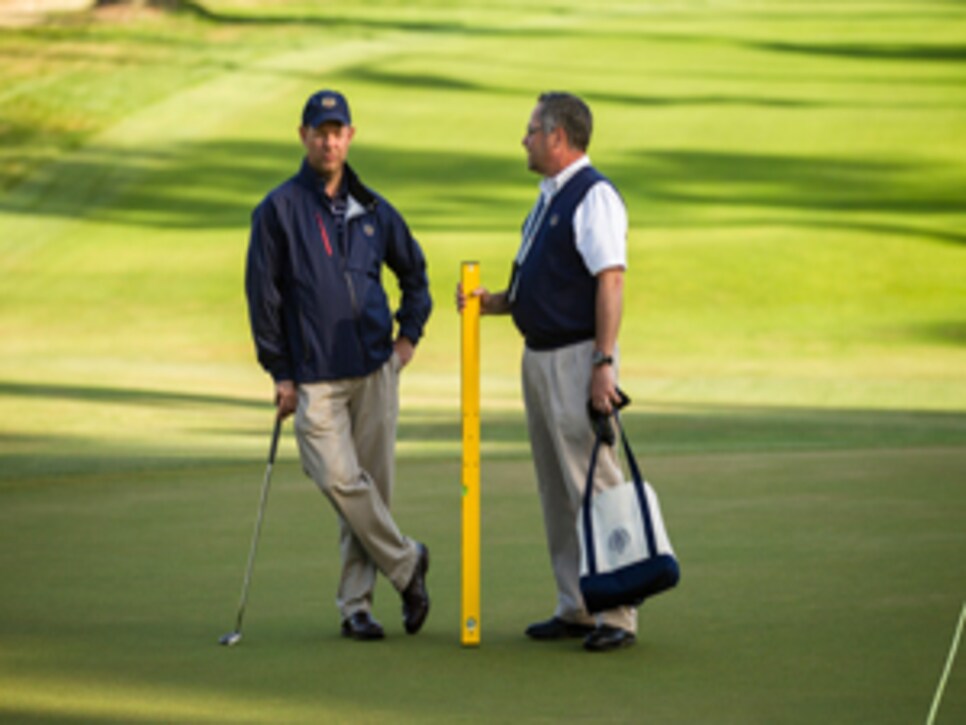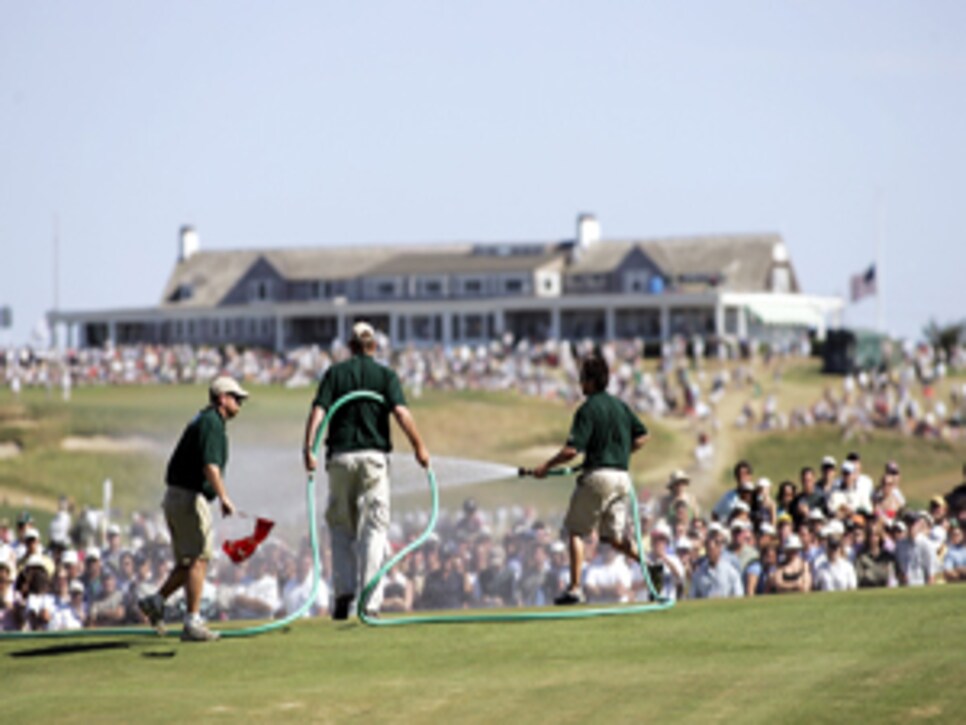 "I have a lot of weaknesses," says Davis. "When it comes to non-golf things, I'm not your person. I'm not a business person or a marketing person."
But Nager is. "While as a recreational golfer, I think I can have an important perspective, I don't qualify myself as a messenger for the game," he says. "But the good news is that I've spent my professional career delivering other people's messages. I'm trained for that aspect."
Nager got it working closely for clients such as General Electric, CBS and IBM. He urged Davis to let him oversee the staff in producing the first strategic five-year plan in the organization's history, and after a year, it was launched at last year's Masters. The plan's purpose, Nager said, "is to embrace some of the techniques that the modern business world uses to identify what consumers want, and how to satisfy them, and creating strategies and measuring your progress. Basically, we want to touch the golfer. For example, we've taught the rules to officials, but now we have a DVD on the rules -- at a cost of several million dollars -- that goes to high school coaches, people who can really touch golfers. We want to interview spectators to try to make the U.S. Open a better experience. This is a shift in emphasis."
Of the strategic plan's pillars, both Davis and Nager agree the most important is the Open. The championship not only provides the funding, primarily through a lucrative television contract that is up for renegotiation in 2014, but is the one week a year when the USGA is both in the spotlight and on trial. Nager says problems in 2004 at Shinnecock Hills -- where a wind-dried green that became uncontrollably fast forced officials to stop final-round play to add water -- was a turning point that intensified the USGA's determination to get the national championship right.
Davis' setup work goes under the microscope at the Open, and he concedes that as equipment and agronomical advances have caused America's championship courses to play increasingly shorter, the tolerances between creating a great test and a flawed one have gotten much tighter. "It is much harder to set up the U.S. Open course now than it was in P.J. Boatwright's day," says Davis, who will arguably face his most challenging test at compact Merion in June. "Every year, we are right on the edge, which is the only way to test the skill of the current group of players."
Reining in distance would make Davis' job easier, but doing so with rules changes would introduce litigious possibilities. For more than a decade the ruling bodies and the major professional tours have considered this risk to be the game's third rail.
The USGA is commonly blamed for causing the problem by letting manufacturers introduce innovations in drivers and golf balls that, from 1995 to 2003, allowed the distance of the average drive on the PGA Tour to go up nearly three yards a year (from 262.7 yards to 285.9 yards) during the only extended period in which the increase averaged more than one yard a year.
"Science came into the game in the mid-1990s," says Dick Rugge, the USGA's senior technical director, who during those years ran R&D at TaylorMade. "At that time, I knew we were ahead of the USGA. They had only one engineer. We had several. It was a question of resources."
Rugge, who is retiring and will be succeeded as equipment head next month by John Spitzer, joined the USGA in 2000, going on to build a staff with six full-time engineers to evaluate clubs and balls for conformance to USGA rules. He believes such staffing -- along with more regulation by ruling bodies concerning distance in the last 10 years than in the previous 100 -- is the key reason driving distance on the PGA Tour essentially has been flat the last eight years. "The manufacturers have learned that we are not behind," says Rugge. "The train is not leaving the station. It may not be the station that some want to be in. But it is not leaving."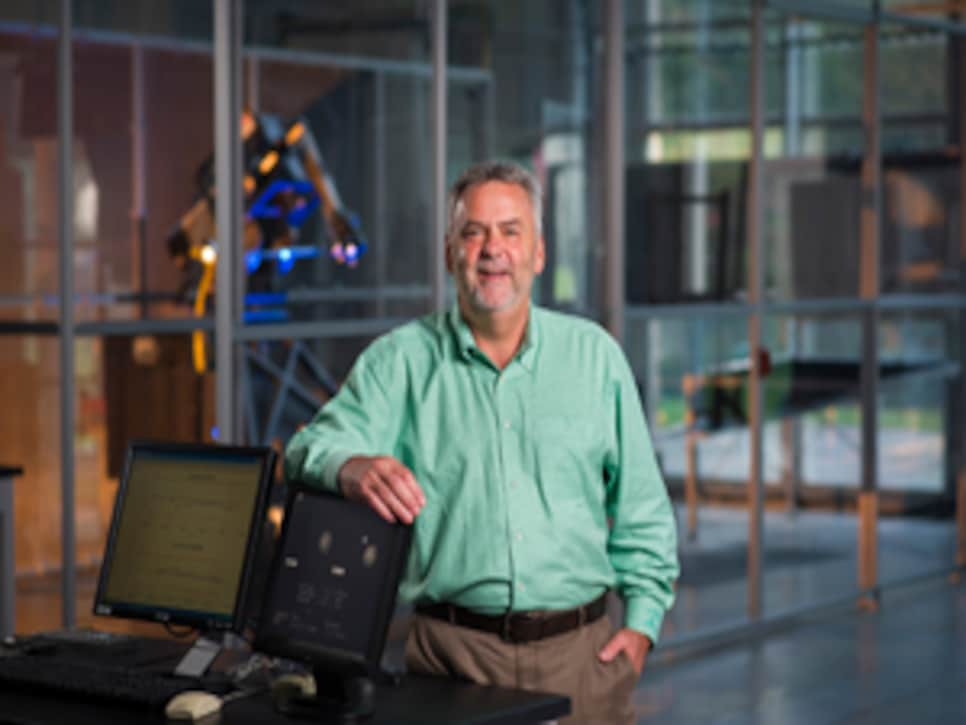 Spitzer will benefit from Rugge's beefed-up test center.
Davis echoes the message. "We are OK with where things are right now," he says. "If it continues to increase, we will do something, but distance is fine. It has basically stopped at the elite level. We don't see equipment innovation in the future going to change distance that much. I've talked with Tim Finchem. He couldn't be happier with his product."
A traditionalist at heart, Davis well understands the dissenting point of view. "Sure, if Rory [McIlroy] goes to Cypress Point, he'll have a nice walk, but he won't play the course the way Alister Mackenzie intended," Davis says. "Maybe as time goes on, the U.S. Open won't be able to be held at Merion, Oakmont or Pebble Beach. That would be bad, bad, bad. The purist in all of us scratches our heads and wonders, 'Is that what we want the game to be?' But there are other places we can hold the championship. The game has bigger problems than where we play the U.S. Open."
Talking about distance is a delicate matter for Davis, all the more so during the comment period on anchoring, when sentiment in some quarters that the USGA is becoming too proactive is running high. He probably winces when he hears Nicklaus, who has long advocated a rollback of the golf ball, and who Davis has reached out to for his views on the game's future, speak frankly on the matter. "I think they are going to bring the golf ball back," Nicklaus said last September. "So you can have a game that is less expensive that will be sustainable."
Sustainability is based on creating a smaller footprint for golf that would save resources and lower costs, and theoretically, make the game more affordable, faster and more enjoyable. Theoretically, that smaller footprint would logically lead to a shorter golf ball.
Davis, being careful, doesn't back off from the possibility that a shorter golf ball could be good for the game. "If," he says, "we asked golfers, 'Would you be willing to hit the ball less far if it helped with cost, pace of play and resources, and if you didn't, your course might close?' I believe people would look in the mirror and say, 'Yes, I'd be willing.' They would help the game along.
"The problem is in the term 'rollback.' It suggests going backwards, which is very troubling to people. A better way to put it is 'forward thinking for the game.' "
Of course, opponents will not see it that way. But neither Davis and Nager show any signs of being intimidated away from an eventual rollback if the USGA deemed such an action best for the game.
"Governance, especially of the playing rules and equipment rules, is not a popularity contest," says Davis. "The key is, let's be right long term. If we get black and blue in the process, so be it."
This, too, is in Nager's wheelhouse. Having been brought in under the presidency of Walter Driver when the USGA was concentrating on increasing its war chest, Nager is sensitive to charges that the association lost its way looking for funding through measures like partnering with companies such as American Express, Lexus and Chevron.
The USGA has a $274 million investment portfolio for possible legal battles and emergency funds in case something like a natural disaster threatens the staging of the U.S. Open. It has separate deals with NBC, ESPN, Golf Channel and international outlets to broadcast its championships, generating a combined $40 million a year.
"What we are trying to do is make sure that we have the resources to invest in the game of golf," says Nager. "Our investment portfolio is not there to make anyone wealthy. It's there so that when we have to make a move when somebody challenges us, we have the resources to defeat them, to put it bluntly.
"Whether it's anchoring, whether it's distance, whatever it is, we are now positioned to figure out, in consultation with the golfing industry and community, what protects and preserves the game in the face of these challenges. And if someone wants to take us on, we are prepared to take them on."
Nager is on a roll, presenting his case with what one imagines as the same intensity and precision as he would employ before the Supreme Court. "You know, we may get something wrong," he says. "But better that we get it wrong than we're not even trying to figure out what the answer is. I think there is super urgency, even though some of the solutions we are proposing, they aren't going to happen in two years. When we roll out our pace-of-play initiatives later this year, it won't be fair to look back six months later and ask, well, did they succeed? You are talking about changing behaviors and changing habits. It's 20 years to reset expectations on what golf courses will be like. To really pass judgment on those initiatives, we are talking about Mike's tenure, not my tenure."
The long view doesn't discourage USGA staffers. On the contrary, they feel as if they are emerging from the shadows.
"Morale is much better," says Rand Jerris, senior managing director of public services, who has worked at the USGA since 1988. "Most people come here because they love golf. But it can be discouraging when you are constantly asked, 'Why are you guys on the sidelines?' But it feels different now because the game really needs us to lead. The past few months, it's amazing how many of us have said to each other, 'This is why I came here.' "
Davis and Nager can say the same thing.