News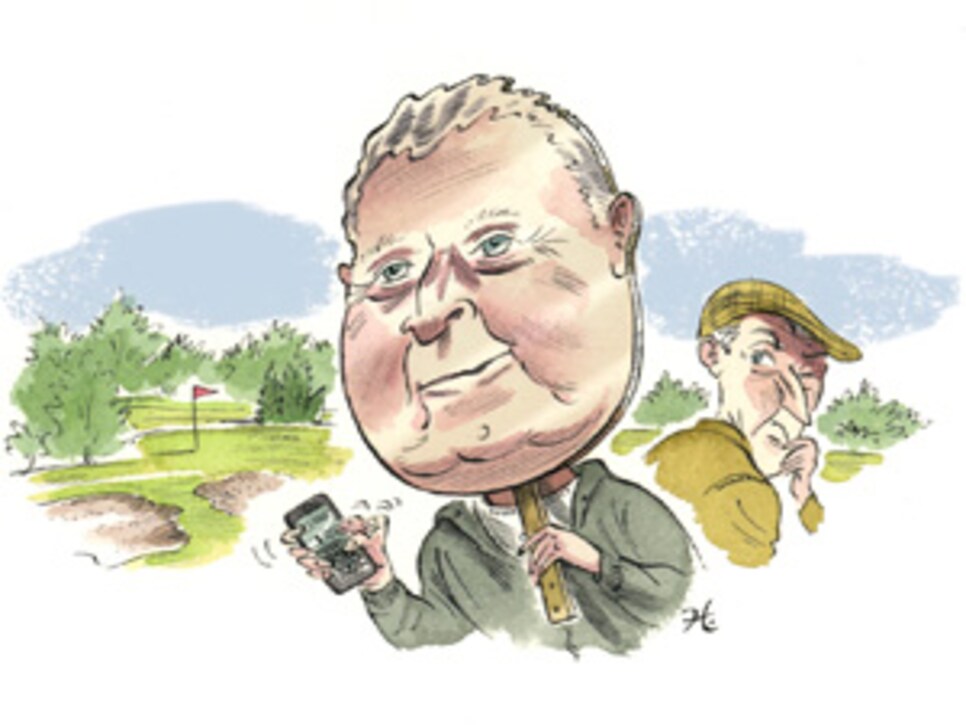 As national institutions go, Peter Alliss isn't quite Winston Churchill, Princess Diana or Queen Elizabeth II. But he's close. The 82-year-old lead TV commentator on the BBC since 1978 is widely known as the "voice of golf" in his English homeland.
An eight-time Ryder Cupper, winner of 21 events worldwide and a yippy putter of epic proportions, Alliss provides invariably witty, sometimes controversial and always astute observations on the absurdity of golf that make him one of the game's most quoted figures. "One good thing about rain in Scotland," he once mused, "most of it ends up as Scotch."
His distinctive delivery has also made Alliss one of the most imitated figures in British sport. That flattery has extended into the ultimate compliment: parody. In July 2011, "Tweeter Alliss" was born, an anonymous Twitter account that gently mocks its namesake's inimitable style (@TweeterAlliss
Since then, the man behind the Alliss mask (who has chosen to remain anonymous) has amassed more than 30,000 followers. He spoke with Golf World for his first interview.
Who is your all-time favorite golf commentator?
That would have to be the dulcet tones of CBS' Gym Pantz. Gym and I go way back. I have a lot of respect for his dedication to grooming. He was All-American waxing champ back in 1995, I believe. He has a back as smooth as a peach. Remarkable.
How about your favorite golfers?
Young Bubba is a marvelous player who just grips and rips. Super to watch. I believe if he hadn't become a professional golfer, he would have been well suited to international diplomacy. When he played in France a couple of years back, he wooed the Parisians with his "je ne sais quoi" charms. I believe they can't wait to see him back there in 2018 at the Ryder Cup. Glorious.
What do you think about today's tour pros?
Bunch of sissies! One player told me the hotel gym is packed at 6:30 a.m., golfers queuing for something called the "roller curler." My day it was the bar from the night before that was crowded at 6:30 a.m. Such a shame.
Have you recovered from what happened at the 1953 Ryder Cup, where you took four to get down from just off the 18th green at Wentworth to hand the trophy to the Americans?
Dear Jim Turnesa. Indeed I have m'lad. Recovered nice and quickly. When the match was over we headed to the post-match dinner, and I got rather tipsy. It was my hangover the next day that was difficult to overcome. Lovely.
A lot has always been made of my allegedly inferior skills with the putter. But you try and make one after a vat of wine. It's not as easy as some make out, by jove. I would never switch to a long putter though. To my mind that is cheating. With a contraption like that you'd be better off down the pond indulging in a spot of fishing. Atrocious.
What's your take on Monty?
I was delighted when he was entered into the American World Golf Hall of Fame in Florida. Apparently he wanted to put all 12 of his 2010 European Ryder Cup players into his commemorative cabinet. But he couldn't. Something to do with human-rights violations. Astonishing.
Finally, is golf too slow?
Only if you are stuck behind a foursome comprising Crane, Na, young Tianlang and seven-hour energy drink endorser Furyk. Splendid.