News
Branden Grace: The Best You Didn't See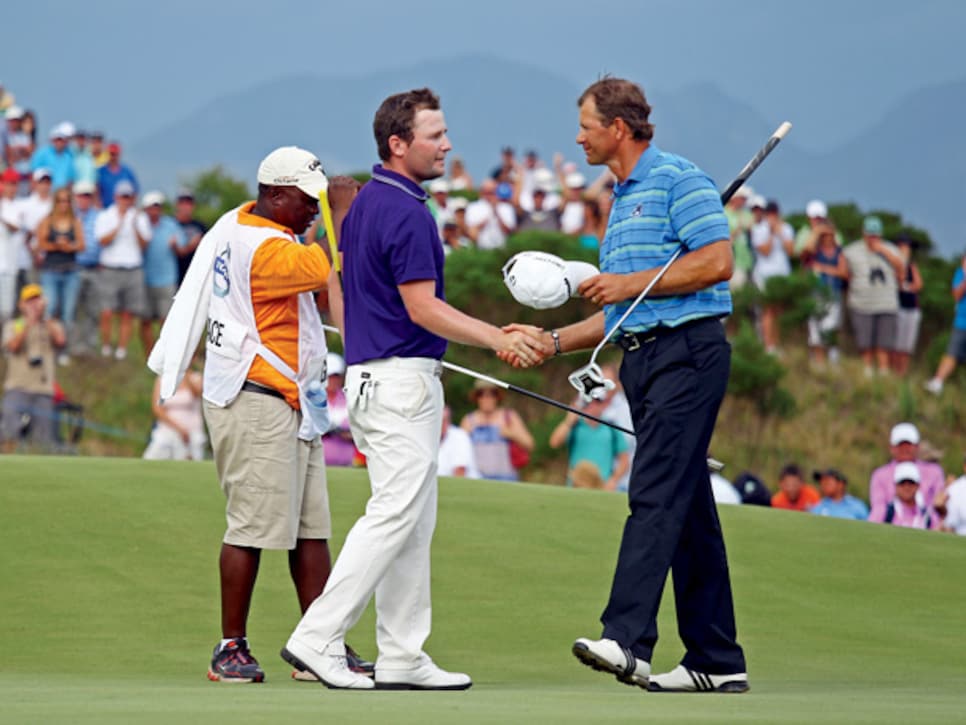 Grace (purple shirt) is congratulated by Retief Goosen after winning the Volvo Golf Champions.
Smart lad, and not far removed from the scenario last December when Grace, then 23, went off to play golf in Spain at the European Tour Qualifying School. On Dec. 15 he finished among a graduating class of France's Guillaume Cambis and Norway's Knut Børsheim. Today he is a breakout star thinking about a Masters invitation and a spot on Nick Price's Presidents Cup team. Nobody in the World Ranking ascended as far, as fast, from 271st at the end of 2011 to 34th and all that comes with it. Nobody would have predicted five victories on three different continents or $3.5 million in global earnings. He could wait tables and tend bar all his life and never make that much.
"I think he's surprised everybody, to be fair," says short-game coach Pete Cowen. "But he's always been able to shoot very low, and that's an advantage. Kids that can shoot low, there's always a chance. The thing is, he's got no fear."
Thus it may not be premature to ask: Is Grace the next major champion from South Africa? Els said Grace has the game to join him and Louis Oosthuizen on the claret jug, making this proclamation at St. Andrews after Grace opened the Dunhill Links Championship with a 60 at Kingbarns and won in a walk. Tiger Woods was blown away by a 6-iron Grace hit from a fairway bunker at the WGC-Bridgestone Invitational. Caddie Zack Rasego, who was on Oosthuizen's bag for his Open victory at St. Andrews, tells friends that Grace has what it takes to win majors.
"I've matured a lot," Grace said, sounding more mature than most 24-year-olds. "Losing my card, knowing what I was missing by not being out on tour, gives you a little more of that fire, knowing that's where you want to be."
Grace had a European Tour card in 2009 but finished 148th on the money list. The difference in 2012 wasn't just attitude, it was sorting out some putting issues on his own and getting off to a fast start. He won his second and third starts of 2012 in his homeland, the latter in a Volvo Golf Champions playoff against his two idols, Els and Retief Goosen. When Grace won the Volvo China Open in April, it answered skeptics who wondered whether the South African could win outside his country. Then, one week removed from winning the Vodacom Origins of Golf Final on the Sunshine Tour, he won the Dunhill after looking at online pictures that morning of Oosthuizen holding the claret jug. "Louis has been fantastic to me," said Grace, who idolized his fellow Southern Cape native even though the 2010 British Open winner is just 5½ years older. "Since turning pro I've tried to copy what he has done, not just on the course, but at home too."
True, his five victories aren't comparable to Rory McIlroy's five wins, but they are indicative of his potential and confidence levels. "I never thought five," he admitted. "But as soon as I got the taste, I was not stopping."
Grace will come to America for the WGC-Accenture Match Play Championship in February, play through the Florida swing on exemptions and prep for his first trip to Augusta National. His plans are to base himself out of Old Palm GC in Palm Beach Gardens, Fla., where he can practice with neighbors Oosthuizen and Charl Schwartzel and be just down the street from Els at The Bear's Club.
"The big thing is to get over to the States," he said. "Obviously, that's where the best are playing, but this [upcoming] year is one of those years where you never know what to expect."
How Grace's game transfers to PGA Tour courses is uncertain. He has the length, but while Gary Player has praised his technique, one of the reasons Els touted him on links courses is his low, penetrating ball flight -- not the high-arching rainbows that are McIlroy's trademark. Now that he has seen some of the courses will there be a noticeable improvement over 2012, when his best finish in five U.S. events (including two majors and two WGCs) was a T-25 at the Memorial?
That's a question for next year. For now, the season is not over for Grace. He finishes up at home with the Nelson Mandela Invitational at Royal Durban and the Alfred Dunhill Championship at Leopard Creek. He was not happy he didn't get one of the 12 prestigious spots in last week's Nedbank Challenge. "What I see is a lad who loves golf and loves playing golf, a kindred spirit who loves getting out there," says Cowen. "He's one of those guys who would play golf for nothing. He's a young man with a lot of enthusiasm and a lot of game as well."
Joe Steranka was a 22-handicapper when he started in the communications department at the PGA of America in the late-1980s, exiting as the CEO with an 8.1 index and, as fate would have it, a hole-in-one memory on his first week away from the job. In his first round as a member of Jupiter Hills (Fla.) Club, playing with club president Marty Dytrych, Steranka aced the club's signature par 3, knocking in a 6-iron from 157 yards on the ninth hole of the Hills course. "It was one of those moments that left me shaking my head," said Steranka, who started taking lessons at PGA National and ended up with Mike Adams at Medalist GC, who shortened his swing and got him down to single digits. "I used to be long and wrong," Steranka said. "I don't hit it as far, but I certainly hit it a lot straighter."
Josh Habig, a 36-year-old Northwestern teammate of Luke Donald, watched the finals of PGA Tour Qualifying School from his home in San Diego wondering whether doing the right thing was indeed the right thing to do. In the first stage at the overflow site in Madison, Miss., Habig was brushing away debris on the green when he accidentally brushed and moved his coin. Not knowing the correct rule (Rule 23.1), he talked to two PGA Tour rules officials, who told him it was a one-stroke penalty so he called himself out and missed advancing to second stage by one shot despite an ace on his second-to-last hole.. Later, Habig was told by two friends from the Canadian Tour, who advanced to the final (Brad Fritsch and Adam Hadwin) that they had similar rulings on the Web.com Tour -- and it wasn't a penalty. "I called a penalty on myself that wasn't a penalty," Habig said. "That's part of the ironic comedy of it."