News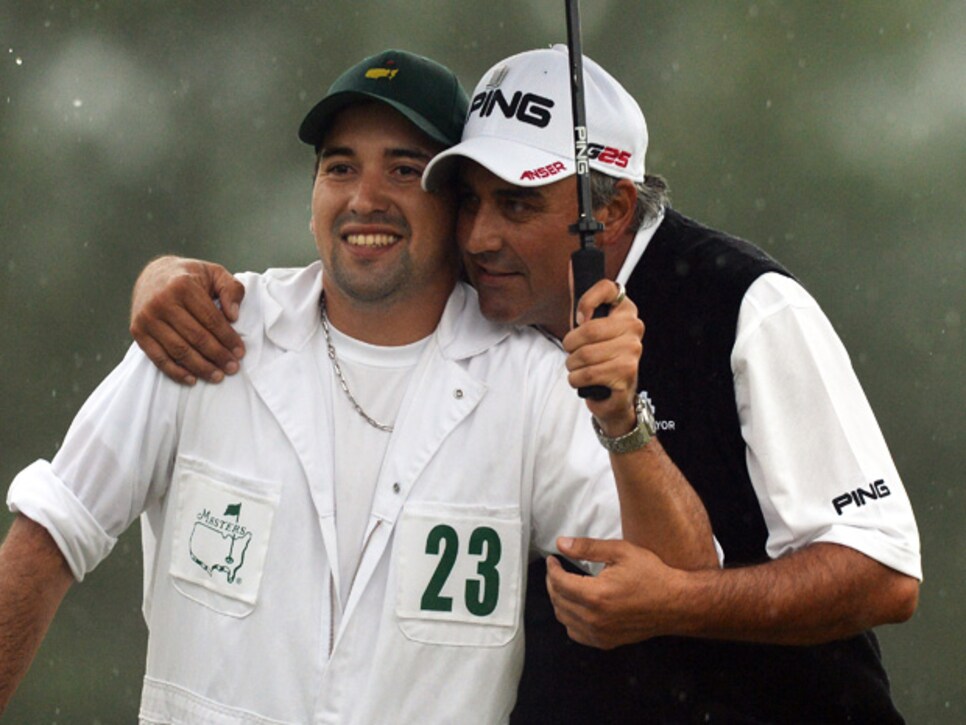 Charlie Epps drove from a wooded subdivision off Stevens Creek Road to the Starbucks on Washington Road at 8 o'clock Sunday morning to get Angel Cabrera his morning coffee. This is a ritual for the pair, Angel sitting on the porch of his rented home in a white rocking chair, usually dressed in gym shorts and a T-shirt, smoking his Marlboros, working his iPhone to friends, relatives and his girlfriend in Argentina while he sips his java and kills the long morning before a mid-afternoon tee time.
It was the same spot I found Cabrera when I pulled up with Epps at 9 o'clock Saturday night. "El Pato" had already changed from the clothes he wore that day to claim a share of the third-round lead at the 77th Masters. Including his Masters victory in 2009, this was the third time Cabrera played his way into the final grouping at Augusta National, so the pressure seemed to wash off Cabrera like water off the duck's back. "Hola, amigo," Cabrera said, entering the house with his unmistakeable gate and warm smile. "Cómo estás?"
In the kitchen, his friends from Cordoba had just returned from a nearby Kroger with slabs of steaks and pork to grill in what Argentinians call an "asado." Doing the cooking was "Tato" Sangria, who owns eight butcher shops, along with Luis Aguado, a former boxer with four fingers on his left hand, who owns a restaurant in Villa Carlos Paz, not far from the shack where Cabrera grew up.
We sat watching a replay of Golf Channel's "Live From the Masters" waiting for Tato to fire up the grill. Cabrera had already opened a can of olives and motioned toward a tin of silver plastic forks. He broke out a piece of cheese from the refrigerator and cut off a slice, motioning for me to take one, asking if I wanted bread with it.
The language barrier was no problem with Cabrera. He handed me his iPhone with a photo of his 5-month-old granddaughter, Agostina, holding a sign that said "Suerte Abu." "It means good luck," said a beaming Cabrera. He scrolled to another photo of the baby, sitting in her high chair, a flat-screen image of her grandfather playing the Masters some 4,600 miles away.
The 43-year-old with a U.S. Open win to his credit as well has been through change since his 2009 playoff victory at Augusta. He got a legal separation from his common-law wife, Silvia, the mother of sons Frederico (the father of Agostina) and Angel Jr. The latter, who goes by Angelito, is 22, his dad's caddie at Augusta (above) and a competitor on the Latin American Tour.
Cabrera Sr. now dates Coki Ramirez, a 33-year-old singer, model, actress and TV host from Argentina. She did not accompany Angel on his trip to Georgia.
"Angel had family matters to tend to that were not fun," Epps said. "Life gets complicated at times. Everybody's human, and he went through some down time. Now he has a friend. [Coki] has a life of her own and they met and they became interested and went out a few times. So life is good for Angel right now." Life was good at his rented house in Augusta every night last week, with seven Argentines and Epps crowded around a table for an evening feast. There were no plates at these sit-downs, just knives, forks and carving boards, with even the salad being consumed communally and the baguettes ripped open by hand. Epps describes it as like being at a fraternity house. In a way, it was just an extension of Cabrera growing up in Villa Allende, stealing chickens and sharing with the caddies at Cordoba GC so they could all eat.
"He came from absolutely nothing," said Epps, a pro at the club when he met Cabrera as a boy. "This kid was poor as poor."
Maybe so, but he was also blessed with natural mechanics and a competitive environment to hone his skills. Playing for money as a kid taught him how to play for trophies as an adult. One of his mentors was Eduardo Romero, who became a sponsor for his professional career. Epps never left his side.
"There's a hotbed of golfers where he grew up," Epps said. "At the course there was a great cadre of caddies and professionals who were all natural. There weren't any video cameras back then. You just got up on the first tee and played. You learned to swing with rhythm."
That rhythm in Cabrera's game -- and life -- have been off for a number of reasons since 2009. Cabrera came into this year's Masters ranked 269th in the world. The issues at home, combined with tendinitis in his left wrist and 10 dental implants, led to miserable seasons in 2011 and 2012.
Despite not having won on the PGA Tour since the '09 Masters, and not having a top-10 in 2013 until Augusta, Epps believes Cabrera is a better golfer now than when he won his two majors. He's smarter, more patient, with a better short game. That came through with birdies on the 70th and 72nd holes Sunday and near misses on both playoff holes before watching Adam Scott drop his putt on the 10th to claim the title.
That he shared the stage with Angelito, even in defeat, was deeply personal as well. When Cabrera knuckle- bumped Angelito after stuffing his approach shot at 18 and walked off that green arm in arm, CBS' Jim Nantz compared it to Jack and Jackie Nicklaus walking off that green in 1986.
"I'm his major caddie," Angelito says.
Angel and Angelito went back to the house off Stevens Creek Sunday night to celebrate just how close they were to three major championships and more photos of Agostina, his Little Augusta. Monday morning Charlie got the coffee and they were off to the airport and a flight home to Argentina. "It's not that he lost his talent, he just lost his way a little," Epps said. "But he's changed. Now he's a grandfather and that's really changed his life."