News
Good Times Still To Come?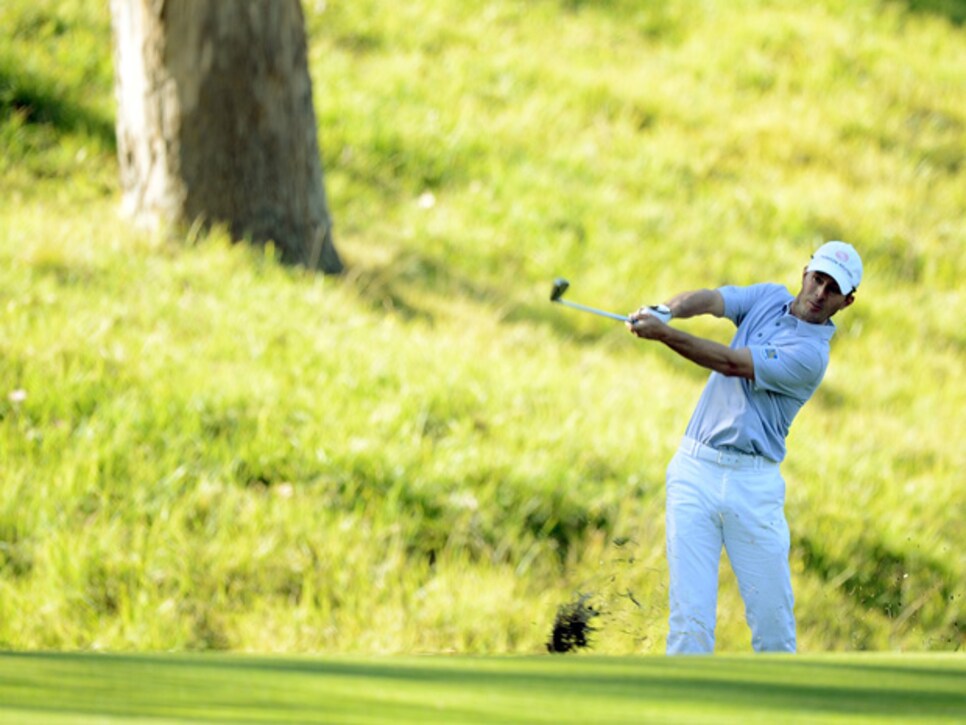 The old hockey player was coming out in Mike Weir last week. At his home in Utah, the 2003 Masters champion rested torn cartilage in his rib cage and wrestled with whether to play Augusta National on the 10-year anniversary of his landmark victory. The smart play would be to sit this one out, but the respected Canadian held out hope by saying it would be a game-time decision.
At the very least Weir was anxious to attend the Champions Dinner in his green jacket, telling the guys in a determined way that his career was far from being over. Using Steve Stricker and Lee Westwood as his models, the 42-year-old Weir is working on a revival that would bring him back from No. 1,526 in the world.
"I still feel like I have a lot left in this game to play for, and I feel that I can still accomplish some really good things," Weir said when we sat down recently to talk about his comeback in context with his return to Augusta. "If I didn't feel the passion to keep going after it, I wouldn't, because I've already been there. I went from nowhere to winning a major championship so I've climbed that mountain. At the same time, I feel like there's a lot left to do."
This latest injury, suffered midway through last month's Arnold Palmer Invitational, came after his third made cut of 2013. That's three more cuts than he made in 2012 and one more than 2011. So there's progress in the comeback by Canada's only major championship winner.
But there's also pain. Weir's spiral in the world rankings started when he hit a tree root with a 3-wood in the final round of the 2010 Verizon Heritage. A torn tendon in his right elbow had to be stapled in place. Unable to straighten his arm, Weir developed mechanical issues in his swing, which led to changes in swing instructors, a loss of confidence and a free fall that Weir called "the perfect storm of bad scenarios."
While pushing the tendon to the point where it needed surgery, Weir also went back and forth to Stack & Tilt instructors Andy Plummer and Mike Bennett between visits to Mike Wilson -- his coach not only at the time of his Masters win but also his victories at the 2000 WGC-American Express Championship and the 2001 Tour Championship. He also met with Jim Flick and even sought the advice of Jack Nicklaus. After interviewing and taking lessons from a myriad of instructors last year, Weir finally settled on former New Zealand tour pro Grant Waite.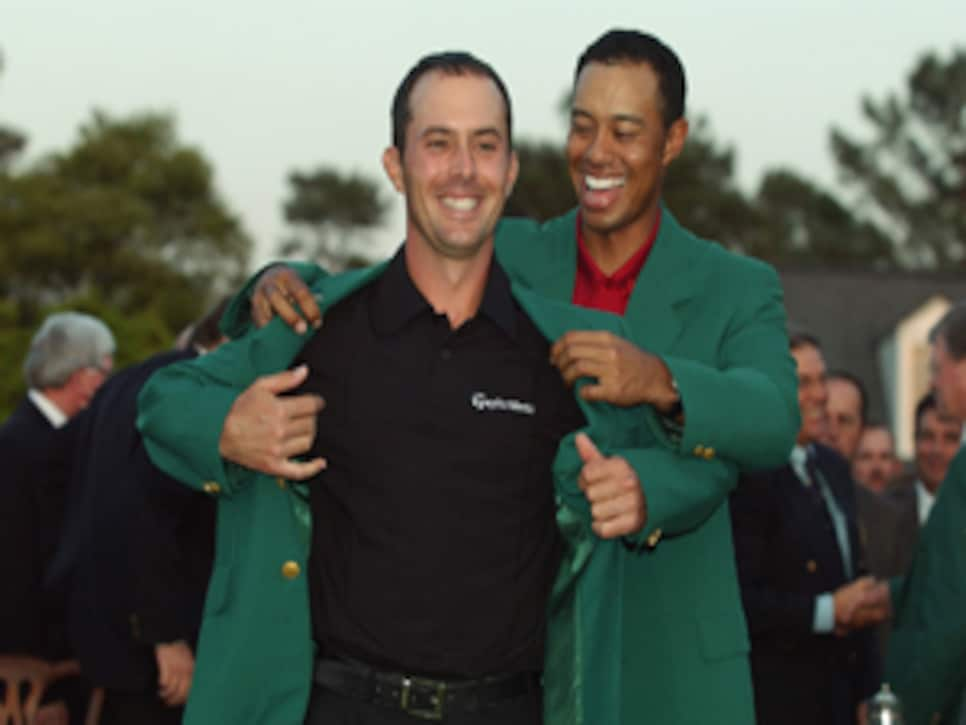 A decade ago Weir came into the Masters with wins in the Bob Hope Chrysler Classic and the Nissan Open, but was overshadowed by Tiger Woods' three early season victories. "That year I was so confident, it seemed like any golf course I was going to play well," he said. His playoff victory over Len Mattiace at Augusta was followed by a T-3 in the U.S. Open that June at Olympia Fields. Weir rose to No. 3 in the world and remained in the top 10 until the 2005 season, a stretch of 106 weeks.
Weir thought he was least likely to win the Masters among the four majors, especially the first year after Augusta National lengthened nine holes and stretched the overall yardage to 7,270. Wet conditions made the course even longer, but Weir took a four-stroke lead after 36 holes, lost it to Jeff Maggert with a third-round 75, and pulled back into a tie with Mattiace by making a six-footer for par on the 72nd hole.
That putt is Weir's defining moment. "I said to myself this tournament isn't ending here," he recalled. "I was going to will that ball in the hole."
Mattiace shot 65 on Sunday but bogeyed the 18th in regulation and made double bogey on No. 10 in the playoff. With Woods doing the honors with the green jacket, Weir became the first Canadian to win a major and was elevated to national hero. It put in perspective his numerous trips to PGA Tour Q school and the time when he and wife Bricia ate baked potatoes for 10 days straight to save money.
I asked Weir if the grind he has been putting himself through of late had anything to do with his anniversary at Augusta. "Very little," he said. "It's all about how I love the game. I love to get back to the game and show my kids in some regard their dad is a tough guy and that there's adversity in life and that things aren't always going well and you have to fight through them."
Weir's daughters, Elle Marisa and Lillie, were 5 and 3 in 2003, too young to appreciate what was going on at the time. Teenagers now, they play soccer and basketball, and are prime for what Weir sees as a teachable moment.
"They see how hard daddy works, they see me coming back from the gym after getting up at 5," Weir says. "They are strolling in for breakfast ready to go to school, and they see daddy all sweaty from working out and they see how disciplined their dad is. Hopefully that rubs off without saying anything."
Weir has to admit that when he's been stuck in a hotel room and not playing well, it makes him question missing their basketball games and soccer matches. "You are like, 'Why am I doing this?' But when your kids tell you and want you to get out there and push yourself, that's pretty motivating."
It's all part of Weir's DNA, his resolve cut on the ice in Brights Grove, Ontario, where he drilled left-handed slap shots before taking up golf. "It's just my nature," he said. "It's where I grew up, in a small town and that's who I am. We are a tough crowd there. That's in me."