News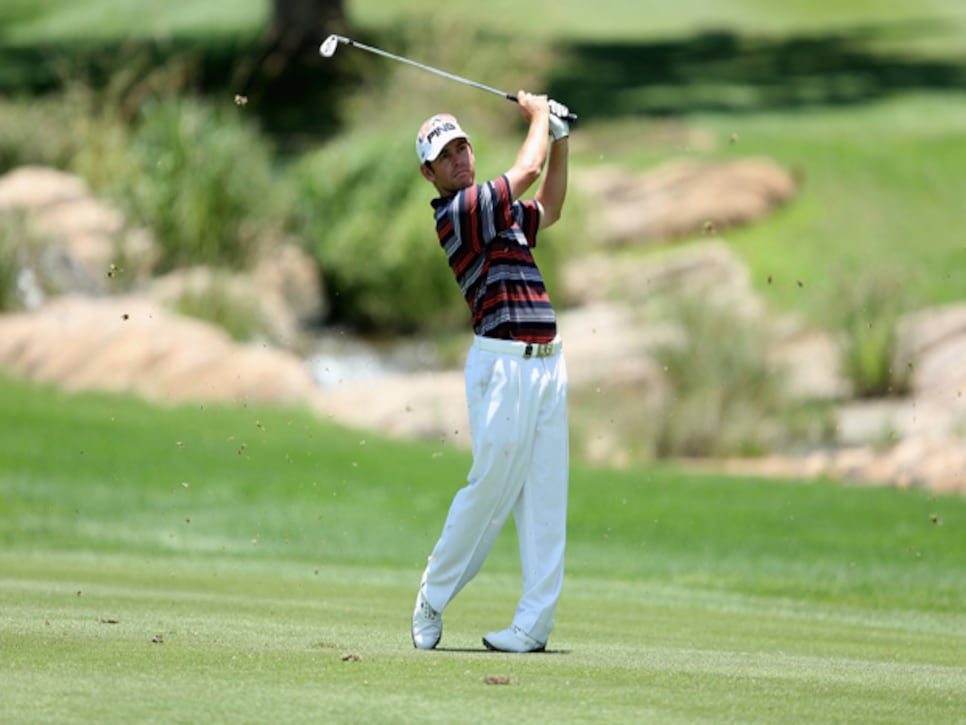 When the South Africans gather in South Florida, it is usually at Louis Oosthuizen's house at Old Palm GC in Palm Beach Gardens for a braai (Afrikaans for "barbecue"). Louis mans the grill, and his mates show up -- as they did during last month's Honda Classic -- with hearty appetites and verbal barbs at the ready.
Potentially half of the International Presidents Cup team was at Louis' home that night, and led by the sixth-ranked Oosthuizen, eight of them are headed to the Masters next week seeking victory on the 35th anniversary of Gary Player's last major championship. Only the United States will have more golfers playing for the green jacket than South Africa.
Oosthuizen is his country's best hope based on his world ranking, his runner-up at last year's Masters and what many consider the most effortless (if not purest) swing in golf. Player won nine majors in his day. Ernie Els won his fourth last summer at the British Open to qualify for this year's Masters and predicts six-to-seven majors for Oosthuizen.
"Louis is the type of player who can be No. 1 in the world," Els said during the Florida swing. "He's got that kind of talent."
In his own quiet way, Oosthuizen has gained respect not only among the South Africans, but also in the global golf community. His low-key manner, however, can fool those outside his inner circle. Off the course, with his countrymen, Oosthuizen is as competitive as anyone, whether it's over the marinade for their barbecues, who catches the biggest fish in the pond behind the driving range at Old Palm, the golf games at their home clubs or the quest for major championships.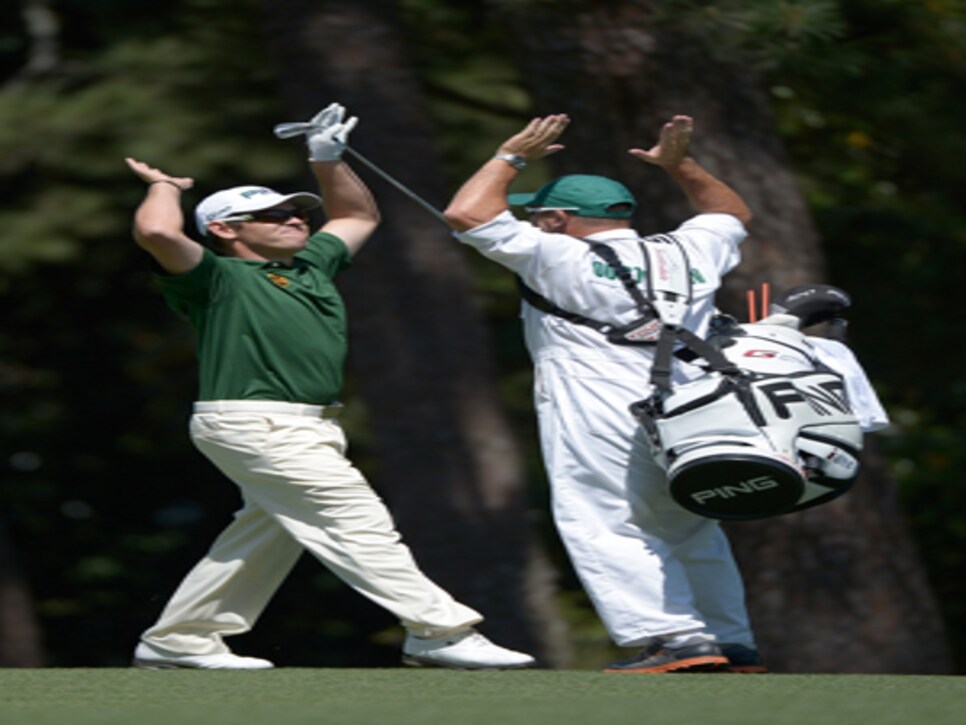 Get them to a cookout, give them a couple of beers, and the teasing segues to brainstorming practical jokes like the one Oosthuizen pulled on Charl Schwartzel during the Honda. Schwartzel was staying at Oosthuizen's home that week and awoke on pro-am day to find the contents of his golf bag strewn across the floor at the front entrance -- the schoolboy prank of Louis and another house guest, Richard Sterne.
Joking aside, Schwartzel took Oosthuizen's 2012 playoff loss to Bubba Watson at Augusta especially hard. They traveled throughout South Africa as juniors sponsored by the Ernie Els & Fancourt Foundation and are now members of the same club and community. As competitive as they are, they share winning and losing like brothers. Chubby Chandler, their agent, told me at last year's Masters that Schwartzel, the 2011 champ, was "the saddest one in the place" for not being able to put the green jacket on his closest friend.
Among golf insiders from their country, it was no surprise Schwartzel won his Masters three majors after Oosthuizen took apart the Old Course during his victory in the 2010 British Open. Since their teen years, Oosthuizen, 30, and Schwartzel, 28, have responded to each other's successes. The same happened late last year when Oosthuizen rode a hot streak to a career-high ranking of fourth in the world -- quickly followed by a Schwartzel run that included two wins, two seconds, two thirds and a fifth in seven events.
Just as Els mentored them, Oosthuizen and Schwartzel are an example for young South Africans Branden Grace, 24, and George Coetzee, 26, who have rented an apartment not far from The Bear's Club in Jupiter, Fla., for their U.S. base. When not out on tour, some of them are organizing practice games, as was the case in an epic match on St. Patrick's Day at The Bear's Club. While Schwartzel traveled to Malaysia, where he finished T-4, and Coetzee posted a T-17 at the Tampa Bay Championship, Els and Grace took on Oosthuizen and real-estate broker Michael Gazlay in a spirited match that produced 17 birdies, an eagle and trash-talking -- in Afrikaans.
Gazlay, a scratch player, sold Oosthuizen his home at Old Palm and is a regular in the South African foursomes. He played with Oosthuizen for the first time last July at what is now Trump National Jupiter. During that round Gazlay witnessed Oosthuizen's second double eagle inside three months, the first famously coming in the final round of the Masters. Unlike Oosthuizen's 2 on No. 2 at Augusta National, the one with Gazlay technically didn't count -- the amateur was getting three strokes and two "call backs" per nine. Unfazed by the negated 2, Louis reloaded, hit a 3-wood to 15 feet and two-putted for birdie.
"I make 5 net 4 and as we walk off I say, 'Nice half,' '' Gazlay said.
Oosthuizen and wife, Nel-Mare -- who is six months pregnant with the couple's third child -- have settled in America to the surprise of some close friends who thought Louis wouldn't be happy away from his farm back home in Albertinia. As swing instructor Pete Cowen has said for years, Oosthuizen's priorities are his family, his farm and his golf, in that order.
Louis once cut a deal with Nel-Mare after winning the Volvo Golf Champions pro-am. Instead of a new Volvo automobile, Oosthuizen made an exchange with the tournament sponsor for a backhoe to do excavating on his farm.
"I've been nagging my wife for a few years that I want something on the farm as there are a few stumps and things I need to get rid of," Oosthuizen said at the time. "So I'm going to play around with it and might dig out a few bunkers."
Just like a year ago, Oosthuizen needs to do some digging if he hopes to contend at Augusta. A third in the 2012 Shell Houston Open triggered his run at the Masters and a win the following week at the Malaysian Open. This year he heads to the Valero Texas Open for another week of prep after a T-10 in Houston. Whether it's the grill or the golf course, Oosthuizen is famous for heating up at the right time. As Schwartzel said, "When he's hot, he's real hot."
Billy Horschel overcame some demons with a T-2 at the Shell Houston Open. The first was his Tin Cup moment in the final round of the Arnold Palmer Invitational, when he pumped three tee shots in the water on the par-5 sixth hole, made an 11 and shot 85. After a 2.5-hour rain delay Sunday, Horschel went back out and split the 18th fairway at Redstone GC. "That was a huge fist bump [with my caddie]," Horschel said that night after his career-best finish. While the former Florida All-American didn't birdie the 72nd hole to eventually force a playoff, he did shoot 66 while paired with Lee Westwood. He credited his 36-hole experience as a playing partner with Tiger Woods at the Farmers Insurance Open in January and his work with sport psychologist Fran Pirozzolo for his strong close. "I feel like one of the best players out here," Horschel said. "I may not have the World Ranking, but that will come in due time. I needed to do my thing, show these guys out here what I'm able to do."
Down on himself and his golf in 2013, D.A. Points told close friend Chris Stroud he was going to skip the Shell Houston Open to take time off. Stroud instead suggested Points come to Houston for a short-game lesson with his old college coach at Lamar, Brian White. The team traveled last Wednesday to a tournament in California, but White changed his flight. Aside from getting Points to hit down on his putts, White observed D.A. with the six putters he brought to Redstone's practice green and pointed him to the Ping Anser that Points took from his mother's golf bag when he was 11 or 12. All this, plus work that started with Gary Gilchrist two months ago, led to a Masters invitation and a career-changing moment for Points.