News
Healthy, Happy And Having Fun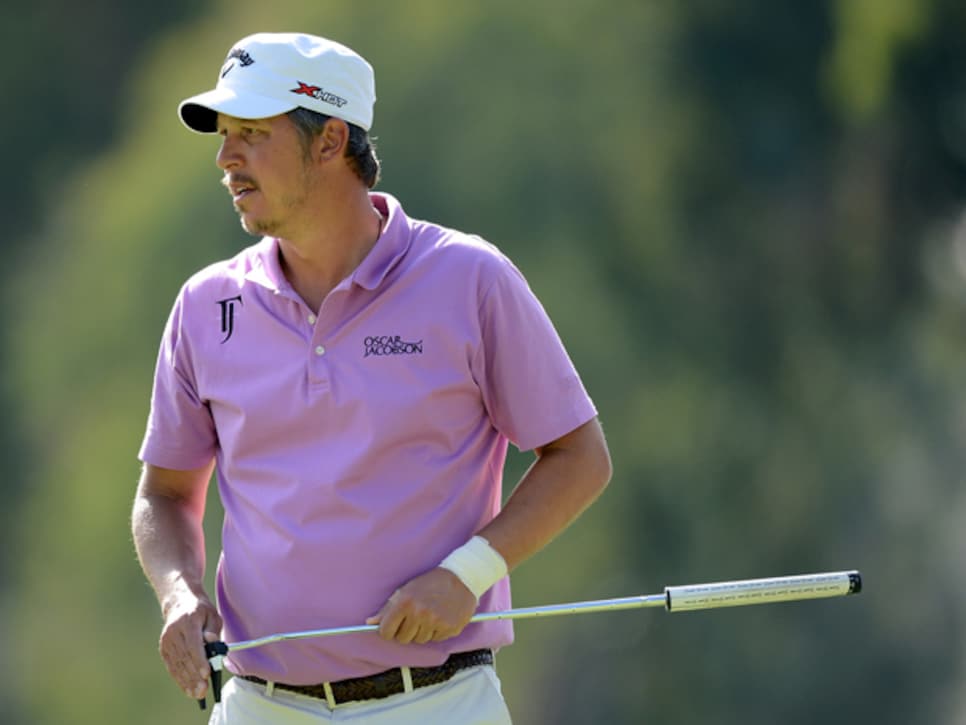 Don't be fooled by the scruffy, sometimes disheveled look he sports on the course. In real life, Fredrik Jacobson is more of a Renaissance man than you might believe. A doting family man too.
Sure he still has youthful hobbies. Besides his table-tennis prowess -- for a glimpse, check out the YouTube video of him holding his own against U.S. National junior player Grant Li -- Freddie has developed a penchant for surfing. Yet the 38-year-old recently increased his responsibility quotient by becoming part owner of a burger restaurant drawing rave reviews in Palm Beach Gardens, Fla. And last Thursday, with late tee times in the WGC-Cadillac Championship at Trump Doral Resort, he could be found commuting 110 miles to Hobe Sound, Fla., with his parents from Sweden along for the ride, just to get some quality time with children Alice, 8, Emmie, 7, and Max, 5.
Truth is that Jacobson is known as "Junkman" around Medalist GC, where he lives and practices, not because of the incredible hand-eye coordination or short-game skill that has made him a mainstay on the PGA Tour for a decade and counting. It's actually because of his golf cart -- stocked with kids' toys and clubs rather than a standard-issue tour staff bag.
"Well, it's a mix of things," Jacobson explained. "There's not as much stuff in there as there once was when the kids were really small. There was a point when there were extra diapers in there. People were making fun of it [when they] would see Max's bike on there. I think everybody in the family has something in that cart."
Jacobson started surfing four years ago near his Florida home. On his website there's a photo of him beaming proudly next to a surfboard Callaway Golf presented him after his lone tour win, the 2011 Travelers Championship. Around his house, he enjoys hanging out in surf shorts, flip-flops and a T-shirt. "I've been fortunate enough to have a friend I call 'Surfer Bob' I met down at the beach, one of the lifeguards here, and he's been kind enough to take me out and help me along the way to get to the level where I could ride," Jacobson said. "It's a lot to learn: how to read the water currents, the waves, the paddle techniques. It's nice to have somebody who's been doing it over 40 years to come along."
Surfer Bob turned up in Jacobson's gallery two weeks ago at the Honda Classic, where Freddie hosted a pre- tournament party for tour players, caddies, Callaway equipment reps and friends at the Chuck Burger Joint. "It's doing alright," Jacobson said. "Like all restaurants, it's always a tricky business. We're happy to do alright the first year." He added with a sheepish smile, "I can make more on the golf course than the Burger Joint."
He seems to be proving that so far in 2013. Healthy for the first time in five months, Jacobson rode a nice wave through the tour's West Coast swing, posting three top-10 finishes. It could have been even better. A missed four-footer on the 72nd hole of the Northern Trust Open cost Jacobson a spot in the John Merrick-Charlie Beljan playoff. Still, it moved him up 19 spots inside the top 50 on the World Ranking, which earned him a spot in the WGC-Accenture Match Play, where he advanced to the third round.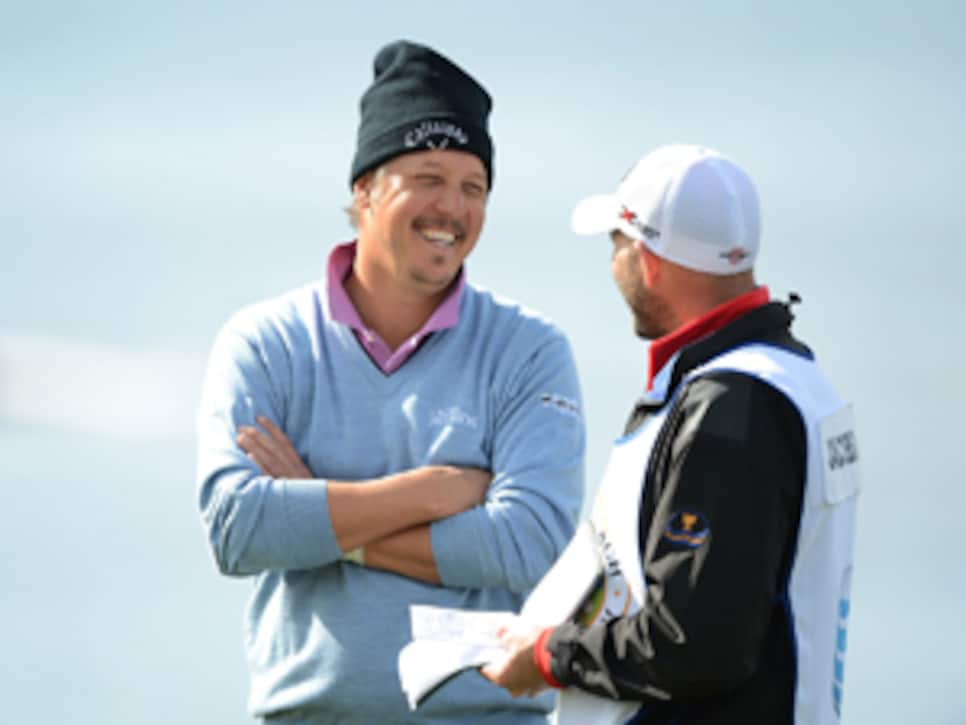 Ranked 47th after the Cadillac Championship, where he finished T-16 despite a closing 74, Jacobson needs to hold the position through April 1 to secure a Masters invitation. For the year he has made $842,675, which would be an awful lot of hamburgers.
As a golfer, Jacobson is known more for his untucked shirt, painter's hat and funky action rather than his ball-striking. Announcers Gary McCord and Peter Jacobsen love imitating his baritone voice, calling him "Freddie Yah-k" and marveling at his short game. During the Northern Trust, Ian Baker-Finch referred to him as "The Swedish Seve."
The deft hand-eye coordination comes from growing up playing table tennis. At ages 14 and 15, he was ranked among the top 30 in Sweden, but in the farmland near his home Freddie and his friends carved out four practice holes where he honed his short-game wizardry. Anything that requires touch is Jacobson's game. "I tried to play pool with him the other night at the house, and that was not a good idea either," said caddie Neil Wallace.
At 20, and fresh out of Wallace State Community College in Alabama, Jacobson became the youngest player on the European Tour. He returned to the United States full time in 2004 and although never cracking the top 100 in ball-striking, he has made more than $1 million on the tour six of the last nine years. "It's never a work-of-art swing wise," says long-time friend and instructor Sean Hogan. "He used to have more moving parts, but if we get a good setup going and get him grounded at address he's more of a repeater."
The repeating swing -- and Jacobson's quick smile -- is what Jacobsen appreciates. "Louis Oosthuizen and Charl Schwartzel have picture-perfect looking golf swings," said the NBC analyst. "But if you stopped the video camera at the point of impact, Freddie Jacobson and Jim Furyk are as good as Oosthuizen and Schwartzel. We all want a perfect golf swing, but I'd rather have a repetitive golf swing."
Since his Travelers win, injuries have held Jacobson back, first a freak accident while gardening and then bulging disks in his back. Yet more than $13 million in career earnings later, it's hard to quibble with his record.
With the Cadillac Championship marking his sixth straight start, Jacobson is looking forward to putting on his flip-flops, catching some waves with Surfer Bob and spending some range time with Max. The kid has inherited some of his dad's DNA in the hand-eye department, being able to hit a high draw either right-handed, or turning the club upside down, left- handed. You probably don't want to play him in pool either.
Maybe you noticed at last month's WGC-Accenture Match Play how Jason Day's pre-shot routine included an eyes-closed visualization process. The Australian credits his 2013 resurgence in part to work with a device called Focus Band, which he uses during practice to measure brain waves. The goal is to see the shot with the left side of his brain and execute with the right side. "It gets me thinking forward so that my awareness is on the right things rather than the wrong things," Day said at Doral. "It's basically 'aim small, miss small.' The smaller the target, the better your awareness."
Michael Thompson backed up his Honda Classic win with a T-8 in the WGC-Cadillac Championship, further living up to his reputation from his days at Alabama as being "Slick" Thompson. Former Crimson Tide teammate Matthew Swan gave Thompson the nickname initially because he was so straight-laced and low-key. Eventually it came to signify Thompson's prowess on the greens. "At first he hated it because it didn't fit his personality and clean-cut look," coach Jay Seawell said. "But he learned to love it." Thompson loved it enough to make it part of his Twitter handle, @MSlickThompson. "I just kind of rolled into it," Thompson said. "No pun intended."
Ernie Els has partnered with Donald Trump to try and raise $30 million to build the Els Center of Excellence on a newly acquired 27-acre parcel in Jupiter, Fla. Six Trump facilities will join more than a dozen other courses in The Els for Autism Golf Challenge during the year to work toward the financial goal. "At the end of the day, we want to build this great center for kids," Els said. "I think we can start at the end of the year."