News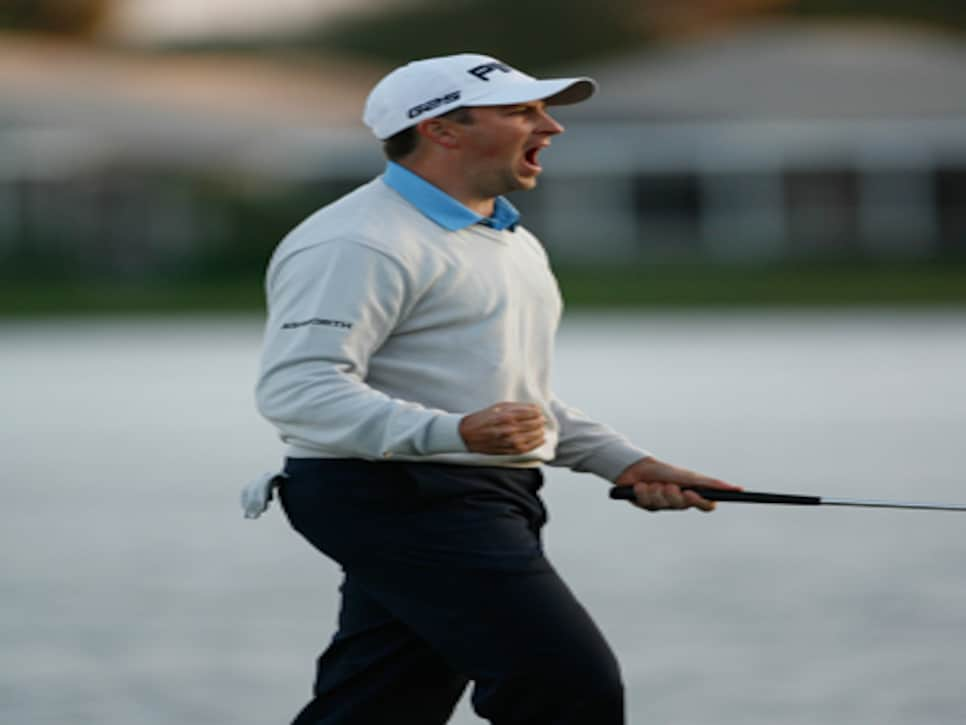 Thompson had made just one cut in 2013, finishing T-78 at the Farmers, before claiming the title at the Honda Classic.
To become an Eagle Scout in high school, Michael Thompson had to learn various life skills. Little did he know how handy these traits would be a few years later on a windy, bitterly cold, career-defining Sunday at the Honda Classic.
• Discipline. It was certainly needed for the 27-year-old to secure his first PGA Tour victory in 61 career starts.
• Leadership. He shared the lead with Luke Guthrie entering the final round only to claim it outright after two holes and never relinquish it.
• Determination. En route to victory, he held off former U.S. Open champion Geoff Ogilvy on a Champion Course layout at PGA National that presented U.S. Open-like scoring conditions.
• Perseverance. Returning a call three hours before the start of the final round, Thompson foreshadowed that this was the quality that would be most important. "Just keep plugging along and fighting," he said. "That's Michael Thompson golf."
And that's what Thompson did Sunday. He persevered, just like he had in college when a hurricane tried to wash out his dream, or on the mini-tours when his game seemed lost at times only to be found through the help of instructor Susie Meyers.
Just a week before his Honda win, Thompson found himself back home in Birmingham, Ala., at one of the lowest points of his career. Through four tour starts in 2013, he had made just one cut, a T-78 at the Farmers Insurance Open.
Thompson told me before teeing off on Sunday that he spent the days leading up to the Honda learning "to love the game again" by playing in Tuscaloosa with the teams at Samford and his alma mater, Alabama.
His college coach, Jay Seawell, admitted it was the lowest he had seen Thompson, that his team even remarked that Michael looked a bit beat up. "But he was coming back to good memories," Seawell said. "He hit a lot of good shots on that range."
How Thompson, a native of Tucson, ended up at Alabama could be fate or simply the force of Mother Nature. When Katrina hit New Orleans in 2005, among its victims were the men's golf and women's soccer teams at Tulane, programs cut in the aftermath of the storm. Thompson, then a junior, eventually transferred to Alabama. His soccer-playing girlfriend, now his wife, Rachel, stayed at Tulane as an athletic trainer for the football team before getting her doctoral degree in physical therapy at Emory.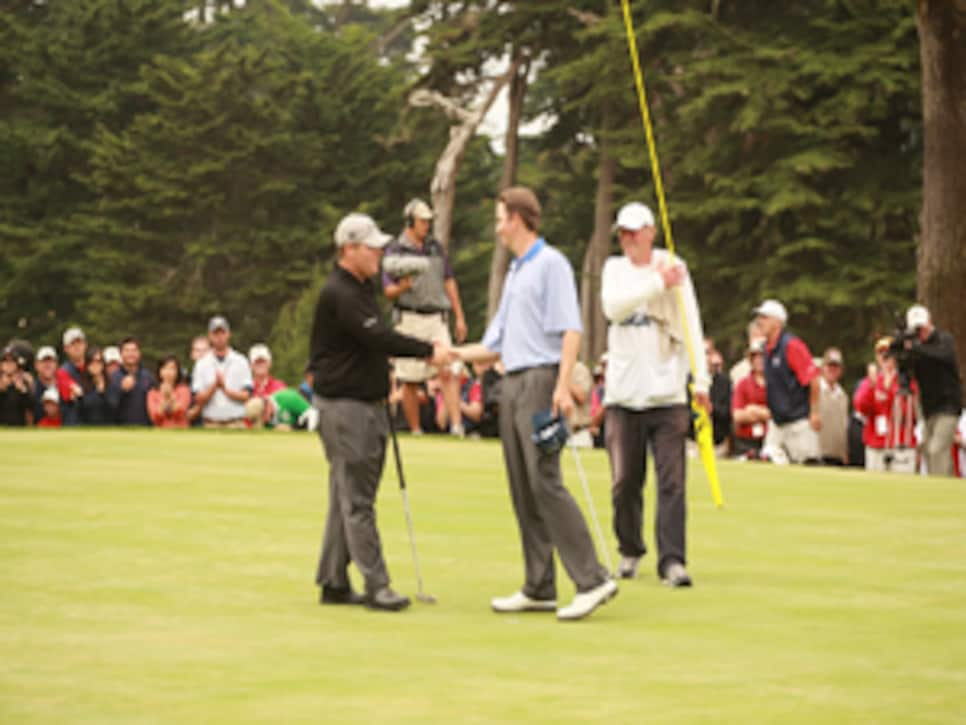 2007 U.S. Amateur final against Colt Knost.
Thompson's career with the Crimson Tide was highlighted by SEC team and individual titles and an appearance in the 2007 U.S. Amateur final at Olympic Club in San Francisco before losing to Colt Knost. The finish qualified Thompson for the 2008 Masters, where some of his scout's honor kicked in. Addressing a 10-foot birdie putt during Friday's play, Thompson saw his ball move and called a penalty on himself. It changed the momentum of his round and potentially cost him two more on the weekend. Tom Shaw, his college coach at Tulane, was caddieing and noted that Thompson was "a very mature kid," who "doesn't let things get to him."
There's that Eagle Scout showing through again, as it did when he made the cut at the U.S. Open as an amateur in 2008, and through a couple of up-and-down years on the Hooters Tour, with Rachel carrying his bag. Over the course of time, Thompson (whose previous best tour finish was a T-2 at the 2012 U.S. Open) learned the art of mental therapy.
"Being down on his game made him realize he had to put in the work and reevaluate the way things were going," Rachel said as Michael was wrapping up his last interview Sunday night. "It allowed him to try new things, different mentalities to come up with a different game plan that worked this week."
That plan, as Michael explained, was to "make golf as simple as possible, trying to get better for the future." Those words were right from the mouth of Meyers, a former college star at Arizona who has mini-tour and LPGA experience.
Meyers doesn't teach technique as much as she does feel. It hasn't been much different than when Thompson took his first lesson from her at Ventana Canyon 13 years ago, except that while she used to be the boss, now he's the boss. "We don't work on perfection. We work on attitude and getting it in the hole," Meyers told me after the win. "But he hit some damn good shots today."
It's a man's world for the most part on the PGA Tour -- which is what makes the relationship between Thompson and Meyers so enlightening. "It is very unique," Meyers said between lessons Saturday afternoon. "But that's how confident Michael is of himself and me."
Thompson's mother, Beth, a retired high school teacher, calls this the "golden key" in the learning process -- which has no gender. "What works is the matching of the student and the way the student learns and the way the teacher teaches. It doesn't matter if it's female or whatever."
The Thompsons raised quite a family. Their oldest son, Ryan, is a consultant with Ernst and Young. Their daughter Darcy is an associate professor of medicine at the University of Colorado Denver Children's Hospital. The youngest son, Zach, also an Eagle Scout, is an Air Force instructor pilot.
Michael had different aptitudes and athletic skills, playing left midfield on a state finalist high school soccer team in Tucson and learning to play piano. As a student of golf, he ended up at Tulane because of wanting to learn more than the desert golf of his childhood.
All the while, from age 5 through 18, he was wearing the Scout uniform, backpacking every summer with his troop, as he said, "Doing something that wasn't exactly popular," but learning the lessons of a lifetime.
"I was at rock bottom," he said of his plight just a week earlier. "But that accomplishment [becoming an Eagle Scout] is greater than this achievement."
Both, though, are pretty good.
Erik Compton credited part of his milestone T-4 finish at the Honda Classic, his first top-10 in 61 PGA Tour starts -- to hanging around Tiger Woods during the long delays at the Farmer's Insurance Open in February. "It's the fact that he didn't say anything that built my confidence," Compton told me. Translation: That Woods looked at him as a competitor and not a double heart-transplant recipient was meaningful motivation for the 33-year-old Miami native trying to let his game, not his backstory, write the headlines.
Veteran caddie Ricci Roberts was back at work for Ernie Els at PGA National, his first appearance on the bag since last September's BMW Championship. At that time Roberts' left leg kept locking up, and after two weeks of testing it was discovered he had a blood clot in the leg's main artery. Surgery forced him to sit out nearly six months, a time when Roberts lost 18 pounds. He's now taking blood thinners to prevent future clots. Els will rotate Roberts in and out of his caddie lineup for the foreseeable future, a rota that now includes Colin Byrne, who worked for Els at last month's WGC-Accenture Match Play.
Just how important is it for Brandt Snedeker to be in peak shape for next month's Masters? The 2013 FedEx Cup points leader is taking his fourth week off, having pulled out of this week's WGC-Cadillac Invitational -- a no-cut event that makes for an easy payday -- to be sure his ribs are completely healed before returning to play. "He's being very precautionary," said instructor Todd Anderson. "He said he's getting better, but he doesn't want to push it and not be ready for the Masters."