News
The Presidential Treatment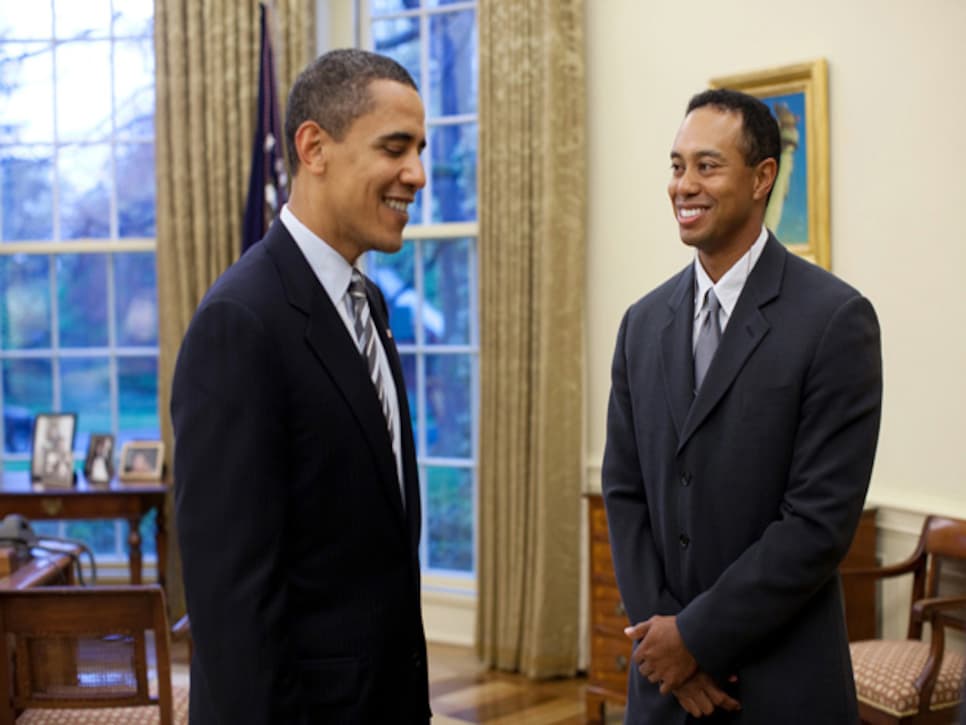 The way Tiger Woods told the story, the request came rather matter of factly. "Hey, Tiger, do you want to play?" inquired President Barack Obama during a phone call. After all, when they met in the White House almost four years ago, Woods and Obama had talked about some day getting out on the golf course.
That day was Feb. 17, 2013 at the Floridian Golf and Yacht Club in Palm City, Fla. They reunited on the north end of the driving range, with Obama starting the conversation by saying he enjoyed watching Woods' latest win at the Farmers Insurance Open. At 11 a.m. on a windy, 52-degree Sunday along the St. Lucie River, two of the world's most transformational figures headed to the first tee, the President behind the wheel.
"I thought it was pretty cool," said Butch Harmon, the former swing coach of Woods and the new swing coach of Obama. "Here's the President of the United States, the most powerful man in the world, and here's Tiger Woods, to me the greatest golfer who ever walked on this planet. Here they are, getting ready to go out and play a game of golf. I don't think anything could be cooler than that."
Let the record show that slow play wasn't an issue. With the president counting every stroke, they played in just over four hours, with Obama and Woods scoring a resounding victory over Floridian owner Jim Crane and close friend Ron Kirk, the former Dallas mayor and outgoing U.S. Trade Representative. Based on how Woods enthusiastically painted a picture of his round with the president two days later at the WGC-Accenture Match Play Championship, it sounded like the two icons had a blast.
"Playing with Mr. President was pretty cool," Woods said, adding, "He's a wonderful person to be around."
The round with Woods came during a buddies' trip Obama arranged with four close friends for Presidents' Day Weekend. In his conversation with Woods, the president asked about possibly playing Medalist GC, Woods' home club in Hobe Sound, Fla. Medalist had also been approached by the president's staff and checked out by the Secret Service. Once Obama settled into Crane's compound the previous day, however, it made more sense for Tiger to take a 20-minute drive from his home on Jupiter Island to the Floridian.
"Obviously there's a process involved," Woods explained. "I was invited to play, and it was an invitation you don't want to turn down, especially with him being such an avid golfer."
Avid is an apt description based on the 54 holes Obama played during his trip, including the 18 with Tiger and an emergency nine afterward. This doesn't include the hour Obama spent in the Harmon studio Saturday evening, getting his swing video taped and hitting out of a bunker.
"I like the fact he loves golf," Harmon said. "Obviously he doesn't get to play very much. He said it was a real treat for him to come here with his best friends and have a chance to play. But he counts every shot. He doesn't like gimmes. He putts everything out. He counts all his penalty shots. He thinks about all his shots before he hits them. Some people might say to the President of the United States, 'Oh, just move it.' But that's not him. He loves the game and loves the game the way it's supposed to be played."
They played a $5 Nassau. It was Tiger's first time at the course and Crane, a 3-handicap who contributed 25 strokes while playing with Kevin Streelman during the AT&T Pebble Beach National Pro-Am, wanted Tiger to see all of it from the tips. But for the sake of the day and connecting everybody together, they decided to join Obama and Kirk on the No. III tees playing 6,208 yards.
Woods being Woods, he put on a show, holing a bunker shot for birdie at the first hole, nearly driving the 14th green and hitting a stinger 3-iron waist high into the 15th green to set up an eagle. He finished up at 18 by bombing a high cut out over the St. Lucie River that gave him a sand wedge into the closing hole.
The president, after the previous evening's session with Butch and son Claude Harmon III (they worked on alignment and posture), was also in the game. Woods called Obama a "good athlete," praised his short game and said he had the potential "to be a pretty good stick."
Obama, meanwhile, showed deft touch in putting his experience with Woods in perspective, saying in the days after the trip that Tiger "was on another planet" as it related to golf skills and noting, "He knew that I wasn't a big threat to his world ranking, and I knew that I'd better keep my day job."
There is no telling what they talked about, but it sounds like they kept it light. Woods admitted the needles were going around and, when asked if he had a nickname for Obama, complied by saying, "Partner." Smiling, he said proudly, "We won."
This was also a big win for the game overall. Fifty years earlier there was Dwight Eisenhower and Arnold Palmer. The history of U.S. presidents rubbing elbows with star golfers includes other examples, whether it be Greg Norman and Bill Clinton, or Davis Love III and Fred Couples with George Bush 41.
But unlike the more recent instances of relationships, there's potential for Obama-Woods to have a larger impact on growing the game. "My dad and I met Tiger when he was 17 in 1993 and if you would have told us in 1993 an African-American athlete was going to be not only the best golfer in the world but also one of the most recognizable athletes in the world -- and it would happen in golf -- you probably never would have believed it," said Claude Harmon III. "And if you would have told us in 1993 that some day Tiger would be meeting an African-American president who just won his second term, you never would have believed it."
That's why their meeting was important in breaking down the stereotypes that still exist about golf in the second decade of the 21st century. Woods and Obama both got that. How they evolve as golf buddies, meanwhile, will determine whether their partnership can attract newcomers to the game.
"To have them play together in the same group was just unbelievable, a lifetime experience that may never happen again," Crane said.
Hopefully not. Right now the pairing of Obama-Woods is 1-0. It seems like a team that needs to get together more often.
Webb Simpson could be excused for calling his caddie by the wrong name at the WGC-Accenture Match Play. Of course, he could have been excused the week before at the Northern Trust Open too. The U.S. Open champion had three different bag carriers at Dove Mountain outside Tucson and still made it to the quarterfinals. Adam Hayes -- filling in while regular caddie Paul Tesori recovers from shoulder surgery -- had to return home to Charlotte for the birth of his second son. First out of the bullpen (or more precisely the fitness trailer) was Bubba Watson's trainer, Andrew Fischer. "Fisch" got Simpson through an opening-round victory over David Lynn, but was relieved on Friday by Josh Cassell, who was hanging around after his player (John Senden) was eliminated. Before Cassell became available, Tesori was considering a flight across the country. At Riviera, Simpson had Brian Reed and Steve Hulka fill in until Hayes returned from the flu. "About the only person I can think of who could deal with something like this is Webb," said Tesori, who returns at the WGC-Cadillac Championship. "He's got the perfect disposition for something like this."
Among the little discussed changes this off-season was the departure of Sergio Garcia from International Management Group that ended his longtime relationship with Clarke Jones, IMG's Senior VP of their golf division and managing director of the Americas. Garcia went to a start-up company formed by his former day-to-day manager, Carlos Rodriguez, and longtime friend Irek Myskow, a broadcaster for Sky Sports Germany and a consultant for TaylorMade-Adidas, Garcia's equipment sponsor.