News
Finding Comfort In Stardom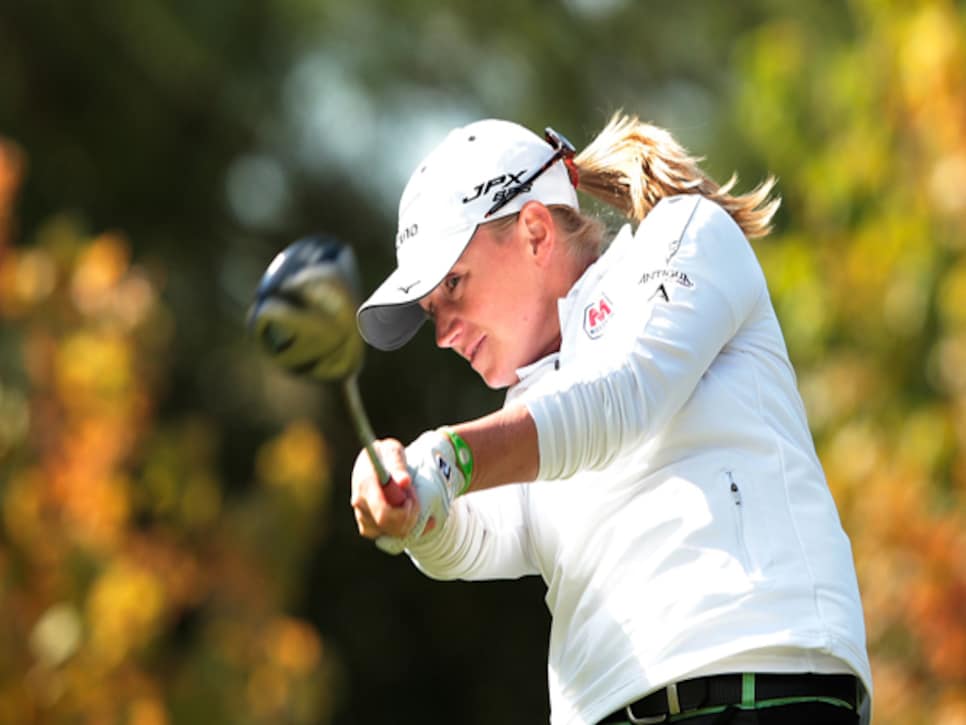 At the north end of the range at Medalist GC, tucked in a corner, Stacy Lewis was beating balls. She waved. I waved. She was still in her office, working. I got that. No American LPGA member works harder at her trade than Lewis. That's one of the reasons why she has evolved into one of the world's best players, claiming player-of-the-year honors on the LPGA Tour in 2012. With that comes interviews, like the one we scheduled, managing time, switching on and off between 5-irons into the wind and being a spokesperson for the LPGA.
When she was done, Lewis drove over in a cart. I got in and suggested we pull over by the short-game area, an appropriate place because of all the tour pros who call Medalist their home, Lewis spends the most time on this turf.
How has she grown most in a year?
"Probably with all the extra off- course stuff," she said with a smile and some energy in her voice. "I feel like I've gotten better, more personable with the fans and feeling more comfortable in general. It's not that I didn't do it well before. I was just pretty shy."
A year earlier, we met at Medalist in front of the TV camera. That was a different Stacy Lewis, not there yet as a player or a public person. Although she was engaging, her voice had a flat tone. I learned how competitive she was, even in her fantasy football league. I learned how much she loved living nearby in Palm Beach Gardens and paddle boarding off Juno Beach. I learned she was most proud of getting not one but two degrees from Arkansas -- especially in an era when several top American players skipped college to turn pro early.
During that earlier interview we didn't go much into her history with scoliosis, because that story had been told. But talking recently to U.S. Solheim Cup captain Meg Mallon, I better appreciated how much the essence of Lewis' determination and intensity was wrapped up in those months with a back brace, being told she would never play golf again. "Start with that," Mallon said.
Perhaps the story is widely known, but it can't be overlooked. After surgery to put rods in her back, Lewis red-shirted her freshman year and didn't even think about playing on tour until she was a junior and won the NCAA title. Judy Rankin, one of the most respected voices in women's golf and a former intense competitor herself, believes no top athlete in the world has overcome as much to reach the pinnacle of their sport.
"People think I must think about my back all the time, but I don't," Lewis said. "I know everything I went through made me the person, the fighter I am. I may be missing a cut by five, but I'm still going to try and birdie the last four. That's just me. I'm going to find a way to get it done."
Lewis got it done last year, but not without some late-season anxiety. The player-of-the-year race was tight going into 2012's final three events. Before getting on a plane to Japan for the Mizuno Classic, Lewis had a heart-to-heart talk with Beth Daniel, the last American to win the Rolex POY award back in 1994.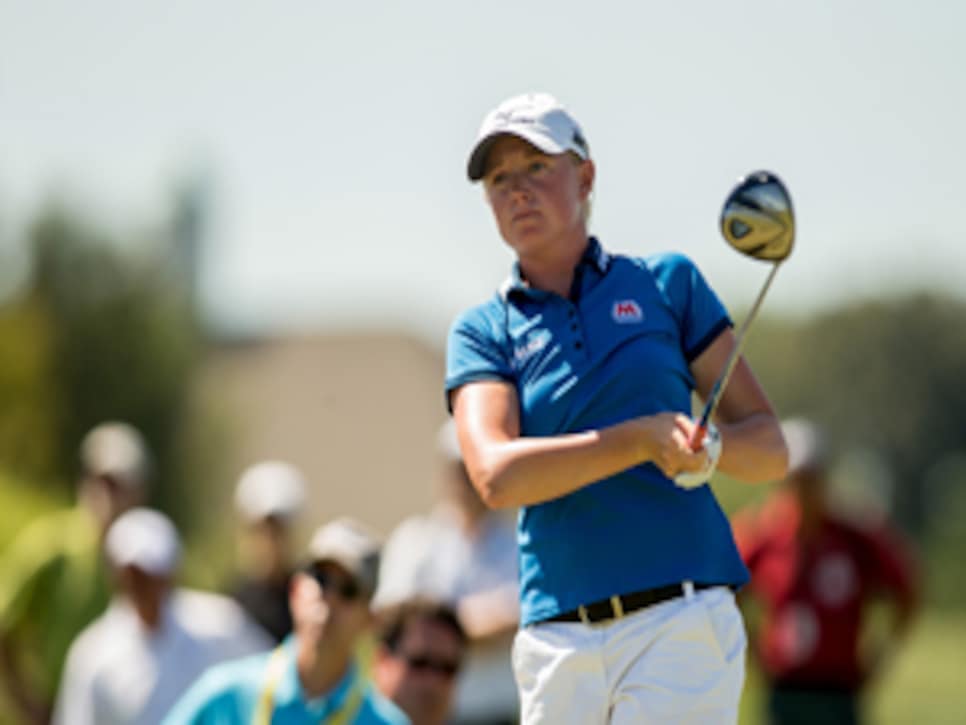 I go back with Daniel to the late 1970s and remember how she grinded so hard while trying to win a major, and ultimately wrestled POY honors from Laura Davies in '94. Although Beth didn't go through Lewis' physical challenges, she had her intensity. I'm not the only one who felt that way.
"I see a lot of similarities between Stacy and myself," Daniel said. "I think that's why I spoke up. I saw her go into a bad mood, putting so much pressure on herself." Knowing the sensitivity of Lewis, Daniel figured, "She'll either get mad at me or get it -- and she got it right away."
Indeed, Lewis won Mizuno for her fourth victory of the year and locked up POY the following week with a T-4 finish at the Lorena Ochoa Invitational. The game changes now, but Lewis has already changed with it. She has taken media training, accepted her role as one of the tour's top players and is ready to carry the American flag in a Solheim Cup year.
"I've got a lot of good stuff going on," she said. "No major changes in my game; I don't feel any different. Meg came up after the Rolex Awards and asked 'How did it feel?' When I said, 'About the same,' she said. 'Good, that's what I wanted to hear. You're not a different person, you're really not, this doesn't change who you are. Just go out there and do it again.' "
So that's what this offseason has been all about, with intense workouts at PGA National and money games with Daniel and Mallon at Pine Tree GC as well as the other LPGA members at Medalist.
"It's pretty crazy for me to think of all the people in the United States, I'm the best female golfer," she said. "That's kind of weird, but I like it."
The following day, I went back to Medalist. Lewis was on the south end of the range this time, absorbed in her work. Later in the day, she pulled up to the bag drop, head down, focused, but I got a smile and a wave.
Davis Love III didn't want to skip receiving the Bob Jones Award at the USGA's annual meeting in San Diego Feb. 2, just as he didn't want to have surgery on his neck six days later in Atlanta. The reason for sending a video acceptance speech was that he was playing the Waste Management Phoenix Open to get ready for the AT&T Pebble Beach National Pro-Am and eventually this week's Northern Trust Open. After withdrawing in Phoenix, Love had the procedure, where a doctor removed bone spurs and performed a spinal fusion. A day later, the 2012 Ryder Cup captain was on the putting green at Sea Island (Ga.) GC. Love hopes to be chipping in a week and back out on tour in six to eight weeks. At 48, he is not looking to the Champions Tour as much as closing out his career on the regular tour. "I'm like Peyton Manning," Love said. "I had to have it done before I lost my strength and couldn't get it back."
That Jack Nicklaus would show up for a Q&A session at the Palm Beach County Golf Association Awards banquet Feb. 9 is not so unusual. Nicklaus, 73, has been attending association tournaments since his oldest son, Jackie, was competing. The Hall of Famer was at Lost Tree when Gary Nicklaus, a reinstated amateur, won the 2008 County Amateur and has been a fixture at the Nicklaus Junior, watching his grandsons compete. I conducted the interview with him at the event and tried to focus on Jack's amateur career. Like everyone in the room at Frenchman's Reserve, I was blown away by Nicklaus' recall of events that happened more than 50 years ago. "I can remember all of that," he joked, "but I can't remember what I did at 12 o'clock today."