News
Jonas Blixt: Making Himself Known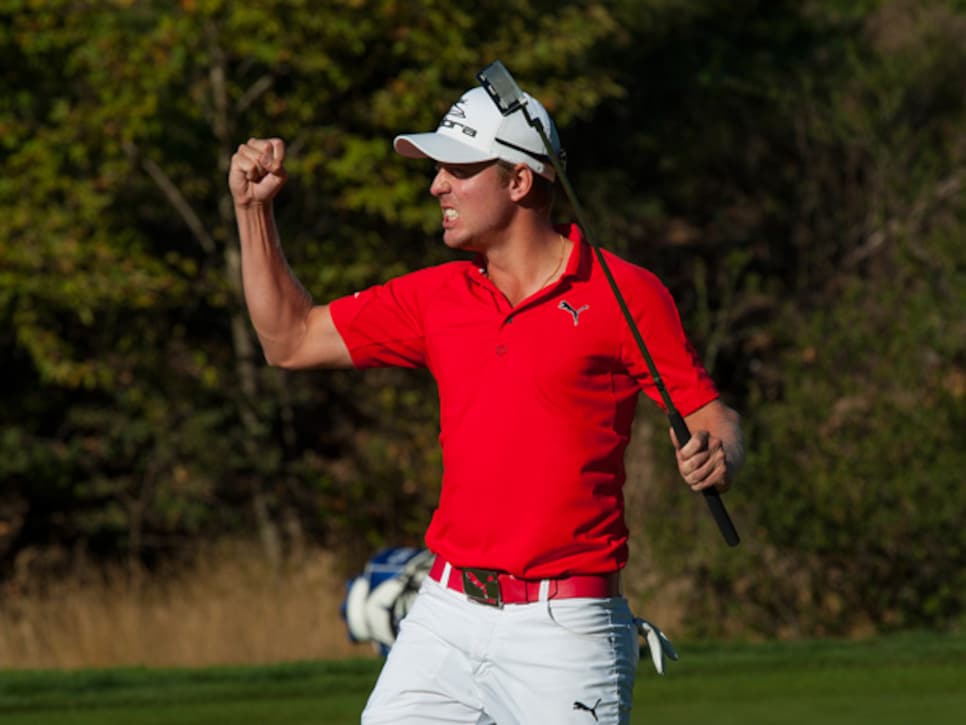 Jonas Blixt doesn't get recognized much on the PGA Tour. Not yet, anyway. Among the 30 winners gathered at the Hyundai Tournament of Champions, the Swede who graduated from Florida State was the most anonymous player in the field -- and probably in the locker room. It was that way as well last year at the HP Byron Nelson Classic, when he walked up to Matt Kuchar offering congrats on his recent win at the Players.
"He's like, 'Who are you?' '' Blixt, 28, recalled at Kapalua. Blixt's answer was to finish third that week in Irving, Texas. "So then [Kuchar] came up to me afterwards and said congratulations to me, so it was kind of cool."
In Swedish, Blixt means "lightning bolt," and he is one of those lively, colorful characters who won't be anonymous for long. Indeed, his friends say the former junior hockey player possesses a certain electric pulse that carries over into his work ethic. When Blixt played on the Web.com Tour before graduating to the PGA Tour after the 2011 season, caddie Zach Williamson regularly drove back to the course to make sure his man wasn't wearing himself out by sneaking in more balls before dusk.
True to form in Maui, in all the rain and wind, Blixt hit more practice balls than anybody. More noticeable was the easy confidence he exhibited on the range among the elite group of players. "I don't know them that well yet, but I feel like I earned my spot here by winning," said Blixt, who qualified for the Hyundai (where he finished T-18) by winning last October's Frys.com Open, a Fall Series event. "I've got a lot to do to be close to what they've done, but that's what I'm working on. I want to be one of the best players in the world."
He's come a long way. As a rookie last year he was ranked 246th in the world before he broke through with top-10s at the Wells Fargo Championship, the Nelson and the Crowne Plaza Invitational at Colonial in May. It helped him secure a spot in the FedEx Cup playoffs before a rib injury sidelined him for two months. He came back fresh in August and made a five-foot putt on the 72nd hole of the Barclays to advance to the second round of the playoffs. The next week at the Deutsche Bank Championship, he shot 68 in the final round only to finish 71st in the FedEx standings, one spot from moving on.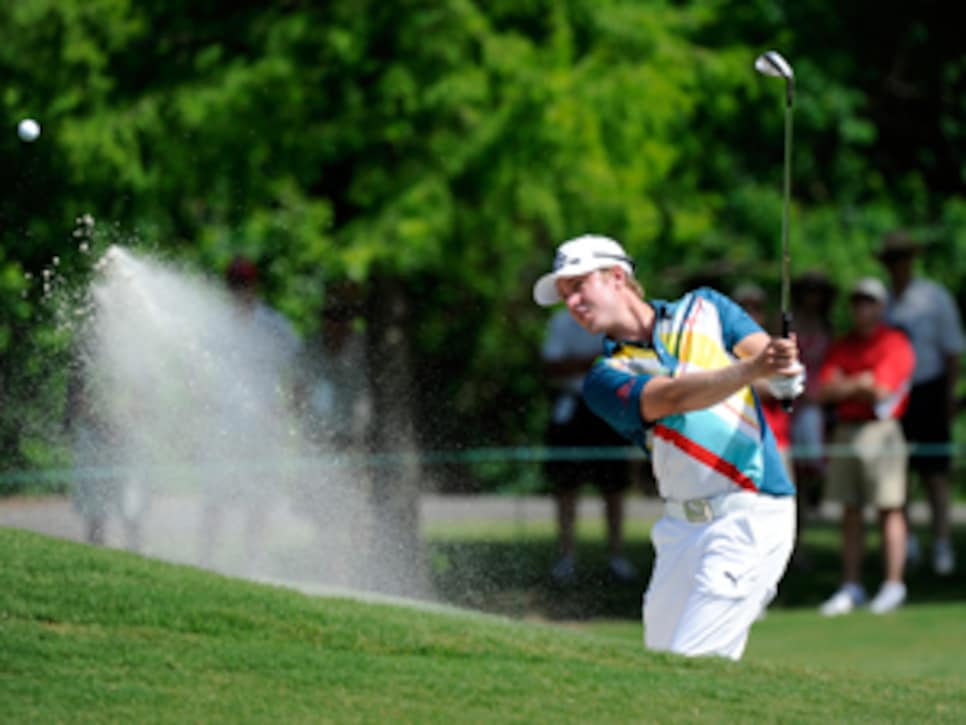 Confident in the way he was playing, Blixt raced into the Fall series with a third-place finish at the Justin Timberlake Shriners Hospitals for Children Open in Las Vegas before his breakthrough at the Frys. At the CordeValle Resort south of San Jose, Blixt won with the best club in his bag, the putter. He made 49 of 50 putts inside 10 feet during the last three rounds, including a four-footer to clinch the title. In the critical strokes gained/putting category, he picked up an astonishing 10 strokes on the field that week. For the year, he was second on tour in that category while finishing first in sand saves. A relatively shortish hitter who averaged 286 yards off the tee last year, Blixt nevertheless was second on tour in frequency of eagles, all while winning more than $2.2 million to finish 34th on the money list.
Blixt is a bachelor, but he likes a family atmosphere on the tour. At CordeValle his brother and his wife, along with college teammate Torstein Naevestad of Norway and his girlfriend, all hugged Blixt in a gleeful celebration after he edged Tim Petrovic and Jason Kokrak. Joining his entourage in Maui were his parents, Hans-Ove and Lena.
"It's different on the PGA Tour than the Web.com," Blixt said. "Everybody is more private. It's just nice to go to dinner with who you know."
With their hair spiked and their Scandinavian accents, Naevestad and Blixt became fast friends at FSU, a school famous for its football program and good times. "If you want to party, Tallahassee is a good spot to do it," Blixt said. "I had a lot of fun there. I'm just glad I'm still alive."
In their senior year Blixt and Naevestad called each other out for gaining too much weight. "We had muffin tops," said Blixt, who is 5-10 and now weighs 165 pounds. They made a bet to give up soda for a year. If one gave in first, his penance would be to ride The Kraken roller coaster at Sea World in Orlando for two straight hours.
"When I see roller coasters, my face turns white," Blixt said. The fear was enough to get Blixt, who loves cola, to switch to sparkling water for several months. "But then I'm playing terrible and finally I tell him, 'I've got to break this.' "
This was in the brutal summer heat of Springfield, Mo., at the Price Cutter Charity Championship on the Web.com Tour in 2009. Blixt went back to cola and finished second, then attempted to buy Naevestad out of the bet. No go. "He told me there's no money to replace the joy he will get out of it," Blixt said.
Sometime this year the pair will finally travel to Orlando for an appointment with The Kraken. But at 74th in the world, with a bullet, Blixt is also hoping a visit to Augusta might happen come April.
Marvin (Vinny) Giles III added to his already impressive amateur résumé in 2009 when, at 66, he set the record for the most time between USGA titles when he won the Senior Amateur 37 years after taking the U.S. Amateur crown. On Jan. 3, a day before celebrating his 70th birthday, Giles accomplished another unique milestone. "My last day in the 60s, I shot in the 60s," he reported from his home in North Palm Beach, Fla. From the blue tees at Seminole GC, playing with close friends Barry van Gerbig, Buddy Marucci and Alan Fadel, Giles shot 68. "First time I broke 80 all winter," he said. "I've been playing awful."
With caddies challenged not only by the notorious elevation changes at Kapalua's Plantation Course but also the chaotic wind and rain that plagued the season- opening Hyundai Tournament of Champions, Paul Tesori seemingly picked a good week to take extra vacation before starting the 2013 season on the bag of Webb Simpson. At least that's how it appeared from afar, with Golf Channel/NBC analyst Gary Koch even giving Tesori a playful on-air tease. "My first time on the sidelines in 13 years and I'm a lot more nervous than I thought," noted Tesori while watching from a nearby condo, before offering an explanation for his absence: rotator-cuff surgery. When Tesori discussed the timing with Simpson during last month's World Challenge, the U.S. Open champion explained he wanted Tesori back for the 2013 majors. To do so required the caddie have his operation in December. Adam Hayes, bagman for an injured Jonathan Byrd, will take over for Simpson for the next six West Coast tournaments.