News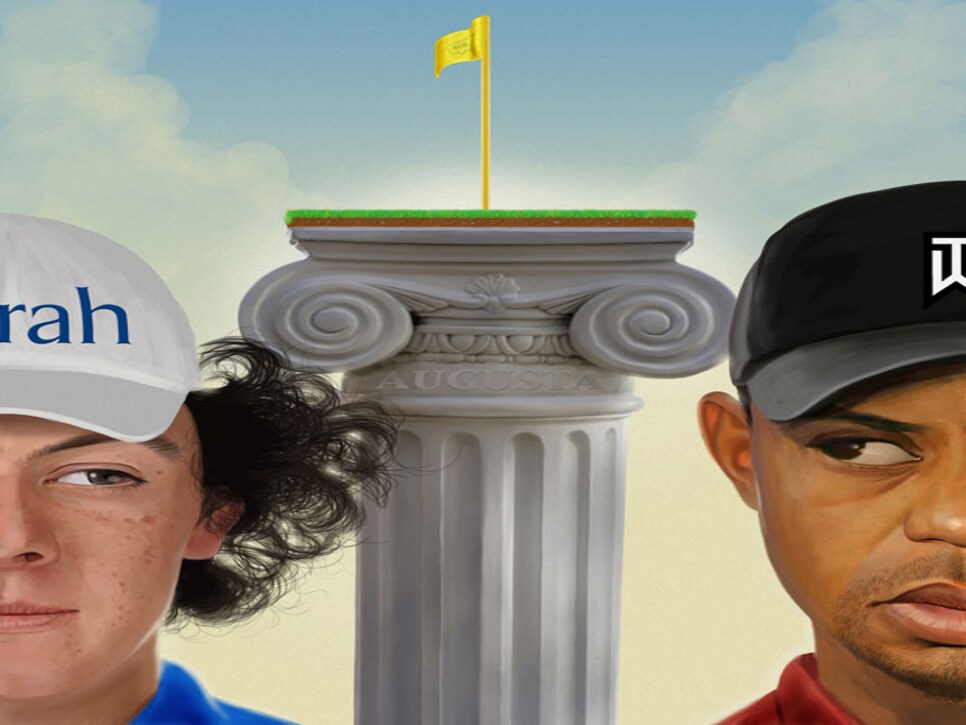 "You could make the argument that he might be Tiger's Watson."
--Sean Foley on Rory McIlroy
You absolutely could. And so it might prove to be. But, the thing is, titans don't exactly grow on trees and, worse yet, one of ours evokes Achilles.
That, by the way, will be the first and last Greek punch line here because the Greeks haven't been funny since Aristophanes and there's absolutely nothing amusing about Tiger Woods' left leg, which might yet turn out to be as delicate as a tulip stem. There are two things that must happen for McIlroy vs. Woods to mature into the next big thing, and they're as easy to read as a Masters leader board. McIlroy must become more than just a passing occupant of the No. 1 spot on the World Ranking. He has to continue to grow into the force majeure everyone has believed he would be since he was a boy pitching golf balls into a Hoover washing machine. And Woods, of course, must become a reasonable facsimile of himself.
And neither is a mortal lock, in spite of the promising early Florida returns, which could always wind up being the hanging chads of hope.
It is precisely because golf's truly historic rivalries are so rare--and so compellingly beautiful when they come into full bloom--that we mine for them in every piece of promising clay. The starker reality is, Tiger Woods could no more afford to overlook Bob May or Rocco Mediate than Jack Nicklaus could Doug Sanders or Isao Aoki. As Mike Smith, the jockey who comes from the same little New Mexico town, Roswell, as Nancy Lopez, put it, "Who's the horse to beat? I've got to beat them all." There are plenty of onesies and twosies--not to relegate them to the status of seat-savers at the Oscars--who earned the right to occupy the lines on golf's most famous pieces of silver between The Others. Jones and Hagen and Sarazen. Snead and Hogan and Nelson. Palmer and Player and Nicklaus. Among those great rivals, the head-to-head duels were relatively few in number but enduring in memory. It was never about beating just one guy, right up to the moment when it was.
"We talk too much about potential rather than performance. Results, they are what matter," says Tom Watson, looking relaxed in his Kansas City office wearing blue jeans and a Royals hat, back from two months of pausing to smell the roses--well, the sulphurous lava anyway--on the Big Island in Hawaii. "The more you win, the more you get notched up on that perch. This guy's good. This guy's really good. This guy's great," he says, walking you up the ladder with slashing hand gestures. "It takes a while to get up to that great notch. There have been a lot of near-greats and been a lot of could-be greats, but the people who got to be great are very few and far between."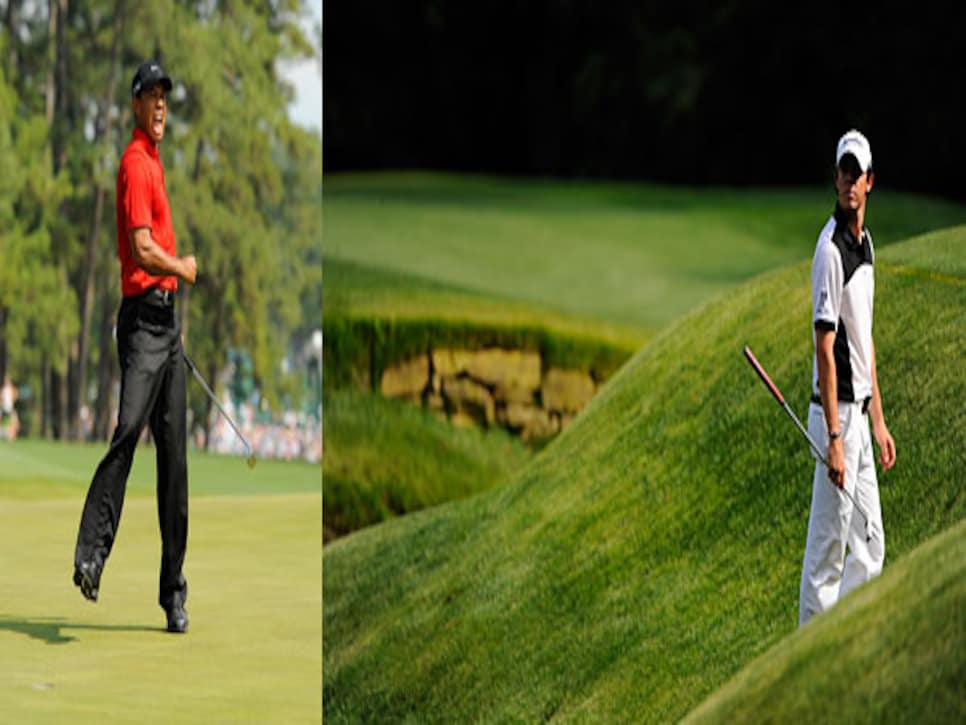 Georgia on their minds: Woods (left, reacting to a Sunday eagle on No. 8) and McIlroy (right, on Friday), were part of the 2011 Masters plot.
McIlroy, just 22, might become one. Woods, at 36, already has been and might be yet again. The potential for the two to produce a historic pas de deux seems uncannily similar to 35 years ago. On the final day of a 1977 Masters that would become the precursor to their seminal duel in the British Open at Turnberry, one sure thing and one wannabe began what is--with a tip of the cap to Nick Faldo and Greg Norman--golf's last great rivalry, one that ran its course all the way to Pebble Beach five years later. Writing in Sports Illustrated, Dan Jenkins described their buddy trip to Scotland this way: " ... Nicklaus looked off in thought with something of the expression of an aging gunfighter. He did not say he had been expecting someone to come along one of these years. But the look seemed to indicate that he had finally met him."
Could that same faraway look have passed across Woods' face last June with his ankle in a boot and the U.S. Open on the flat-screen TV? We might yet find out in Augusta. Woods, the winner of 14 majors, is a year younger than Nicklaus was in 1977 when Watson's birdie on Augusta National's 17th backed the then-14-time major champion off his approach into the 18th and coaxed him into a mental mistake, forcing Jack to play for a 3 instead of a comfortable 4 with the chance for 3, a decision that resulted in a fat iron shot into a greenside bunker and a bogey. Nicklaus had blinked, perhaps not for the first time but certainly one of the very few. "I've kicked myself ever since for doing that stupid thing," Nicklaus says.
The young Watson, 27 then, was much older chronologically than McIlroy is now and certainly not the sort to be breezily enticed out of the stands at a tennis match to bat the ball around with a tall, good-looking Russian blonde. Competitively, however, they would seem far closer in age. The kid with the redheaded mop from the Midwest had been on tour five years in 1977 and was a notorious punisher of range balls, while the kid with the dark-haired mop from Northern Ireland is in his fifth year as a professional and showed up for the new season with a new body. They each sought the wisdom of elders, Watson at the foot of Byron Nelson, McIlroy from Nicklaus. They each had a résumé that included major collapse and, in the case of both, a major success--Watson's playoff victory in the 1975 British Open and McIlroy's walk-off win at Congressional CC last June.
And they share at least one other thing. Though the reasons may not be entirely the same, neither is, nor was, the least bit afraid of the man they would pursue. "I had a certain stretch in there where I would look at the leader board, and there wasn't anybody that would bother me very much, and I'd just go play my game and let them self-destruct," says Nicklaus, taking a break from his hosting duties at the Honda Classic just days before Woods threw a roundhouse 62 on Sunday only to watch as McIlroy held on to win with, as Tiger used to put it, his B game. "Well, Tiger had a little run away. All of a sudden, these kids have learned how to win. And the Watsons and the Trevinos, they didn't get scared of me. He [Woods] may win, as I won, but he has a different situation. Before, he had guys that fell on their face. Now, they're not scared of him. Big difference."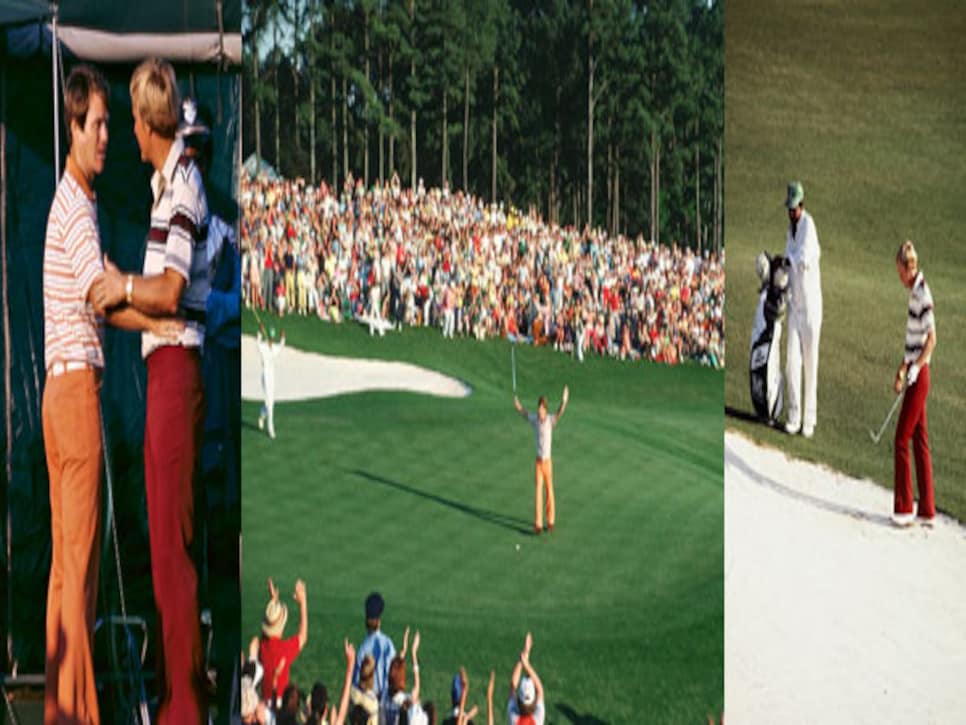 Prelude to a duel: A few months before Turnberry, Watson, 27, beat Nicklaus, 37, in the 1977 Masters after the young challenger's birdie at 17 prompted an uncharacteristic error by Jack at 18 (right).
In 1977 you didn't need a ranking system to know who the best player was. There was no confusion in Watson's mind about the nature of the challenge presented by the golfer playing the hole ahead of him that Sunday in April. "I can only tell Rory what I tried to do," says Watson. "I tried to beat the best. I compared my game to the best. He was the best there was. Any time you played in a tournament, if neither of you won, you always compared yourself to Jack. Did I beat Jack that week or did he beat me? First and foremost, you're there to win a golf tournament, but if it happens to be against the best, that's the ideal situation you want to be in. I was fortunate to beat him in some pretty exciting contests. But you look at Jack's record, he ran circles around my record. When all is said and done, he beat me more than I beat him."
While it's not exactly the polar opposite of 1977, the best right now may not be the guy with 14 majors and a bad wheel. "Rory's going to be there," says Johnny Miller. "It's just whether somebody else matches him. I think Tiger knows [Rory] is going to be there. He's like Tiger, a chosen one."
Even with Woods' coming off an impressive Bay Hill win, the first on his home tour in 30 months, he might still be the bigger question--one likely to linger until his own Groundhog Day ends and 14 rolls over to 15 on his personal alarm clock. "I've always said that he's going to probably break my record but, then again, he's got to do it," says Nicklaus, repeating the qualifying clause he uses so often—and that applies equally to the stature McIlroy seeks. "If you look at what Tiger has to do, he has to win more majors than any guy who has played in the last 10 to 15 years, from here on." Excluding Woods, himself, of course.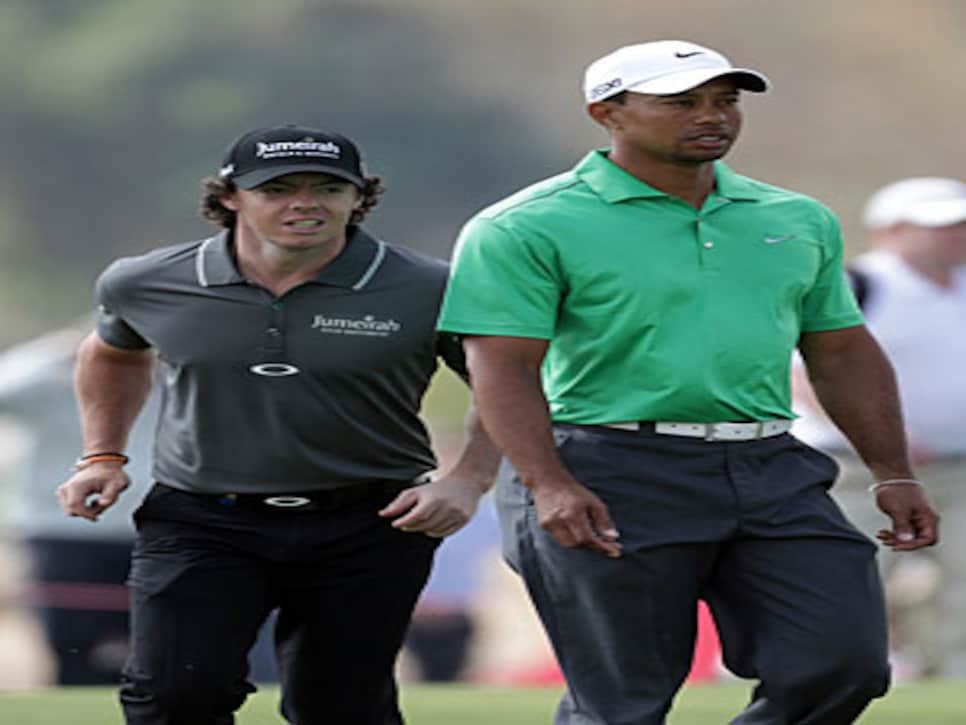 __Can McIlroy and Woods (who shared a pairing in
Abu Dhabi earlier this year), grow into one of the
sport's rare, truly historic rivalries?__
Tiger used to be the one. Now, one of the two (or three) might be all he can hope for. As Nicklaus says with a laugh, "I'm just delighted I was one of the two in the rivalry. If you're one of the two, then it's OK." With 18 at stake, it's doubtful Woods would be as magnanimous. If getting back to the level of his own expectations remains a known unknown, the signs were steadily pointing in the right direction. Then Woods had to hitch a ride off Doral's 12th hole, a trip that proved a minor detour in a triumphant return to the town where it all went wrong in the first place, Orlando. The two-steps-forward, one-step-back nature of his progress, Woods' enigmatic psyche, his new Foley-coached swing and his physical fragility have been sliced and diced by the media and public, alike, as if he was Charlie Brown at Lucy Van Pelt's 5¢ psychiatry stand:
"Look at it this way, Charlie Brown. These are your bitter days. These are your days of hardship and struggle. But if you'll just hold your head up high and keep on fighting, someday you'll triumph!" says Lucy.
"Gee, do you really think so?" asks Charlie Brown.
The week before the Florida swing began, McIlroy talked about a Woods on the mend. "I played with him in Abu Dhabi," McIlroy said. "It looked like he was playing pretty good, maybe not back to where he was in 2000 [when, it should be pointed out, McIlroy was 10], but he's definitely working his way back there. Of course, it would be great to see him get back, and it would be great to test myself against possibly the best player that's ever lived. I think Tiger, the way he's playing now, is a formidable opponent coming down the stretch on a Sunday."
In the wake of Bay Hill, it looks like McIlroy just might get that chance. But shooting 62 at PGA National and winning for the seventh time on one of Tiger's alleys, pregnant with promise as it may be, is a far cry from negotiating the real Bear Trap: the number 18. If McIlroy and Woods are to produce epic encounters, anything resembling the ones Watson and Nicklaus conjured, it's going to be done on the road to--or as a roadblock to--that ultimate record. Nicklaus and Watson only had each other. Woods and McIlroy would have a bear riding shotgun.
"Coming down the stretch, would you bet against Tiger in a major? No, you wouldn't," says Padraig Harrington, though drinking at the well after a two-year victory drought seemed motivation aplenty. "Tiger has more chance of winning coming down the stretch in a major than he has in a regular tournament now. The regular tournament has lost some of its shine, but the major will bring it back for him. Every time he's in contention in a major you will see the old look in his face, if you know what I mean. It's different for Rory. Rory's young. It's brilliant. Everything is new. It's fantastic. You can't compare like for like. Everything is exciting for Rory. For Tiger he's been there, done that. It takes a lot for him."
If a healthy-enough Woods finds his Watson in McIlroy, he may have simultaneously found his Trevino in Phil Mickelson. The three-time Masters champ has dominated head-to-head encounters with Woods the last five years but has yet to challenge him in a big moment--an exception being the 2009 Masters when their punch and counterpunch proved great theater but, in reality, was little more than the undercard for Angel Cabrera, Kenny Perry and Chad Campbell.
How could Woods, who used to manufacture bulletin-board material out of every "gettable" utterance, fail to find inspiration in the marker McIlroy laid down in the U.S. Open? "Was I motivated by it? No, because I couldn't walk. What makes me think that I can go out there and play at a high level and beat anybody in a major championship? But it's after I start getting a little bit more healthy and then the motivation starts coming back," says Woods who, once without peer, now casts a wary eye across a crowded field. "There's so many guys. Phil's playing well. He's 41. A lot of guys who are my age, in their 30s, are doing well. Then you've got guys in their early 20s now starting to pop up. So, the gamut is pretty wide."
In his book My Story with Ken Bowden, Nicklaus recalls the 1977 Masters and, in particular, seeing himself in a young Watson, though it is safe to assume he wasn't quite so effusive in his praise in real time. "It was like watching a documentary of my own early professional years," Nicklaus writes. "The self-containment and self-assuredness, the depth of commitment and the blinkered determination, the combination of reserve and forthrightness, the marching in a straight line toward some lofty privately determined destination ..."
__McIlroy and some young guns came of age as Woods battled injury and bad press, greatly reducing the "fear factor" experienced by some veterans. __
Does Woods detect some of his own DNA in McIlroy? "At that age, yeah," replies Woods. "But time changes that. You start maturing and learning how to play the game. You don't always have to play at one speed." McIlroy's speed is the same today as Watson's was then--in a hurry to get where they're destined to go.
We should be in no greater rush to divine the next clash of giants than we are to christen the next One. "As Jack said, we're quick to anoint the new great player and it takes five years to get a track record going," says Watson. "It's just timing in life where you have two players knocking heads all the time."
As the black Mercedes chase from Doral reminded everyone, there are a lot of moving parts if this one is to emerge. "His golf swing is different than it was in 2000 when he ran the tables," says Watson of Woods. "And he's injured."
And, as gifted as McIlroy certainly is, the personal cement has yet to set. "We've had all this crazy, so many one-time major winners," says Faldo. "That's the big question now. How good is Rory McIlroy, once he's settled down and dealt with all the life-changing bits? How good is Keegan Bradley? You can throw in some others. It seems like it's quite difficult right now to win two, isn't it? I just wonder whether, over the next two years, we might get the Big Five again?" On either side of the pond.
Or, maybe Nicklaus and Watson redux. Would Watson have won eight major championships if he hadn't had Nicklaus to aim for? Would Nicklaus have become reinvigorated enough to win three majors in the third decade of golf's longest championship career had Watson not taken the stage? The names do matter. "You get a great sense of accomplishment," says Nicklaus, "of being able to come down the stretch seeing Watson and Trevino and Palmer, whoever it might be, on the board and finishing strong."
A great sense of history too. Perhaps, if we're very lucky, history will repeat itself.