News
What's Ahead For Tiger Woods?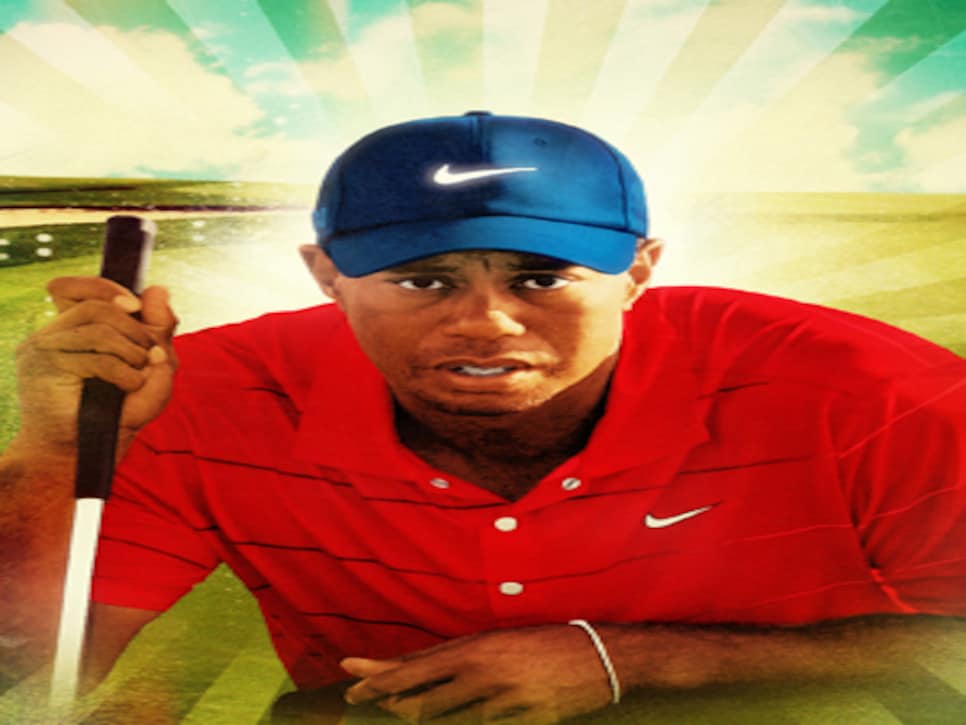 Something was missing. What it is, as the lyric goes, ain't exactly clear. Finding it was the unsolved mystery of last year and the promise of this one. Whether Tiger Woods locates it in time to break Jack Nicklaus' major championship record or not, what seems manifestly true is this: The closing holes of his inward nine as a champion golfer are a virtual certainty to be as compelling, maybe more so, than the achievements of the heady outward half, if for no other reason than he's now playing into a three-club karmic wind.
Time is the confederate of youth. Faced with a player, 23-year-old Rory McIlroy, who seems to possess the same passing gear only Woods himself could find over the last decade and a half, every opportunity suddenly seems more dear. Woods' talent, as immense as the game has ever seen, comes with a "use-by" date stamped on it just as the gifts of Michael Jordan or Babe Ruth did. Last month Nicklaus, who physically seems to shrink even as the specter of his record grows, walked, as a man nearing 73 does, into the grillroom of The Bear's Club in Jupiter, Fla., complaining he could only hit it 180 yards.
While the goal of every professional golfer with a chance is the same in April, June, July and August, it is precisely because Woods' ambition is so monumental, the feat once so easily contemplated, and the elements inside and outside the ropes so baroque that 2013 means more for him than for any other player in the game, even his new soul mate, McIlroy. Last acts have a dogged pace. Woods, who both makes history and knows it, surely expected there would be someone someday -- another Other -- to divvy up the spoils.
"I know how it feels when you win a major championship," Woods said recently, "and it feels incredible. It stays with you, and that's something that I would like to have happen again." The end goal may be Jack's 18, but majors don't come in a four-pack. The next one is the only one that matters.
Because Nicklaus is not just the target but the template, let's grant Woods the same longevity as Jack, something Tiger's inelastic ligaments might not allow. Jack won four majors after 37, the age Woods is now. Jack's last Masters came at 46. Soup to nuts, that's 40 more at-bats for Woods. He has to hit a dinger in a tenth of them just to tie, a Ruthian pace for sure. The convenient analogy in current vogue is that from here on, Woods has to have Phil Mickelson's career to catch Jack. But, let's not forget with whom we're dealing. Woods won five in his first four years as a professional, a period that included hibernating through his first swing change.
But, of course, he's not the same Woods.
"People keep asking me, is Tiger Woods back?" says CBS' David Feherty as he stands well beyond Kiawah's 18th green, watching McIlroy stuff the out-sized Wanamaker Trophy in his back pocket. "Back where? He's not back where he was at the turn of the century, and it may be another century before anybody gets there. That's an unreasonable standard to hold anybody to." Even the guy who set it.
Woods was a bewildering tease in 2012. Yes, he won three times, then promptly followed each victory with a major letdown. The sudden noise of each success startled the media like starlings on a wire, sending the flock tweeting off into the blogosphere. In February at Pebble Beach head-to-head against Phil Mickelson, Woods wasn't ready for prime time on Sunday. His game, good enough to win at comfortable, old Bay Hill, wasn't ready for high-flying Augusta National. After a dramatic finish to tie Jack's career victory total at the friendly confines of Muirfield Village, Woods opened flawlessly in the U.S. Open but was allergic to Olympic on the weekend. He striped a driver off the 18th tee at Congressional CC to win his own tournament but seemed reluctant to touch the same club at Royal Lytham & St. Annes. While McIlroy swung freely off the tees at the penal Ocean Course, Woods was back in steerage, having elected to come out on Saturday of the PGA to "enjoy" the moment rather than seize it.
During a question-and-answer program in Pinehurst, N.C., Nicklaus said, "This year he [Woods] was right there in three major championships and he was nowhere on Saturday or Sunday in any of them. Some of the folks who are close to Tiger came back and said that Tiger said, 'Hey, I just couldn't play. I was choking.' Whether that's what he really said or not, I don't know." It is, however, what he really did.
One of Woods' longtime friends, John Cook, says, "Why do you choke? Because you don't have real trust in what you're doing. Well, he does now. [2012] was getting back to winning but [this] year, it's statement time."
Woods' instructor, Sean Foley, whose mind is a philosophical gumbo jumbo, naturally had his own take, one that spoke to the degree of difficulty -- though not the impossibility -- of changing ingrained habits. "A neuropsychologist told me, the thing is, our brain just does what it knows," Foley says. "He said, if I teach you how to open the door with the left hand and you're right-handed and you do it for a year and you do it every time, if you wake up in the middle of the night and the house is on fire, what hand do you think you use?"
Presuming that Foley is figuratively teaching Tiger to switch hands, it is no surprise he prefers a long view. "The thing I liked about those [major] weekends," he says, "is it showed me how far we have left to go."
Three-time major champion Padraig Harrington is familiar with the process. Lying face down in the corner of the locker room at Crooked Stick while his back is massaged by a therapist's sharp elbow, Harrington talks into a padded table. "Tiger did well in the majors," he says, punctuating each sentence with a breath, as if he's blowing out a series of single candles. "He was in a position to win every one of those majors. That's all he needs to be in. He knows how to win. It will happen. Put it like this, I'd rather see a player play a tournament, get in contention to win it and finish 20th than the guy who shoots 65 on Sunday to finish fourth. As a player, you should never fear getting into the heat of battle and losing, and Tiger did that [in 2012]. I'd be more worried if he didn't get in there, than being in there and it not happening."
In the Foley universe Woods' year of almosting was more crucial than even what lies ahead. "I would say important is a label but, yeah, to what we need to do, 2012 was a pivotal time," he says. What should not be lost in any dissection of Woods' game is that Foley originally gained traction on the PGA Tour as the instructor who gave Stephen Ames a move his back could live with. "The biggest part to me," says Foley, "is that he's not been reinjured and not even been close to it. So, that's a big deal. That means that mechanically, he's more efficient. I'm not looking to do anything in the short term. This is big picture, OK? We have this many years ahead of us. Preserve the knee, back, neck." But, change is dangerous. It was so even when Gene Sarazen lost his way experimenting with his game during the 1920s.
There is no more vocal critic of the work of Foley, and by extension Woods, than Golf Channel's Brandel Chamblee, though even he softened his comments as the 2012 season wore on and Woods continued winning.
"Yes, I'll give Sean Foley his due," Chamblee says. "He teaches a very pretty, efficient golf swing, but it's not imaginative and it's not versatile. I'm amazed at Tiger's ability to incorporate three drastically different golf swings and bring them to some level of excellence. Nobody's ever done that in golf. Ever. This guy's changed his golf swing three, some people would say four, times and each time he's come back and been the No. 1 player. But he hasn't done that yet with this swing. Tiger, doing what he's doing now, will never get anywhere near as good as he was in 2005-6-7-8 or 9 and he won't sniff getting as good as he was in 2000. I used to say Tiger half as good as he used to be is still twice as good as anybody but that, as it turns out, is wrong because I didn't imagine somebody coming along as talented as Rory.
"People get addicted to the science of it, the perfection of it," says Chamblee. "Does Sean have good information? No question. They talk about total driving a lot. The things that make you a great driver of the golf ball now don't help you in terms of playing good golf. Now the players who drive it the best are these guys with flatter golf swings. Their shots coming into the green are flatter. Their left wrist is more bowed. They hit fewer greens. They're not as good with their short irons. They're not as good out of the rough."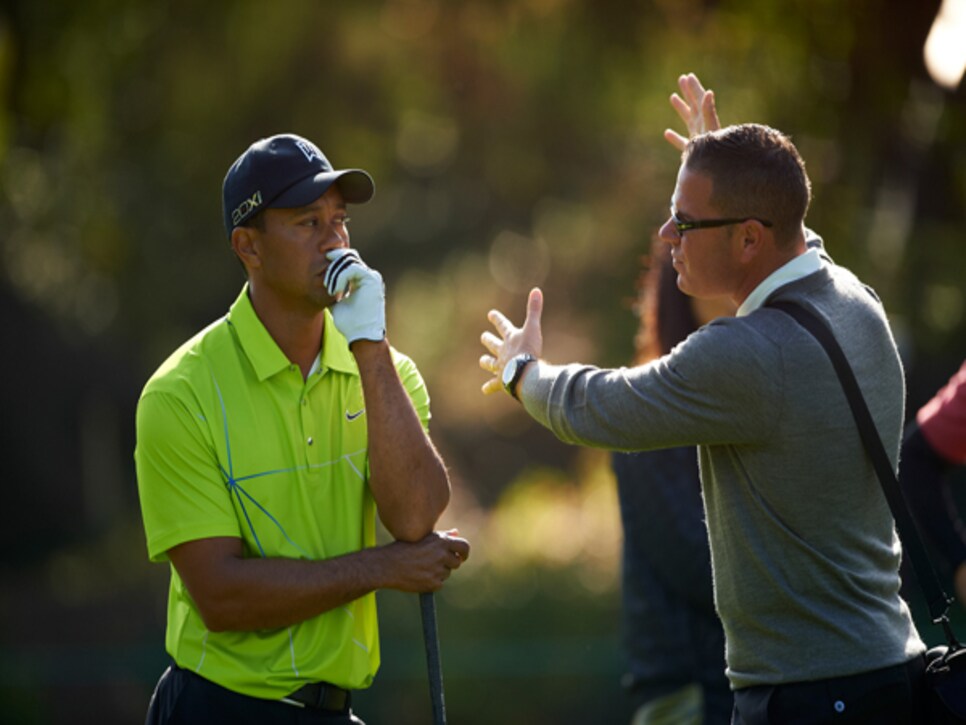 Chamblee may be Foley and Tiger's most vocal critic, but Hank Haney remains just off stage in the wings. "When you look at the statistics, there are some holes in Tiger's game," Haney says. "Controlling his distance is clearly an issue. His sand game is relatively weaker. He hit more fairways last year than the year before, but he did it at the expense of distance, hitting more irons and 3-woods off the tee. More importantly, he is missing the occasional short putt that he never seemed to miss before," adds Haney, a big believer in "you are what your record says you are.
"The record says in the last three years Tiger's won three tournaments," notes Haney. "He may win 12 more tournaments and five of them may be majors, but that's unlikely. Tiger needs to start winning lots of tournaments like he used to, and the majors will come."
As tough as winning is, tilting at milestones is tougher. "Every year gets more important," says Haney. "Jack won his last majors in what was essentially a historical vacuum. That is a totally different dynamic than trying to catch someone's total. The next major Tiger wins is going to be the easiest. The one to tie and then the one to beat Nicklaus' record, those would be the toughest ones."
Woods' 2012 statistics are instructive. He was sixth in total driving and largely top 10 from outside 150 yards. By year's end his scrambling had improved too. "I'm chipping and putting better," Woods said at the Tour Championship. "I'm going for the same amount of par 5s, but my short game's better, hence my conversion has been a lot better, basically from the British Open on." But, in greens in regulation from 75-100 yards he was 140th; just 100th from 100-125; and 111th from 125-150. Controlling the distance with his wedges, eliminating "the shockers," as Foley calls them, that flew 10 or 20 yards straight over the pin and that Woods alluded to on an open mic during his China exhibition with McIlroy -- "I've been hitting my short irons so [expletive] far," he said -- is priority No. 1 for 2013, something they believe can be addressed mostly in Woods' setup.
Unlike Chamblee, Butch Harmon doesn't see Woods trapped in a box canyon. "I think he's come a long ways," says the man who oversaw the first overhaul after the '97 Masters. "He's still a little one-dimensional. I think he feels more comfortable with the changes that he's made, which will give him confidence, which is the main thing, really. I think he's there. He hasn't played as well as he would like to on the weekends after he put himself in position, but I think that's coming. It's looking pretty good, to be honest with you."
After watching Woods warm up on the practice ground at East Lake, NBC's Johnny Miller turned away and said, "If he improves at all, he'll be right back where he was."
Knowing where he is, would Woods himself have taken that deal when he and Foley hooked up on the practice ground at Whistling Straits in 2010? "No," says Tiger, "because I would hope that I could be healthier than I have been through those three years. At the time I didn't think that I would have the trouble I did. We didn't really do much work for the first year and half."
Outside the drama of Woods' fall from grace, the most consistent criticism of the player is that he's the only one of golf's hypergiants who didn't "own" his swing. But, if nothing else, he's rented three pretty good ones. With no disrespect to Foley or the rest of the instructors who've comprised Tiger's fraternity of wizards, his golf talent may just be so immense that even if Rube Goldberg had been his swing coach, he'd figure a way to make it work. He's at 14 majors today, and there probably isn't a teacher in America who could have kept him from winning 12.
Perhaps the loss to Y.E. Yang in the 2009 PGA Championship at Hazeltine signaled the arc of Woods' career had reached a natural plateau. The putts that once had eyes only for the cup began looking elsewhere. "We all know it only gets tougher as we get older," says Mark O'Meara, once Woods' Isleworth buddy who found rejuvenation in his own career playing with a youthful Tiger. In his book My Story, written with Ken Bowden, Nicklaus says 1978 (when he was a year older than Woods is now) marked the end of his ability to win on talent alone and that 1980 was the last season he could consider himself the man to beat. Reflecting on that passage now, Jack says, "I can say that during my career I never, ever walked on the first tee and thought I was the man to beat. I always felt like I had to go play my best when I played. While if I had some talent, if I misused that talent, it wouldn't come out and it wouldn't produce anything. In 1979, when I was 39, I had a terrible year. I lost a lot of my ability to do what I wanted to do. Between the 1979 and '80 seasons, I took close to six months off. When I started back with Jack Grout, I wanted to make sure that I had most of my bad habits out of the way. I started over and we made some changes. I had a breakout at Baltusrol and that continued through Oak Hill at the PGA Championship. After that, for some reason, I lost a lot of my desire to go to work. Why, I don't know. I still liked to play golf, I still wanted to compete, but I wasn't willing to spend the time necessary."
Though one suspects they downplayed their own sense of dominance, Woods echoes Nicklaus. "That's what people fail to realize," he says. "It was not over just because I pulled in the parking lot. Just because I show up doesn't mean they're going to give me the trophy. I had to go earn it. It's still the same thing now, I have to go and out-perform everybody." But, does this Tiger, in his late 30s, still have that desire to go to work? Nicklaus liked to play to a target score on Sunday. Whether he is the man to beat anymore or not, Woods is playing to a target career, both a powerful motivation and a heavy burden.
"I think it's a big year for him," says O'Meara. "Every year that goes by is one less opportunity, and he's not getting younger and the other players are getting better. It puts more pressure on him, but that guy's played under immense pressure and has proven himself. He loves challenges. That's what he lives for."
Getting the ball in play off the tee more consistently, the first goal of Foley and Woods, should help at Augusta National, along with the increased attention he has shifted to his short game as the long game has solidified. When the U.S. Open turns to the thick rough at diminutive Merion, who will find more fairways with long irons than Woods, the very strategy he was pilloried for at Royal Lytham? After the Scottish gale he endured on the wrong side of the draw in the '02 British Open, perhaps Muirfield owes him an even break this time. Oak Hill, the scene of Jack's next to last act, is the outlier, long and hard and a mystery to Woods 10 years ago. Is 2013 a major must-win? As Marv Levy, the Harvard-educated coach of the Buffalo Bills, said before losing one of four Super Bowls, "This is not a must-win. World War II was a must-win."
Maybe last season's missing piece was just "reps," as Woods is fond of saying, or a less creative game, as Chamblee contends, or the natural fading of talent over time or something still deeper. Thomas Jefferson, the author of the Declaration of Independence at 33, had a disastrous term as governor of Virginia in his late 30s, leading to public opprobrium. While there is no equivalency between being chased around by the British army and being run out of a marriage, rehabilitation and atonement aren't much different in the 21st century than they were in the 18th. As Jon Meachem writes in Thomas Jefferson: The Art of Power, "Jefferson was forced to make his peace with the bitterness of his recent experience. He had to come to terms with the reality that he was no longer an immaculately golden public figure. Unless he convinced himself that no great life was without its mishaps and its mistakes, he would not be able to return to the arena."
Nicklaus has some relevant thoughts about trying to regain form after being away from competition. In Golf & Life: Jack Nicklaus with Dr. John Tickell, Nicklaus says, "When you have been out of golf for a while, and you've gone through some sort of trauma -- as I experienced with my hip surgery -- you've got to relearn, mentally, how to play again. And when you haven't shot decent numbers for a while, it's hard to get a round going and keep it going. It's also hard to do the things you need to do because you're just not used to it -- you don't remember how to do it.
"That's not nerves. It's nerve. You have to regain your nerve, and that's hard to do. It's being able to stand there, look at that flag, stare it down and shoot at it. Sometimes it takes a little bit more nerve to do than before, when it was second nature."
Woods' friend, Notah Begay III, has seen the evolution closer than most. "If you just chart the progression on a standard timeline from when he had his off-course distractions, the whole scandal, and you just look at the performance -- he was trying to make a swing change, he was trying to restructure his personal life -- that's a lot to balance," says Begay. "The first year, pretty poor. Now, he can regularly compete for the No. 1 position in the world and not have to improve that much more. Golf's a very emotional sport. You can't overcome emotional or mental deficiencies with physical talent."
While some now see Woods as a longshot to pass Nicklaus, who believes he won't win another major? Patched on the inside and out, in that instant Woods will have overcome the hangover of his humiliation to reclaim the stage and in the process earn that measure of redemption success is sure to provide. Hogan got hit by a bus and it couldn't stop him from being Hogan. Woods got run over by a different kind of trouble, the trauma demonstrable. Now comes what may be the most fascinating stretch of a wondrous career, the reintegration, underpinned by the pursuit of Nicklaus' major record and the radioactive pressure it is sure to emit the closer it gets; while trying to be a better father to his first family than his own father, Earl, was to his; competing against players, one in particular, who no longer fear his destiny, on a left leg as fragile as a stalk of sea oats.
Woods is aware there are hot dog-throwing moralists who may never find forgiveness in their hearts for him. Winning another major championship, or five, isn't the great eraser, but it would be a powerful salve. America is the land of second chances. If Woods can convince himself he's still big enough for the big moments, the world won't be far behind.
Woods Will Pass Snead, Not The Bear
The dominant theme of Tiger Woods' career has been his pursuit of Jack Nicklaus' record of 18 majors. The under-the-radar story has been his pursuit of Sam Snead's record of 82 PGA Tour victories.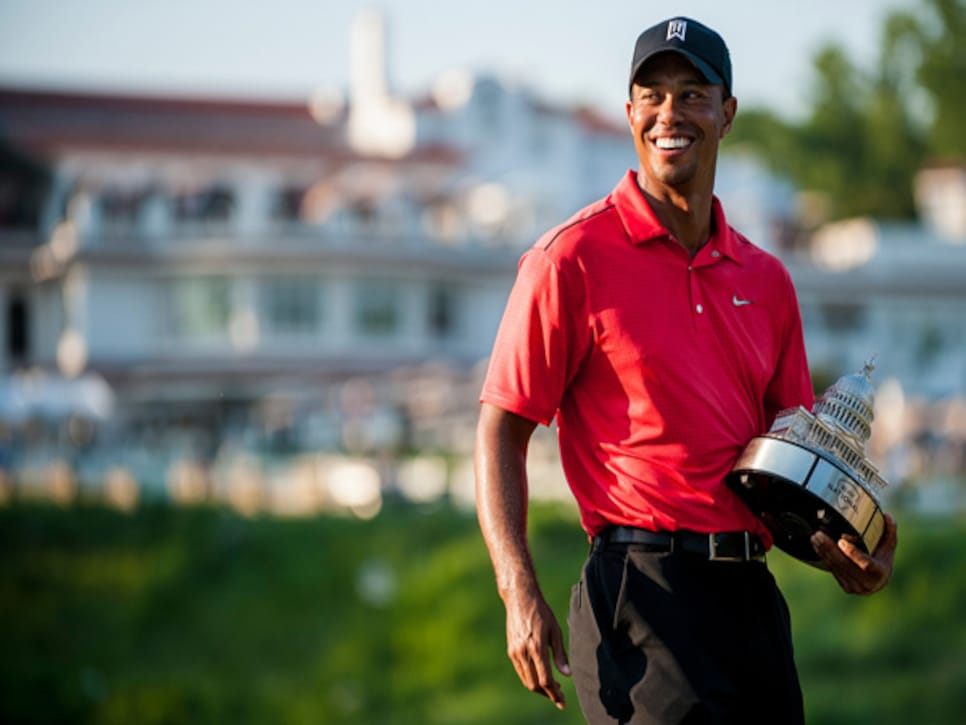 Once a near lock to pass Nicklaus in majors, Woods' prospects have dimmed considerably after holding at 14 through 2009-12. He did pass Nicklaus' victory total with three wins in 2012, giving him 74 and bringing Snead well in sight.
Predicting whether Woods will ultimately reign as the all-time major king is golf's most popular parlor game. Subjective opinions abound, but we have taken a grounded approach by projecting Woods' final win total based on what other elite players have achieved before and after their 37th birthday (Woods hit that mark Dec. 30). The result? Woods is most likely to end his career with 17 majors, one short of Jack, but is on track to blow past Snead for a total of 94 victories.
For career wins we looked at all post-World War II players who won at least 12 times before turning 37, not including those who retired early or are currently younger than 45. That gives us a pool of 17 players who performed at a high level over the first part of their careers, accounting for 389 total victories. After turning 37, those players won 103 tournaments. Thus, the average elite player accounts for 79.1 percent of his victories before turning 37. For Woods, that would mean adding 20 victories (rounded up from 19.6) for a total of 94.
For majors, we looked at all post-World War II players who won at least four Grand Slam events by their 37th birthday. That's seven players who accounted for 50 titles before 37 and nine after, 84.7 percent of their majors coming before they turned 37. Following that trajectory would give Woods 16.5 majors. It could be argued that the sample size of major winners is too small, and we should use the same victory percentage we used for total wins. That would give Woods 17.7, so let's split the difference and call it 17.
Of course, 94 and 17 are merely the most probable final numbers. But this analysis shows that Snead's record is likely to fall while there's a less than 50 percent chance that Nicklaus' mark will. If that's seen as "failure," Woods has himself partially to blame for setting 18 as his main target. But becoming the PGA Tour's all-time winningest player would be a nice consolation prize.
Note: The elephant in the room on the predictions is whether the post-2009 Woods is a completely different player, mentally (post-scandal) and physically (various injuries) than the earlier version. These projections take such matters into account to a certain extent. Woods' recent decline is a factor on the front end because his pre-37 numbers are lower than they would have been given his less productive recent seasons of 2010 and 2011. And the possibility of steep decline is factored in on the back end by including such players as Curtis Strange (no wins after age 37) in the averages.
But if you're in the camp that the end of 2009 represents a complete breaking point, you would revise these projections downward. On the other hand, if you feel the winless seasons of 2010 and 2011 were an anomaly, you would revise them upward. -- David Barrett
Stats Don't Scream 'Tiger's Back'
During an exhibition duel in China last October, a miked-up Tiger Woods was heard admitting to Rory McIlroy that he was having trouble with distance control on his short irons. ShotLink stats indeed show that iron play from less than 150 yards was a weak point in 2012. Woods had an average ranking of 96th in proximity to the hole and greens in regulation in the various 25-yard increments from 75 to 150 yards; from 150 to 225 yards his average ranking was fifth.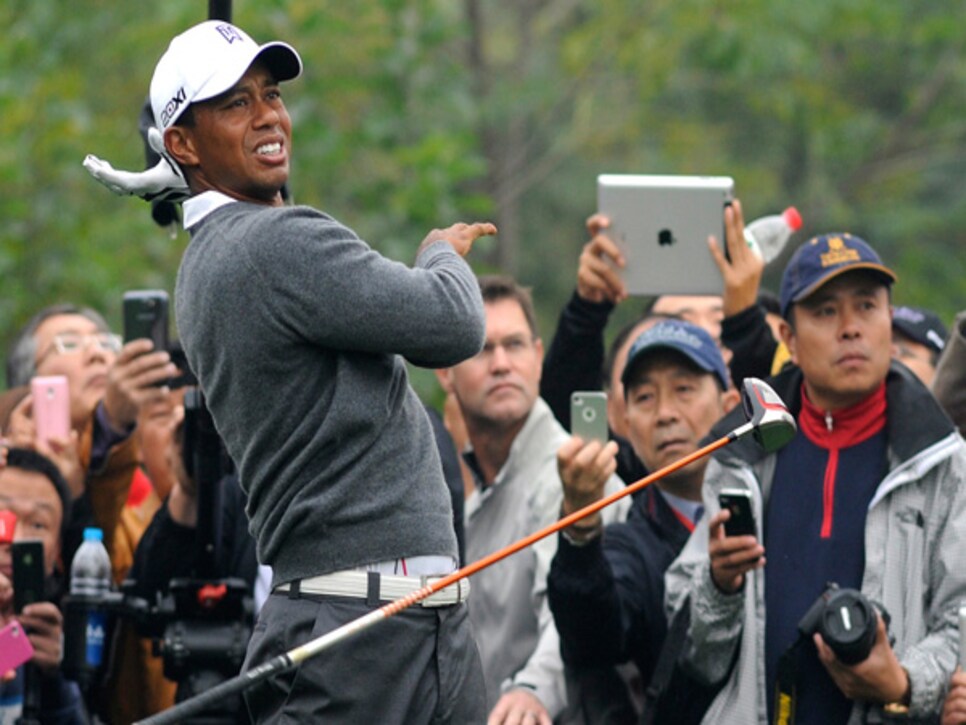 The areas where Woods showed great improvement in his three-win 2012 season were hitting fairways (55th in 2012, after an average of 175th the previous two years) and scrambling (fourth in percentage of par saves after averaging a shockingly poor 154th in 2010-11.) That helped him to rank third in avoiding bogeys, while driving in the fairway enabled him to pick up easy birdies by going for the green more often on reachable par 5s.
But the stats show that Woods hasn't eliminated the big miss. He ranked 148th in distance from the edge of the fairway on drives in the rough, not much of an improvement from 2010-11. And his proximity to the hole ranking on approach shots from the rough was much worse than from the fairway, an indication that he was often in bad spots.
Meanwhile, Woods is not the explosive player he was when younger. At age 36 in 2012, he ranked 32nd in driving distance and 21st in how often he went for it on reachable holes, so he's not overpowering courses to the extent of the Bubba Watsons and McIlroys of today's tour. Similarly, Woods is now a good putter, ranking 35th in strokes gained-putting, where once he was a great one, ranking first cumulatively from 2004 to 2009. Those factors make it harder for Woods to dominate even as he puts together a good year like 2012.
The biggest disappointment for Woods in 2012 was undoubtedly his play on the weekend. While ranking third and second in scoring averages for rounds 1 and 2 (69.33 and 69.28), he ranked 45th and 32nd for rounds 3 and 4 (70.25 and 70.40). The tour keeps a stat for the percentage of times a player improves or maintains his position in the final round; Woods had never ranked worse than 11th in his career while leading the stat seven times. In 2012 he ranked 94th at 53.3 percent. Most noticeably, Woods went backward at the U.S. Open and PGA Championship after sharing the 36-hole lead and averaged 72.88 in his weekend rounds at the majors. Woods' victory totals in 2013 and beyond will depend not only on solving his short-iron problems but regaining his ability to deliver the knockout punch on Sunday. -- D.B.