News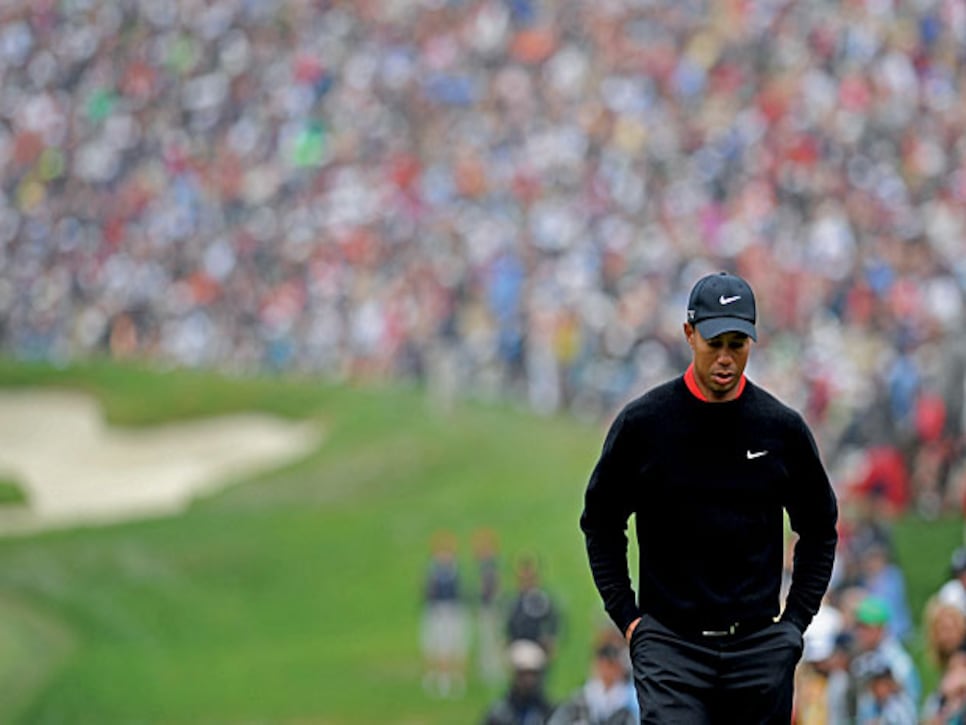 A Man And His Thoughts: Woods' poor start Sunday coupled with a shaky finish Saturday combined for a eight-over, nine-hole stretch.
A man in the gallery wearing a tiger costume Sunday at the Olympic Club recalled an earlier time. During Tiger Woods' first turn at the top, a decade or so ago, there were often fans in such outfits cheering on the golfer who all but performed wearing a red cape. The get-ups then drew a smile from the sport's dominant big cat, but en route from the fifth green to the sixth tee during the final round of the 112th U.S. Open, Woods, grim-faced, didn't look up or break stride as he walked within an arm's length of the ardent supporter.
It was no wonder Woods ignored the faux feline, because at that juncture -- five over for the day and a stunningly distant 10 strokes out of the lead he had shared through 36 holes -- his play was a shadow of the excellence that originally inspired this mania. He would bogey No. 6 too, scrambling for a 5 after his double-crossed drive was so far left it nearly finished in the adjacent 11th fairway. Going back to a desultory finishing trio of holes the previous afternoon, Woods was eight over for his last nine holes.
Woods stabilized his scorecard the rest of the final round, going three under for the final 12 holes, but that was akin to boarding up windows after a hurricane. The damage had been done. A 71-71 (two over) weekend would have gotten Woods into a playoff with winner Webb Simpson, but the 36-year-old shot 75-73, his worst closing 36 holes in the U.S. Open since 2004. The third round was particularly costly to Tiger, given that 13 players broke par, there were only eight scores higher than his and that he has never won a major when trailing after 54 holes.
His T-21 finish at 287 marked the 12th major championship Woods has played without a victory -- he also missed four others in that span because of injury -- since capturing his 14th professional major title at the 2008 U.S. Open. It is the longest lull of his career and equals the most lengthy such pause of Jack Nicklaus' prime, which occurred between the 1967 U.S. Open and 1970 British Open.
Eclipsing Nicklaus' 18 major wins is Woods' professional raison d'être, and when he won the Memorial two weeks before the Open with commanding ball-striking and the kind of mojo moment -- a stupendous birdie flop shot on the 70th hole -- that typified his best days, he looked poised to narrow the major deficit for a couple of reasons.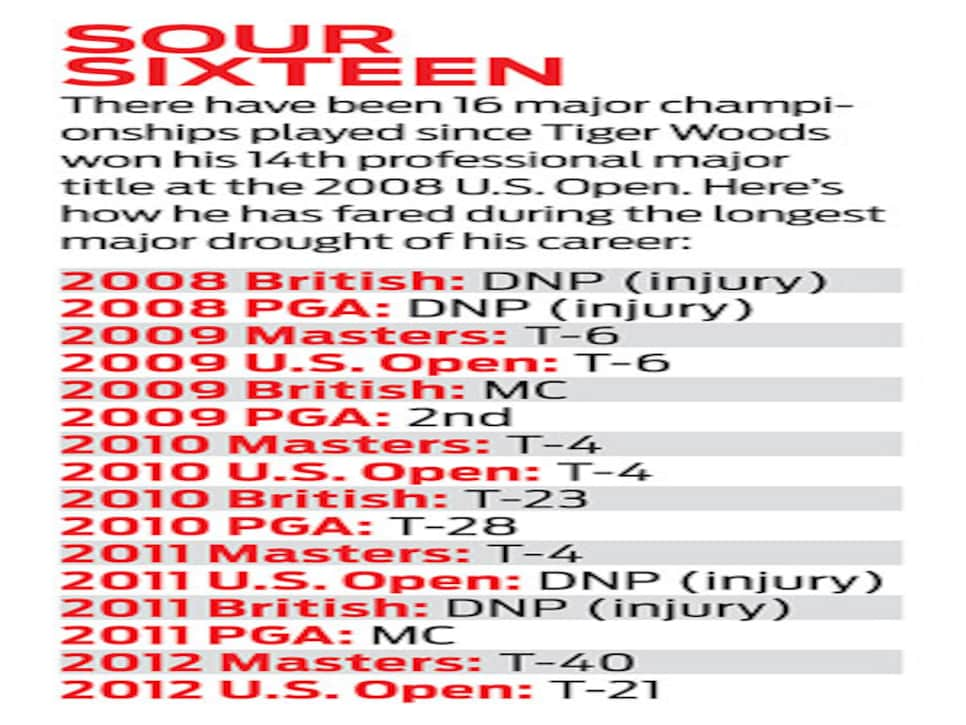 The Sean Foley-taught swing seems to have been absorbed, making Woods less mechanical and more reflexive and athletic in competition. John Novosel, the co-author of Tour Tempo and Tour Tempo 2, maintains that tour pros play best when their backswings consistently take three times as long as their downswings. As Novosel's collaborator, John Garrity, wrote on golf.com during the U.S. Open, a dozen years ago Woods' tempo was remarkably consistent; the past few years, as he tweaked his swing, it often has varied -- he had disparate tempo ratios during the 2012 Masters, where he was T-40. At Memorial and during the first two days at Olympic, Novosel observed through video-frame measurement that Woods' tempo once again had the three-to-one ideal. (Woods' swing is slightly faster than in 2000, but to Novosel the ratio, not the speed, is what really matters.)
Woods professed pre-tournament fondness for the firm, rigorous conditions at Olympic. "When the golf course gets harder and faster, it is certainly something I like," he said. "I've always enjoyed [it] when the golf course got a little more difficult and became more fun because you had to control more things within you."
Up to that challenge on Thursday, Woods crafted a precise 69 to wax the other members of his glossy grouping, Phil Mickelson (76) and Bubba Watson (78). "That was beautiful to watch," Watson said of Woods, who hit 10 fairways (often using long irons) and 11 greens. "Every shot, he shaped it the way he wanted to shape it." Woods validated his 69 with a second-round 70 that, given a swirling breeze and an even firmer Lake course, was every bit as pleasing to him. "It's one thing to game plan," Woods said, "but you also have to execute the game plan."
The shotmaking, however, didn't measure up to the strategy on Saturday. Despite a comfortable pairing with friend Jim Furyk, Woods played raggedly, his shots off just enough to cause him peril. He three-putted No. 8 to go four over for the day. Woods later bemoaned being between clubs on a lot of approaches. "Just never quite had the right number," he said. Novosel noticed Woods' tempo ratio varying later in the round, which ended ignominiously with a stubbed chip shot from a sticky lie that yielded a bogey on No. 18.
"You just need to hang around," Woods said, appraising his final-round prospects given that he trailed Furyk and Graeme McDowell by five. "First, you need to get off to a good start. Get through the first six."
On a gray, sweater-weather day when a sea mist blew over the course, Woods couldn't get through No. 1 without being nicked by a bogey after his 3-wood tee shot caught the right rough. "Tough road ahead, Tiger, but if anybody can do it, you can," said an encouraging spectator near the second tee. But there was a bogey at the second and a double at the third. Tee shots narrowly missed the fairway, putts grazed the lip. Woods was soon resigned to playing for pride instead of the gold medal newly named for Nicklaus. "This golf course is just so demanding that [being] a fraction off, you pay a price," Woods said.
Publicly, Woods saw positives in the balance sheet for his week, that his bad shots weren't that bad. "I was still in the ballgame," he said. "A lot of positives to be taken away from this week, a lot positives."
There weren't, in fact, that many outright stinkers on a track with tiny margins for error. His mistakes, though, from Saturday onward, were egregious enough. Too often his misses, however mild, were in the wrong places. That makes scrambling more difficult. He was a woeful 2-for-11 in sand saves. It could be that Woods again possesses the requisite pieces of the major-championship puzzle, but an ultimately frustrating week in San Francisco reiterated that he cannot access them the way he once did, for 72 holes and with a walk-the-walk resolve that used to awe foes and observers alike.
By a self-motivated edict to be the greatest player ever, the majors are what matter most to Tiger the golfer. At the big moments in the biggest tournaments, he seemed to have an invisible shield deflecting the pressure that debilitates lesser players. This was a rare and special thing, an extraordinary talent, easier to feel than to measure, the blueprint for the oversize trophy case.
There once seemed to be no ceiling on, nor expiration date for, Woods' uncanny knack to seize the jugular. That is the case no longer. Only a fool would say Tiger can't rediscover his surety in the majors, and with it success in them, but he hasn't yet. The trajectory of a golfer, this golfer, won't necessarily hinge on the height of his shots.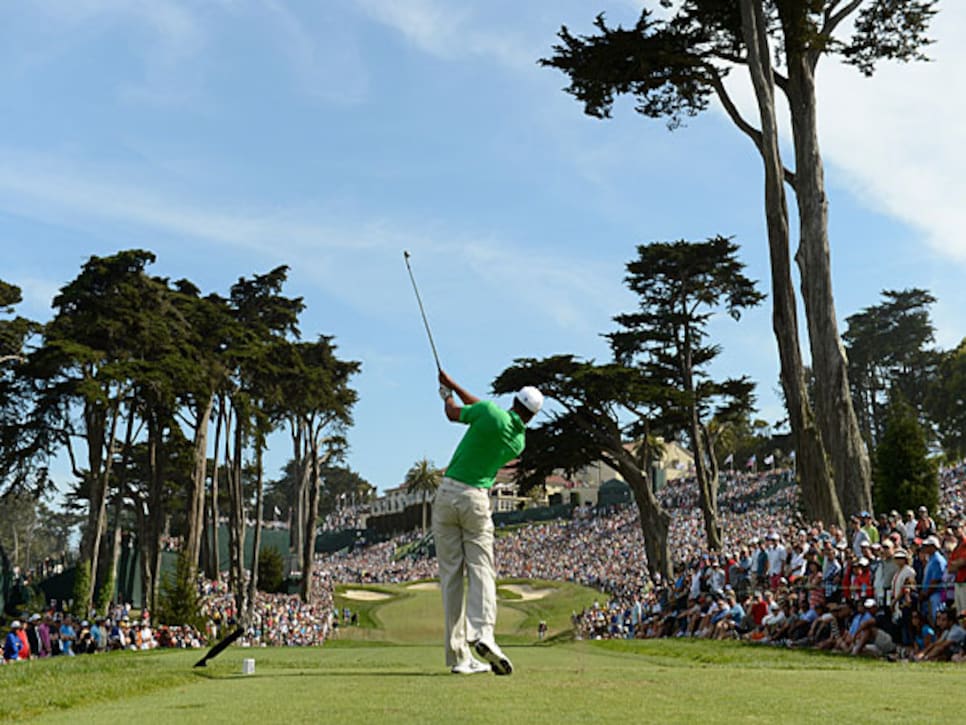 Woods, a 36-hole co-leader, slid to a 75 and a share of 14th after Saturday's round. Photo by J.D. Cuban