News
Final Say: Thousands Of Miles From Home, Tiger Gets A Significant Welcome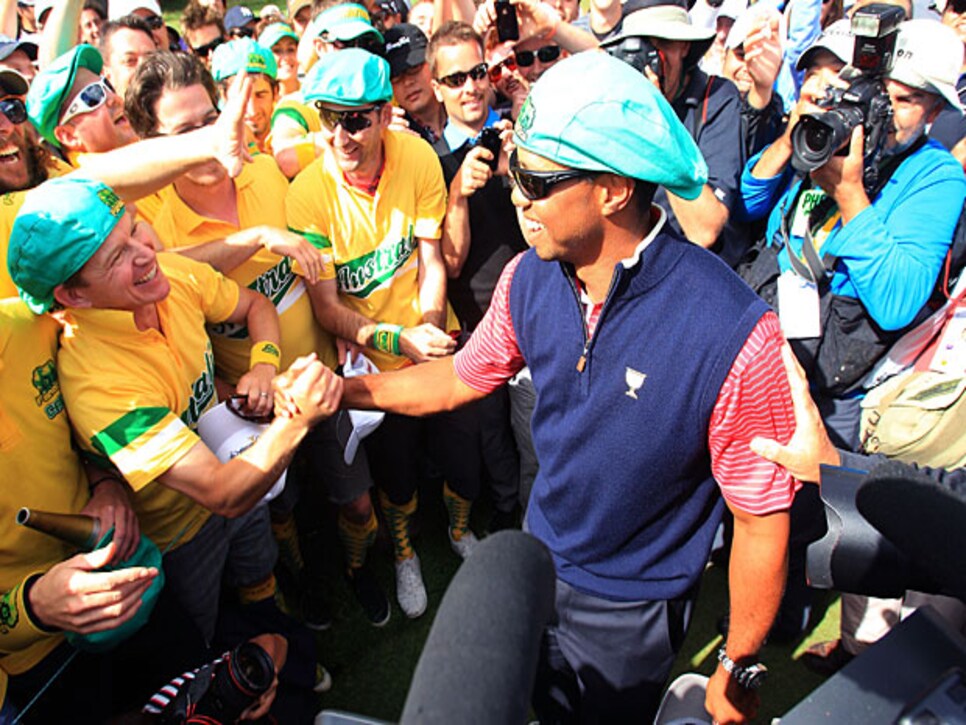 Woods hangs out with local fans after clinching the Presidents Cup for the U.S.
It was a good week for Tiger Woods -- the man even more than the golfer. No question Woods -- despite his 2-3 record -- played well at the Presidents Cup. He was in rhythm and on balance. He picked up his tee quickly. In the Sunday singles he made big putts. He looked familiar again.
But the fuss over his game -- and the overemphasis on his getting the winning point -- said more about us than it did about him. "He looks like the year 2000," gushed Johnny Miller, the same commentator who a few months ago compared Woods' downfall to Mike Tyson's. The people want him back, and even haters miss the brilliance that no one -- not even Rory McIlroy -- appears capable of replacing. The post-Tiger Era may be here, but we're still not ready for it.
Woods was supposedly under a lot of pressure to prove his worth as Fred Couples' seemingly hasty captain's pick, but his week at Royal Melbourne was actually a nice setup. Team competition and match play both provided a bit of a safety net, especially because it wasn't the more pressure-packed Ryder Cup. The Royal Melbourne Composite course may have been a beast, but it played to Woods' strength. For all the hosannas raised to the Alister Mackenzie masterpiece, at less than 7,000 yards, to hold up, it had to be tricked up. Only carefully crafted and supremely struck iron shots were well received by the rock-hard and crazy-fast greens, and Woods can still hit more of those than anyone. What the layout didn't require was the driver, and that's the club that will tell where Woods really is with his swing. Finally, Woods got a relatively easy singles draw against Aaron Baddeley, who was shaky after his Calcavecchian miss off the 18th tee on the opening day set a negative tone for his team.
In short, we still don't know if Tiger will really be back. But Australia gave us some strong evidence that he is finally feeling accepted.
Woods' comeback from his humiliating scandal has been mostly marked by strained smiles, forced pleasantries, a lot of avoidance and very little good play. All this time while he has been talking about "finally" getting reps and "finally" getting healthy, the real issue has been finally getting out of his own way.
In his intuitive way Couples knew this. He boldly picked Woods early to inspire him to work hard, but also to get him in a relaxed, supportive and fun environment among his peers. Couples is Woods' friend, but more than anything, he is a fan of athletic genius. He believes in Woods' greatness, and he wants to see it restored. In essence, he forced Tiger to be close to other people, a circumstance Woods normally resists, but which, judging from his gratitude for being picked, he knows he needs. My guess is that, even if the U.S. had lost, Couples would have felt the greater good was served.
If this touchy-feely theory seems farfetched, I give you Woods' forceful embrace of Couples at the end of the matches. On the Tiger hug list, I put it third behind Earl's at Augusta in 1997 and Steve Williams' at Hoylake in 2006.
I wasn't in Melbourne, but it seemed from the televised shots that the other Americans picked up on Couples' purpose. Although they are acutely aware a resurgent Tiger will again beat them like a drum, in a team format -- and in a sport with a generous spirit -- Woods became the fallen comrade who can't be left behind. From Webb Simpson to Phil Mickelson, the bro' shakes exchanged with Woods were stronger and warmer, the eye contact more prolonged.
Woods' liberation could also be measured by his interaction with the Australian fans. Their reception was so unqualifiedly positive, Tiger let them slap him on the back between holes, bodyguards be damned. He joined his teammates in celebrating with the goofy Fanatics, and even put on that funny green cap.
It was this multitiered welcome back -- more than reps or rehab -- that got rid of the white noise in Tiger's head. Of course, Woods never went soft and let on about the real reasons he played well. He kept it all golf, allowing that he got a helpful putting tip from Steve Stricker. The wall is still up.
But what this Presidents Cup showed is that his progress is directly tied to how much he lets it down.