News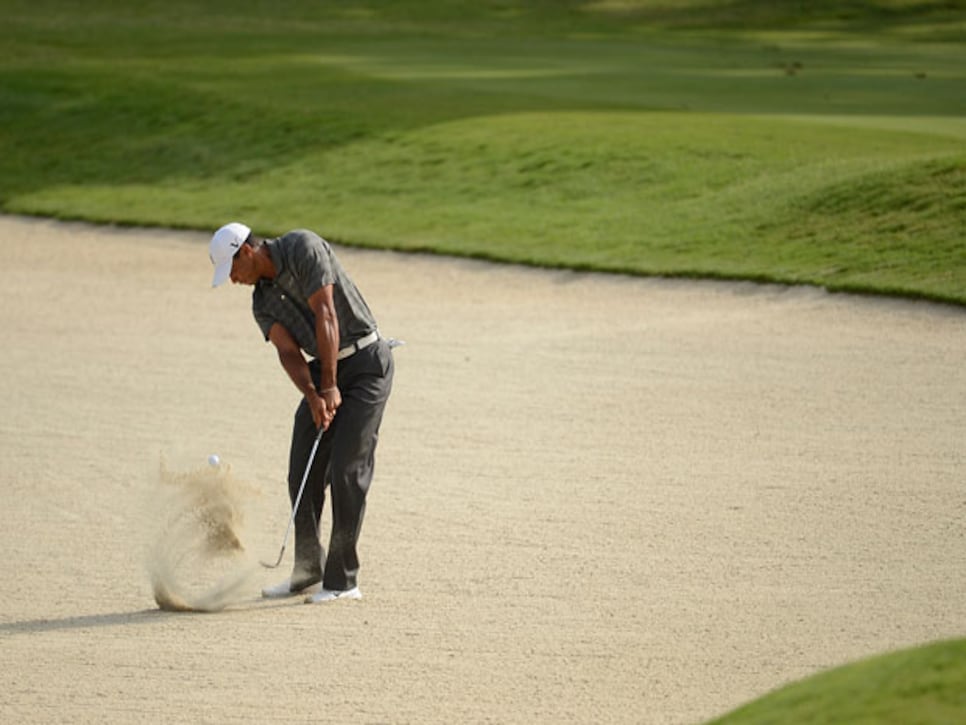 Scramblin' Man: Woods' recent inability to execute means he often finds himself out of position.
Throughout the game's long history, the very best golfers have enjoyed at least one easily identifiable advantage over even their closest competition. Bobby Jones won the Grand Slam with the clarity of his mind and a peerless ability to make putts that absolutely had to be made. Ben Hogan all but eliminated the left side of every hole by building the most technically efficient swing the game has known. Jack Nicklaus hit the ball farther and putted better than all of his contemporaries, a notably potent combination. No one conjured three shots into two with more style and regularity than Seve Ballesteros. And Tiger Woods, with the added bonus that he could work shots both ways at will, did all of the above at a level never before seen in one man.
Sad to say, Tiger's edge is all but gone. And it doesn't look as if it is coming back anytime soon, not on the evidence of four days touring the Stadium course at TPC Sawgrass in a decidedly mediocre one under par. Even if, as ever, he protested that all is well.
"I didn't really hit any bad shots," he said of an outward 40 on the final day.
"I played well today," was his comment on a third-round 72.
"Just one of those days," was as close as he came to embracing reality after an opening 74.
But the evidence -- both empirical and anecdotal -- is heavily weighted against such claims. Woods lies a lowly T-117 in the "approach shots from 75-100 yards" category, one of the highest priority "scoring" areas on any course. And he sits T-76 in "distance from edge of fairway" off the tee. In other words, his driving, a perennial problem under swing coaches Butch Harmon, Hank Haney and now Sean Foley, is a clear factor in a shockingly feeble three-tournament run that has produced a T-40, a missed cut and another T-40 since the apparently false dawn that was his seventh win at the Arnold Palmer Invitational.
An era of parity is upon us, the proof again in the numbers. In 2011 no one won more than twice on the PGA Tour. And this year the 21 events played have been won by 20 different players. Woods was one of those victors, of course, which only adds to the argument that the 14-time major champion is now no more than just another good player trying to execute pretty much the same game plan as everyone else on tour.
One of the keys to Woods' past successes was the wide range of shots -- combined with an almost uncanny distance control -- in his repertoire. With high and low, draw and fade, in the bag, he was blessed with a clear statistical advantage to any pin position. Only very rarely did the now 36-year-old Californian miss his target in a place that all but precluded the recovery of par.
Indeed, Tiger's miss has become a mystery. Long, short, left and right are all possibilities as he settles into what even the most inexperienced golf-watcher will surely recognize as an awkward and uncomfortable-looking address position. Over the course of his 15th Players Championship, no easily repeatable formula for consistent success was readily apparent in almost any aspect of Woods' game. Only in his playing of the shortest shots, those more about touch, feel and imagination than pure technique, did the striping Tiger of old appear. Forced to live on his wits rather than feed off the words of another bouncing around in his brain, he generally prospered.
That is scant consolation, however. All the way through his 14-club set, Woods' waywardness is an issue. Throw in the fidgeting indecision so often in evidence at Sawgrass and what Haney euphemistically -- and lucratively -- labeled the "big miss" becomes exponentially more likely.
It might be a wildly inaccurate drive that bequeaths him no chance of reaching the green in regulation. It could be a short-sided approach that precludes almost all possibility of saving par, even with his still reasonably sharp short game as backup. "Blowing" balls as much as 15 yards over greens from even the cleanest of fairway lies is currently another distinct possibility.
Whatever, the so-called big miss invariably and inevitably leads to a dropped shot or shots, depending on the severity of the situation or, as was the case so often at Sawgrass, the close proximity of the cup to the edge of the putting surface. When that is the case, the safest strategy is to start the ball at the middle of the green and work it back to the pin. Such a tactic reduces the chances of "short-siding" and, in turn, increases the number of subsequent birdie opportunities. Once upon a time not so very long ago, that was the way Tiger Woods played golf.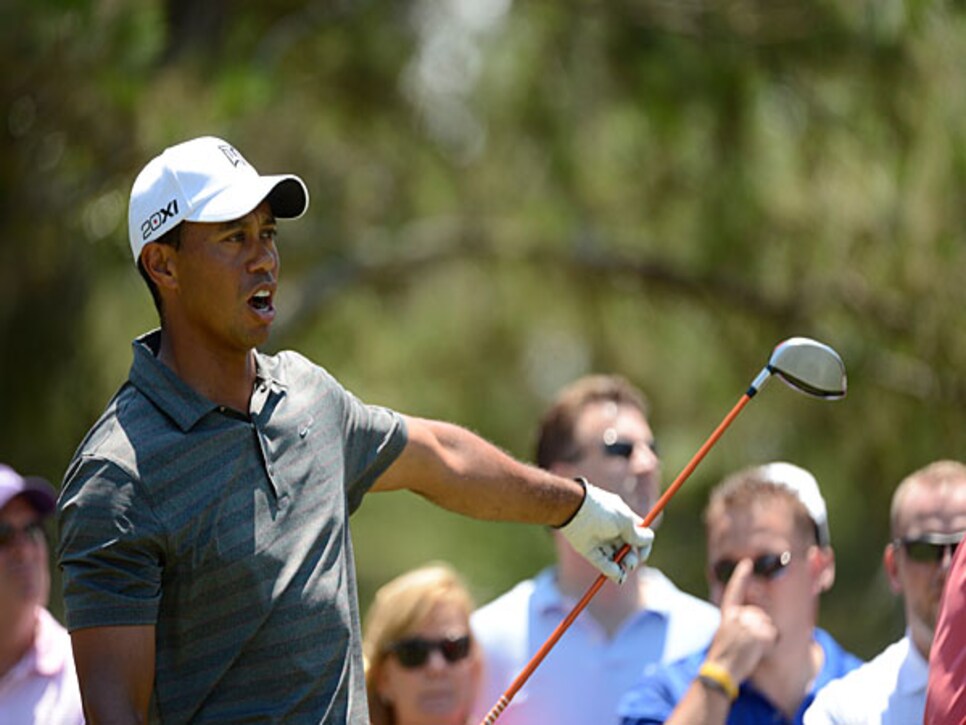 Wild Thing: Woods' problems with the driver make following his Bay Hill victory a challenge.
Add up all of the above, and Tiger's edge is no more.
• No longer is he longer off the tee than everyone else.
• He doesn't have as many shots to work with, so short-siding himself is more of an issue.
• His wayward driving -- on the few occasions when he does pull the longest club from his bag -- is another pressing matter rooted more in mental anxiety than poor technique. But, whatever the base cause, Woods is missing fairways in unpredictable spots and wasting multiple shots.
• His distance control is erratic at best.
And, here's the worst part: His putting, compared with its pomp back around the turn of the century, has fallen off. Take the important range of putts from four to eight feet: In his last season before the scandal, 2009, Woods led the PGA Tour in that category by making 78.61 percent of his attempts. From 2010 onward, however, he is holing only 69.6 percent from that distance.
Even the spectators -- those who have remained loyal through his personal and professional decline over the last two-and-a-half years -- are becoming less respectful. On day three at Sawgrass, two holes after playing companion Keegan Bradley was greeted by a yell of, "You're so sexy, Keegan," Woods' drive was followed by "Don't worry about your [receding] hair Tiger."
Still, some perspective is required. Such unremitting negativity does not mean we are talking about a man struggling to retain his card, never mind win on tour. This is a game deteriorating from an Everest-like peak. So, although the previous near-perfection has been lost, perhaps forever, utter futility is a ways off.
Woods remains a golfer capable of winning any tournament and maybe even adding to that long-static 14-major tally. But his biological clock is ticking ever louder, especially on the greens. Not many players in their late 30s find themselves improving with a putter in their hands. And this is a man who, lest we forget, has won only one "real" tournament in the last two years. At best, the Foley experiment remains a work in progress; at worst, it is merely the latest stage in the inexorable decline of the greatest golfer the world has yet seen.
Let's all root for the former.