News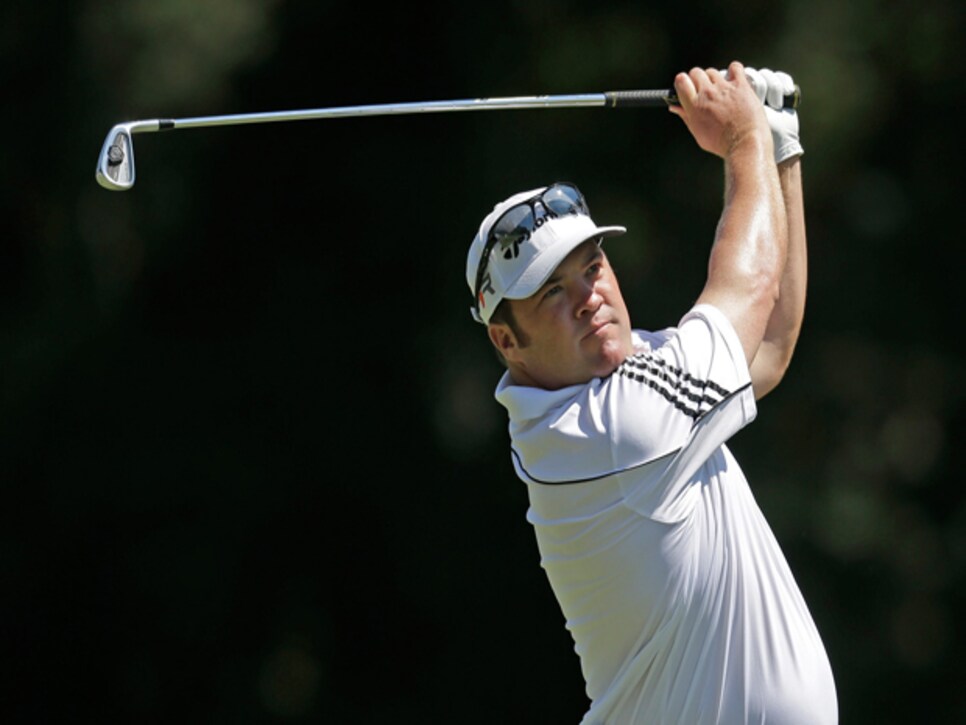 Keegan Bradley was back on Long Island over the weekend, visiting friends he made while playing golf for St. John's. His warm-up for this week's opening FedEx Cup Playoffs event at Liberty National GC in New Jersey was a round with former teammate Joe Yastrub at Wheatley Hills GC, where the tour pro once worked the bag room. For the New Englander, returning for the Barclays was like old home week.
Playing with Yastrub reminded Bradley of the days when he lived between the Grand Central Parkway and the Union Turnpike, and the type of golf culture that created. "St. John's gets the same type of player, a scrappy, blue-collar style fighter," Bradley said. "That's the reason why you see success with these guys. They take on that Queens type of attitude. These are not your typical country-club kids from the South. These are guys who picked the range, worked hard and loved the game. It's almost like a brotherhood. We all stick together."
Mike Sullivan, 50, is the big brother of the St. John's program. When I met him for dinner at this year's PGA Merchandise Show in Orlando, Sullivan couldn't have been prouder of the two golf bags with St. John's logos at the previous week's Sony Open in Hawaii. Bradley and Andrew Svoboda were both exempt for the 2013 season, giving a school synonymous with Lou Carnesecca and college basketball as many players on the PGA Tour as in the NBA.
If it weren't for Sullivan, the current club president at Garden City (N.Y.) CC and treasurer of the Metropolitan Golf Association, the program that produced the 2011 PGA champion, and arguably the school's second most famous athlete (behind Chris Mullin) never would've existed. "The program was dead," Sullivan said. "But I had a moment where I could make a difference. It was just one of those things I knew I had to do."
Before his career on Wall Street, Sullivan played for John (Doc) Gimmler, a teammate of Carnesecca at St. John's Prep and a legendary figure around the St. John's campus as associate athletic director and men's golf coach since 1973. Sullivan describes Gimmler as "a horrible dresser, a great story teller and one of the most wonderful men I've met in my life."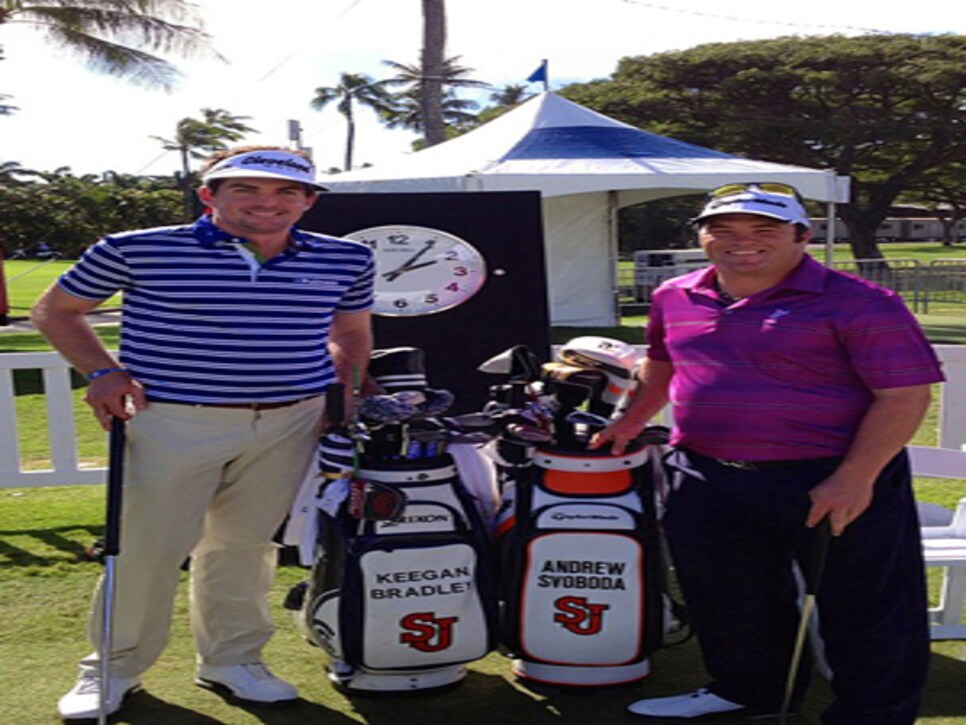 When Gimmler died of a heart attack in December 1996, Sullivan, assisted by former St. John's teammate Mike Diffley and associate athletic director Richard Laskowski, stepped up to fund the Red Storm golf program and hire a new coach. Their choice was Frank Darby, a former St. John's golfer turned club pro from Colonial Springs CC in Farmingdale, N.Y.
"Basically, Sully put up the money himself," said Diffley, now the head pro at Pelham (N.Y.) CC. "That was pretty ballsy as far as I'm concerned. But after that, we had a say in the golf program."
As tournament operations director for the Met Section, Darby had a built-in network of famous clubs to call on as he went recruiting. His targets were kids who weren't on the radar of southern schools or, like Diffley and Svoboda, Northeastern golfers who returned home after not making it down south. In Diffley's case it was Furman in the late 1970s. For Svoboda, it was North Carolina State, 20 years later. One of his teammates was Jesse Fitzgerald, a New York State Open champion who transferred in from South Carolina.
Svoboda was born in New Rochelle, N.Y., and grew up at Winged Foot, where he won the club championship. He won 14 times at St. John's, not including his wins in the Met Amateur and Met Open. From his apartment, just one exit off the Whitestone Bridge, Svoboda could get home in 30 minutes and as he said, "play some unbelievable tracks" with a group of guys who liked to hang out together.
"St. John's was an awesome time for me," Svoboda said after his T-37 finish in the Wyndham Championship. Now 33 and ranked 202nd in the final FedEx Cup regular-season standings, Svoboda's pro career has been slow developing. As he struggled playing the mini-tours after college, Svoboda became a caddie at Winged Foot and Old Oaks in Westchester County, as well as Trump International in West Palm Beach. On Aug. 12 he won the Price Cutter Charity Championship on the Web.com Tour and hopes to secure his playing privileges on the PGA Tour in 2013-14 by staying in the top 25 through the end of the regular season (he's 21st with one event remaining) or the Web.com Finals.
Bradley, 27, was another story both before and after his St. John's experience. He ended up in Queens after growing up in New England because Darby was the only coach who would give him a full ride. While his home on the water in Tequesta, Fla., reflects the success of a major champion, it is at times like the old apartment in Jamaica, Queens. Former teammates Yostrub, Kevin Velardo (now a caddie for Bobby Gates on the Web.com Tour), Mike Ballo and Evan Beirne are known to crash there when not staying in Keegan's old apartment -- also known as the St. John's South campus -- in Jupiter.
Beirne followed Svoboda (2004) in winning the 2010 Met Amateur. Ballo won two straight Ike Championships and the Westchester Open. Ryan McCormick (2012) and Pat Wilson (2013) are back-to-back Met Am champs. With four current Red Storm golfers in this week's Met Open, Darby goes into his 18th year as head coach feeling this could be his best St. John's team.
"There's no reason to have a golf team at St. John's," said Sullivan. "Yet we do and look at what it has done."
There is space allocated for a $1 million indoor golf performance center as part of a Carnesecca Arena renovation. Last year, at a meeting at The Bear's Club in Jupiter, the school's president met with Bradley, Darby and prominent St. John's benefactor Mike Pascucci, owner of Sebonack GC, where this year's U.S. Women's Open was held. Plans are to name it after Gimmler, the man, as Diffley said, "who made us so loyal."
For the first time in a while he could have meant both on the course and off.
Rory McIlroy's first weekend visit to the Hamptons couldn't have been any better in preparation for the Barclays and the start of the FedEx Cup Playoffs. Coming off a T-8 at the PGA Championship, McIlroy shot 67 at Shinnecock Hills and 71 at Sebonack GC, where he was based. At Shinnecock, site of the 2018 U.S. Open, he was guest of Jimmy Dunne, who co-owns the course-record 63 from the member tees. McIlroy played off the back tees in a game with Dunne, caddie J.P. Fitzgerald and manager Sean O'Flaherty. "I can't imagine he's not going to win one of these next four events, he was hitting it so good," Dunne said. McIlroy's host at Sebonack, founder Mike Pascucci, is a friend from his winter base at The Bear's Club in Florida. "You can't find a better gentleman," Pascucci said. "He saw some little kids on the range and took them out on the golf course to play some holes and coach them. The guy loves to play."
The return of the FedEx Cup Playoffs to Liberty National recalls Heath Slocum's victory there at the 2009 Barclays. Ranked 124 out of the 125 who qualified, Slocum made a slippery 21-footer to notch the biggest upset in playoff history and knock Tiger Woods, Ernie Els, Steve Stricker and Padraig Harrington out of a playoff. This year Slocum ranked 195th on the FedEx Cup points list thanks to being 186th in strokes gained/putting. His playoffs will be on the Web.com Tour, where his putting stats (128th in putting average) aren't much better. Slocum will be in Omaha, Neb., for the Cox Classic, site of one of his three wins while gaining a battlefield promotion in 2001. Slocum's stroke is not an issue contends instructor Mark Blackburn, who along with sport psychologist Gio Valiante, believes he'll do well in the Web.com finals. "He has turned the corner," Valiante said.