News
A New Look For The Old Course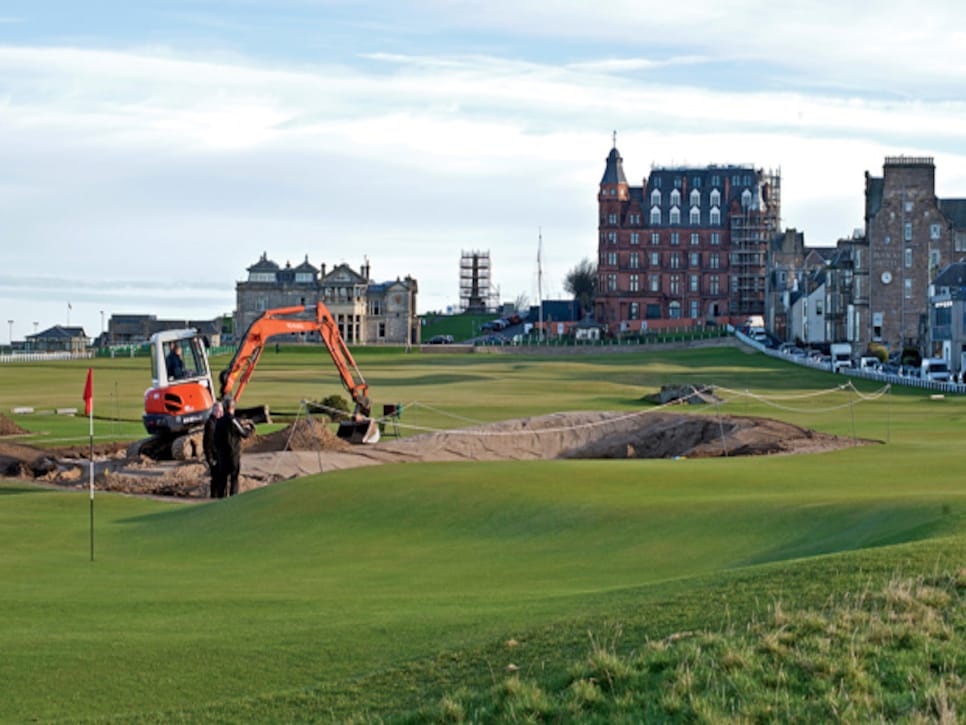 There was an April Fool's quality to the Nov. 23 press release announcing (peculiarly on a Friday afternoon) that modifications were going to be made to nine holes at the Old Course at St. Andrews. Unfortunately for "Home of Golf" worshippers, the changes that the St. Andrews Links Trust detailed were real and unprecedented. Only three days later, photos surfaced of man and machinery tinkering with several course features that had existed for centuries as part of a two-year project. As with most controversies these days, social media erupted (Twitter hashtag *#savetheoldcourse
*) and debate ensued over what is progress and what is vandalism to an iconic design.
Proponents of the news -- the Links Trust, Jack Nicklaus and even Tiger Woods in the case of two holes -- suggested the Old Course has been changed constantly over time. What's the issue, then, if R&A chief executive Peter Dawson and architect Martin Hawtree add a few greenside bunkers (the last time any bunkers were added or filled in was 1949), shave a few bumps, change legendary green slopes to accommodate faster Stimpmeter readings or fill in the pesky fairway swale on the seventh hole that every legend of the game has strolled by? Supporters pointed to the many new tees added prior to the 2005 and 2010 British Opens as evidence of the Old Course's evolution.
Opponents of the work -- a varied group of architects, links aficionados, former Open champions (Peter Thomson and Paul Lawrie) and younger pros such as Luke Donald, Ian Poulter and Woods (in the case of the Road Hole) -- countered that those tees were mere temporary additions for tournaments. They contend that although it was strange to be driving from the neighboring New, Eden and Himalayas courses, those extensions merely allowed the intricate bunkering and bewildering contouring to remain relevant in golf's technologically advanced modern era.
The changes will no doubt work. In the case of the second, fourth and ninth holes, new hole locations will likely produce a few more pars than birdies and "stiffen the defenses" of the course as Dawson hopes. But they will also make the most interesting, undefined course in the world less interesting and more defined. The changes rearrange many ground features created by some force of nature that no man has managed to replicate in the tens of thousands of courses built since.
Most harrowing in the whole episode is how a landmark of the Old Course's stature could be changed so quickly and secretly. In 2009 when the Links Trust made changes to the neighboring Jubilee course, all plans were shared and town-hall meetings were held. Yet the far more historically significant Old Course did not receive the same public airing, likely because those involved sensed they would not be well received. These were not mere tees off the property but genuine modifications designed primarily to prevent a record round from being posted at the Old Course.
"I take it they don't want a 59 shot on it," former Dunhill Links winner Stephen Gallacher told The Scotsman. A 59 might now be tougher to post, but was it worth altering golf's most sacred ground for four days of golf every five years?